Read how Upfluence how PAXFUL generated over 4 Million Live Views in just 60 days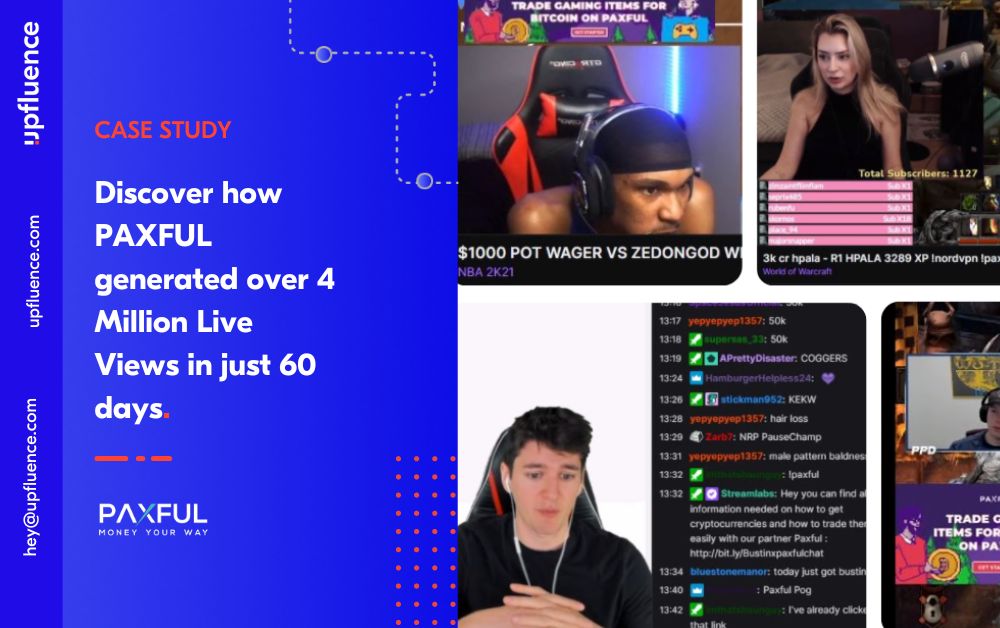 Upfluence secures over 4 million Live Views in just 2 months for PAXFUL's latest Twitch campaign
Paxful, a leading peer-to-peer bitcoin marketplace changing the way the world moves money and embraces cryptocurrency, recently chose Upfluence to launch a high-impact two-month influencer marketing strategy that focused on driving platform usage and reach among the Western gaming market.
Paxful is one of the world's largest and safest peer-to-peer Bitcoin trading platforms by both volume and active traders, with over 300 payment methods available.
They turned to Upfluence to help them conduct precise influencer discovery and audience matching to grow their visibility with Gen Z, identify new audiences in the US, and share their bitcoin and cryptocurrency marketplace with the gaming world via Twitch and Twitter.
Paxful needed a solution that enabled a streamlined influencer search and selection process, the ability to build long-term influencer partnerships, and nurture these new relationships at scale.
Upfluence coordinated a Twitch campaign for PAXFUL, pinpointing influencers to live stream promotions to a relevant audience. This served to improve the brand's visibility within the Western gaming market, while increasing website traffic and platform adoption.
Influencer Identification
Upfluence hand-selected and engaged 8 Twitch influencers on behalf of PAXFUL, resulting in 4.2M+ impressions, and streamer content displaying PAXFUL branded visuals for over 3M+ hours during the 2 month campaign.
Each influencer broadcast weekly shoutouts featuring PAXFUL branding in their stream title, underlay/overlay banners, and chatbot commands. These showcased the PAXFUL website and landing page for seamless conversions. During live streams, influencers shared their cryptocurrency and Bitcoin knowledge while encouraging PAXFUL registration.