Influencers choose to work with food and beverage brands as a way to embody a certain lifestyle and share their values for quality ingredients and processes involved in today's foodie culture. In the wine niche of the alcoholic beverages industry, sommeliers are wine professionals who are building up a dedicated online following by sharing their enthusiasm and knowledge. 
Upfluence's industry report on the alcoholic beverages industry explores the latest trends and performance statistics of alcohol influencers. Insights into the typical follower numbers, engagement rates, and top-performing content will help you to plan for successful alcohol influencer marketing campaigns in the future. 
We'll explore 6 unique sommelier influencer profiles to demonstrate the value they offer to alcohol brands. From micro-influencers to authors and sommelier teachers we offer a snapshot of the sommelier influencers active in Upfluence's creator database. 
Let's meet the sommelier influencers!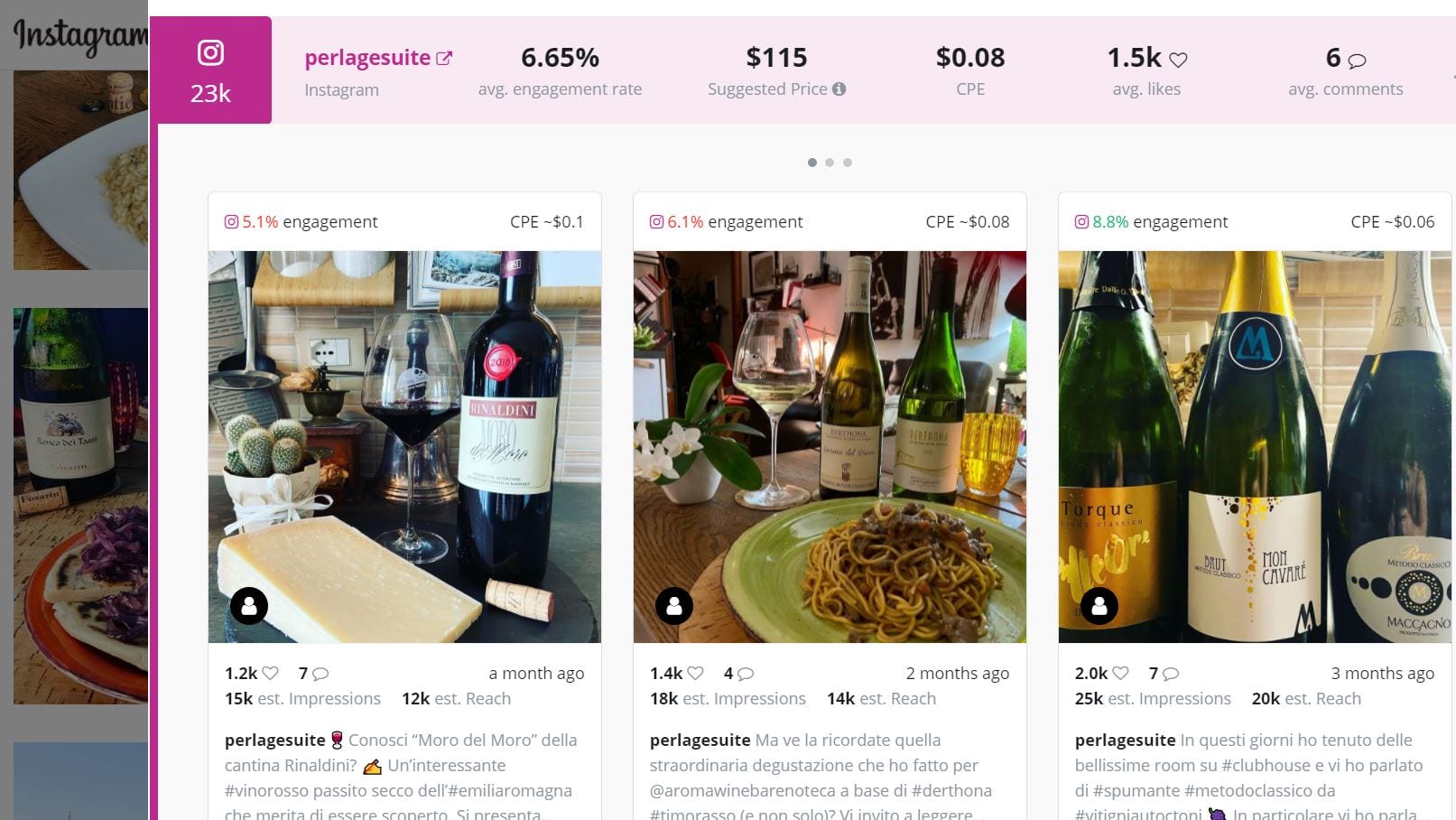 Chiara is an Italian-based wine enthusiast and expert sommelier. Her day job involves coaching the next generation of sommeliers and helping sparkling Italian wine brands promote their products abroad. Her Instagram content features wines and the recommended dishes of pasta, seafood, or meat to eat alongside it. If you're looking to work with an Italian wine expert, you can't find better than Chiara, she's written three books on the subject and has a very active blog for which she won an award in 2017.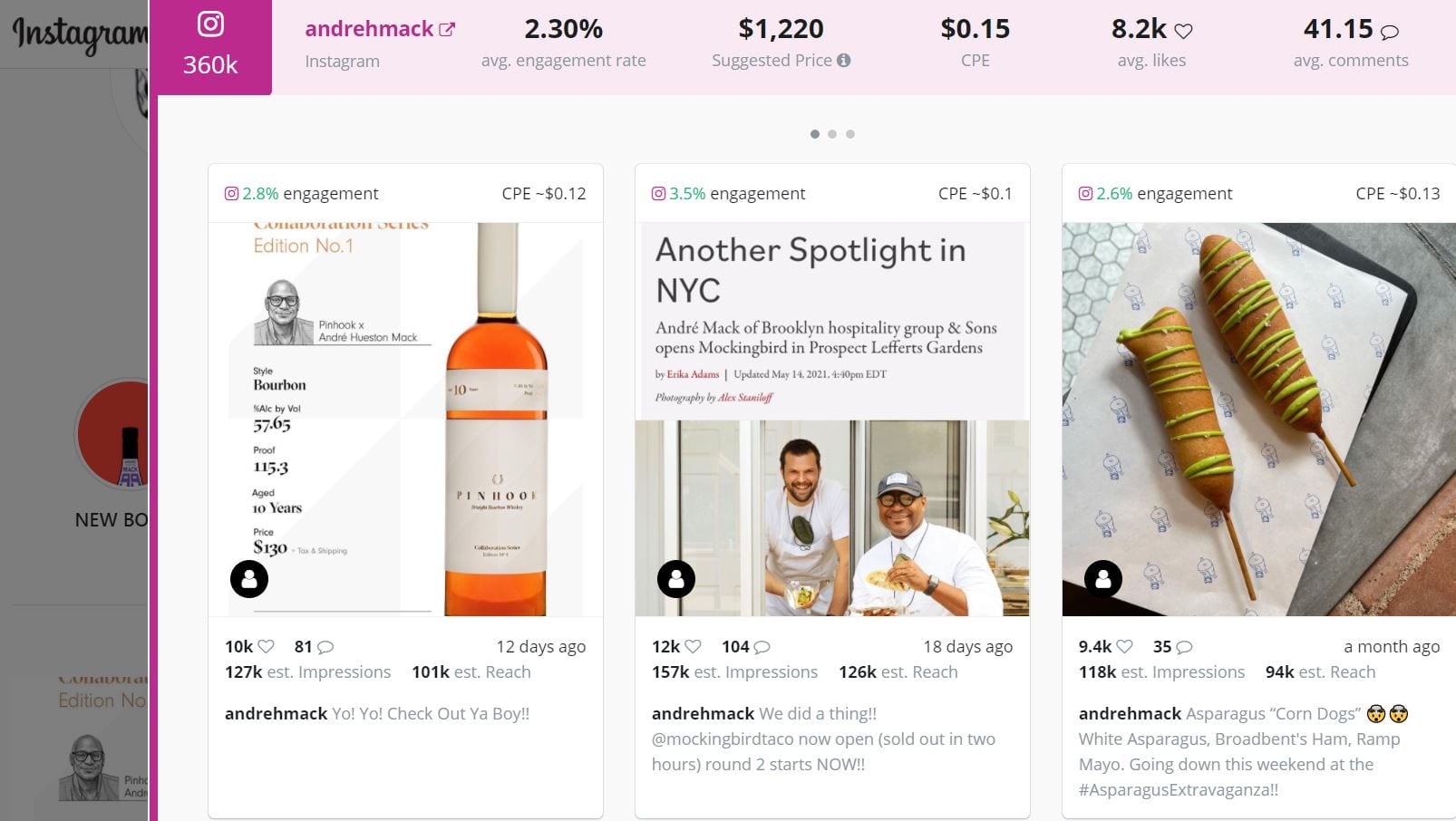 Followers: 360K
Average engagement rate: 2.3%
André is a mega influencer in the alcoholic beverages industry. He's a professional sommelier, author, and the first African American to win the award for Best Young Sommelier in America in 2003. He's considered a key opinion leader in the industry and contributes to industry press as seen here in his interview with The American Wine Society's Wine Journal.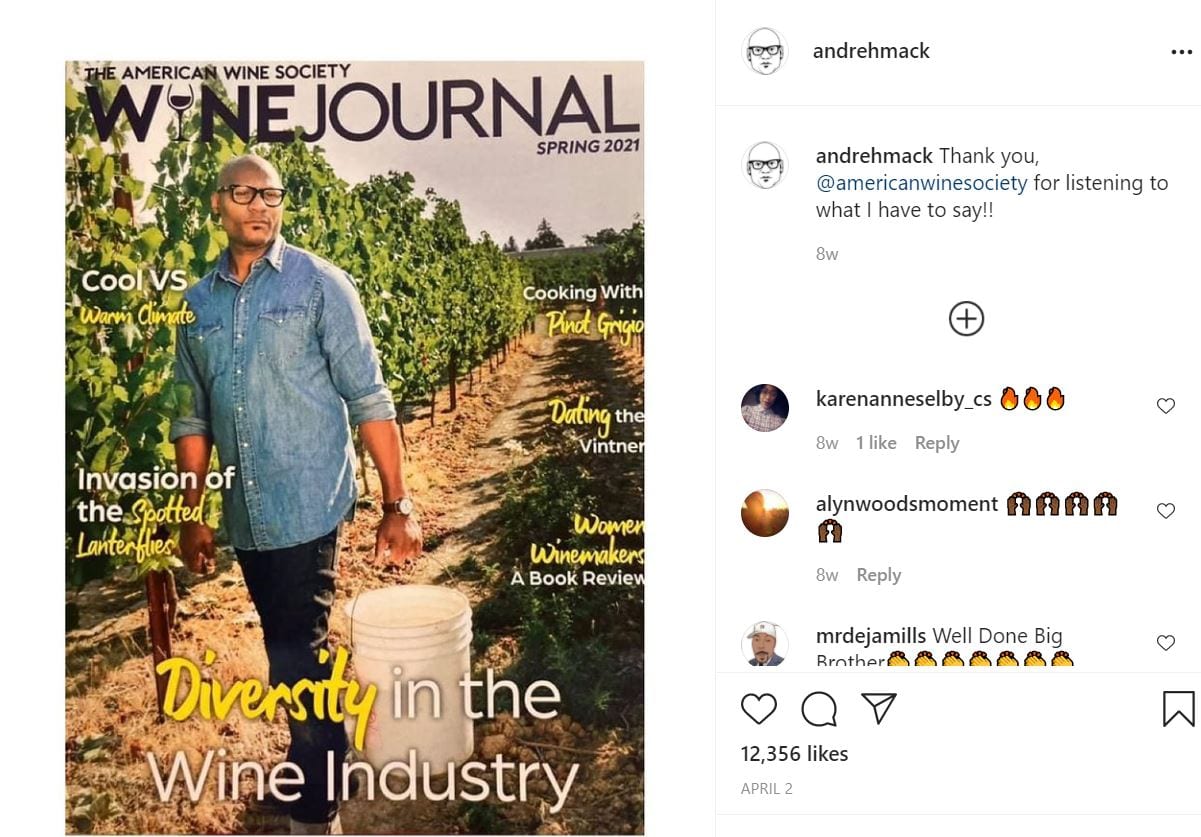 His significant reach makes him a very valuable influencer partner for raising awareness of your brand or event in the alcoholic beverage industry. As a prominent figure in the US food and drinks industry, it's no surprise that 83% of his audience is based in the US, with 12% in New York, helping to strategically target audiences according to specific locations.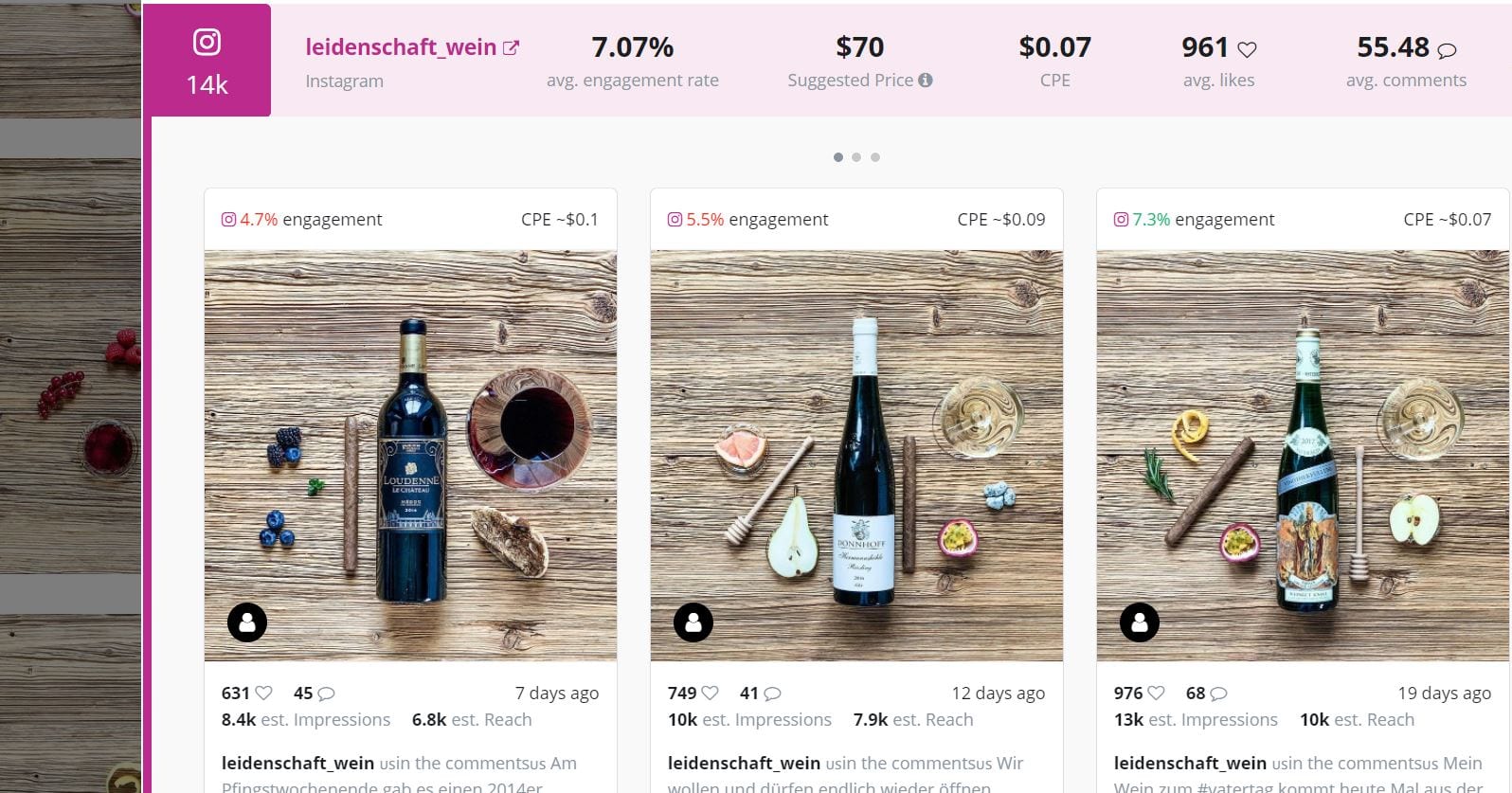 Followers: 14K
Average Engagement Rate: 7%
Tobias is a professional sommelier and wine micro-influencers based in Germany. His Instagram feed has a distinctive style, featuring photos of wine bottles with the ingredients showing which flavors are most present such as pear, blueberries, orange peel, or cinnamon. As a micro-influencer, he has nurtured an active online community which explains his high engagement rate, higher than 3.4% which is the average engagement for alcohol micro-influencers. He also has an A+ rating in Upfluence's software based on his performance compared to similar influencers.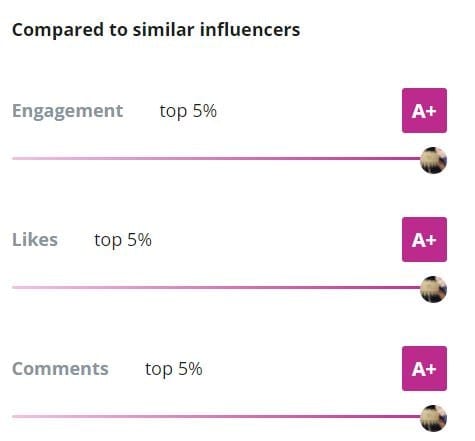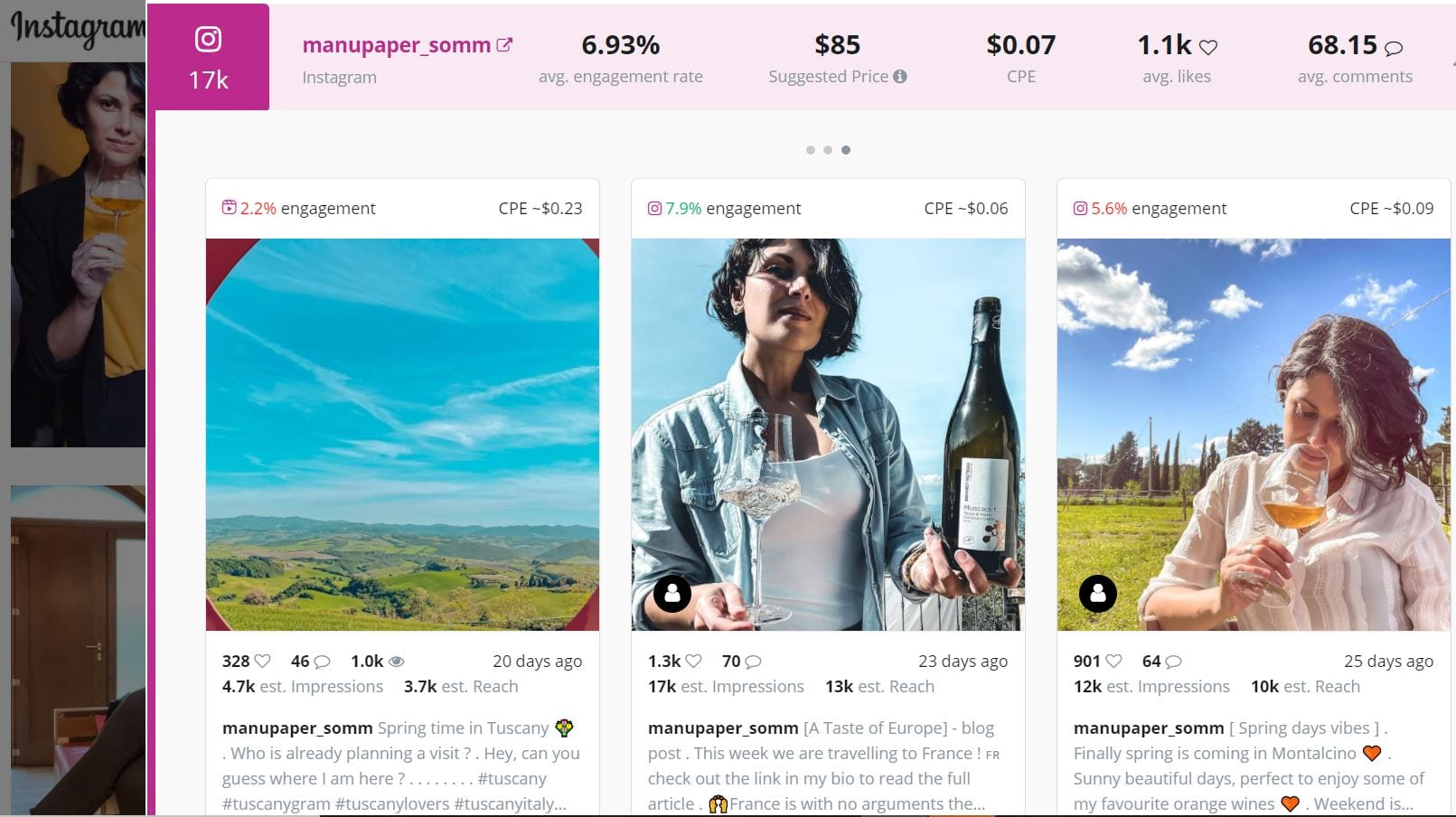 Followers: 17K
Average engagement rate: 6.93%
This Tuscany-based influencer and sommelier perfectly captures the food and wine delicacies of Italy. She is also a keen traveler and often posts about wines during trips to France and South Africa. The stunning images of her travels and wine tastings appeal to audiences around the world. A lot of her followers are in Italy (32%), followed by 23% in the US and 10% in France.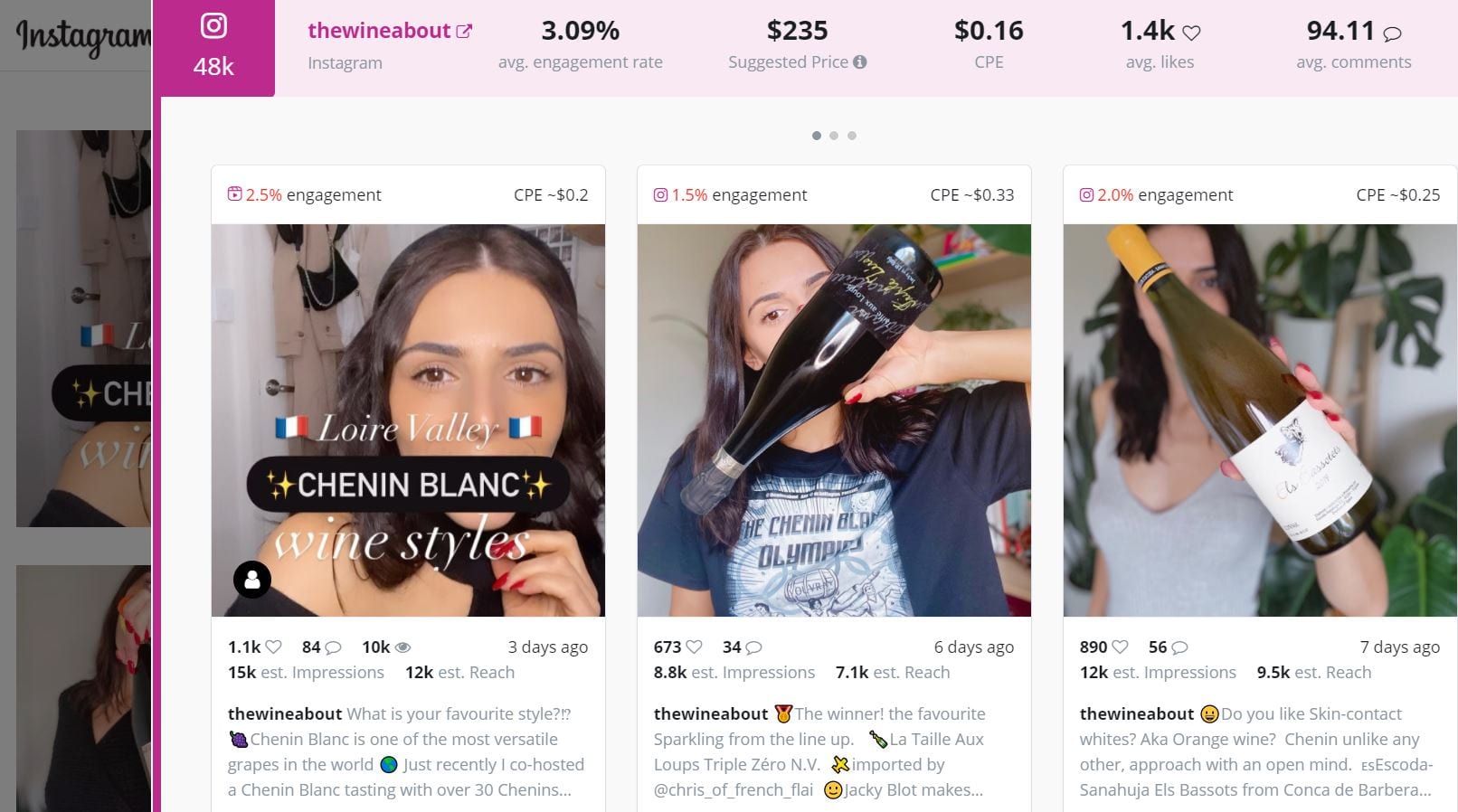 Followers: 48K
Average engagement rate: 3.09%
As a part-time sommelier, Gabriella clearly knows her stuff, but she doesn't take herself too seriously. Her content is educational and entertaining. She mixes Tiktok style videos and photos on her Instagram feed. Posts include topics such as top Loire valley grapes and 'first world wine problems'. 
With 48K followers, she's in the regular/mid-size influencer category. According to Upfluence's Alcoholic Beverages industry report, this category of influencers usually has a lower engagement rate than micro-influencers.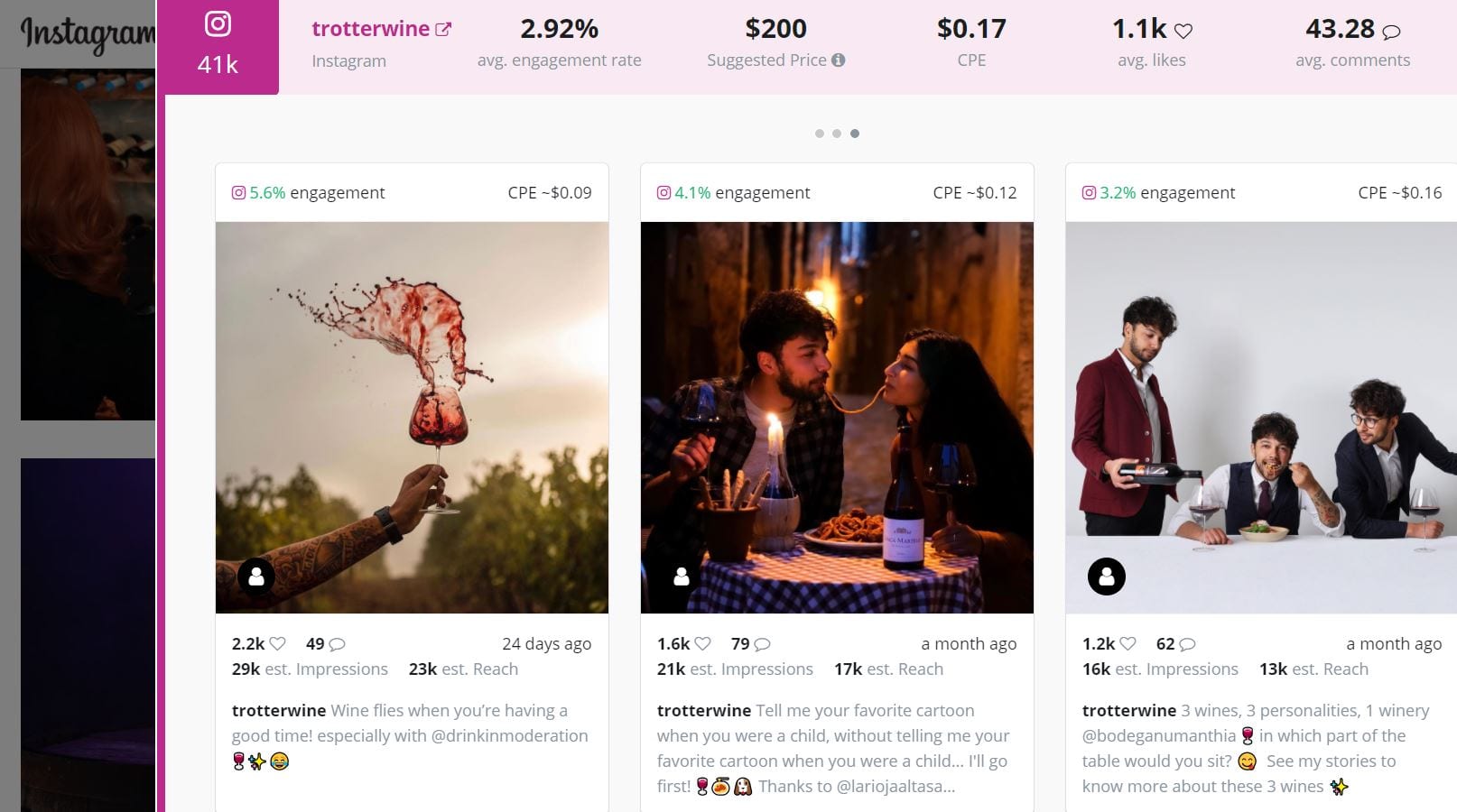 Followers: 41K

Average engagement rate: 2.92%
Andrea combines his love of travel and wine with his Instagram and blog 'The Diary of a Sommelier'. He shares creative artistic visuals on his Instagram feed and informative Reels that parody the people you meet during a wine tasting. 
Upfluence data reveals that he has 99% real followers, making him a very valuable partner and highly authentic content creator. His posts are in a mix of English and Italian, explaining why 31% of his audience is based in the US. 
Find the best alcohol influencers for your campaign
If this selection has whetted your appetite, you can find a full listing of alcohol influencers with Upfluence's search function. Using 20+ advanced filters you'll be able to search our large influencer database to find creators according to the keywords, industry niche, location, platform, engagements, and much more!