A curated list of top-notch healthy food Instagram accounts to look out for in 2020.
Healthy foods — Whether it's vegan, paleo, keto, plant-based, low-carb or gluten-free, the healthy food trend is on the rise. Just look at kale's rise to power and the 500 unfortunate souls named after the leafy green vegetable back in 2008. Fact is, healthy food ambassadors show the world that healthy doesn't mean it can't be good – quite the contrary! And where better to look for inspiration than on Instagram?
With our Upfluence software's advanced search criteria, we were able to identify the crème de la crème of healthy food Instagram accounts you should follow in 2020. We've identified a mixture of micro to mega influencers, each bringing a unique perspective to healthy eating, including chefs, nutritionists and vegan recipe developers. They are each excelling within the healhy food niche, cultivating a growing following and engagement rate.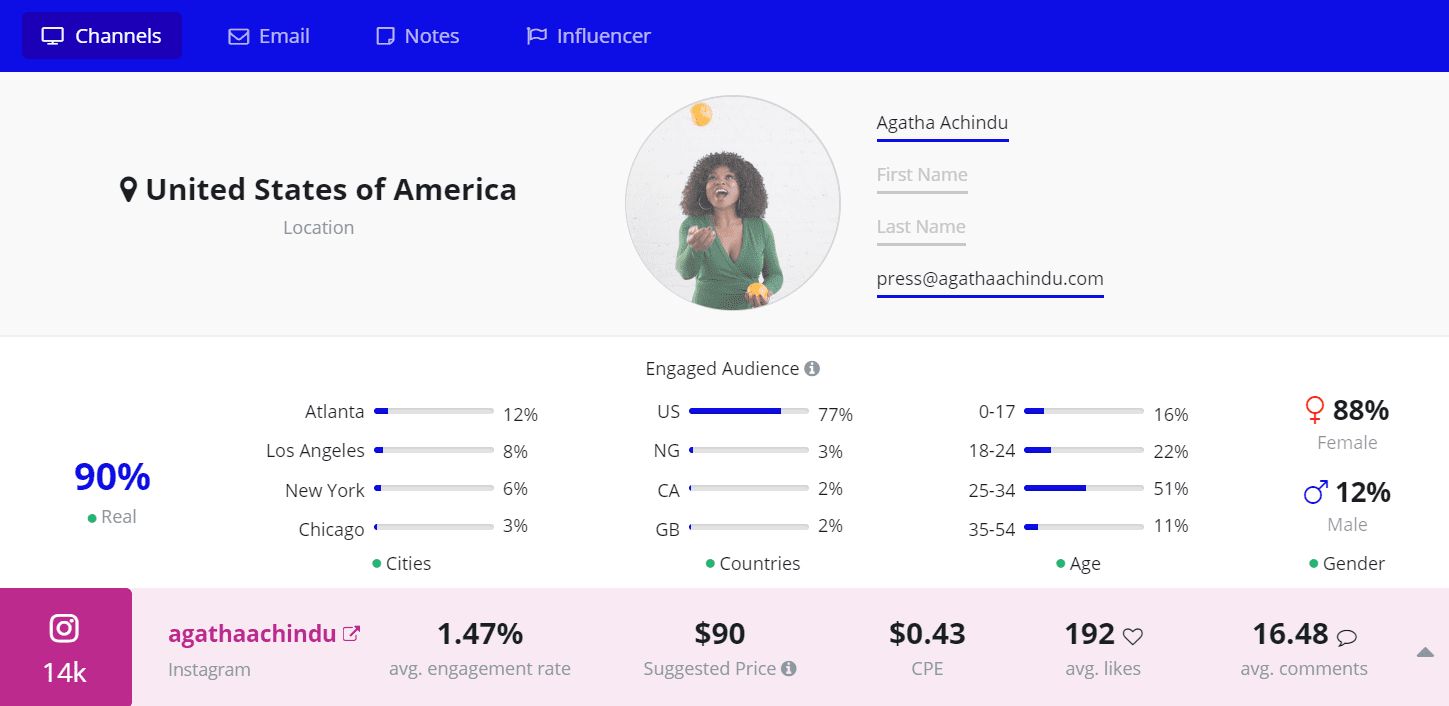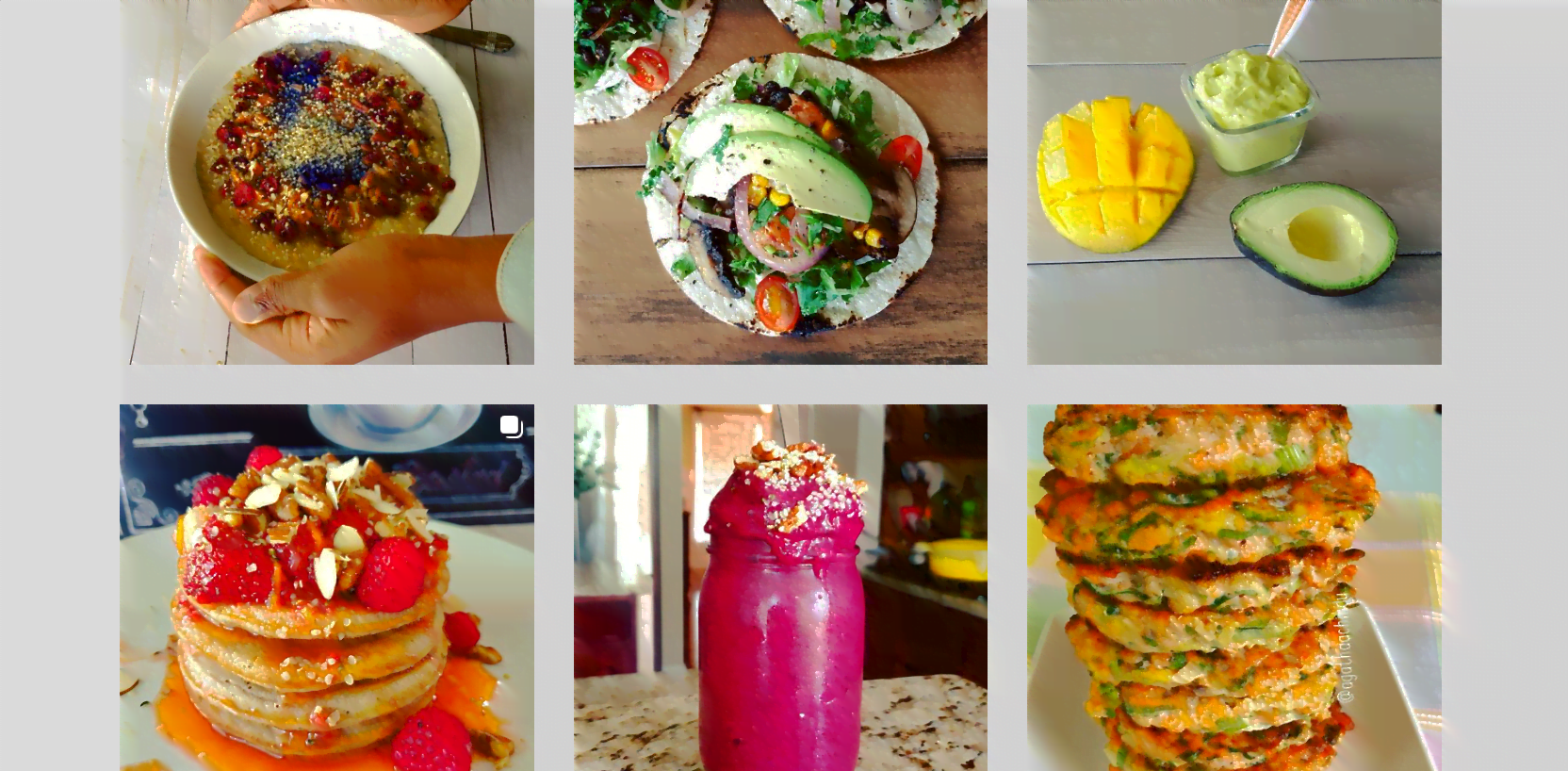 Agatha is a certified nutrionist and founder of organic toddler food brand Yummy Spoonfuls. Her feed has plenty of ideas for fellow  parents on how to get kids to eat healthily. She also shares her recipes at events and through IG live. Her 14K followers place her in the medium size influencer category, a great choice for those brands in the healthy food and parenting space.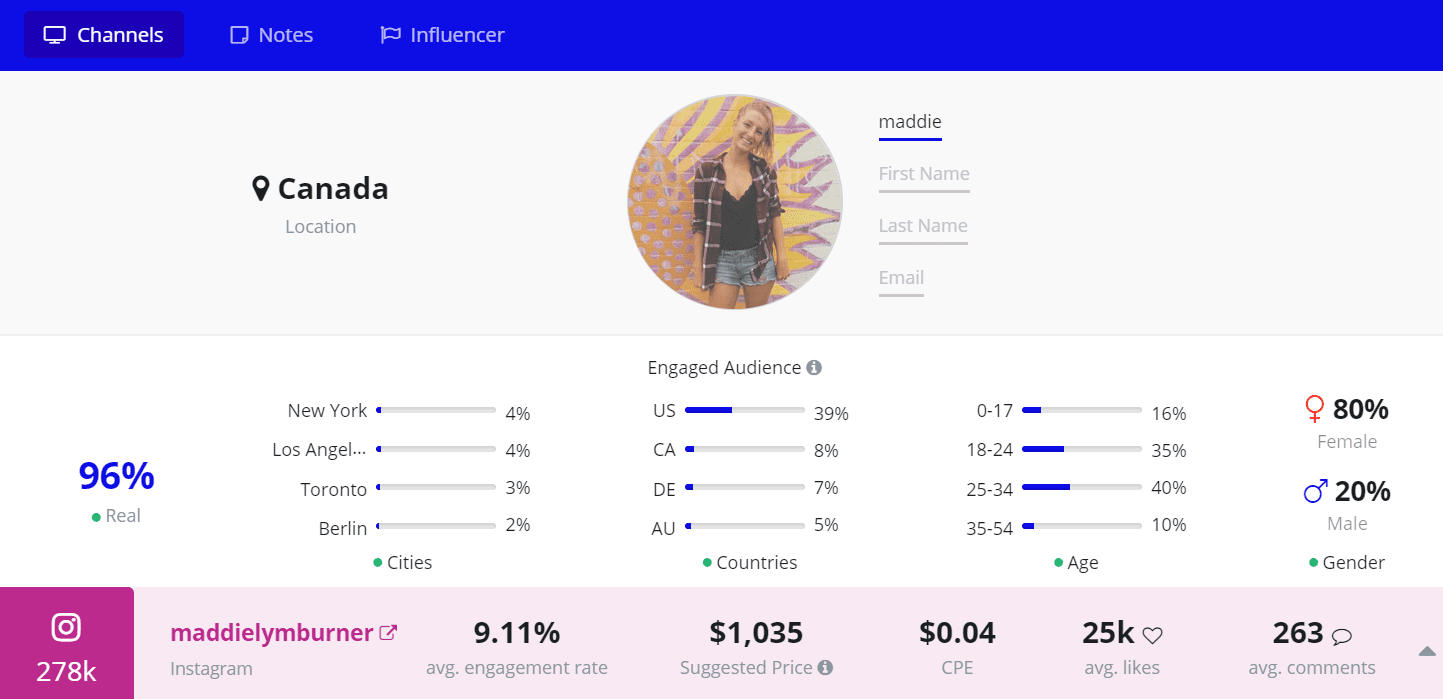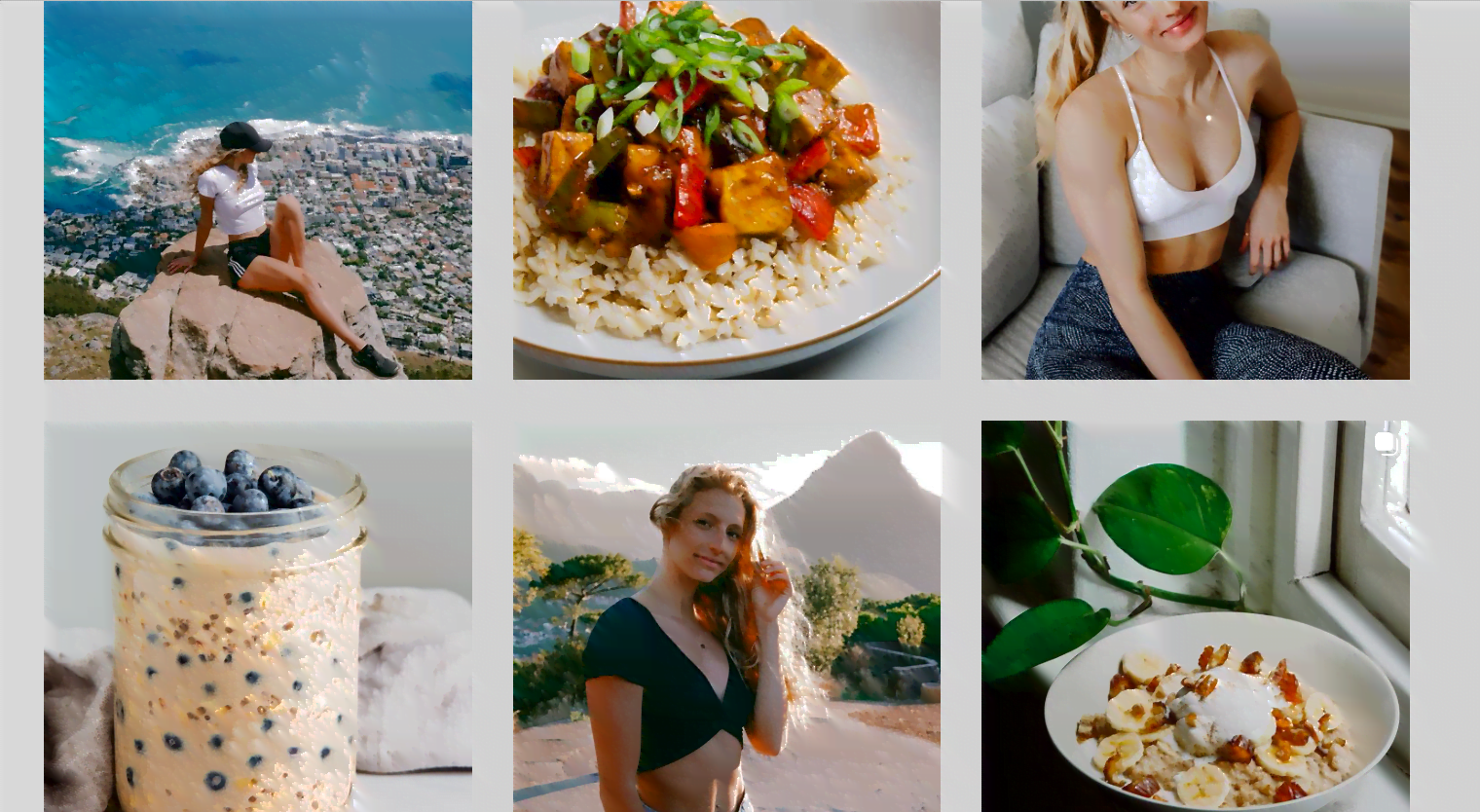 Maddie is all about plants, health & fitness. She actually also has a separate fitness Instagram account for workout routines that get the blood pumping & hearts racing. She generally showcases vegan dishes she encounters on her travels and shares her go-to recipes with her 278k Instagram followers. Maddie is clearly doing everything right to succeed as a mega influencer.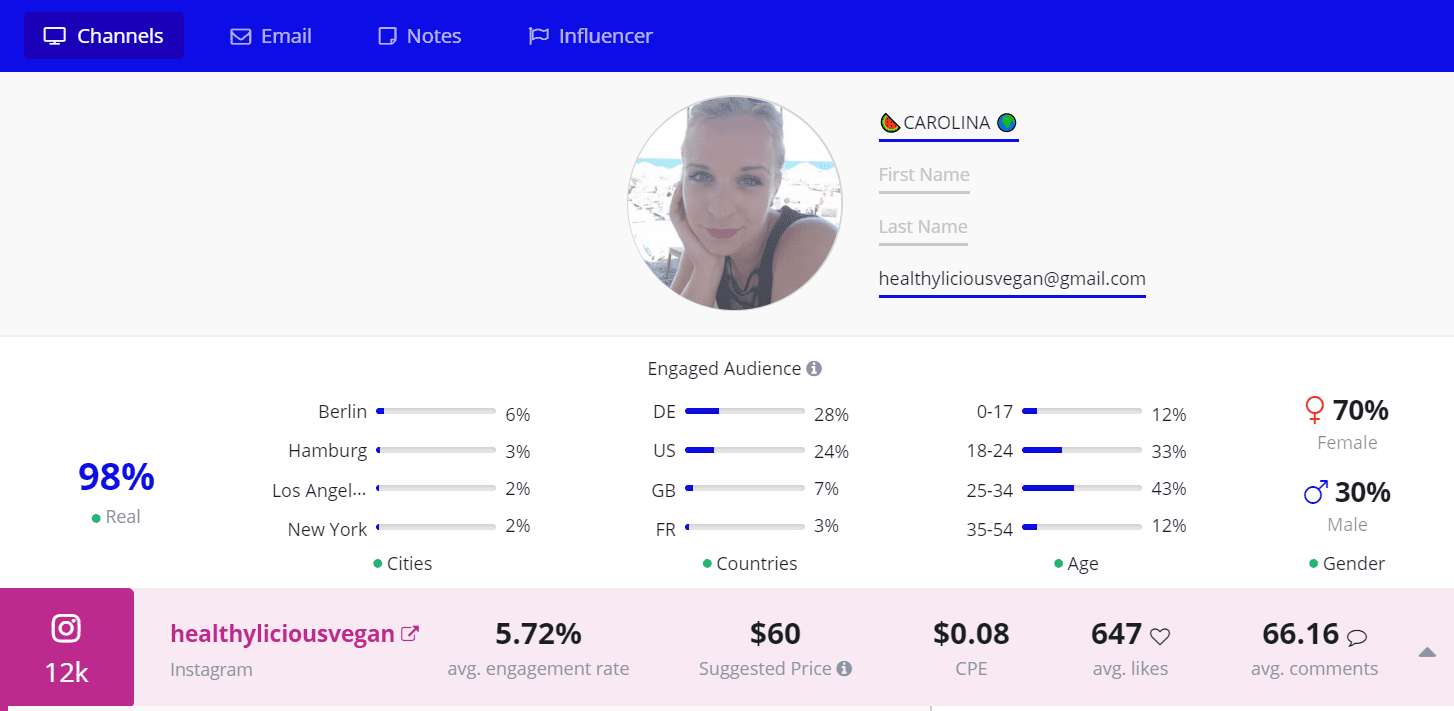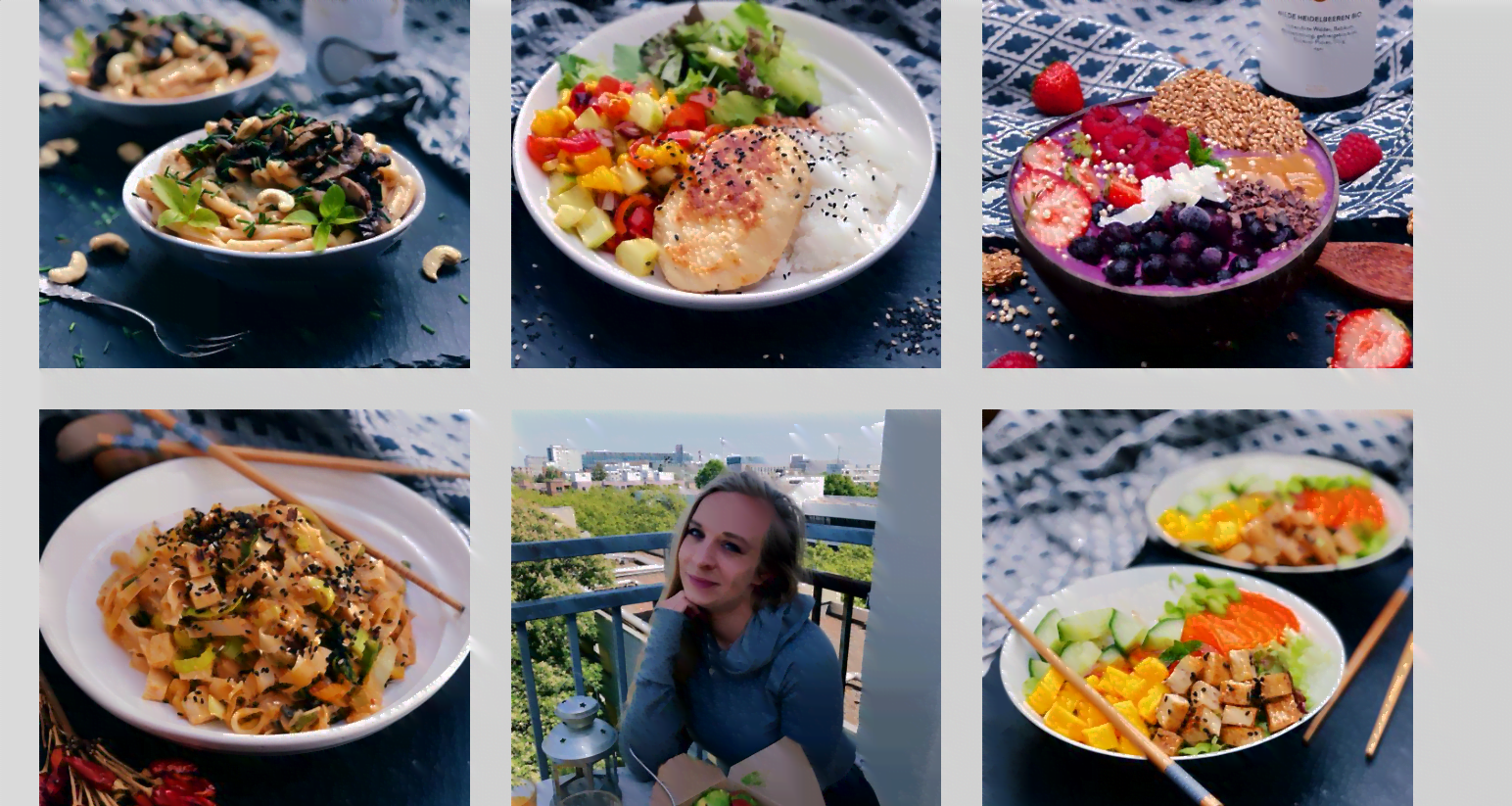 Carolina, a Berlin based vegan food and fitness fanatic shares photos of her creations bursting with color, definitley making a vegan lifestyle look delicious! Her strikingly high engagement rate of 5.27% shows just how reactive her followers are to the combination of creative vegan recipes and fitness posts.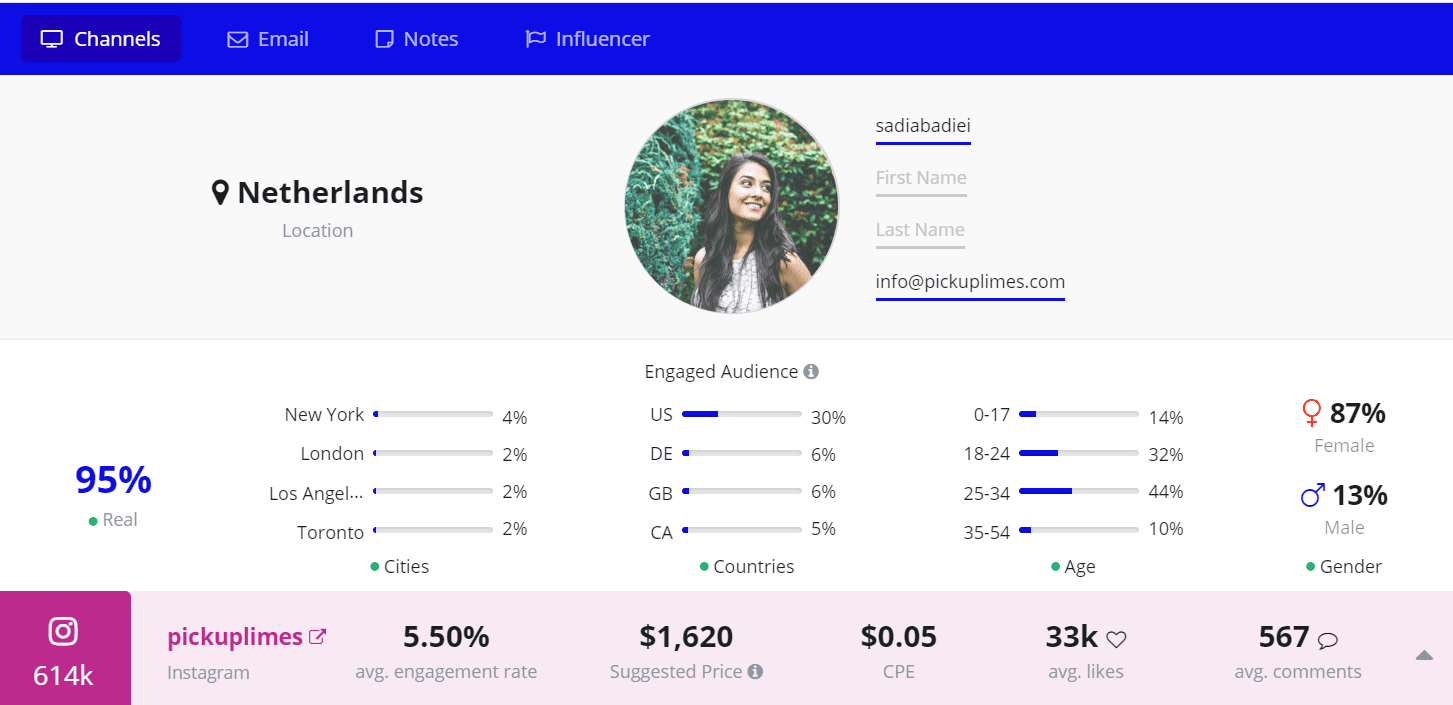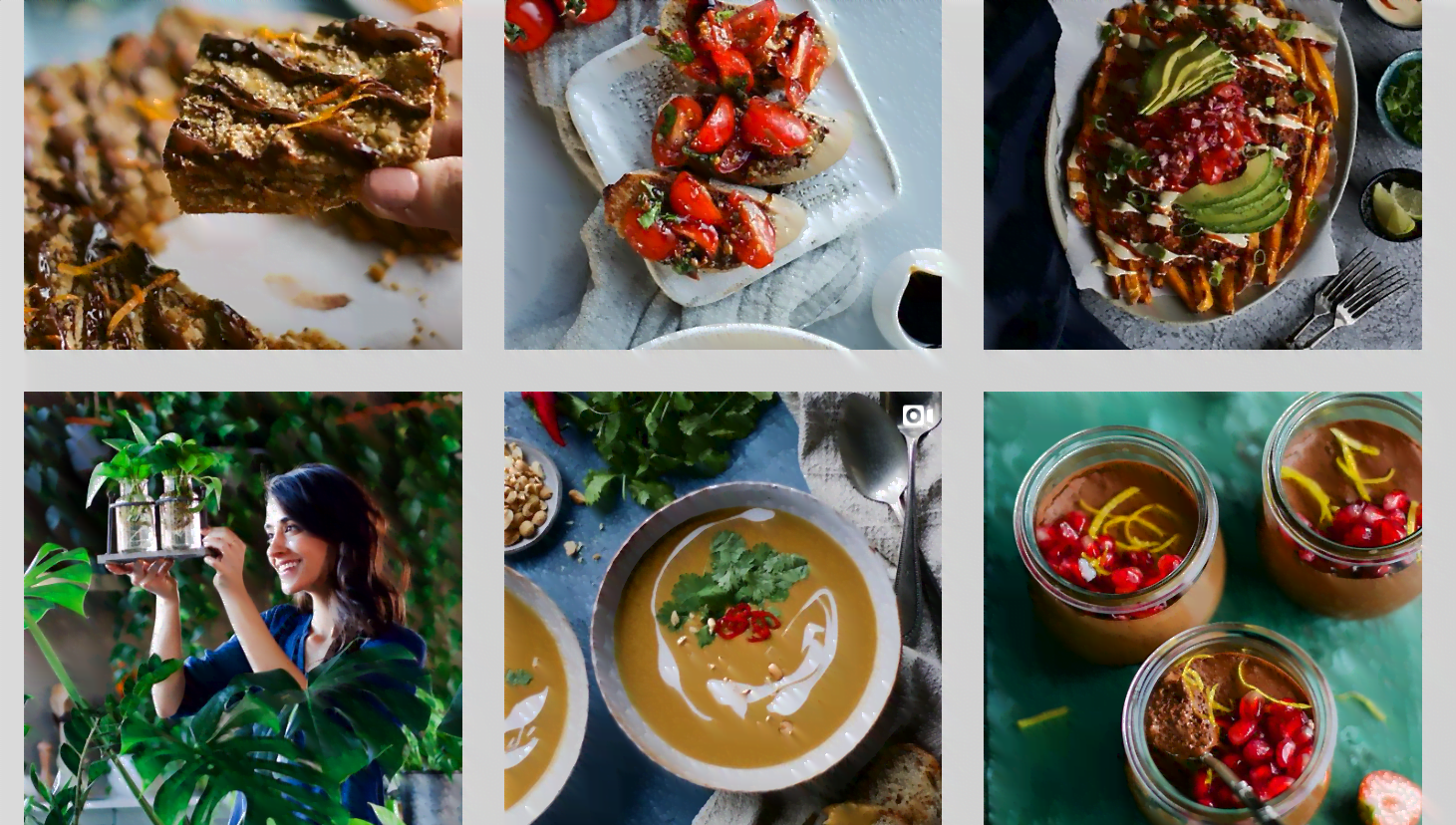 This Canadian lover of life & full-time foodie is based in the Netherlands and has a degree in dietetics. Sadia is pretty insta-famous with 614k followers, yet she's an even bigger YouTuber with 2.84M subscribers on her channel. Her motto is to nourish the cells and the soul with delicious food and her expert advice. She's a health advocate through and through with Upfluence A and A+ ratings on her Instagram & YouTube account, showing that she performs excellently compared to similar influencers.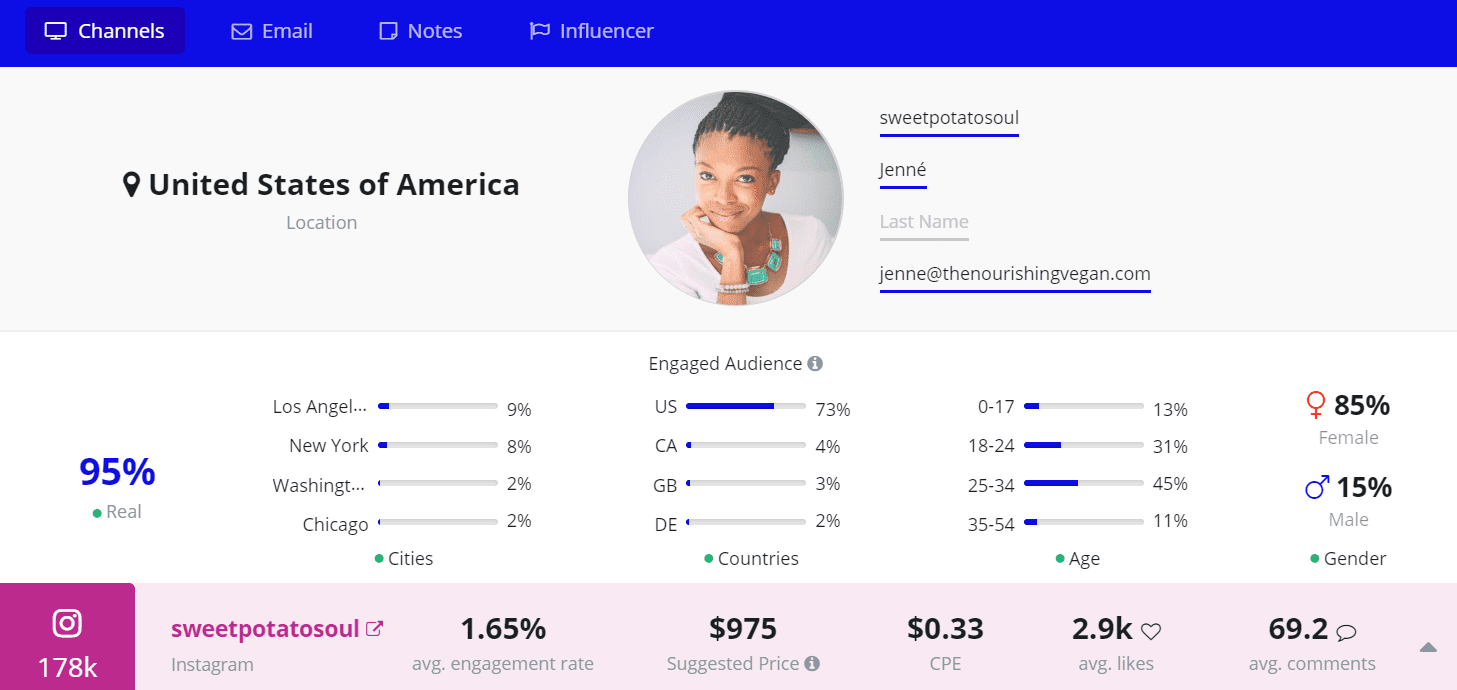 Mhmm, love me some sweet potato! Jenné Claiborne from Atlanta has quite a lot on her plate right now – both figuratively and literally. Next to being a mama to a little one, Jenné is a full-time vegan chef and the author of Sweet Potato Soul, her own cookbook with 100 easy vegan recipes. Asides, she's been featured in The Huffington Post and Refinery 29 and has sponsorship with Barilla. The all-around talent has a loyal following of 558k subscribers on YouTube and 178k followers on Instagram.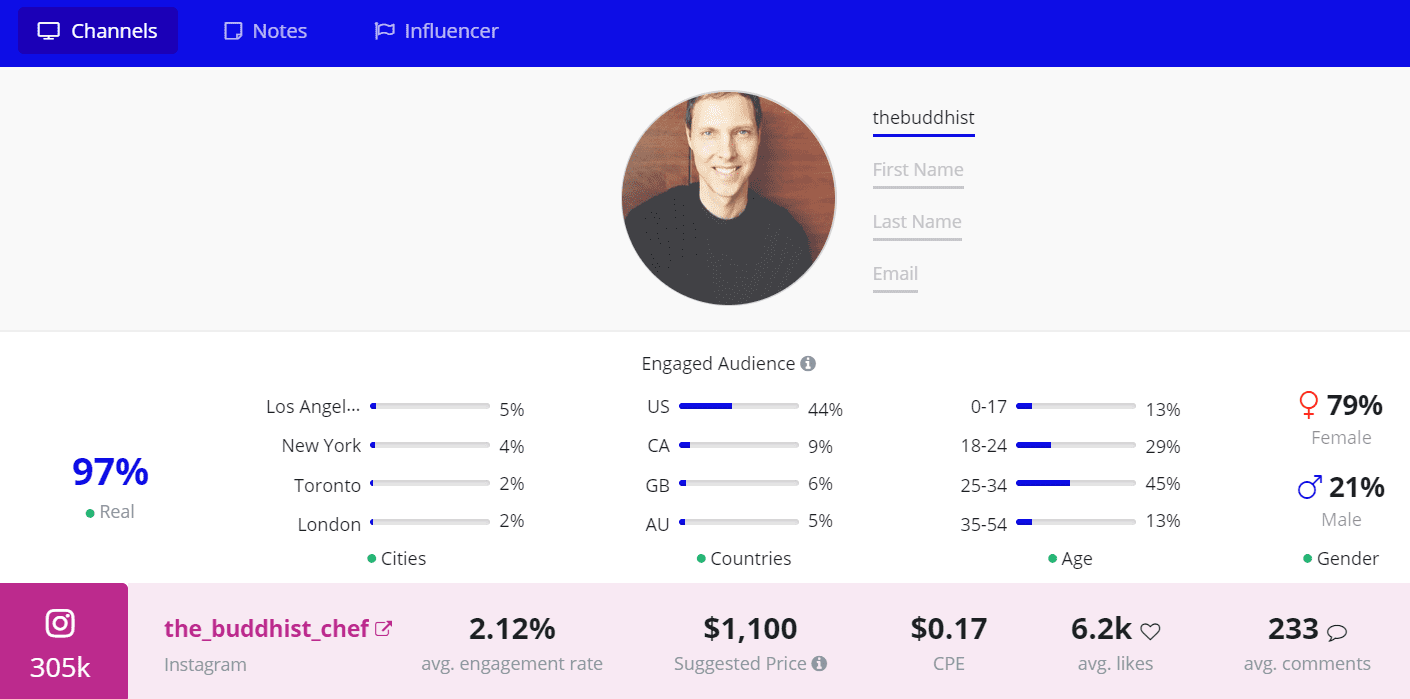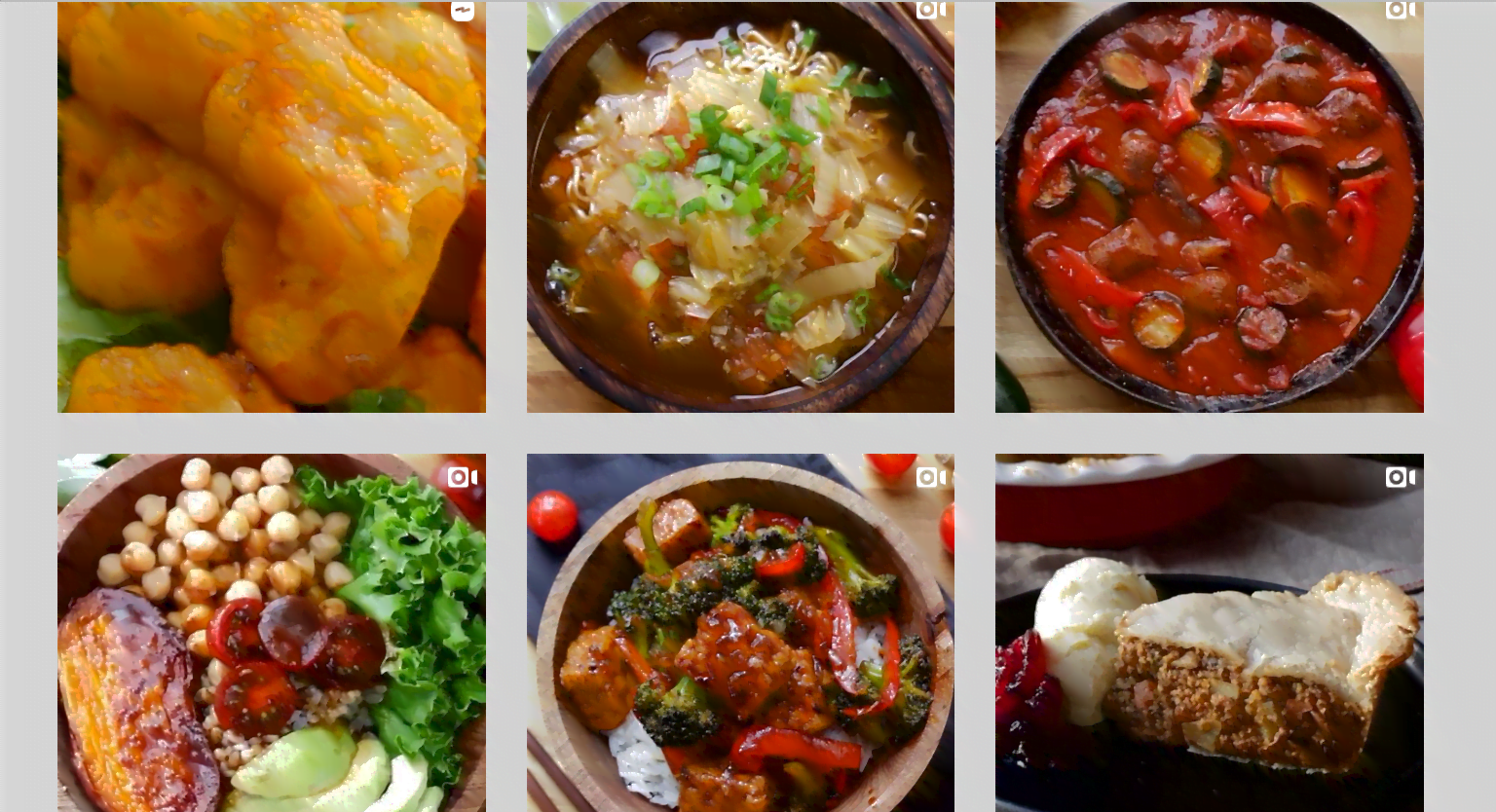 Jean-Philippe is a trained chef from Quebec, Canada. His trademark: mixing and matching traditional techniques with cooking cultures from around the world. Over time, Jean-Philippe has accumulated 305k+ followers on Instagram making him a truly influential chef! He focuses on vegan & cruelty-free recipes which you can find in his recent cookbook.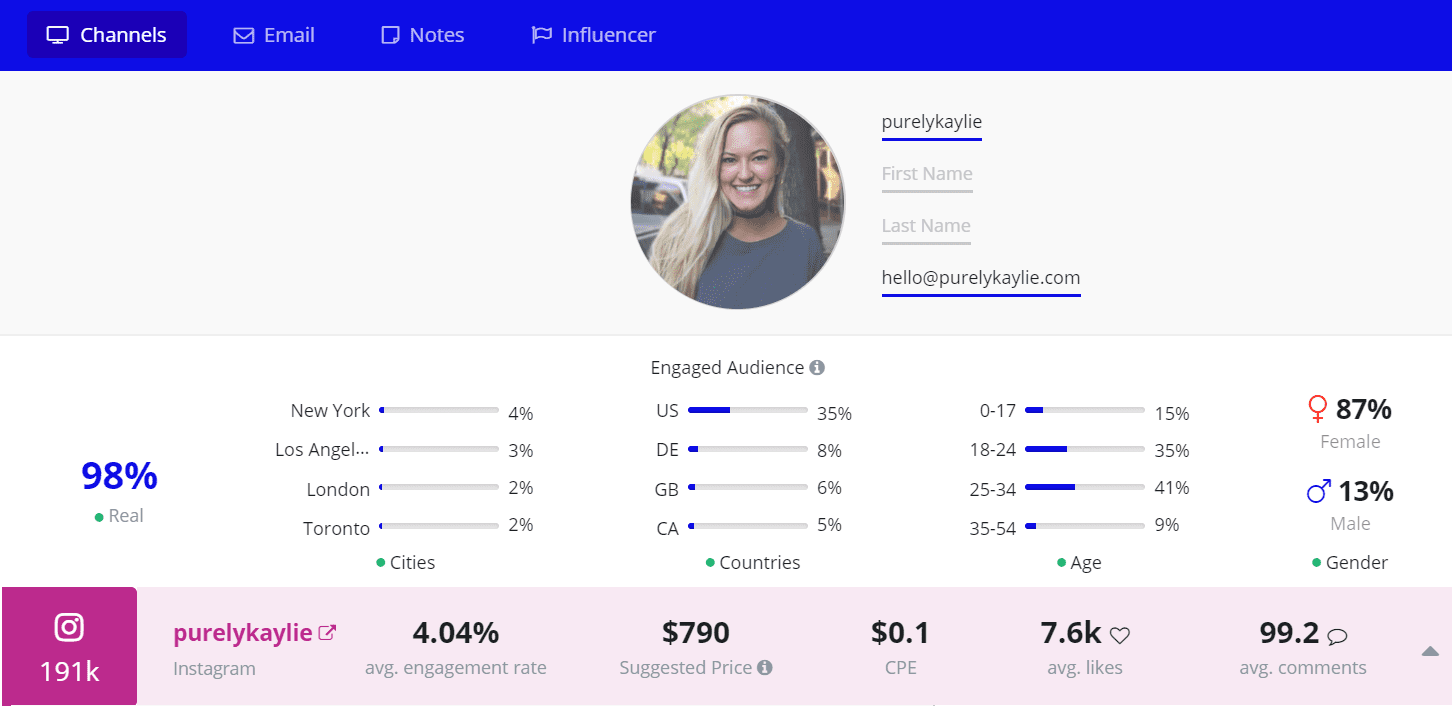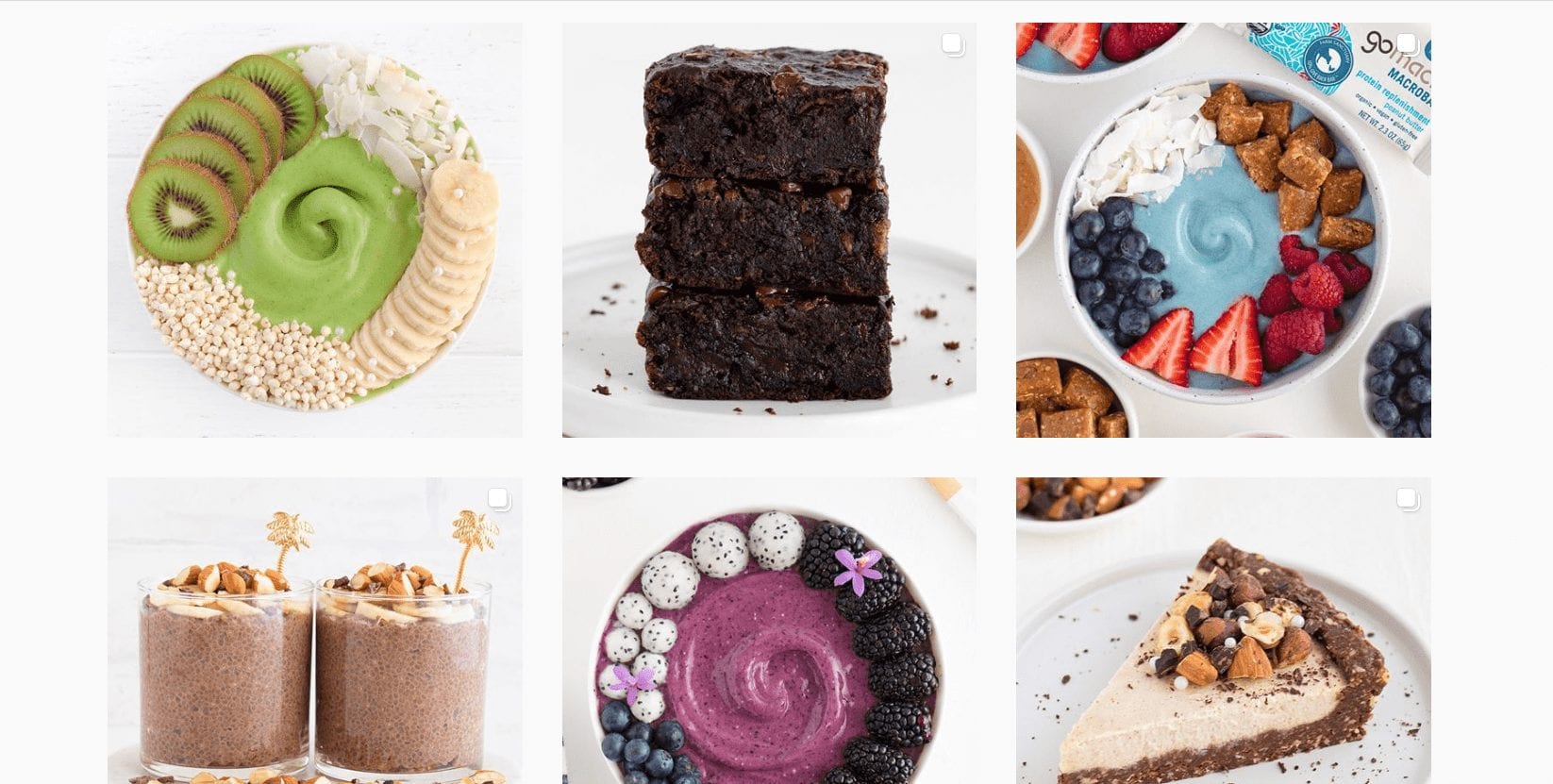 As you can see from the quick overview of her posting frequency in Upfluence, Kaylie is pretty busy on Instagram. Her 191k Insta followers love her delicious fruit bowls which often highlight star ingredients, like chia, hemp seeds, coconut flakes, and a whole lot of dragon fruit. Her e-book features 75 recipes of nutritious, colorful vegan food for breakfast, lunch & dinner. Yum!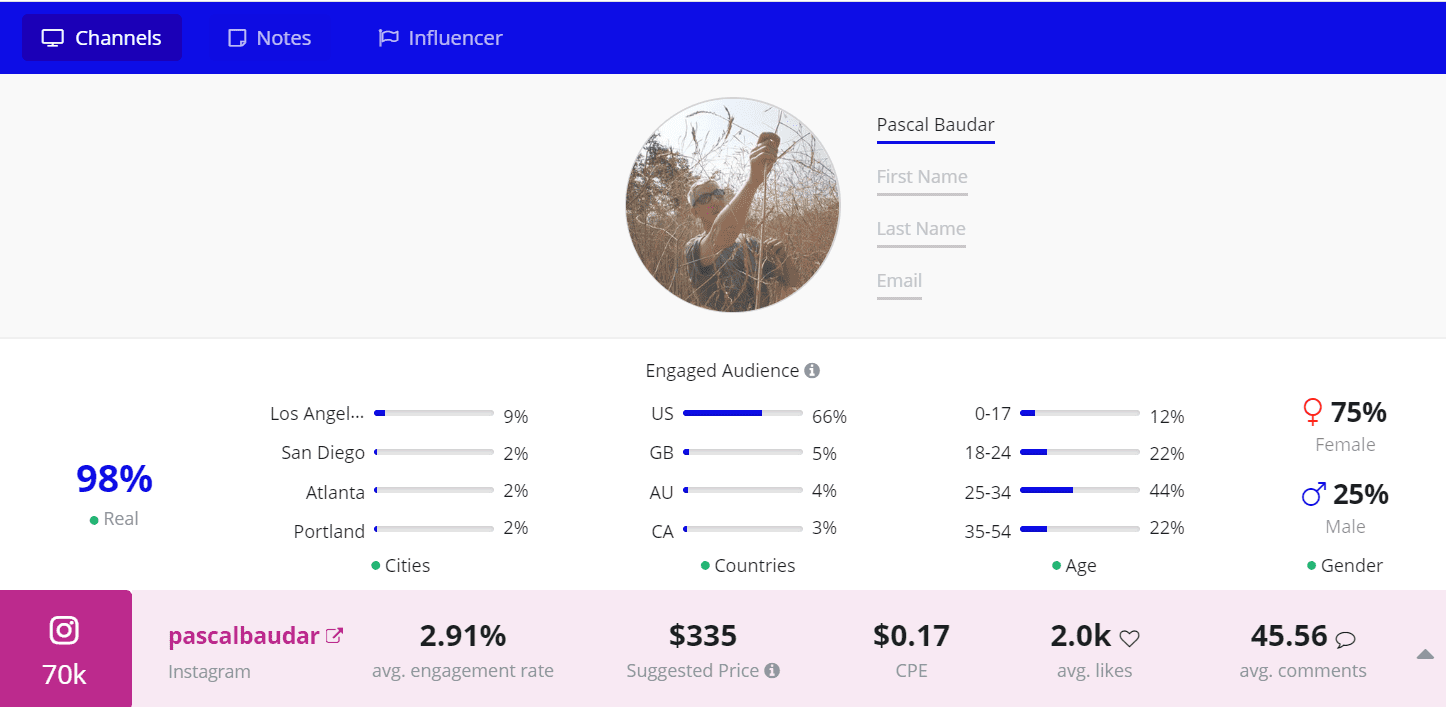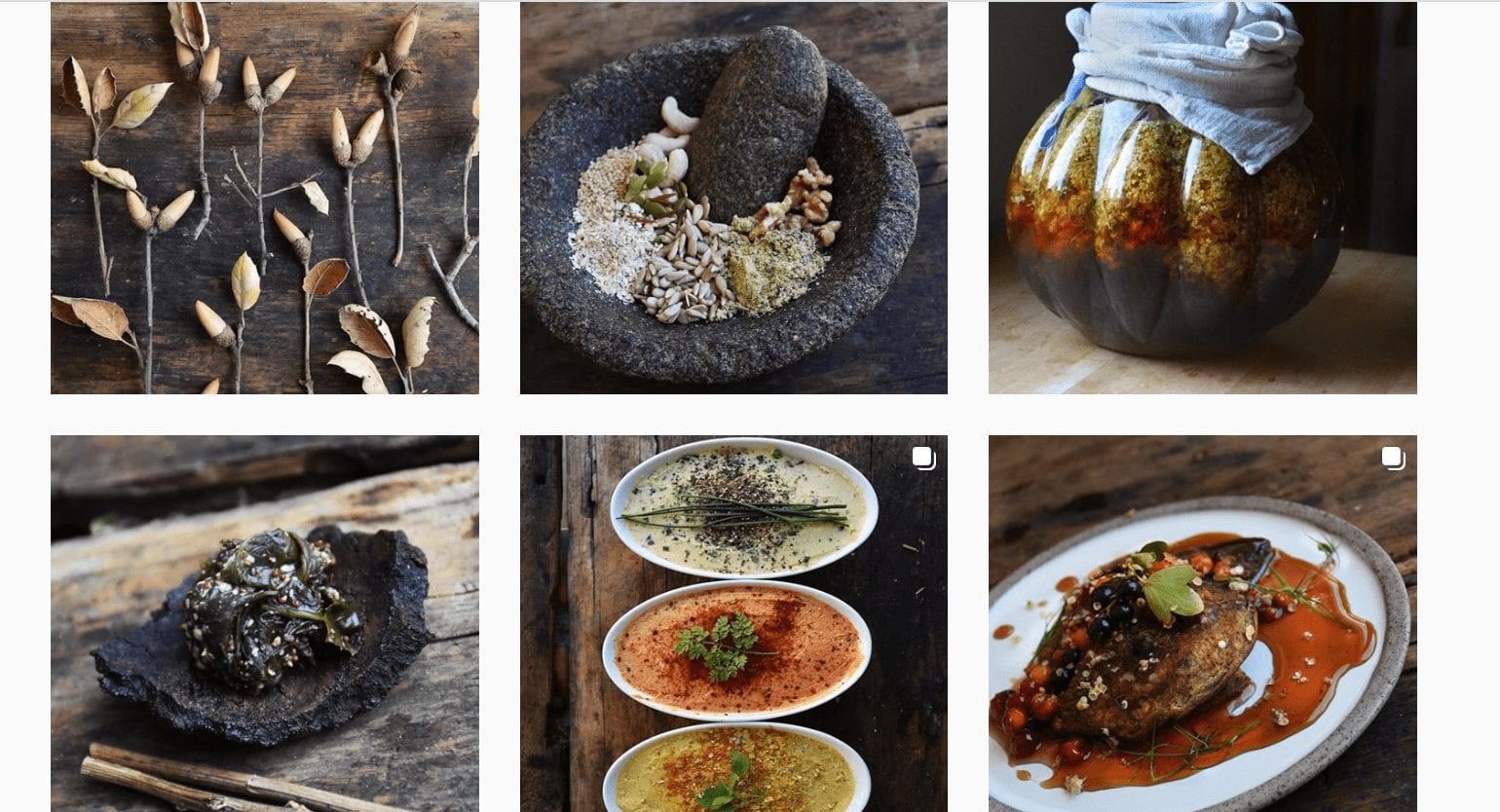 Pascal counts many talents including being a naturalist, artist and author. His Instagram account embraces natural processes for cooking. You'll find info on specialist subjects such as making fermented cheese. He still maintains a good engagement rate of 2.91% as his audience continues to grow.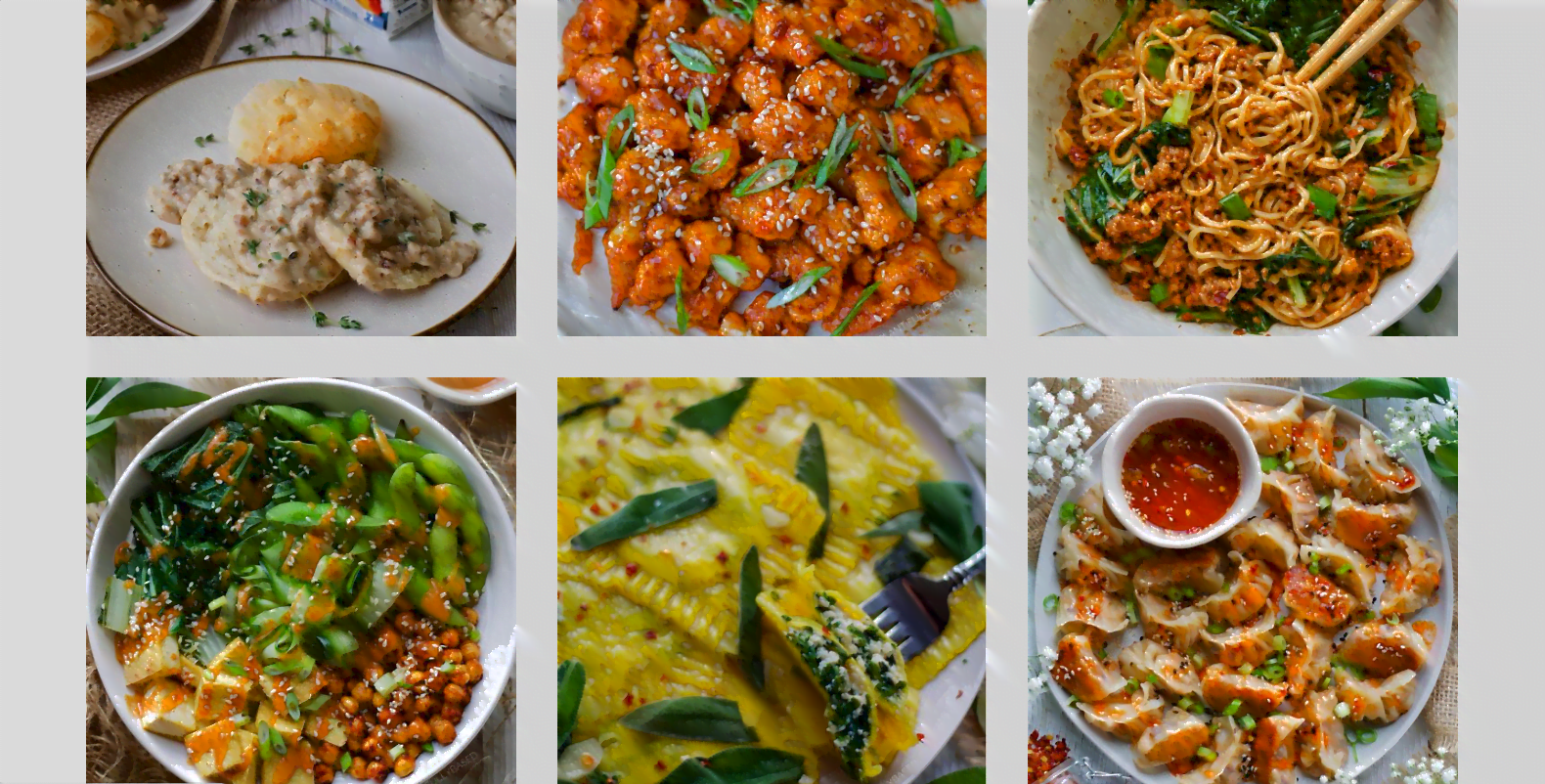 Francesca prides herself in making delicious, plant-based meals. Her Instagram is top-notch, with the majority of her engaged audience based in tha US. All in all, 224k people follow her exciting food journey.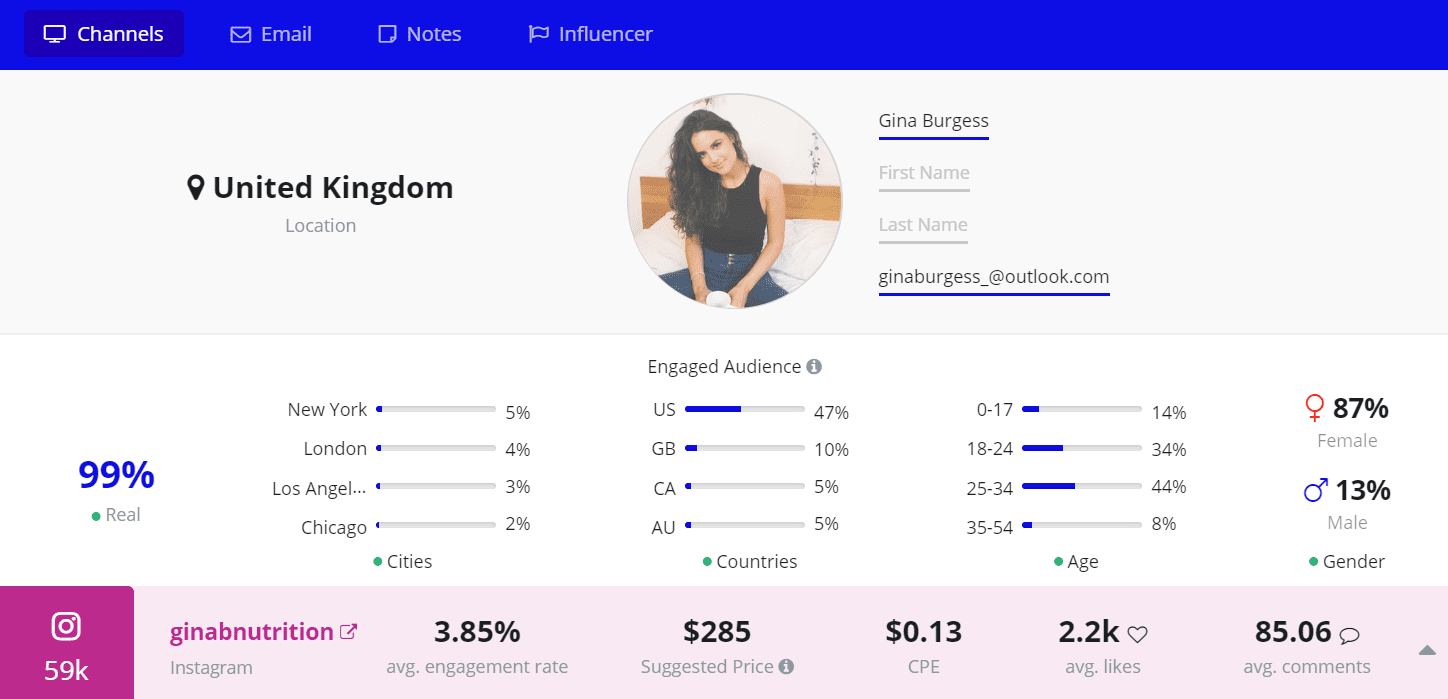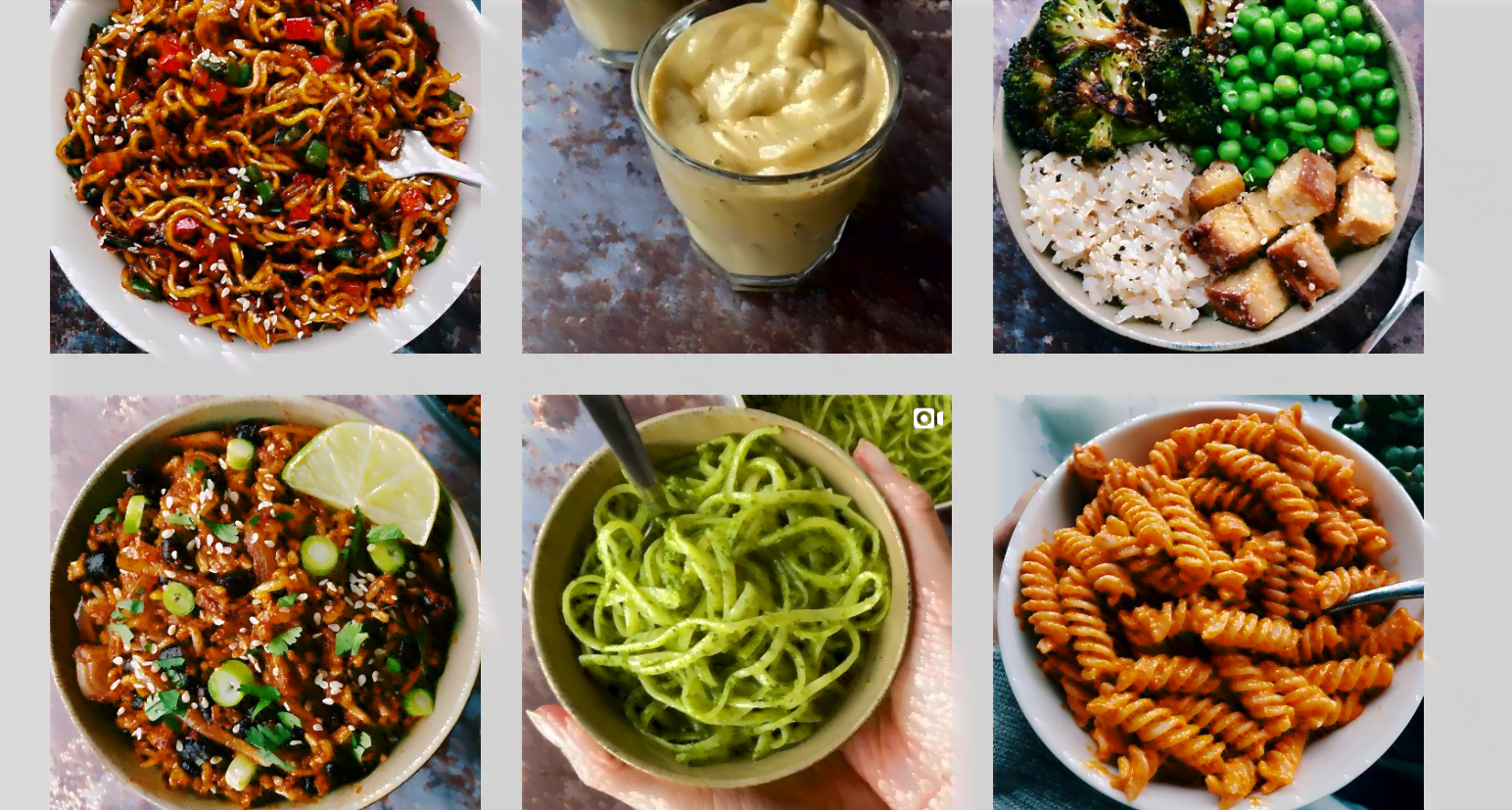 Gina is a medium sized influencer and as a nutritionist is considered a speacialist in the healthy eating field on social media. Her recent collaborations include Tilda rice, that she uses in the vegan recipes she develops and shares on her Instagram.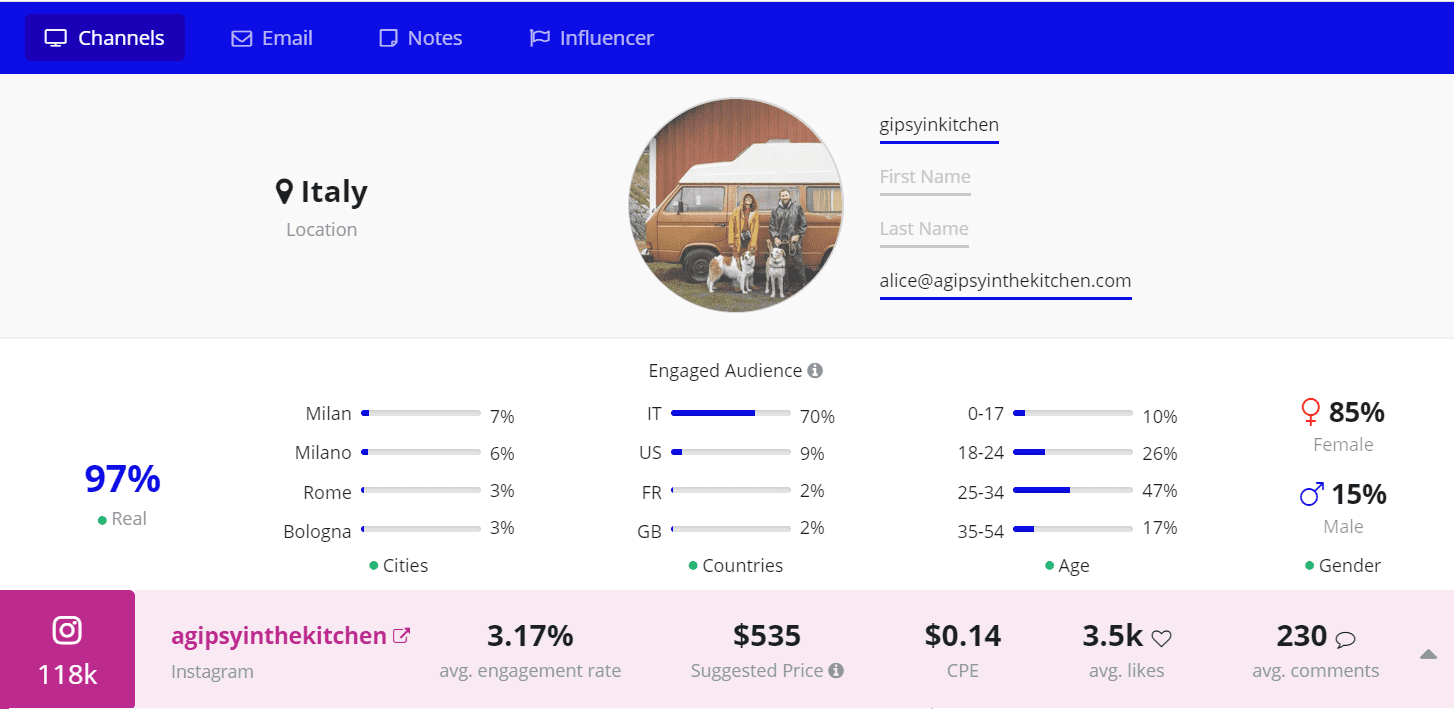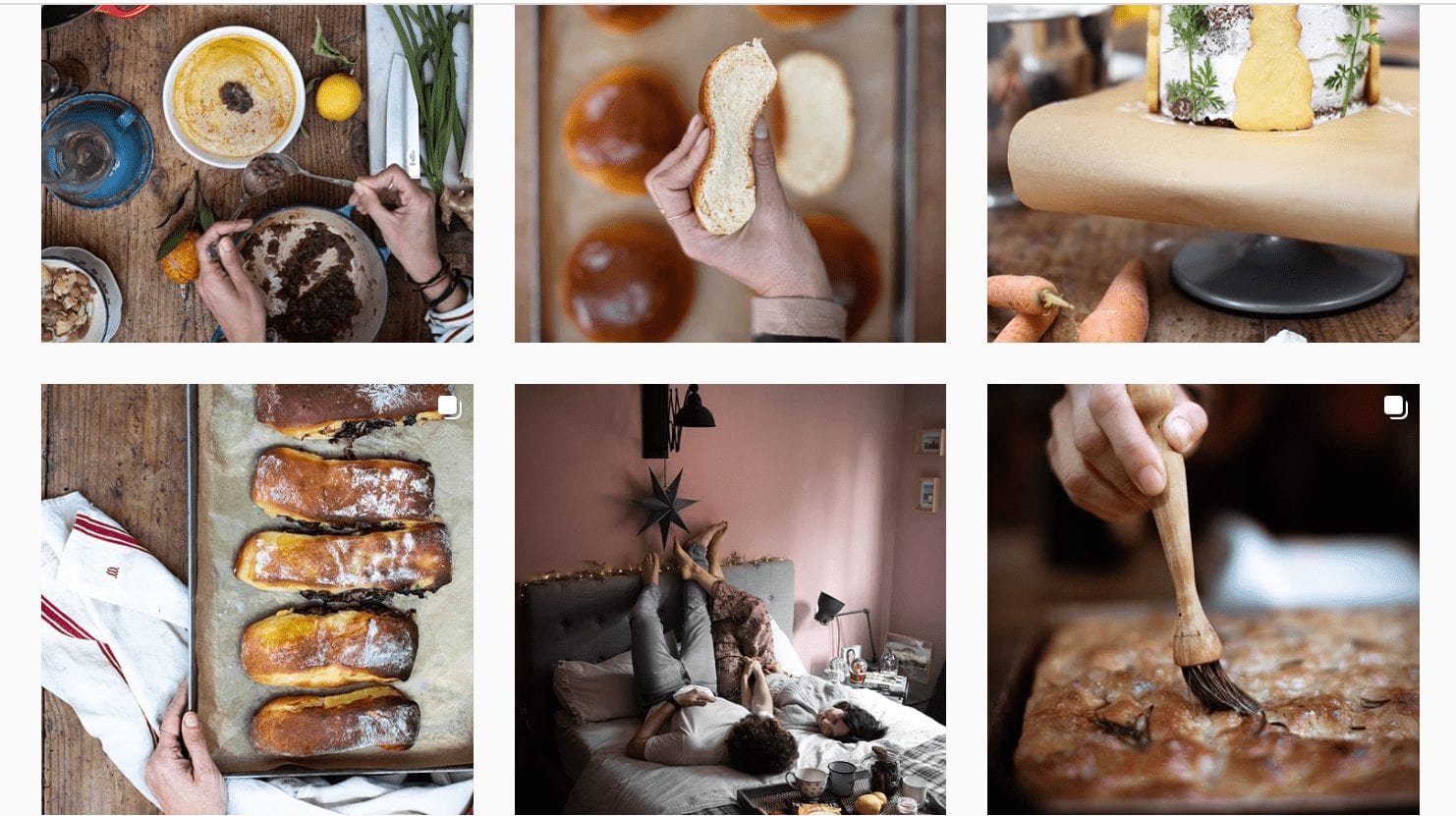 A Gipsy in the Kitchen follows the lives of  Italian couple Alessandro and Alice as they combine healthy cooking with their #vanlife and caring for their two pet dogs. They showcase good quality raw ingredients such as blackberries ans artichokes. The European duo have become mega influencers in their own right with over 100k followers.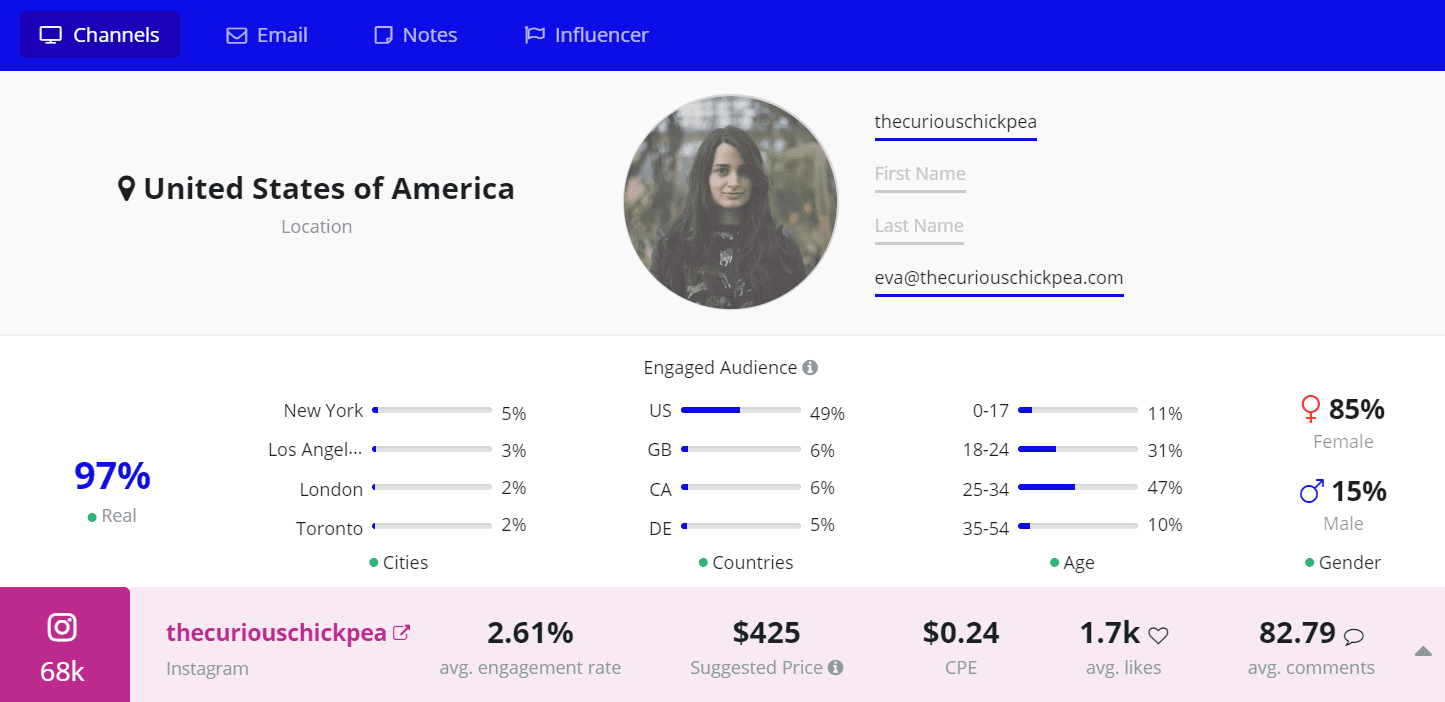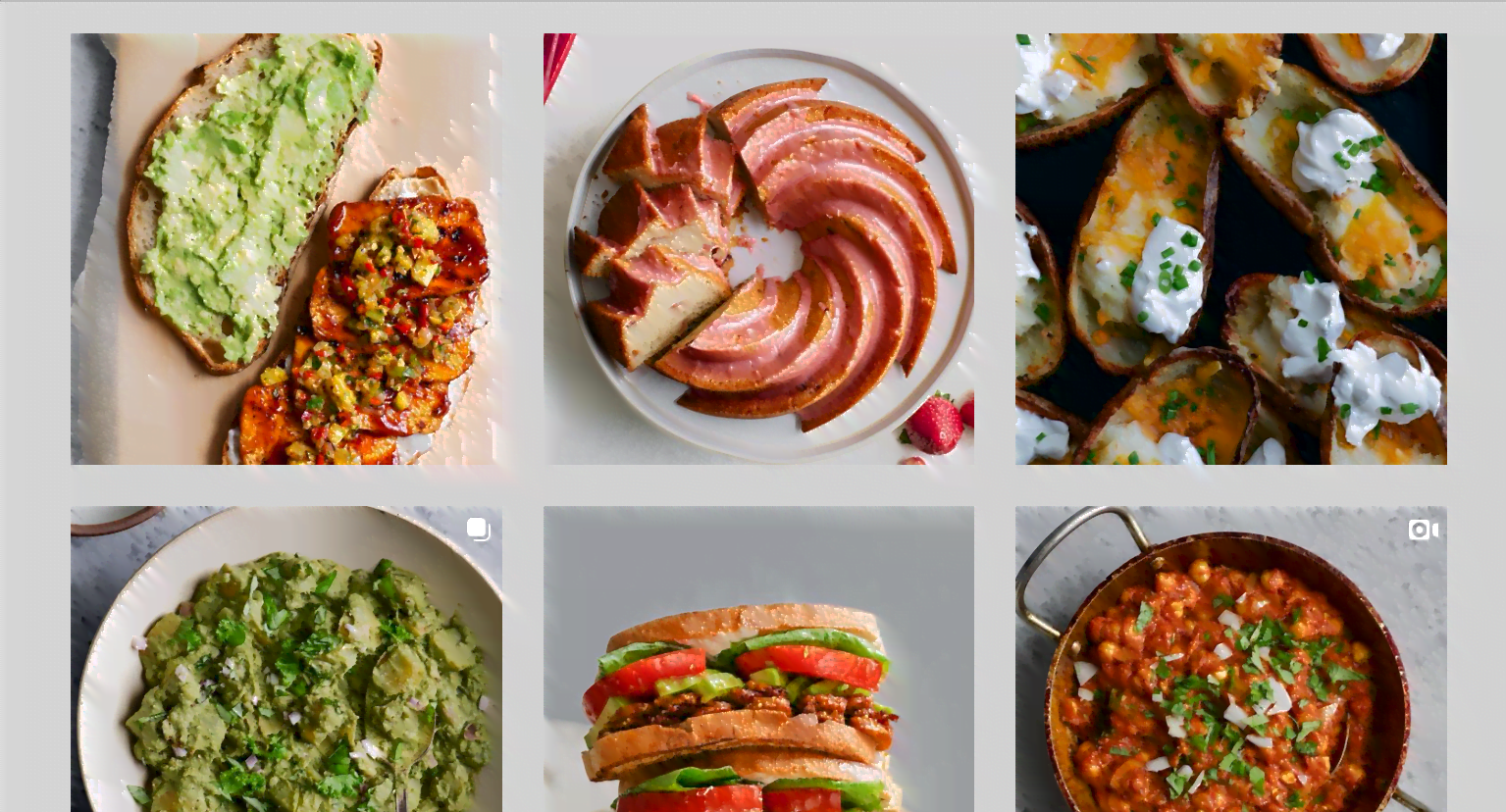 Eva of @thecuriouschickpea Instagram account is a talented recipe developer and photographer as demonstrated through her artful posts. Her passion is making vegan food accessible to all by sharing simple home-cooked meals on her feed. Not forgetting the importance of healthy snacks with a recent partnership with Hippeas snacks.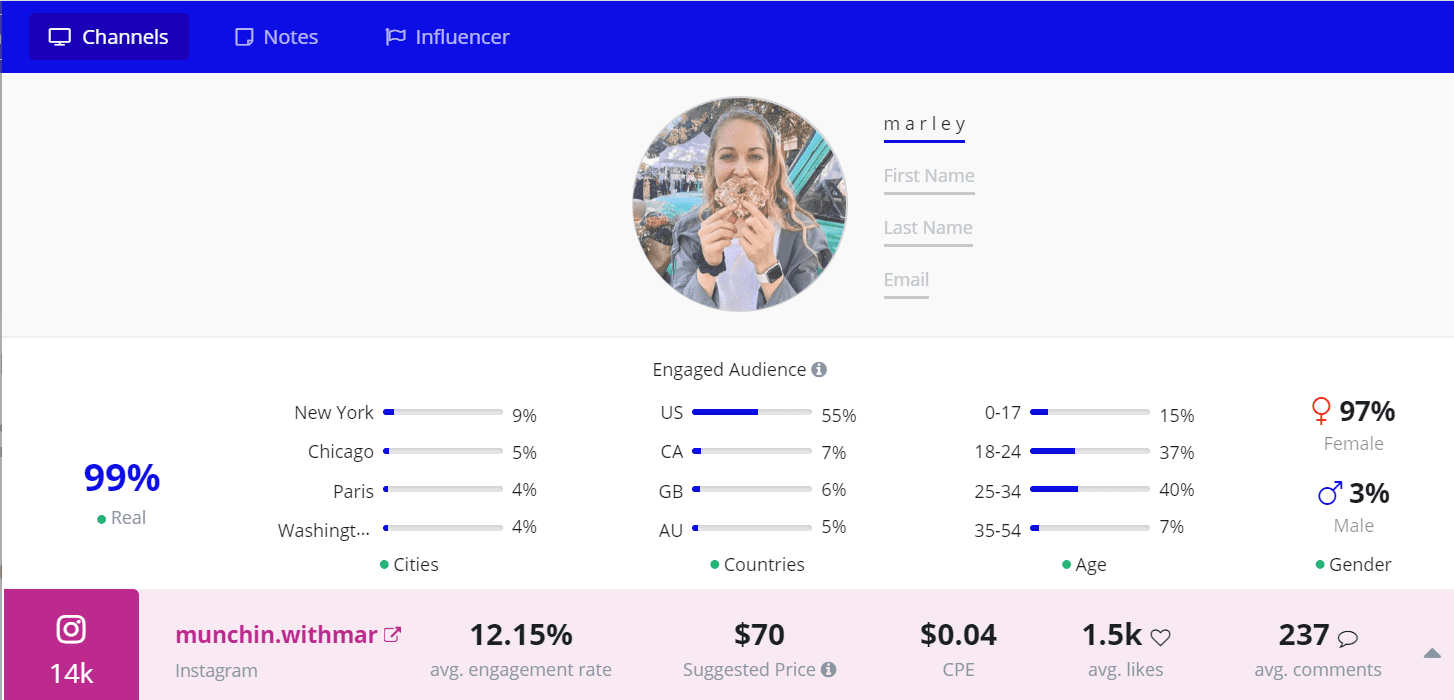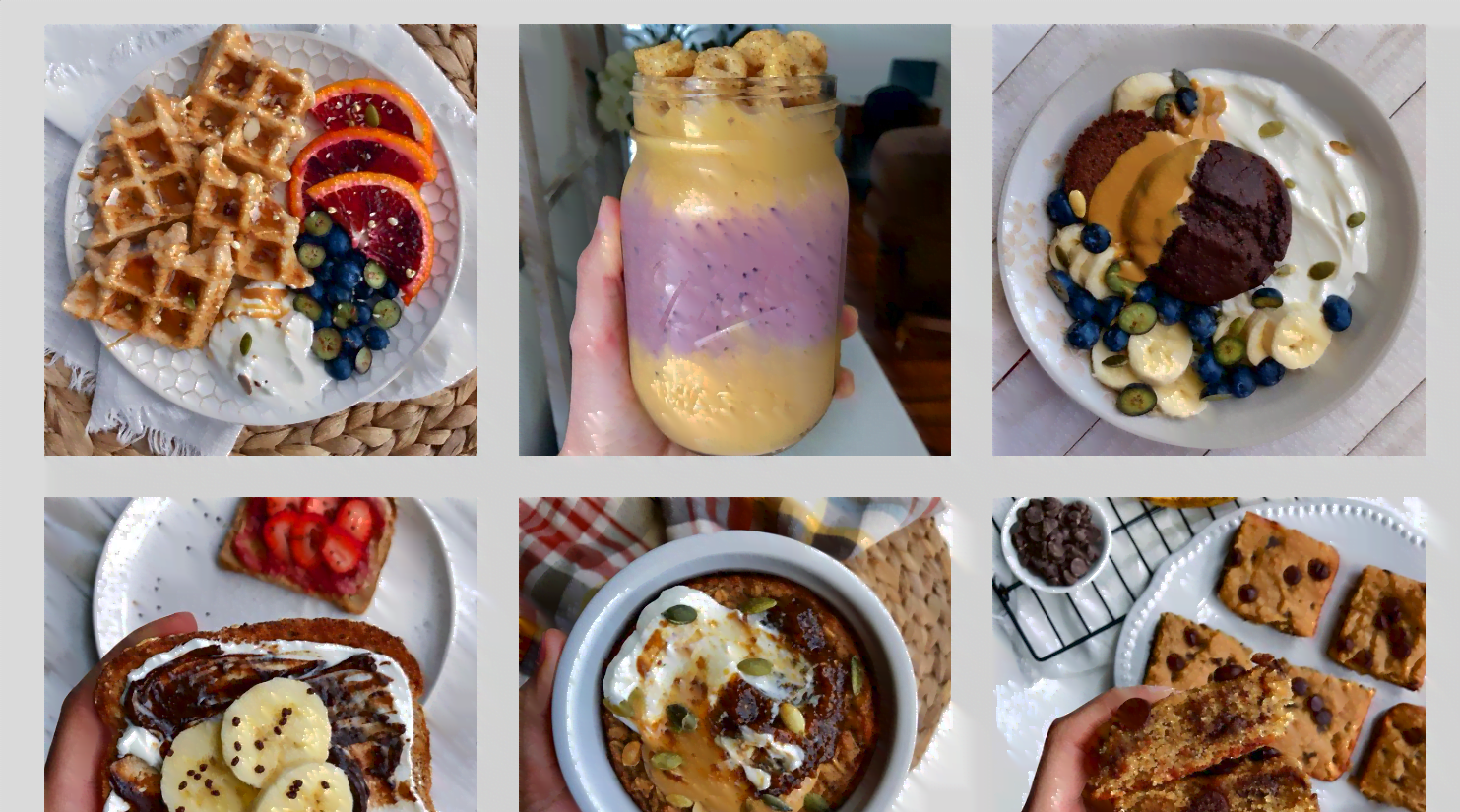 Marley is a micro influencer with an incredible engagement rate of 12.15%. Her Instagram celebrates healthy breakfasts with a wide variety of smoothies, fruit bowls and of course some pancakes with the recipes to get involved at home!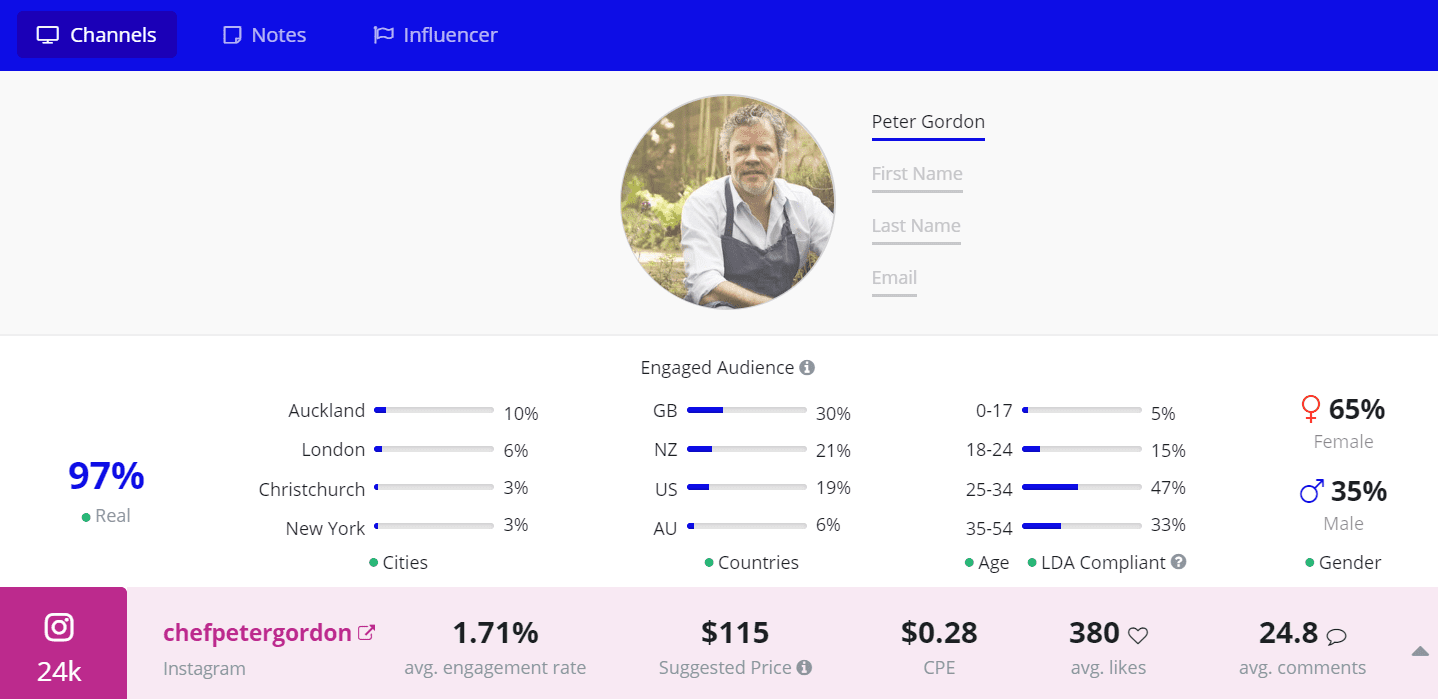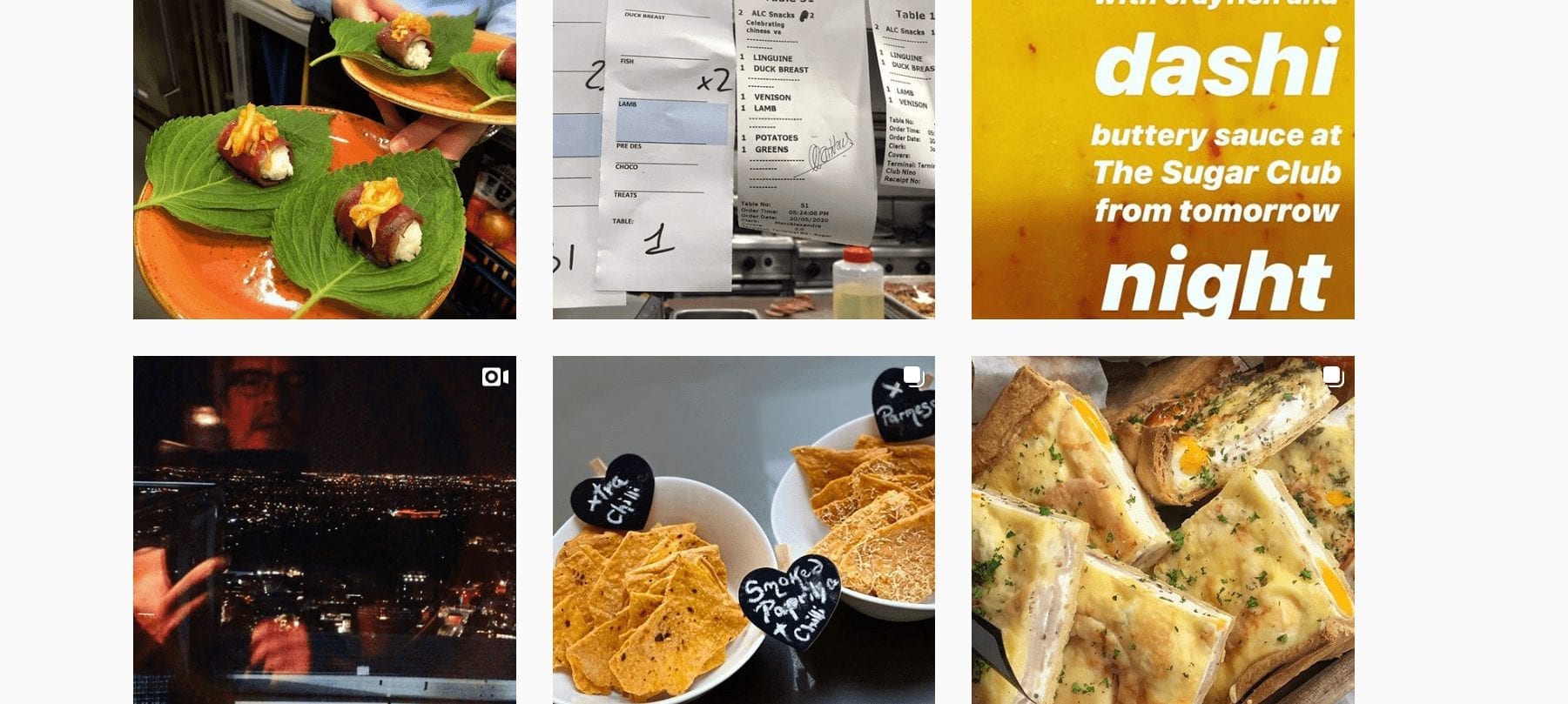 Peter is a chef influencer, with his Instagram account appealing most to those within the 25-54 age category. His account gives an insight into working at the restaurant The Sugar Club celebrating the fresh ingredients available on the coast of New Zealnd.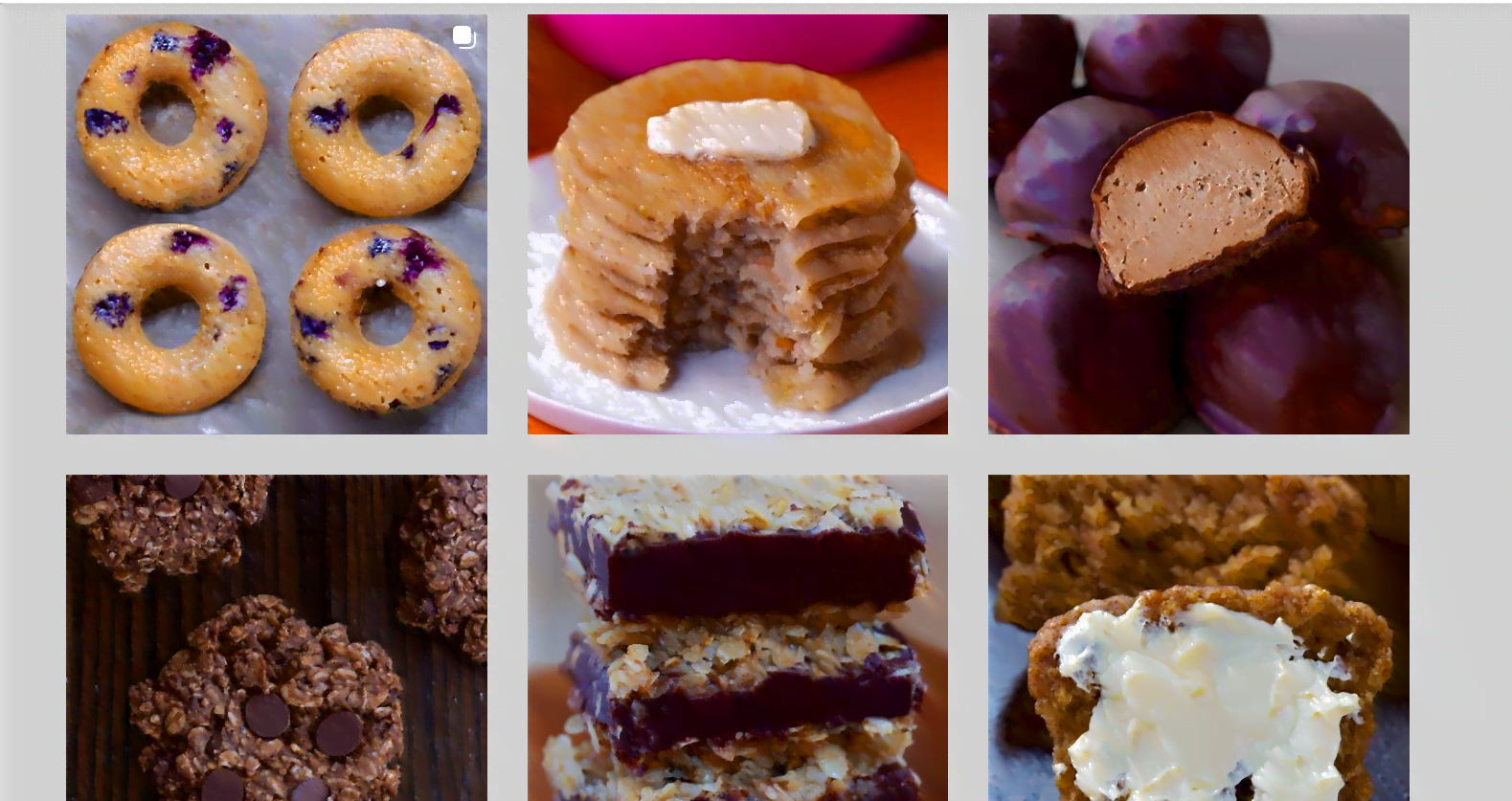 Despite featuring a lot of chocolate Katie's Instagram and blog is 100% healthy,  at least when it comes to desserts that is! With over 450k she's in mega influencer territory, showing the world's love of all things chocolate, especially when used with healthy ingredients.
Do you have other healthy foodies in mind? Just download our free Upfluence plugin to get a taste of our software and find out more about your favorite influencers.
Eager to get started with Upfluence software right away?
Request your free demo here and we'll help you identify top influencers with the right audiences for your brand!