The terms Ambassador, Affiliate and Influencer are sometimes used interchangeably, and sometimes one person can act as all three. Let's step back and understand how these three specific roles can be activated for your brand's marketing strategy. While there are many similarities in their purpose, influencers, affiliates, and brand ambassadors perform different roles and offer different values to your marketing campaigns. 
In an era of diminished trust in brands and advertising, many businesses are tapping into new marketing strategies that leverage external individuals such as influencers, affiliates, and brand ambassadors as advocates for their brands. The simple fact is that people trust people more than corporate ads. 
Brands are looking to build connections with their customers and increase interest from new audiences by working with influential people who can authentically promote their brand and products on their behalf. That's where the categories of influencer, affiliate, and brand ambassador come in. How do you choose between affiliate and influencer marketing? Or between an affiliate program or a brand ambassador campaign?
What is an Influencer?
'Influencer' is an umbrella term for many different categories of online creators. A social media influencer has the capacity to effect change, shape opinions, and drive action within a certain industry niche and for a specific online audience. Influencers are characterized by their valuable social reach and ability to create social media content that engages their audience to drive specific outcomes for brands such as increased brand awareness, engagement, and conversions. 
Why work with influencers?
Reach a large audience with macro & mega influencers.
Target niche audiences with nano & micro-influencers.
Influencer campaign types
Product review
How-to guide
Unboxing
Events
Live shopping stream
Influencer compensation
Product
Payment (flat fee or performance-based fee)
Product & Payment
% profits
What is an Affiliate? 
An affiliate is a third-party brand partner who drives sales of certain products among their audience in exchange for a % cut of the profits. Compensation is based on the individual's ability to meet performance-based outcomes such as increased website traffic, or reach a certain number or value of sales. 
Why work with affiliates?
Increase online sales and drive revenue.
Easily track and attribute sales.
Affiliate campaign types
Affiliate campaigns using discount codes.
Affiliate campaigns using UTM links.
Affiliate compensation
What is a Brand ambassador?
A person of influence with close ties and natural affinity with a brand due to using their products, who promotes these products or services in exchange for compensation. A brand ambassador publicly represents a brand and can be recruited as part of a network to raise the profile of a brand by sharing authentic product recommendations based on real experience. 
Why work with brand ambassadors?
Brand ambassador campaign types
Referral campaigns
Organic social promotion
Giveaway campaigns
Loyalty programs
Brand ambassador compensation
VIP benefits
Free products
Event passes
Exclusive discounts
Payment
How to choose between a brand ambassador, an affiliate, and influencer marketing
Influencers, affiliates, and brand ambassadors can be activated for different campaigns depending on the aims of your brand. It's important to understand why and how you can work with these partners to achieve certain goals. That's why we've set out the key reasons and benefits for working with each of these categories in the Cheat Sheet to Understand influencers, Affiliates & Brand Ambassadors so you can choose the best fit for your brand. Learn what value they bring, what kind of campaign they're best suited to plus the best compensation models to use to incentivize them.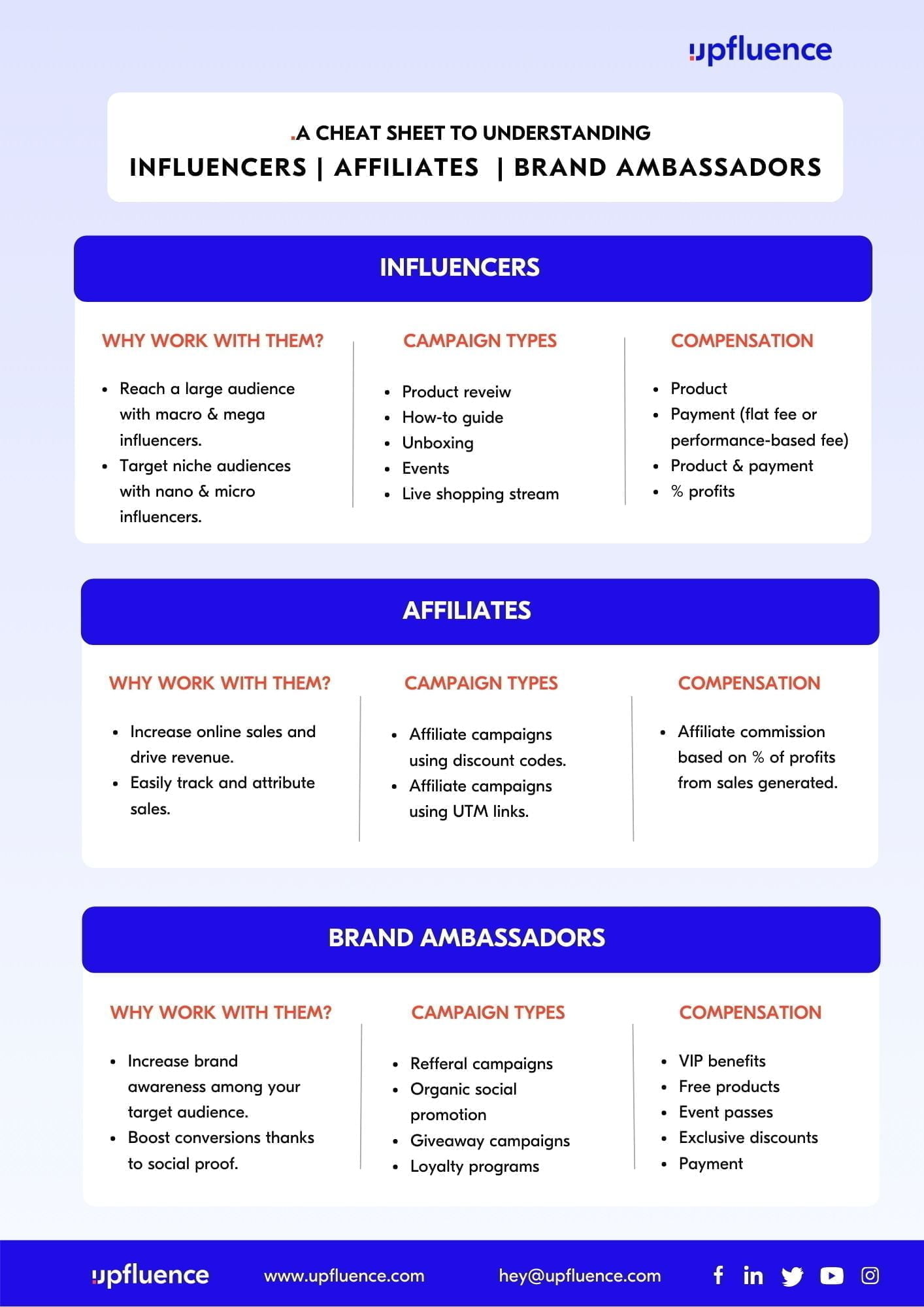 It's important to remember that you can tailor these campaigns to suit your needs by mixing and matching these partnerships for maximum impact. Maybe you'd like to activate your micro-influencers in an affiliate campaign to promote a holiday product. Or perhaps you'd like to convert your influential customers into organic influencers for your brand? Decide your goals and KPIs, whether that be awareness, engagement, or sales then activate your influencer, affiliate, or brand ambassador partnerships accordingly!