With over 9 million active broadcasters, Twitch is one of the largest live streaming platforms around today.  Let's take a closer look at the top Twitch streamers who are worth following.
Twitch is seen as the leading social media platform for gamers and Esports professionals.  The top gaming influencers on Twitch have large followings and even though this space is still dominated by male streamers, female streamers are on the rise too.
Twitch has become a space where streamers can rise through the ranks, growing a vast following in no time. Their communities are also very vocal and fiercely loyal.  People spend hours watching their favorite streams and interacting with the streamers in real-time, which builds a strong connection between influencers and their fans.  These tight-knit gaming communities are fast becoming the focus of many influencer marketing campaigns as more marketers realize the value in targeting audiences using this unique platform.
It's for this reason that many Twitch gaming influencers can earn a good (and amazingly good!) income as game streamers.
Download a full performance report for 50 top Twitch Streamers
Top 15 Gaming Streamers on Twitch
Here are the 15 biggest Twitch streamers that are leading the scoreboard based on their performance.
Followers: 9.5 million
Estimated Net Worth: $4 million
Félix Lengyel, also known by xQcOw or xQc, starts off this list as a French-Canadian Twitch streamer. He has played competitively for many gaming leagues, including the Overwatch World Cup for Team Canada 2017 – 2019. In 2020 he was recognized as the most-watched Twitch streamer.  He is also active on his YouTube channel, where he shares his stream recaps, reaction videos, and gaming comments.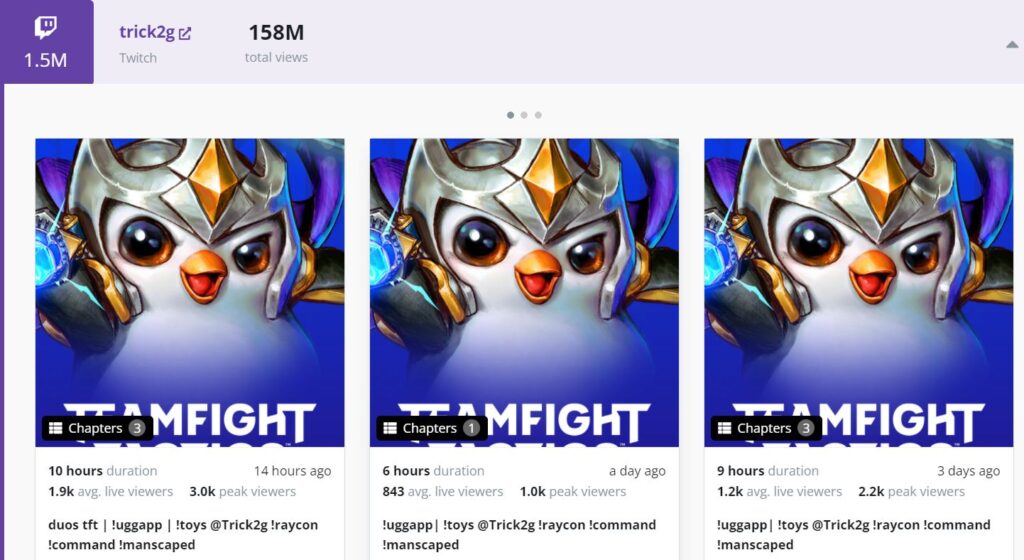 Followers: 1.5 million
Estimated Net Work: $3.8 Million
Trick2g is a veteran player of League of Legends, clocking up 153M views. This US-based streamer is definitely one to consider for brand collaborations given his A+ rating in Upfluence for the number of stream views compared to similar influencers. You can also follow him on his YouTube channel for more content.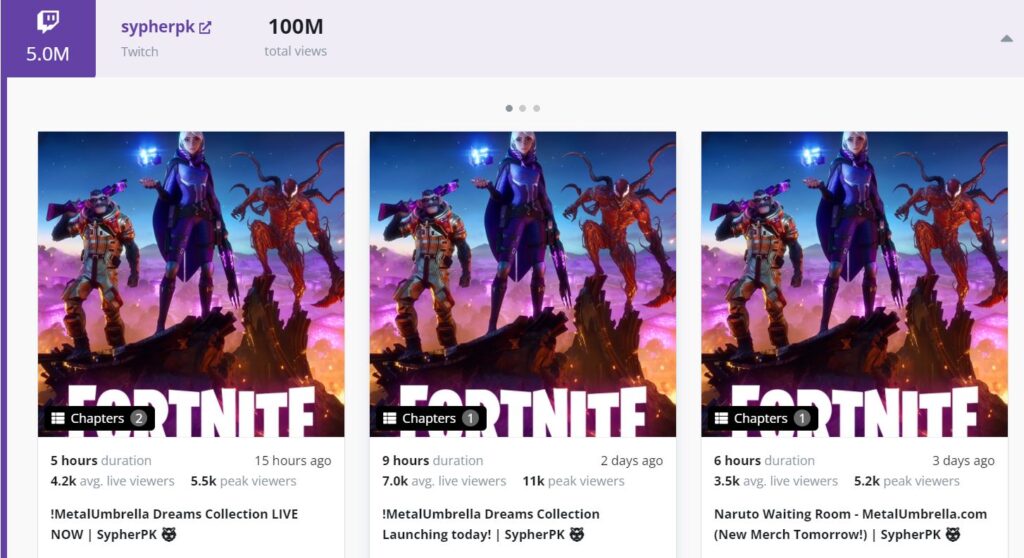 Followers: 5 million
Estimated Net Worth: $2.2 million
SypherPK, or Sypher Ali, is a professional Fortnite player and Twitch streamer. He is a team member of Team Luminosity – which Ninja (Twitch's #1 streamer) is also a part of.  Not only known for his video game skills and tips, SypherPK also actively collaborates with other streamers and Youtubers.
He also has a Youtube channel with more than 4.8M followers.

Followers: 4.6 million
Estimated Net Worth: $1 million
Based in the United States, Tyler rose to fame on Twitch by playing and streaming League of Legends.
In 2014, Tyler was ranked as the 13th best League of Legends player in the world and today, he continues to stream via Twitch and regularly uploads gaming-related content to his YouTube channel.
Unfortunately, Tyler didn't become famous for all the right reasons. His toxic behavior and unsportsmanlike conduct lead to several of his accounts being banned. Nonetheless, he manages to maintain a loyal fan base and also sells merchandise on his personal website.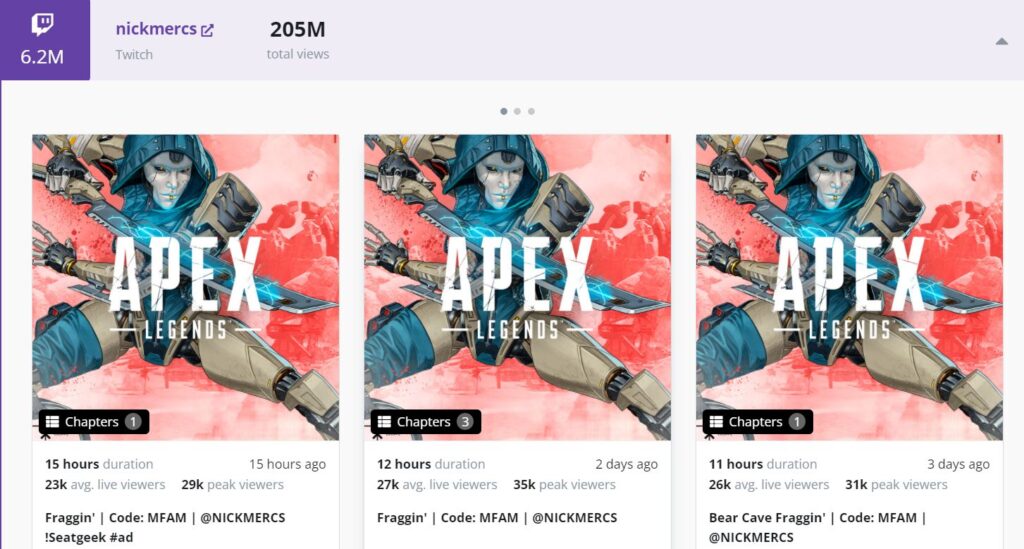 Followers: 6.2 million
Estimated Net Worth: $750,000
NickMercs is a body-builder and Twitch streamer. He's an Esports pro and plays as part of FaZe Clan. He has also more than 3.4M subscribers on YouTube. He is known for playing games such as Fortnite and Call of Duty.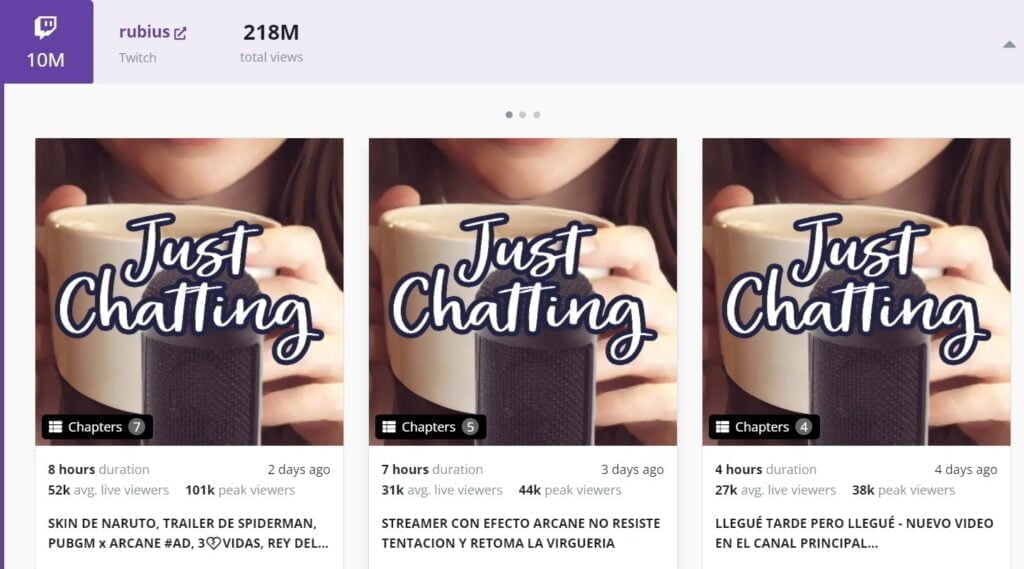 Followers: 10 million
Estimated Net Worth: $7 million
El Rubius is a Spanish-Norweigian Youtuber, who also has a large presence on Twitch. Ranked as the 13th most followed streamer, Rubius is widely known for various gaming titles that he plays. The game that helped him gain the most attention, in the beginning, was The Elder Scrolls V: Skyrim.
On Youtube, Rubius has an even larger following at 37.5M subscribers, on his channel elrubiusOMG.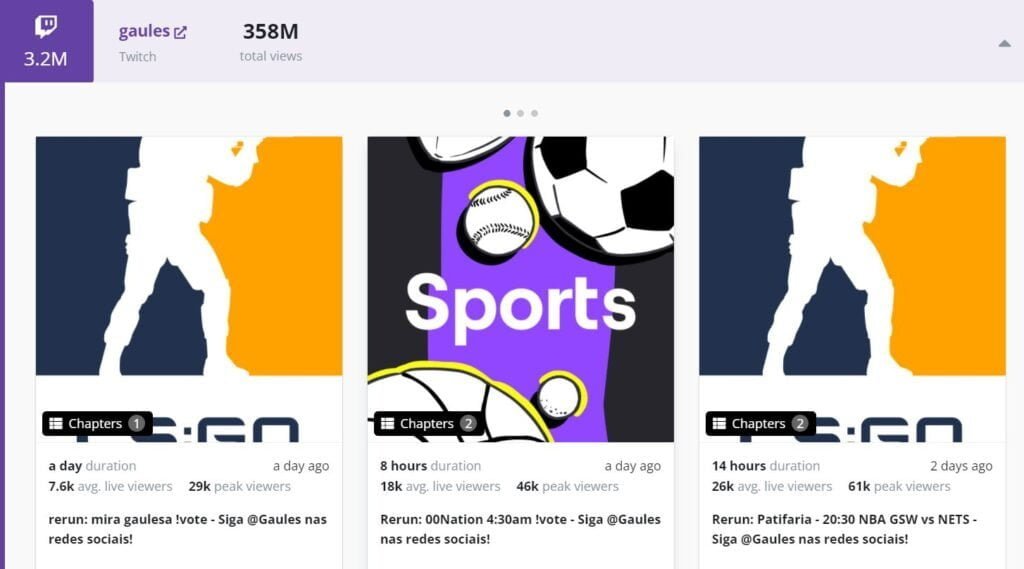 Gaules, also known as Alexandre 'Gaules' Borba is a streamer based in Brazil, with a rapidly growing audience. In November 2020 he was the most-watched streamer of the month, with 16.2 million hours watched.  He also holds the top spot among the most-watched Portuguese channel on Twitch. Recently he's been often streaming Among Us. He's top-ranked by Upfluence too, with an A+ for Twitch views compared to other similar influencer profiles.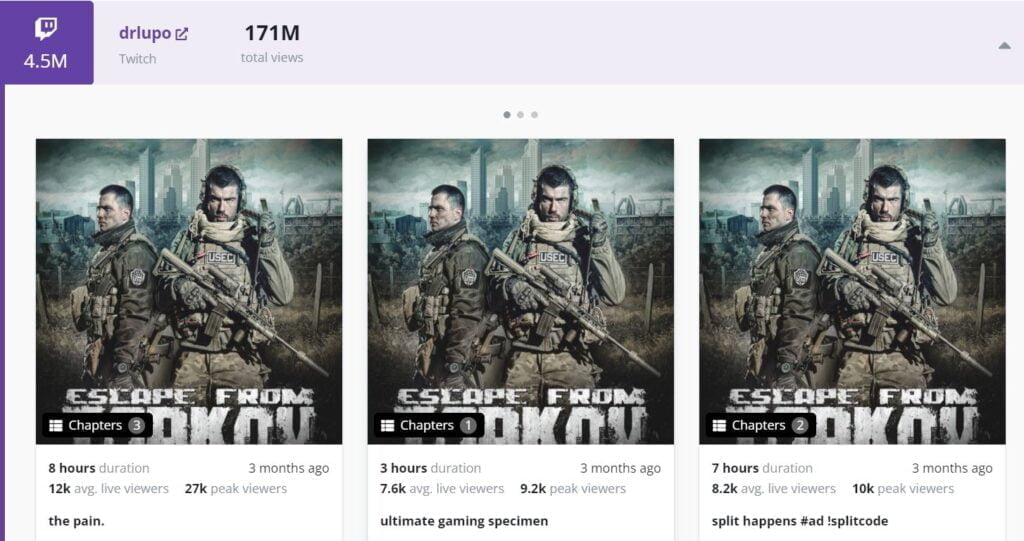 Followers: 4.5 million
Estimated Net Worth: $3 million
Ben, a full-time streamer based in the USA, has been a professional player of Fortnite for years. DrLupo also has a strong presence on YouTube, with a subscriber base of over 1.75 million followers.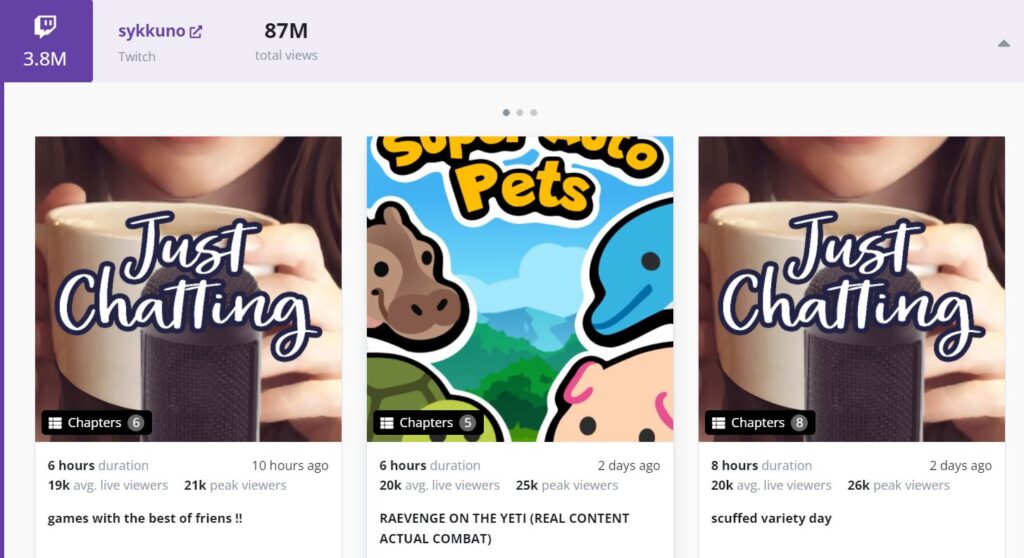 Followers: 3.8 million
Estimated Net Worth: $2 million
Sykkuno is a US-based streamer that started out with a YouTube channel dedicated to League of Legends, but since 2018 has become more active on Twitch. He's most well-known for playing Among Us these days, with 29M total views overall. He also spent a short time living in the Offline TV house located in Los Angeles with other well-known streamers such as Pokimane.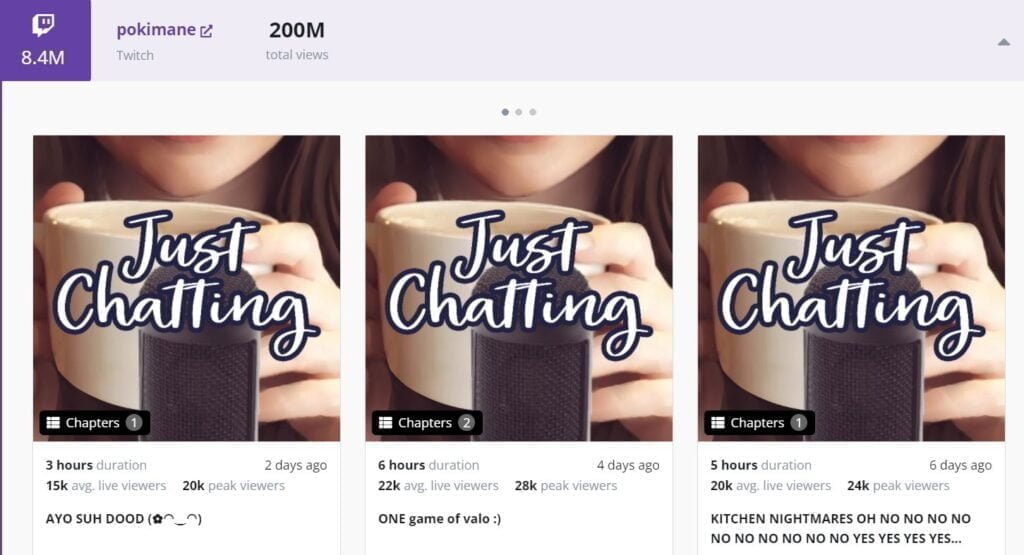 Followers: 8.4M
Estimated Net Worth: $2 million
Born in Morocco, Pokimane is one of the top female Twitch streamers in the world and a rising internet star. She has also more than 6.3 million subscribers on YouTube. She is known for playing games such as Fortnite and League of Legends and even has her own range of merchandise.
In August 2018, Pokimane was invited to stream at the Teen Choice Awards in an effort to highlight the popularity of streaming and gaming and to make it more mainstream.  Pokimane has worked with brands such as Winky Lux and is one of five internet stars who create content for the popular YouTube channel, Offline TV.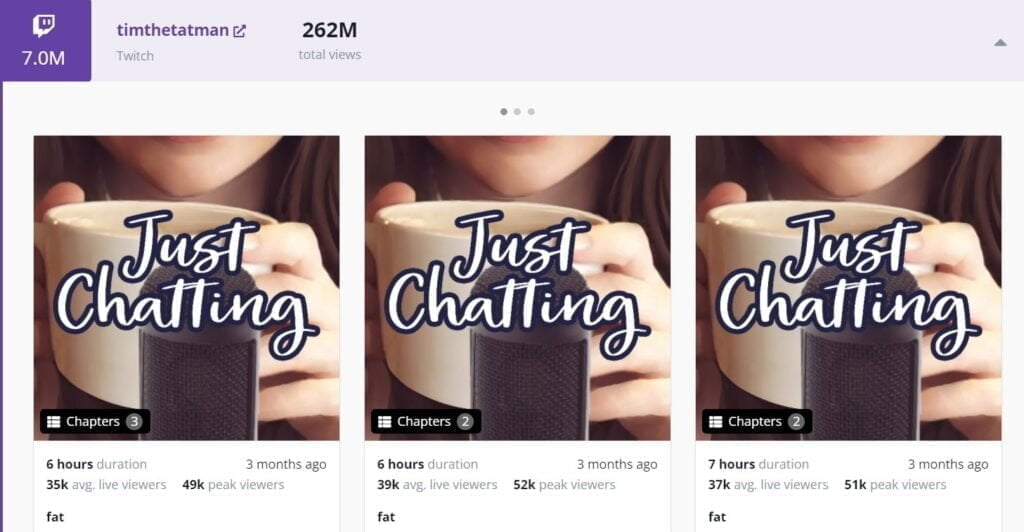 Followers: 7 million
Estimated Net Worth: $8 million
Tim, a full-time streamer based in the USA, plays a wide variety of games but Fortnite and Overwatch are his favorites. His streams often include his wife, who joins him in his live streams.
Tim started his gaming career on Twitch back in 2012 and now also runs a YouTube channel that has over 2.84 million subscribers. Tim has been sponsored by several different brands, with Monster Energy being the most notable. Some of his other sponsors include Audio-Technica, Razer, and NZXT.
Along with earning an income from his Twitch and YouTube channels, Tim also sells merchandise on the DesignByHumans online store.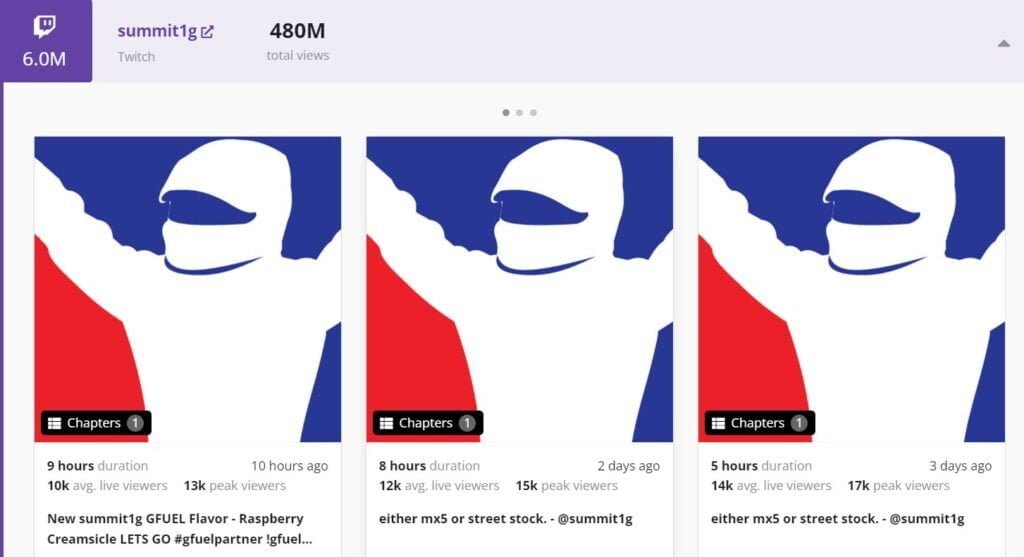 Followers: 6 million
Estimated Net Worth: $2 million
Summit1g, a former Counter-Strike: Global Offensive (CS:GO) player and semi-professional streamer in the United States, was the biggest Twitch gaming influencer before Ninja, Shroud, TFUE & Myth surpassed him last year. He's currently ranked as the ninth on the platform in terms of followers.
Jaryd streams Fortnite on most days of the week. Before retiring from his career as a (CS:GO) pro, Jaryd played on competitive gaming teams and was sponsored by brands such as Monster Energy and Audio-Technica.
In an effort to participate in the Alienware Cup, Jaryd joined Quantic Gamic. He was also a member of potato streamers and a part of the Ze Pug Godz team. Lazar moved over to team Mythic and competed in the Main Division of ESEA in 2017.
Along with his Twitch channel being so popular, summit1g also has a strong following on social media, including YouTube where he has over 676K subscribers.
 Myth (Ali Kabbani)


Followers: 7.4 million
Estimated Net Worth: $3.5 million
Myth is a well-established Twitch star and is well known for his Fortnite gaming skills. His love for video games started at the age of 4 but he officially starting streaming in 2016 on a Twitch channel called Paragon. He managed to gain a massive online following in a very short space of time.
Ali is known as the best Fortnite player in the world and is currently the captain of Team Solomid. He has also competed against notable gaming influencer, Ninja.
Tsm_myth also has a strong presence on YouTube, with a massive subscriber base of over 4.3 million.
Some of the brands that currently sponsor Ali include Dr Pepper, Chipotle, Vertagear, and GEICO Gaming.
 Shroud (Michael Grzesiek)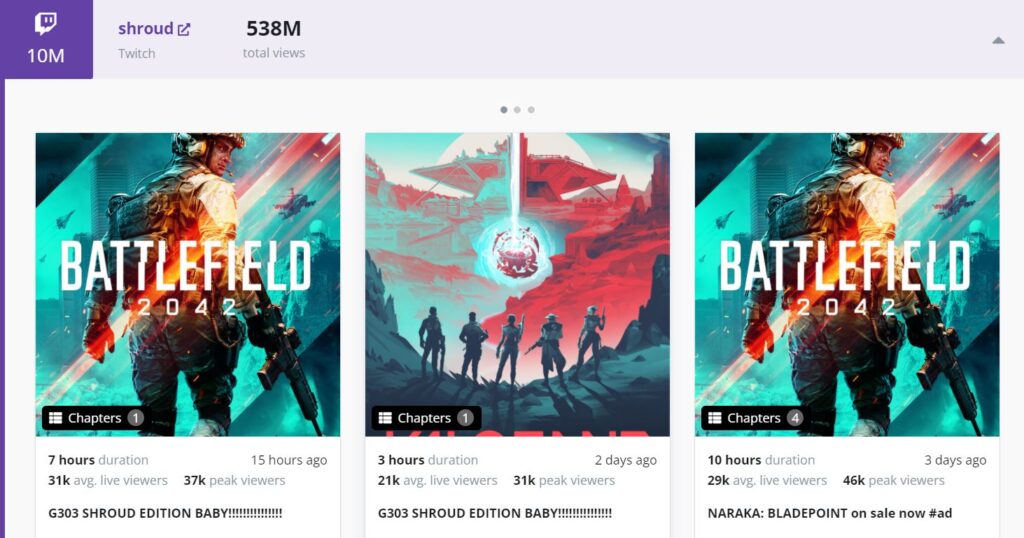 Followers: 10M
Estimated Net Worth: $16 million
Shroud, aka Michael Grzesiek, was a professional Counter-Strike player for Cloud9 until late last year.
The Canadian gamer played an average of 50 hours a week, with his primary games being The Culling, PUBG, Tom Clancy's The Division, H1Z1, and Tom Clancy's Rainbow Six: Siege.
When Michael first started out in gaming, he was a member of teams such as Exertus, Slow Motion,  Manajuma and made a name for himself as part of Cloud9's CS:GO team. After a short time streaming exclusively on Mixer, a gaming platform created by Microsoft, he has since returned to Twitch in August 2020.
Shroud also has a YouTube channel and has been sponsored by brands such as Hyper X and Madrinas Coffee.
 Ninja (Tyler Blevins)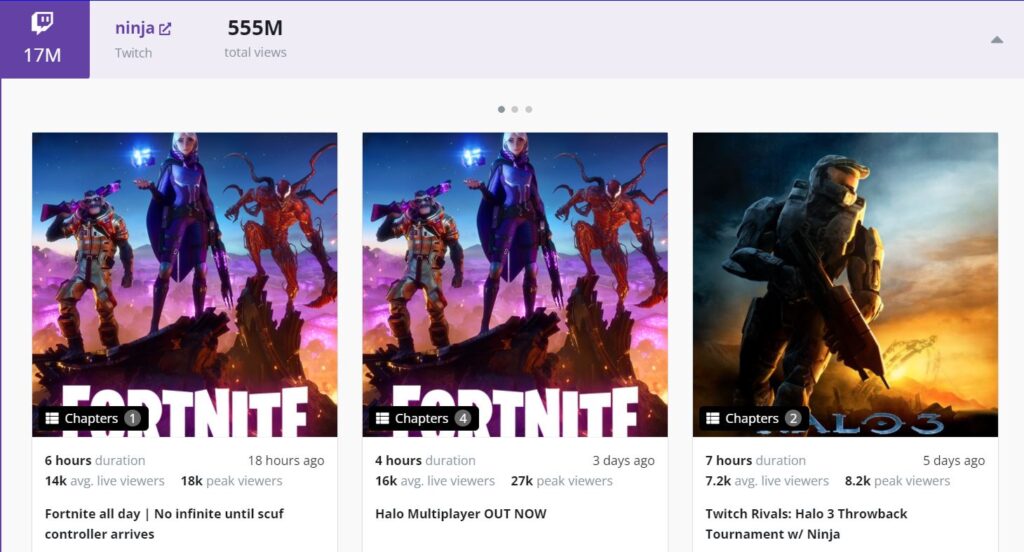 Followers: 17 million
Estimated Net Worth: $25 million
In December 2020, Ninja was crowned the most followed Twitch channel.
Tyler is a former professional Halo gamer who is involved with Luminosity gaming. Ninja's team 'Renegades' achieved 5th – 8th place for Halo 5 in the Halo World Championship in 2016.  Ninja was known to stream for up to 80 hours every week and has even partnered with celebs such as Drake in the past. His live-streamed lesson on Fortnite with the famous rapper broke Twitch records by gaining 635,000 concurrent spectators.
As a professional streamer Ninja has worked with a number of different brands, including Uber Eats, Scuf Gaming, and Chuck Blevins Real Estate. In 2018 he collaborated with Red Bull Esports on an exclusive Fortnite event.
Ninja and Marshmello won the Fortnite Pro-Am event at E3 2018 and donated $1 million to charity, with Ninja also giving away an additional $50,000 in prize money during the first Fortnite Battle Royale Esports tournament.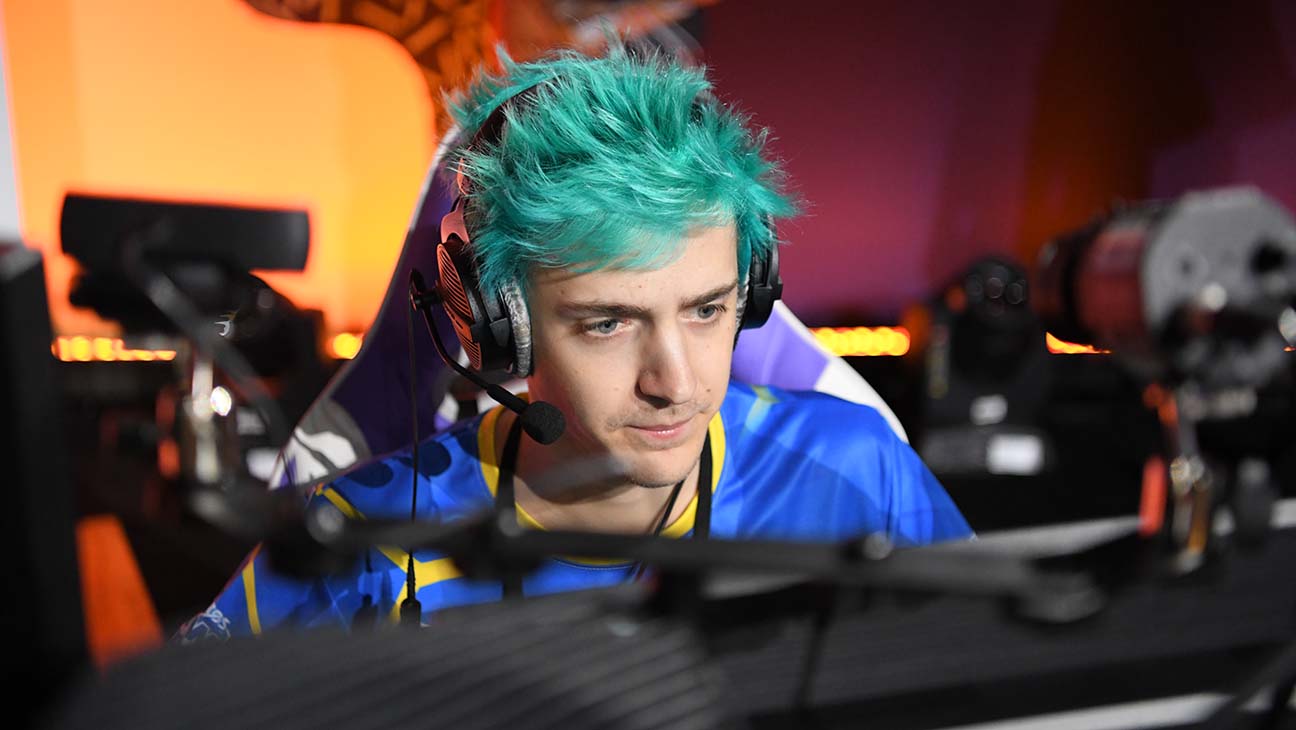 Honorary mention: TFUE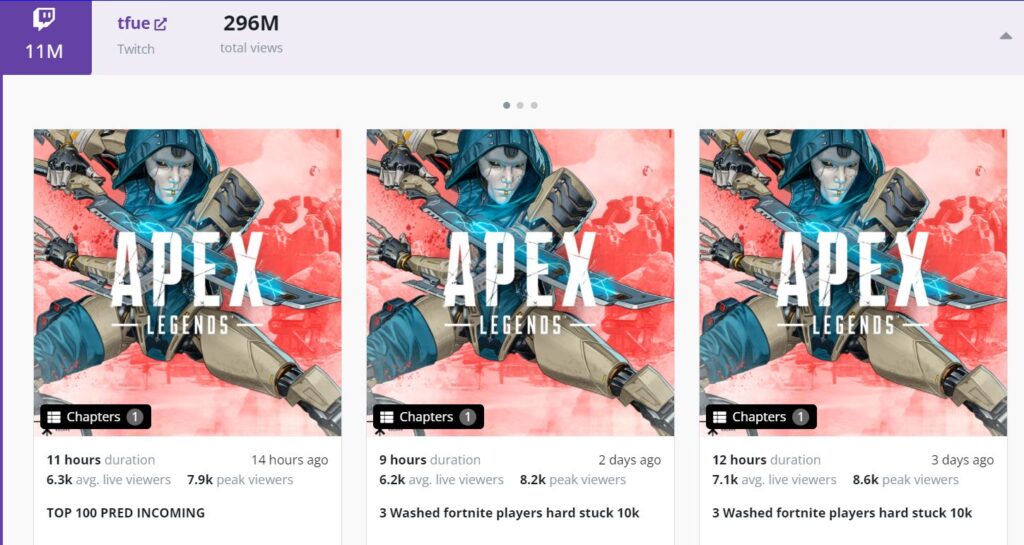 Followers: 10 million
Estimated Net Worth: $6 million
TFUE, aka Turner Ellis Tenney, is well known for his Fortnite gaming skills. He managed to gain a massive online following in less than 12 months.
Tfue also has an extremely strong presence on YouTube, with a subscriber base of over 12 million and on Instagram with 5.3 million followers.
View unrivaled performance insight for 50 Top Twitch Streamers
Now you've seen the impressive performance stats of the top 15 gaming streamers, it's time to unlock access to 50 Top Twitch Streamer profiles! Upfluence has pulled together influencer metrics across all social media platforms, plus each creator's contact information to offer you a detailed list of Twitch influencers to conisder for your next campaign. Download the influencer list for free to see:
Follower size
Engagement rate
Views
Recent posts
Audience demographics
Contact information
Download the 50 Top Twitch Streamers List 
Twitch as an influencer marketing tool
Twitch stats reveal (and confirm!) that it is the number one streaming hub for gaming aficionados. It's a space to connect, share stories, and exchange tips in an engaging and interactive way.
As much as Twitch is a mecca for gamers though, it is also a powerful platform for influencer marketers.
Not only is Twitch filled with hours of personalized content but the users are loyal and engaged too, making this the ideal space for marketers wanting to reach their target audiences in a more relatable and impactful way.  If you're still deciding about whether to launch influencer campaigns on Twitch, read this to find out 5 reasons to give Twitch a try. Even as a non-gaming brand, there is still huge potential for brand collaborations in the gaming space. We've highlighted how brands outside gaming can make the most of sponsorships, partnerships, and advertising on Twitch in a recent blog.
With such rapid growth in live gaming, this is the ideal time for marketers to start including Twitch streamers in their influencer strategies and campaigns.
If you'd like to know how to get started with Twitch influencer marketing, have a look at our beginner's guide to help you kick off your first campaign.