While some are relaxing poolside – others are already making shopping lists and hunting for bargains. The back-to-school (BTS) season is starting earlier this year, and is regarded as the second largest shopping event of the year. Not only a big deal for families with kids about to start school or college – it is a crucial time for brands to be on top of their influencer marketing strategy this back-to-school season. 
The context in 2022 is a little different from previous years. In-store shopping is back and will represent 49% of BTS spending this year. On the other hand, 57% of people are concerned about the impact of inflation on the cost of school supplies. Yet they are still a priority purchase for many families with an expected 8% increase in BTS spending this year. Whether you want to target parents shopping for their little ones or the Gen Zers who are heading to college, there is a huge potential for your bottom line. BTS spending is predicted to reach $37B, while spending on college supplies is expected to be $74B. With these stats in mind, let's dive into how you can get the best marketing results with a top influencer marketing strategy. 
Consider the right platform
Back-to-School is arguably one of the most involved shopping events, where moms, dads, and children all have a say in which products to buy. In fact, Gen Z is making more purchasing decisions, instead of leaving it all to mom and dad. With teens and preteens willing to spend their own money, brands and agencies can't afford to skip on social media platforms like TikTok or Instagram. 
On top of being highly popular with Gen Z, these platforms also offer endless possibilities for collaboration with influencers across so many different niches. TikTok is playing an important role in driving sales, with 37% of users buying items they've seen on the platform. This makes it an incredibly relevant network to leverage as part of your back-to-school influencer marketing strategy. 
However, moms and dads might be looking elsewhere for product recommendations. Parents will probably look to creators they can relate to such as momfluencers and dadfluencers who are posting content across Instagram, YouTube and blogs, as well as TikTok.
https://www.youtube.com/watch?v=fy_F7tAeIrY
Tap influencers in the right niche
Back-to-school shopping is a huge opportunity for brands across many verticals. Whether you're an eCommerce brand, brick-and-mortar store, or D2C brand, by working influencers aligned with your niche, you can capitalize on BTS sales. The biggest shopping categories include electronics, stationery, clothing, and furniture. This means brands have a wide variety of influencers to choose from. They can focus on choosing influencers aligned with product niche, such as home decor influencers to promote their BTS collection of bedspreads and office supplies or a gamer or tech influencer to promote the latest consumer electronic deals. 
Another option is to circle in on peer-to-peer marketing by working with influencers who address parents or college students directly. 
As parents are still doing most of the shopping for school-age children, working with parenting influencers can help you drive sales in kids clothes, stationery, footwear and toys. 
When it comes to college students, don't forget there are many Gen Z influencers who are college students themselves. This means they are a prime audience for gifting campaigns and product reviews, as they can create authentic content based on their real experiences and BTS shopping needs. 

Run a promo code or affiliate campaign
As the cost of school supplies will be a very important consideration for shoppers this year, be sure to leverage discounts to drive more sales. With their valuable social reach, influencers and affiliates are the perfect creators to help you promote discounted products and seasonal collections. 
Running a promo code campaign is a brilliant way to start new collaborations with influencers who are always looking for ways to give back to their audience. What's more, you can run end-to-end affiliate programs and promo code campaigns through Upfluence which offers powerful campaign management tools with sales tracking and attribution.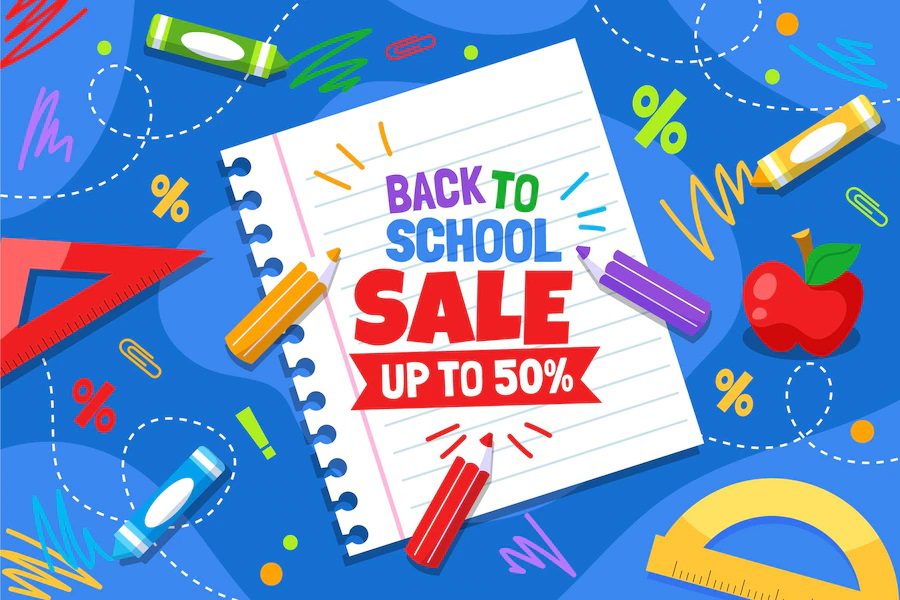 Celebrate youth and experiences
Besides essentials like books, electronics, or clothes, items like college-branded gear or personal care products are also popular amongst students. BTS season is not only about going back to school and attending classes, but it's also about making new friends and gaining new exciting experiences. That means students want to feel confident and prepared with their personal and social lives.
For that reason, back-to-school DIYs, storytime, get-ready-with-me are also popular content on social media. By working with influencers, you get to directly be involved in an exciting time in students' lives. By tying your brand into the back-to-school narrative, you're becoming a part of someone's journey to adulthood. This is massively important not only for brand awareness but also for customer loyalty.