The gaming industry is big business in the US, with the market size of the video games industry valued at over $60 billion in 2020. Gaming brands looking to reach new audiences should leverage gaming influencers in their marketing campaigns. These established creators in the gaming niche, with large, active audiences on platforms like Twitch are in the perfect position to help brands boost their sales and online reach. We've analyzed the performance of gaming streamer profiles to bring you our top 10 list of the best gaming influencers in the United States of America right now.  
Twitch Followers: 17M
Views: 529M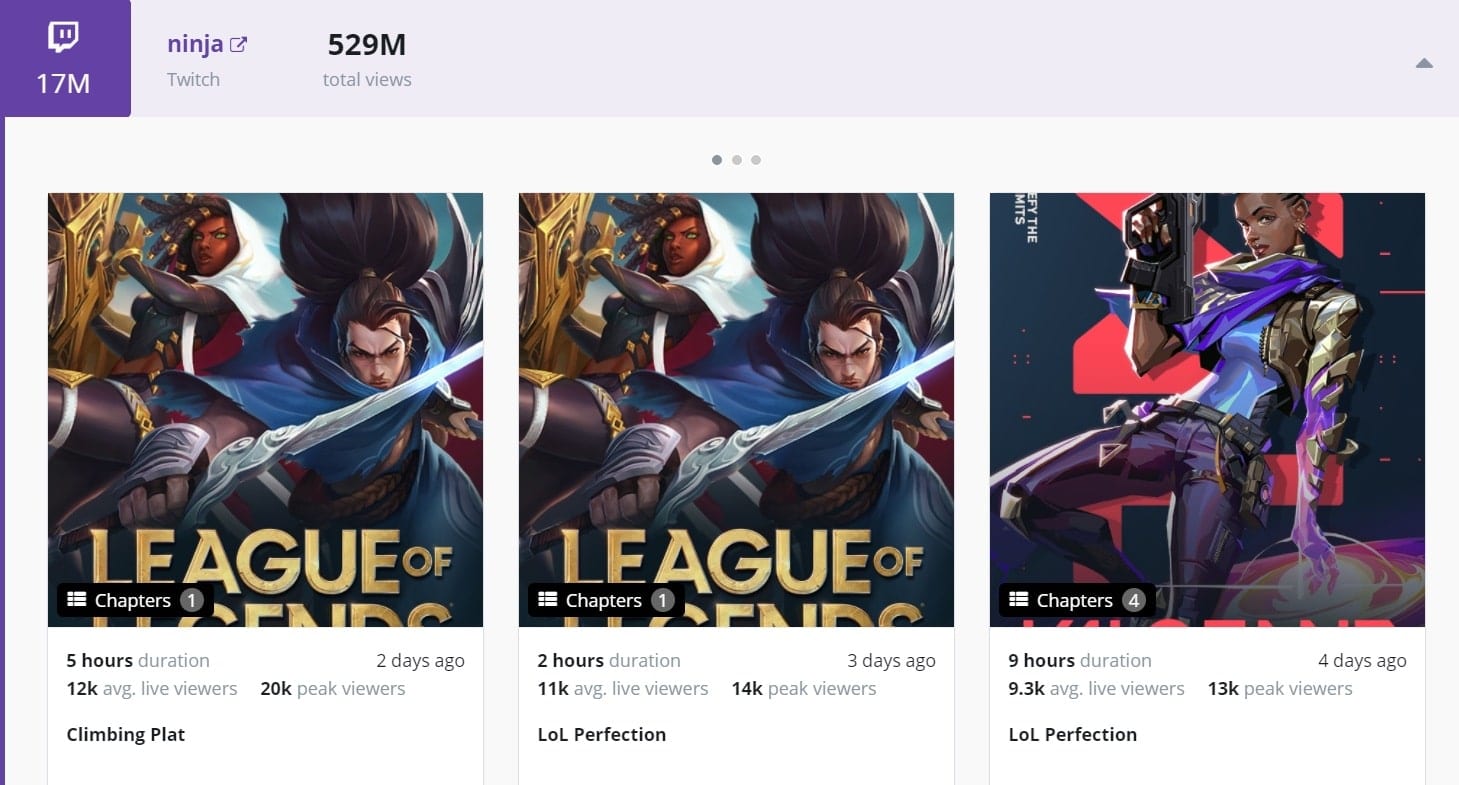 Ninja is one of the most well-known gaming influencers, and with good reason. He owns the most-followed Twitch channel, with 17M followers, and rose to fame streaming Halo and Fortnite. He's a professional esports player who has played in teams including Cloud9, Renegades, and Team Liquid. As one of the biggest gaming influencers out there he's worked with a range of high-profile brands including Red Bull, Adidas, and Uber Eats. He was also the first esports player to be featured on the cover of ESPN magazine, and has written a book Get Good: My Ultimate Guide to Gaming, and appeared on television game shows, becoming known beyond his presence on Twitch.
Twitch Followers: 10M
Views: 267M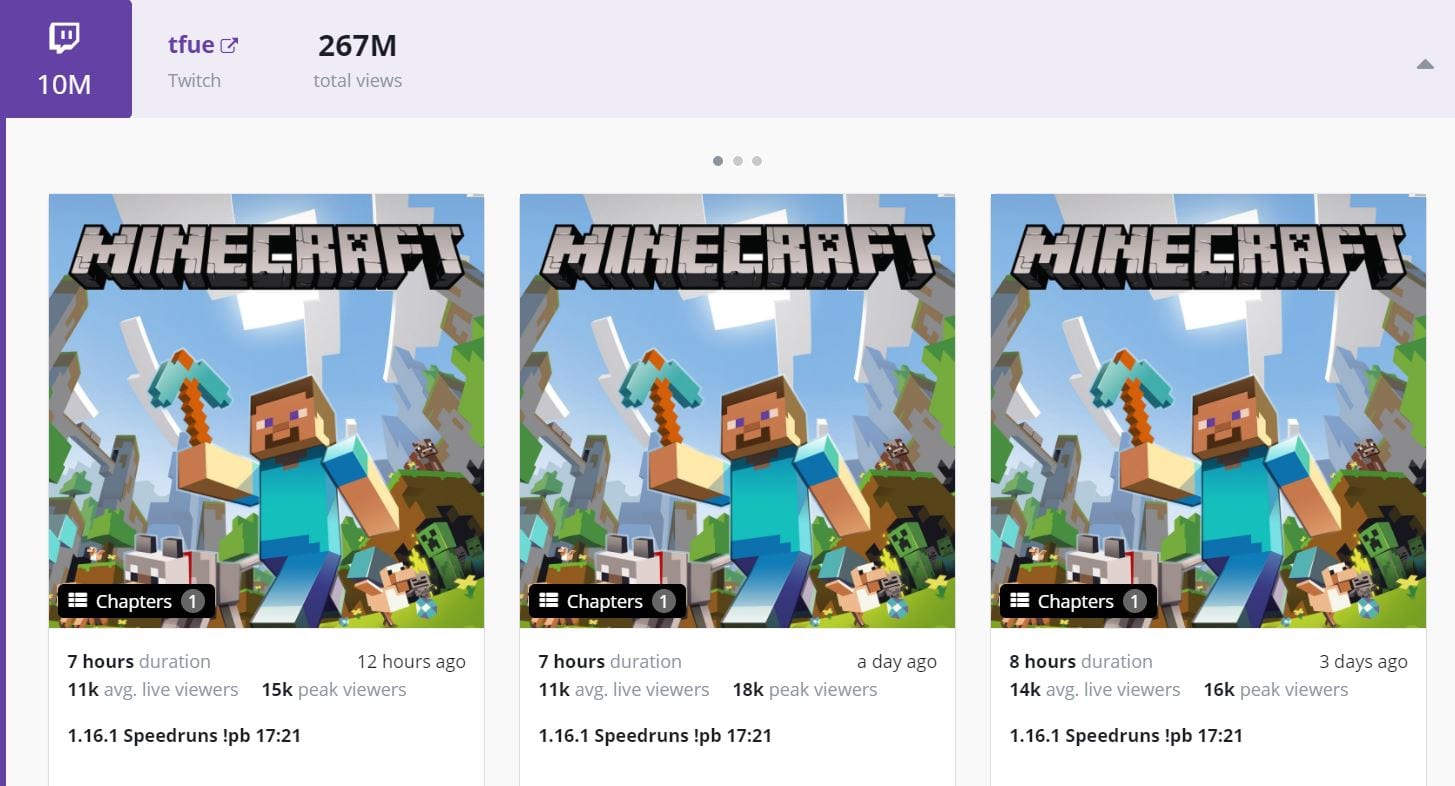 He's the second gaming streamer to reach 10M followers on Twitch. He became a popular streamer known for playing Fortnite, but his esports career hasn't been without controversy as he's been banned from Twitch on several occasions and was involved in a dispute with esports team FaZe Clan. That said, his performance metrics are impressive and as a member of FaZe Clan with teammate Dennis 'Cloakzy' Lepore, they had a huge win in 2018 at the Fortnite Fall Skirmish Grand Finals. 
Twitch Followers: 4.4M
Views: 158M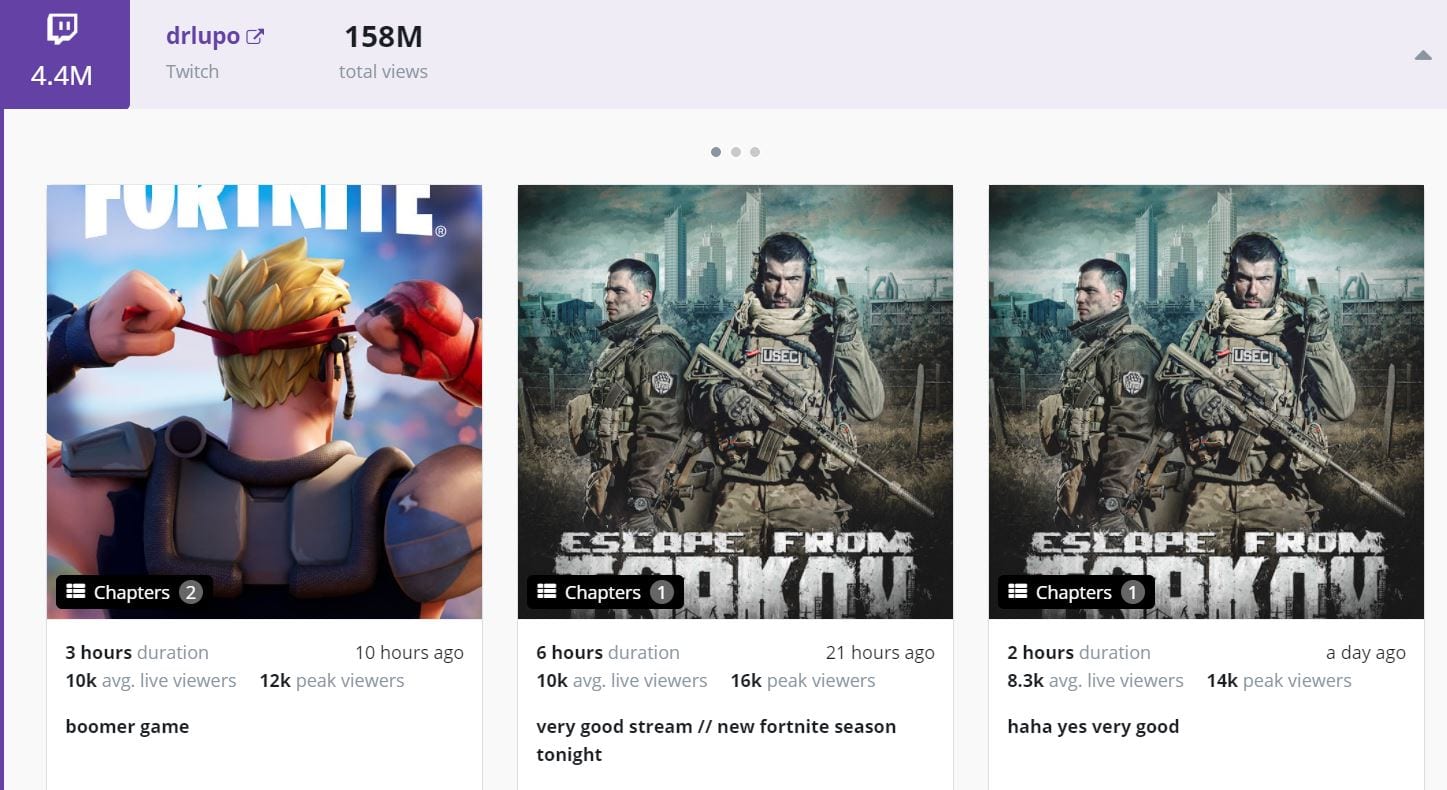 DrLupo is a successful Twitch streamer and YouTuber, playing games such as Fortnite and Among Us. He's had impressive wins playing Fall Guys in 2020 and considered by some as the top player of the game. As a popular gaming streamer, he's partnered with non-gaming brands such as Gillette and Hersheys.
Twitch Followers: 3M
Views: 43M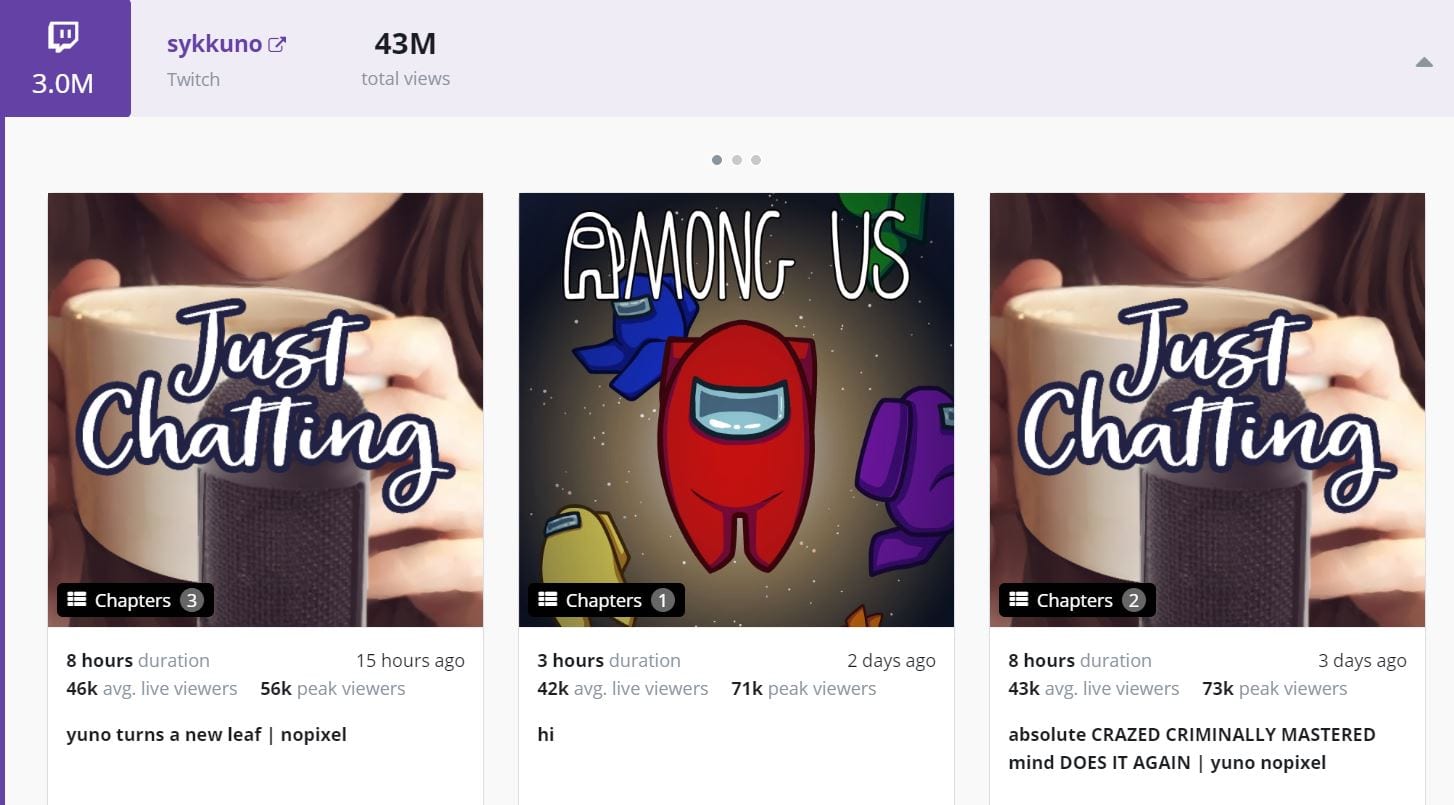 He's fairly new to being a regular streamer and only began doing so in 2019. But since then his success has grown and he now has the 11th most-followed Twitch channel. He's known for playing Among Us and took part in the fundraising gaming session with U.S. representative Alexandria Ocasio-Cortez. 
Twitch Followers: 6.3M 
Views: 235M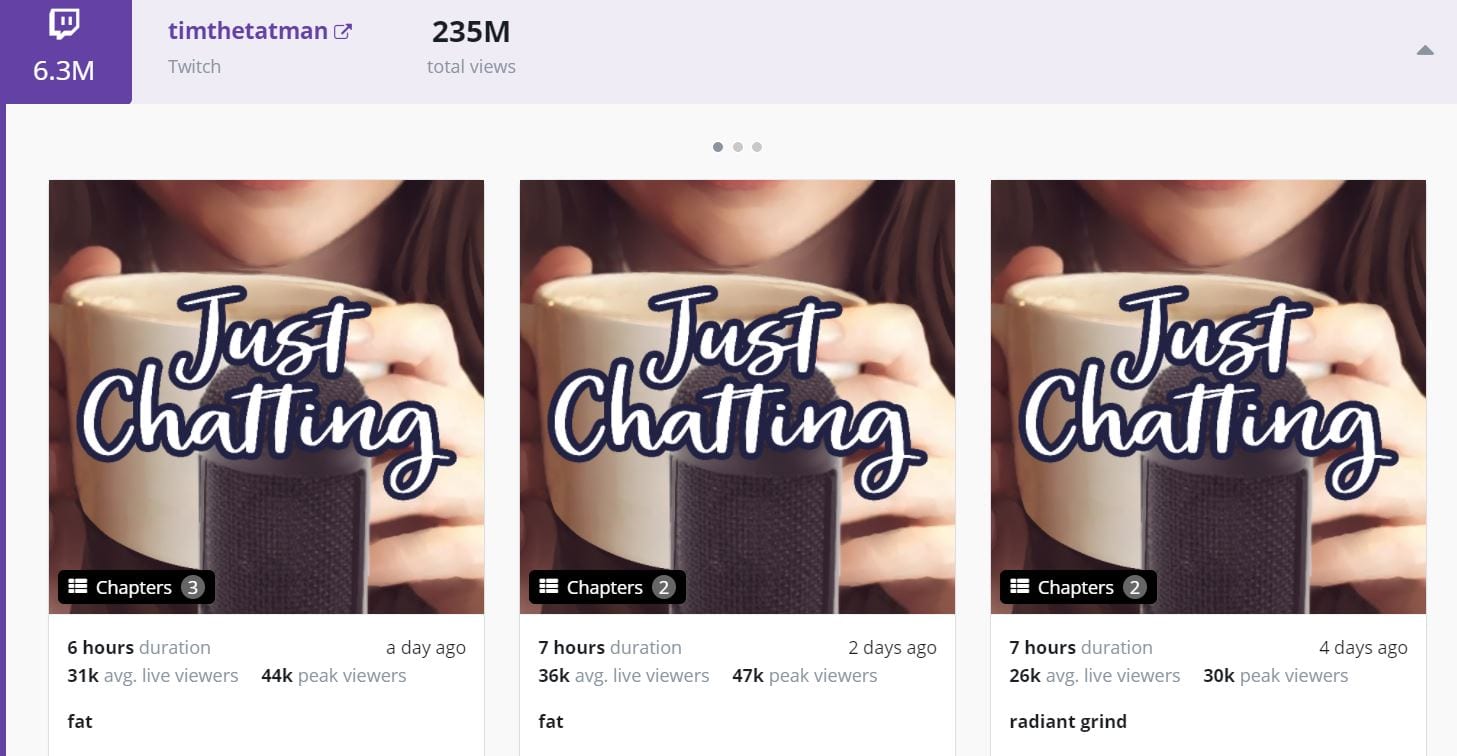 TimTheTatMan has been a full-time creator since 2014 and is an esports player sponsored by Monster Energy and the Audio-Technica Corporation. He streams games such as Overwatch, Global Offensive, and Fortnite. He's also been featured in the NFL 100 Super Bowl advert several times, alongside Ninja.
Twitch Followers: 2M
Views: 53M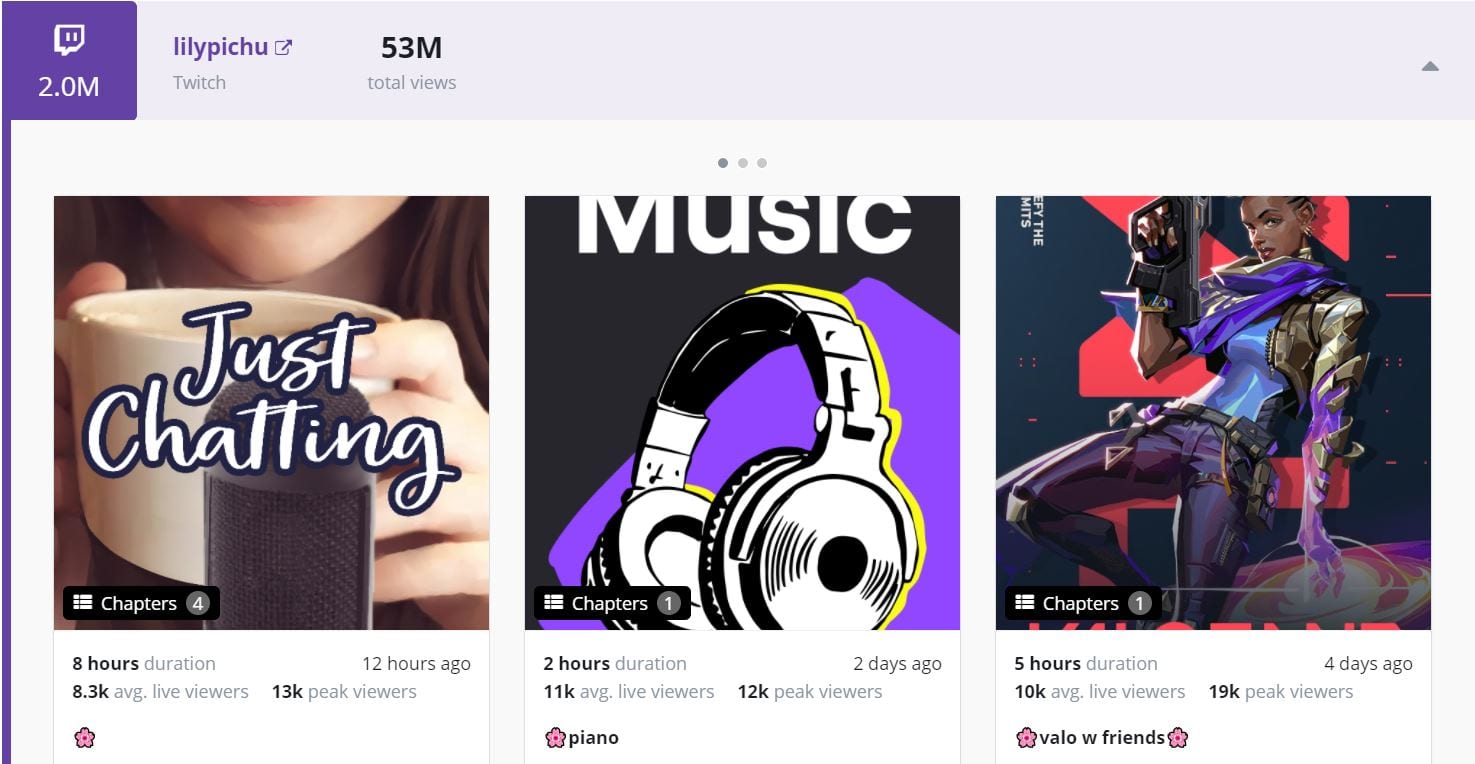 LilyPichu is a content creator and member of Offline TV, an online entertainment group. She's had great success as a Twitch streamer too and was the most-watched female Twitch streamer in 2020. LilyPichu can often be found playing Valorant or League of Legends. She also has an impressive following on YouTube (2.7M) and is a voice actress for Anime and video games. 
Twitch Followers: 1.5M
Views: 155M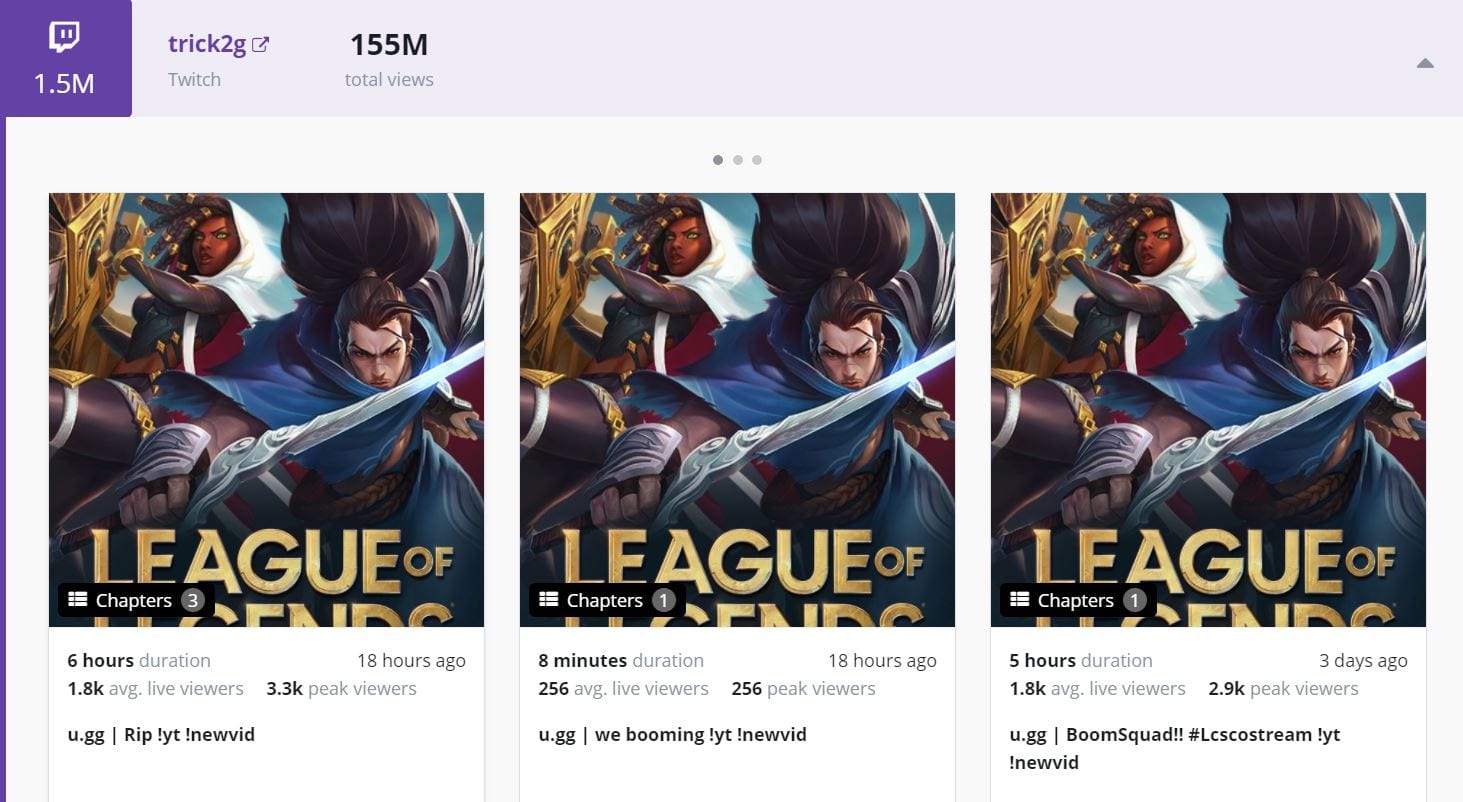 Trick2g earned notoriety as a player of League of Legends and has an impressive 155M total views on his channel. He's also partnered with several charities and has raised $20,000+ for Toys for Tots. 
Twitch Followers: 810K
Views: 31M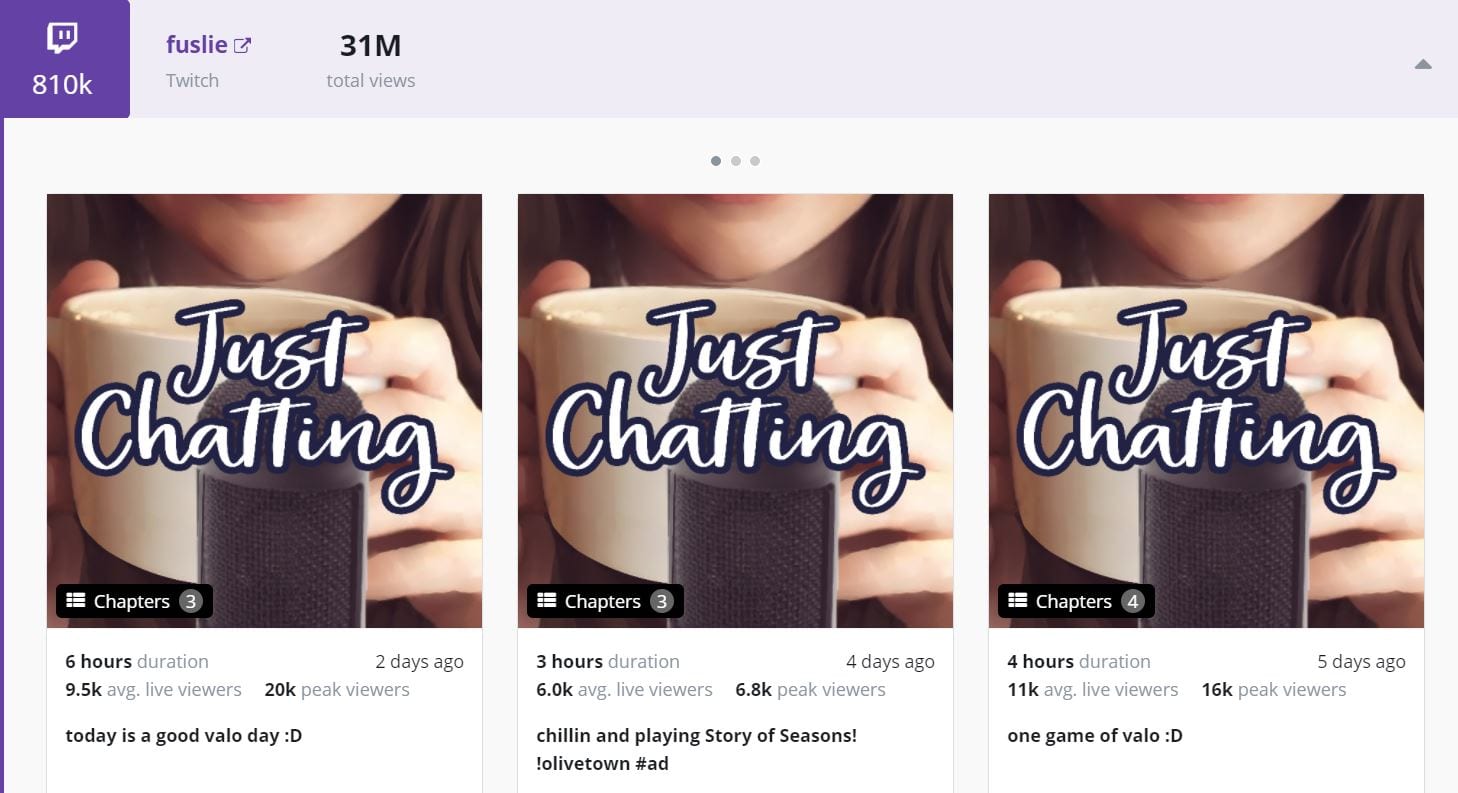 Fuslie is a female gaming streamer based in Los Angeles who plays a variety of games including League of Legends, Valorant and Among Us. She signed an exclusive contract with Twitch last year and has previously played as part of professional League of Legends teams Immortals and Phoenix1. 
Twitch Followers: 621K
Views: 12M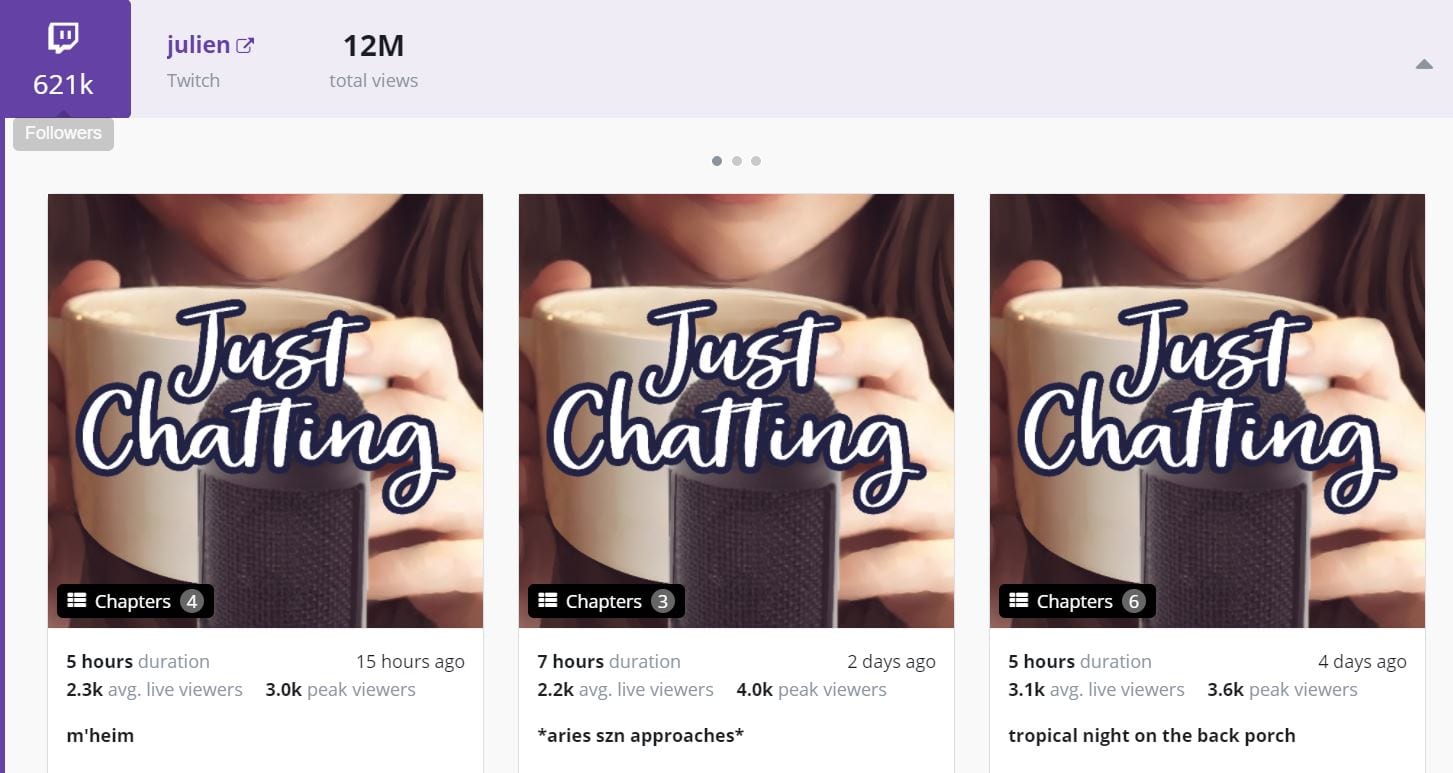 Julien has a well-established Twitch channel and a very strong YouTube presence with 2.5M subscribers. He's well-known for being in a relationship with YouTube personality Jenna Marbles, the pair even had a joint Twitch channel together. 
Twitch Followers: 113K
Views: 548K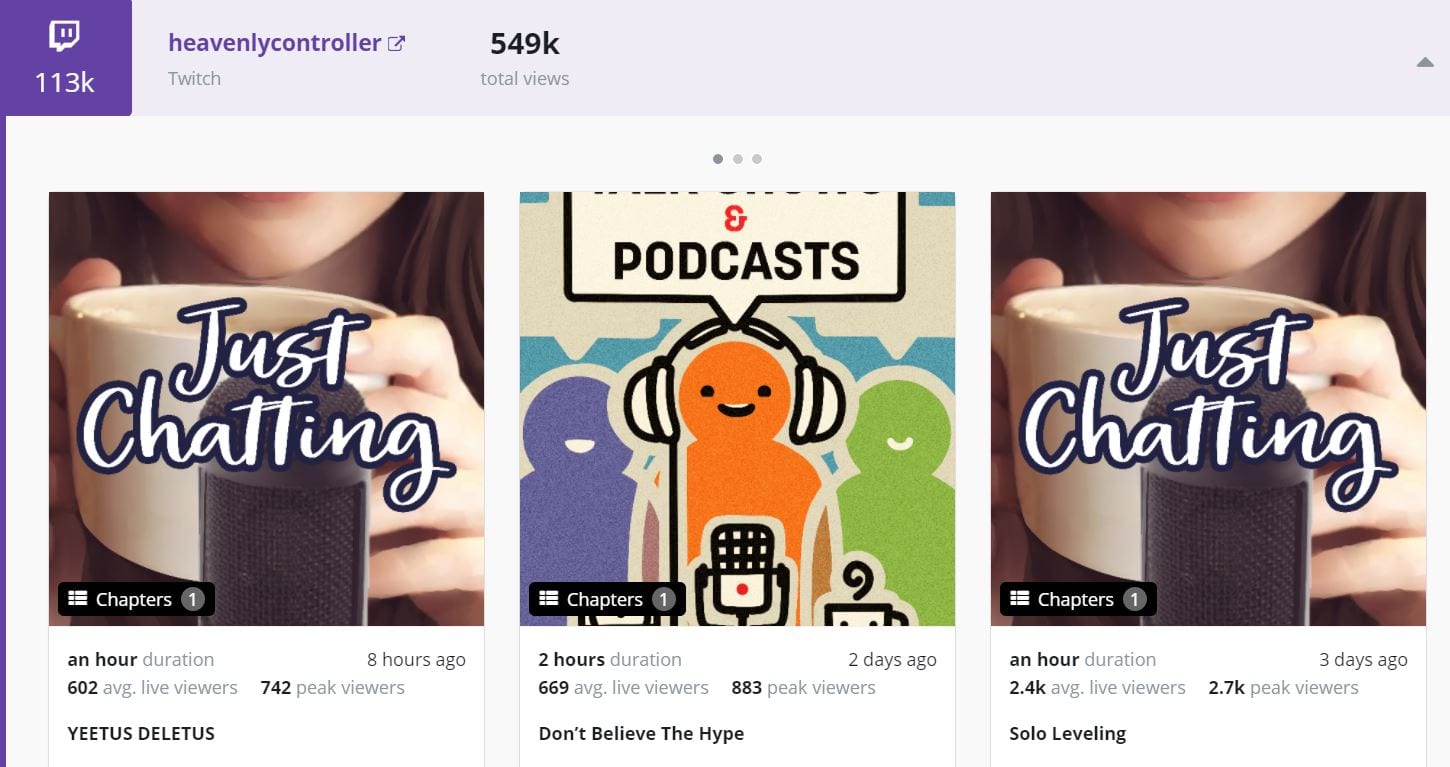 Heavenly Controller has an active audience on Twitch and YouTube. On Twitch he often streams on the Just Chatting and Talk Shows & Podcast channels, as well as playing video games.