Bloggers were among the first influencers out there, and they're still going strong! With more and more bloggers & influencers emerging by the minute, it's difficult to keep track sometimes. Of course, they're all great at what they do but who truly stands out? We've narrowed down our favorites based on the traffic they generate, originality and credibility in the travel industry.
With no further ado, here are our top 10 travel bloggers to follow in 2019!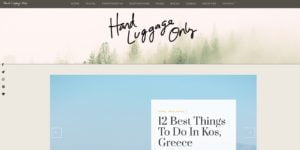 It seems like many prominent inventions and platforms were cooked up in dorm rooms, because Hand Luggage Only is exactly one of those 'wild ideas' two students at Cambridge University came up with in 2014. The two gentleman, Yaya and Lloyd, are passionate about traveling, photography, and (very important!) food. Trying delicious food and experiencing new environments is what keeps these two ready to jump on the next plane. The travel bloggers' writing style is informative, yet funny and relatable. Pampering their audience with multiple blog posts per week and frequent responses to comments really seems to pay off. Hand Luggage Only attracts nearly 400k visitors every month. Clearly, they're doing something right!
Perfect fit for: Travel brands and tourism boards, cameras + equipment, food-related brands & products, restaurants.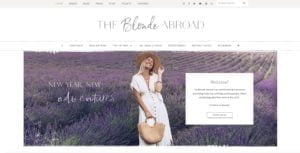 In 2012, exuberant lover of life Kiersten quit her career in finance and followed her heart to do what she wanted most: Travel the world! With her award-winning solo female travel blog and a count of 70+ visited countries so far, Kiersten, aka Kiki, knows a thing or two about traveling. The combination of beautifully illustrated posts and Kiki's bubbly personality are a definite hit. With over half a million followers on Instagram and 300k+ people visiting her blog every month, Kiki remains one of the top travel bloggers to this day!
Perfect fit for: Travel brands and tourism boards, health supplements, make up & fragrances, accessories (sunglasses, watches, hats, bags…), women's apparel, skincare.
Previously promoted brands: Drink Orgain, Sephora, Backcountry, Refresh Eyewear, Olay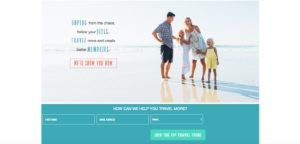 This likeable couple behind Y Travel Blog first introduced themselves all the way back in 2010 and is a definite go-to blog for families in particular. While Australian natives Caz and Craig started out as a duo, they've since 'expanded' and now travel the world with their two precious daughters. And sure enough, these "serial travel addicts" know all about the dos and don'ts of traveling. With over 20 years of experience in the industry and 52+ countries under their belt, they've built up a very loyal following over the years. The numbers speak for themselves, as the blog alone gets 500k+ visits each month.  Y Travel Blog partners up with multiple brands and promises to market your product in a personable and relatable way. 
Perfect fit for: Travel brands and tourism boards, theme parks, kid-friendly events, camera equipment, (outdoor) apparel, camping equipment, cars + rental services.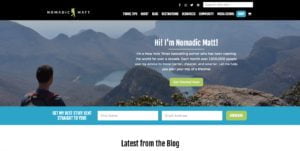 An absolute classic among travel blogs to date is Nomadic Matt. What once started out as a small trip to Thailand in 2005, quickly sparked Matt's passion for traveling and sharing his globetrotting endeavors online. With his authentic approach, Matt continues to inspire others and win over hearts left and right. He's also made a name of himself as best-selling author of How to Travel the World on $50 a Day and frequently partners up with brands in the tourism industry. Matt has done well for himself, as over 1 million readers seek advice from his blog every month! He sure is one of a kind and most definitely one of the OG travel influencers out there.
Perfect fit for: Travel agencies, accommodation platforms, non-profit organisations, books, beverages.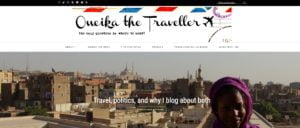 Oneika is a truly unique travel blogger, often discussing issues surrounding multiculturalism and diversity. She has traveled to over 100 countries on 6 continents! Oneika the Traveller is particularly geared towards female travelers between the ages of 25 to 45, and enjoys a large readership of African American travelers. Oneika's charm & educative content draws in 60k+ visitors to her award-winning travel blog each month. Busy bee Oneika doesn't stop there though! She's an outspoken host of two travel web series, frequent guest speaker and often featured on different platforms (CNN, BBC, Buzzfeed, just to name a few). She's also known as the in-house travel expert on CTV Canada's segment Your Morning.
Perfect fit for: Travel brands and tourism boards, travel equipment, non-profit organisations.
Previously promoted brands: Toyota, Coca Cola, Star Alliance…See her 
list of partnerships.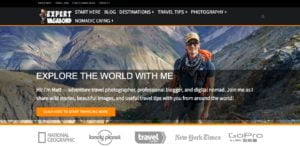 Much like his blog's name Expert Vagabond entails, Matthew is a self-proclaimed nomad and full-time adventure travel blogger specially known for his remarkable content and beautiful photography of 50 + countries. From hiking in Greenland, swimming with sharks in South Africa or climbing into an active volcano in France, this guy has done it all! His enticing stories of the places he's visited are perfect for adrenaline junkies. All in all, Expert Vagabond pulls in over 530k readers every month. His website not only serves as a source of inspiration for many of his readers; it provides handy tips for cameras and photography techniques.
Perfect fit for: Travel brands and tourism boards, adventure tours, cameras + equipment, drones + equipment, tech gadgets, nutritions, protein bars + snack foods, travel equipment (waterproof bags, cell phone cases, etc).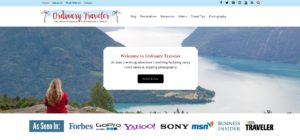 The brains behind this award-winning adventure travel and lifestyle blog are Christy and her partner Scott. Back in 2009, the two began blogging to chronicle their travels and share their love for photography. Ordinary Traveler speaks to people wanting to balance life at home with wanderlust and the thrill for adventure. The content is inspiring, motivating and pushes readers to step outside their comfort zones. The blog attracts approximately 200k readers each month. Business seems to be going well, as they've been credited for tons of successful travel campaigns over the years.
Perfect fit for: Travel brands and tourism boards, beverages, adventure tours, outdoor equipment, drones + drone accessories.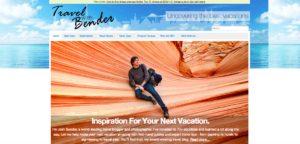 Yet another award-winning travel blog and another set of Aussies on our list! Bender, a gentle giant measuring 6'9'', has been traveling the world non-stop for 6 years. Over the years, Travel with Bender has built up a loyal following of over 150k readers every month and continues to be a trusted source for travel enthusiasts everywhere. Travel with Bender covers a large array of topics, both insightful and elaborate for families and solo travelers. Plus, coming from a professional background in Internet marketing and web development, Bender knows how to market himself and others.
Perfect fit for: Travel brands and tourism boards, tech gadgets, travel equipment, food + snacks, apparel (kids + adult), homeschool supplies.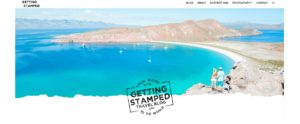 Travel bloggers Hannah and Adam are the two busy bees behind this gem. Their blog offers travel guides, tips, and stories from some of the best places on earth. With genuine content and lovely photography, they capture the attention of 200k+ readers every month. Also, they're featured in endless publications and are especially well-known for their honeymoon and couple trips.
Perfect fit for: Travel brands and tourism boards, couple tours, beverages, health supplements + protein powders, (healthy) snacks, beach gear, swimwear.
Previously promoted brands: Tropicana juices, Klarbrunn Sparkling Water, Fisher Nuts


This award-winning food & travel blog came to life when freshly-baked father Anton started writing a blog after the birth of his baby boy in 2005 as a way to document their shared memories…and he's been at it ever since! From way back then to now, Anton and his wife Rache have made Our Awesome Planet into the #1 travel & lifestyle blog in the Philippines, showcasing food & travel destinations in the Philippines and the rest of the world. The blog attracts around 120k visits each month. And hey, if you're thinking this blog is only popular in the Philippines, you're dead wrong! A whopping 23% of OAP's audience is actually located in the US!
Perfect fit for: Travel brands and tourism boards, food-related brands & products, food exhibitions, restaurants, family-friendly events & theme parks.
Now, this has only been a short list of a couple travel bloggers we've handpicked for you. Curious to see who else is out there fo your brand? Book a free demo and find all travel bloggers in our Upfluence database of over 2.8 million influencers!