With its emphasis on high-quality visual content, Instagram is the perfect platform for models to showcase their talent. The popularity of fashion and beauty content on the channel has encouraged IG models to use their feed to create their portfolio, sharing perfectly put-together images showing their personality and creative style. Instagram has become an informal forum for talent agents to scout for new models, while more established models with a career on the catwalk are also turning to the platform to engage their online audiences.
Branching out into newer formats such as Reels and Stories has helped Instagram models boost their reach and build up a loyal following and becoming influencers in their own right. If you're looking to tap Instagram models for your next fashion, beauty or lifestyle campaign, Upfluence's sophisticated search will help you identify the best influencers in any niche!
Want a deep dive into the performance data of top Instagram Models?
Download a full performance report for 60 Instagram Models (yes we've added a bonus 10 profiles for you to view!). See their real follower count, audience demographic statistics, contact information, likes, comments and more!
Download 60 top Instagram Model profiles
To give you some inspiration, we've put together a list of the top 50 Instagram models to follow.

At the top of this list sits Kardashian sister favourite; Kendall Jenner.
As well as her fame from being a part of the Kardashian clan, Kendall has also made a name for herself in the modeling industry. She was only 14 when she was signed on to Wilhelmina Models modeling agency and has taken part in campaigns for some of the most famous brands in the world including Chanel, Marc Jacobs, and Dolce & Gabbana, plus so many more.
Followers: 210 million

When Gigi Hadid was just two years old, she landed her first modeling opportunity as a model for Baby Guess clothing.
During her modeling career, she's found fame through Instagram and has risen through the ranks to qualify as one of the most popular Instagram models on the planet.
Followers: 71.1 million

Cara began her modeling career in 2002 at just aged 10. Since then, she's built a successful music, acting and modelling career, working with brands such as Burberry and Vogue.
The beaut Brit also won 'Model of the Year' Award in both 2012 and 2014 at the British Fashion Awards.
Followers: 43.3 million

Chrissy is famous in the IG model industry, as well as on other social media platforms such as Twitter for her relatable posts and witty comments.
Chrissy has been featured in globally issued editorial magazines including Sports Illustrated, Vogue and Cosmopolitan. She's also incredibly down to earth and regularly interacts with her followers, making her one of the best Instagram models to follow.
Followers: 36.4 million

Bella Hadid is the younger of the Hadid sisters but she certainly hasn't been overshadowed by her older sister's fame.
She's often used in various brands' Instagram influencer marketing and has worked on numerous campaigns on her Instagram platform including with the likes of Ralph Lauren and Michael Kors.
Followers: 48.2 million
Emily Ratajkowski – @emrata


Emily Ratajkowski is well-known as one of the most popular Instagram models in the world. Her modeling career really skyrocketed when she was one of the models in Robin Thicke's 'Blurred Lines' music video in 2013.
In the last five years, she's worked with dozens of brands as part of their Instagram influencer program and has walked the catwalk for many fashion and makeup brands at Fashion Week all over the world.
Followers: 28.8 million
Naomi Campbell – @naomi

Naomi Campbell is an iconic British model with a career spanning 4 decades. She's walked catwalks for designers such as Vivienne Westwood and Versace. She founded the non-proft Fashion4Reflief in 2005 as a key activity alongside her modeling work. She uses her Instagram to share images from recent fashion shoots and magazine covers as well as for her activism.
Followers: 11.9 million.

Hailey Baldwin – now named Hailey Bieber – is one of the most influential models in the world; both as an IG model and on the catwalk. It's safe to say she fully embraces her runway life.
At just age 23, Hailey has already achieved many incredible feats with her modeling career and has worked with the likes of Pretty Little Thing and Teen Vogue, and Vogue magazine.
Followers: 40.2 million

Tyra is another iconic personality in the modeling world. She began her career at 15 and was the first African-American model to be featured on the cover of both GQ and Sports Illustrated Swimsuit Issue. Her carrer has also seen her move into television where she is most well-known for creating the show America's Next Top Model. She hosted her own TV talkshow 'The Tyra Banks Show'. Her most recent venture is her founding her own brand of ice cream, yet she is still no doubt one of the most influential models in the world.
Followers: 6.9 million

Jourdan Dunn is a British supermodel who first found fame walking catwalks for Prada. She has also worked with beauty brand Maybelline New York and has turned her hand to fashion designing in a collaboration with Marks and Spencer on designing a kids clothing collection. Recent projects include being the face of Charlotte Tilbury's makeup brand. She shared her latest modeling projects with her Instagram fans.
Followers: 3 million

Miranda Kerr is an Australian model who first found fame when she became Australia's first Victoria Secret Model in 2007. Since then, she's fronted many brand campaigns and walked countless runways for brands all over the world.
Followers: 12.9 million
Doutzen is a Dutch model most well-known for being a Victoria's Secret Angel. She's been a brand ambassador for the likes of Miu Miu and L'Oréal. She has most recently been active in supporting The Elephant Crisis Fund to help end the use of elephant ivory.
Followers: 7.1 million

Megan Crabbe is shaking up the Instagram model world when she rose to fame on the platform for sharing her body positive and anti diet culture message through her content. She's a digital creator, who serves up stunning looks with a positive message, accompanied of course by her signature colorful hair.
Followers: 1.3 million

Adriana Lima is Victoria's Secret's longest-running model and has starred in countless shows for them.
Her influencer demographic data states that she's been the second-highest paid model since 2014.
Followers: 13.8 million

Ashley Graham is a plus-size model who has featured on the cover of many global magazines including Glamour, Elle, and Vogue.
She also regularly features pictures of the various campaigns she's worked on, on her Instagram profile to show that plus-size models are just as beautiful. And rightly so!
Followers: 15.8 million

Karlie Kloss is considered one of the top 30 models of the 2000s and has worked with numerous brands on worldwide campaigns.  Supermodel-turned-coding-advocate has a huge social media presence and is much sought after by advertisers.  She has already secured lucrative deals with the likes of Swarovski, Adidas and Estee Lauder, among others.
Followers: 10 million
Jordyn launched her modeling career in 2015 after an agent discovered her account on Instagram. Her highlights include modeling for Khloe Kardashians clothing brand, Good American and has collaborated on clothing lines for Boohoo.com and PrettyLittleThing.
Followers: 12.2 million

At just 21 years old, Dutch model Cindy is one of the youngest Instagram models on this list.
She's incredibly popular on her YouTube channel and receives hundreds of thousands of likes on every Instagram post.
Followers: 6.8 million

Liu was the first Chinese model to walk in a Victoria's Secret Fashion Show. She was also the first Chinese model to appear on the front cover of American Vogue and has worked with a number of highly reputable brands.
Followers: 5.5 million

Maria Borges is an Angolan model who began her career after placing 2nd in  the Angolan edition of the competition Elite Model Look. She posts photos from her everyday life raising her daughter Athena, as well as photos from recent photoshoots with brands such as Miu Miu.
Followers: 2.1 million

Lucky Blue Smith is the first male model to appear on this list, with almost 3 million Instagram followers.
At only 21 years old, Lucky has worked with brands such as Tom Ford, Calvin Klein and GAP.
Followers: 2.7 million

Mathilde is yet another model on this list to rise to fame thanks to Instagram.
Mathilde now works with many brands and alongside her twin sister (who's also a model), she created the Khassani swimwear brand.
Followers: 10.3 million

Cindy Bruna is a French model who lives between France and New York City. She's walked the catwalk for many iconic brands including Yves Saint Laurent, Victoria's Secret, Givenchy and Ralph Lauren.
Followers: 1.4 million.

Natasha Oakley also first found fame as a blogger but has since built up her portfolio and now works on numerous brand campaigns on Instagram.
She also founded the beloved swimwear brand Monday Swimwear.
Followers: 2.6 million

Pia Muehlenbeck was training for a career in Law when she came across the Instagram platform and has since found fame as a very successful Instagram model.
Followers: 2.1 million

Francisco Lachowski is a male model based in France and is known across Instagram for his outdoorsy and lifestyle shots and campaigns.
Followers: 1.6 million

Jon Kortajarena is a Spanish actor and model and features a number of his brand collaborations on his Instagram profile.
When he was just 18 years old, he became the face of Just Cavalli for one of Roberto Cavalli's campaigns.
Followers: 3.1 million

Nyadak "Duckie" Thot is an Australian model, perhaps most well-known for her role as the face of Fenty Beauty. Her modeling career started when she placed third in the TV show 'Australia's Next Top Model'.
Followers: 1.3 million

Rocky Barnes started out as a blogger and now predominantly uses her Instagram profile to promote her latest fashion and beauty looks.
She first rose to fame in 2013 when she was featured in a Justin Bieber music video and has since used her platform to create fashion-based content.
Followers: 2.2 million

Pamela Alexandra is a travel blogger who now shares various Instagram model-worthy shots on her profile.
Followers: 5.5 million

Devin is yet another highly desirable Instagram model, notably following in the modeling footsteps of her mother. 
She's well known for sharing her enviable bikini-clad shots on her Instagram, which is understandable as she's the co-founder of Monday Swimwear! 
Followers: 1.3 million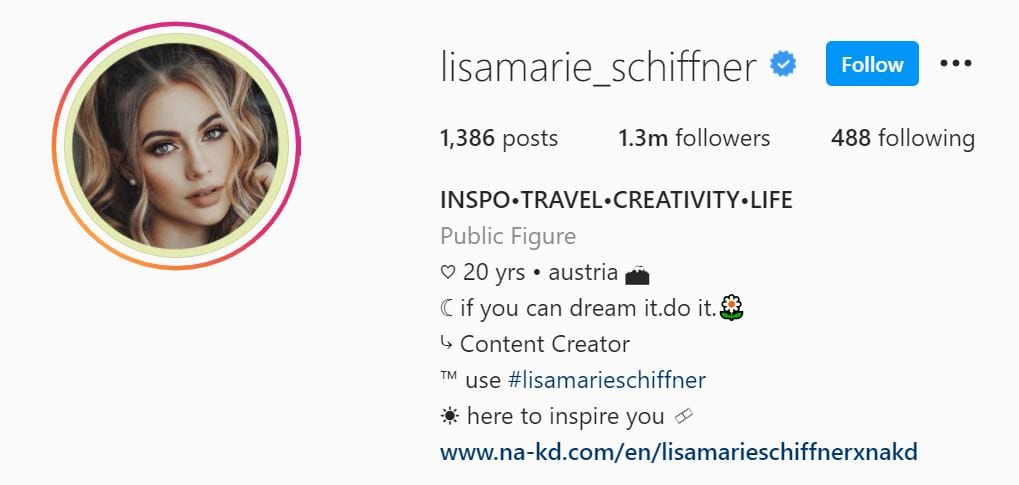 This Instagram model is only 19 years old but has built an Instagram profile that's attracted 1.2 million followers.
The Austrian Youtuber and Instagrammer shares pictures of her artistic shots, lifestyle picks and fashion pieces.
Followers: 1.3 million

Jenah earned her impressive Instagram following due to her wanderlust-worthy travel blog.
She still shares travel-related images on her Instagram and incorporates brand collaborations with the likes of swimwear brands into her feed.
Followers: 798k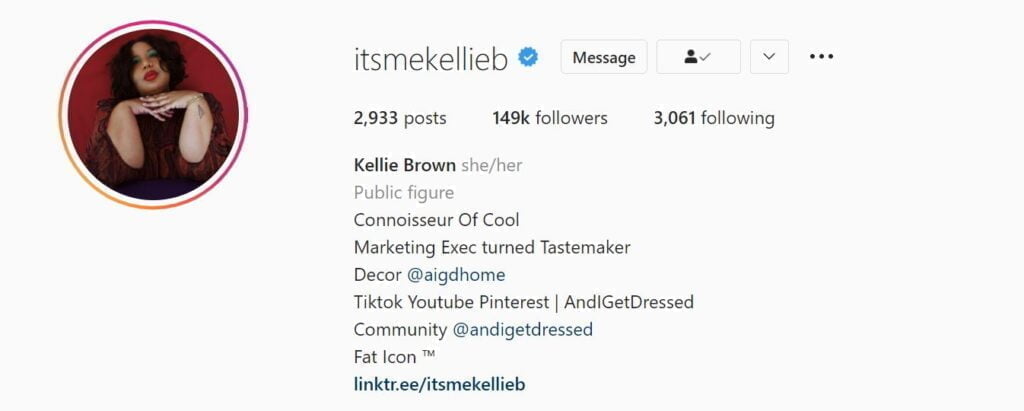 Kellie Brown is a digital creator who champions fashion and beauty for curvy women. She uses her platform to share messages of body positivity and post her latest looks from her blog And I Get Dressed. She also shares her fashion looks on Pinterest and YouTube. Her Instagram feed is focused on her posing in colorful and bold outfits.
Followers: 149k

Liz Turner initially started her career as an Instagram model but has since worked with a number of reputable and much-loved brands, helping to promote their clothing and makeup.
She talks openly about her well-educated background on Instagram, as well as her struggles with mental health and how she keeps fit and active.
Followers: 985k

Cindy Mello is an Instagram model who now works with world-famous Instagram and modeling agencies such as Ford Models.
Followers: 1.2 million

Ashley Sky is an Instagram model as well as a Youtuber who works with a number of brands on various video campaigns.
She's also walked the runway numerous times too, thanks to her fame discovered through Instagram.
Followers: 565k

Gabi is a plus-size Instagram model; you should be following Gabi as she's incredibly motivating and inspiring and isn't afraid to go against the social 'norm'.
She's also the co-founder of a plus-size brand as well as launching collections with a number of swimwear and lingerie brands.
Followers: 878k

Arame is a Senegalese model currently based in Los Angeles. Her Instagram features a mix of high-fashion looks with bold colors. She's worked with brands including Savage x Fenty and you might have spotted her in Beyoncé's film Black is King.
Followers: 25.4k

Thando Hopa is a South African model and lawyer. This multi-talented lady was the first woman with albinism to be featured on a Vogue cover. By walking catwalks and sharing these high fashion images on her Instagram she hopes to promote more inclusion in the world of fashion.
Followers: 40.5K

Instagram and Tumblr played a big role in launching Alexis' carrer at the young age of 15. She has since gone on to create her own activewear line and feature in several music videos, including Ed Sheeran's South of the Border clip.
Followers: 15.4 million

Nyakim is an American model of South Sudanese heritage. She is well-known for her striking looks and naturally very dark skin earning her the nickname 'Queen of the Dark'. She features her high fashion photos and swimwear looks on her Instagram feed.
Followers: 977K
Nyome Nicholas – Williams – @curvynyome

Nyome is an Instagram model who embraces body positivity throughout her work. In 2020 she lobbied Instagram to change their censorship policies after revealing photos were removed. She's clearly leading the way for a new generation of Instagram models to express themselves freely.
Followers: 79.1k

Another male model featured in this list, Rain Dove has worked on a number of fashion, film and activism campaigns, and is definitely using his platform for good.
Followers: 438k

Demi Rose started building her online presence via MySpace before moving to Instagram and eventually sparking her careeras an Instagram model and DJ. She had always been interested in modeling from a young age and is now living her dream!
Followers: 18.8 million

Lameka Fox is an American model who was first scouted on Instagram via IMG Models' #WLYG (We Love Your Genes) campaign. She's taken part in runway shows for Tommy Hilfiger and Valentino.
Followers: 222k

Alina is an Instagram model as well as an activist, working with the likes of The Heart Fund charity in order to help millions of people.
She also works with teeth whitening brands as well as bikini and swimwear brands.
Followers: 534k

A newbie on the block, but a still incredibly influential Instagram model nevertheless, Raven Lyn was a Sports Illustrated Rookie of 2018!
Her Instagram profile features raunchy pictures of her sharing her latest looks and collaborations.
Followers: 341k

Minahil is a curvaceous Instagram model and fashionista; sharing her latest outfit and beauty looks to her followers.
Followers: 162k

The 29-year-old Australian model now resides in LA and shot into fame when she won the 2006 Girlfriend magazine's 'Model Search'
Sarah isn't afraid to showcase her enviable figure on her Instagram and regularly works with different brands on their latest campaigns.
Followers: 224k
Feeling inspired and want even more Instagram influencer insights?
Download the full report for these 50 top Instagram models (plus a bonus 10 profiles) to view key performance statistics and audience demographic insights for 60 Instagram Model influencer profiles!
Here's a sneek peak at what you'll find inside! Download 60 top Instagram Model profiles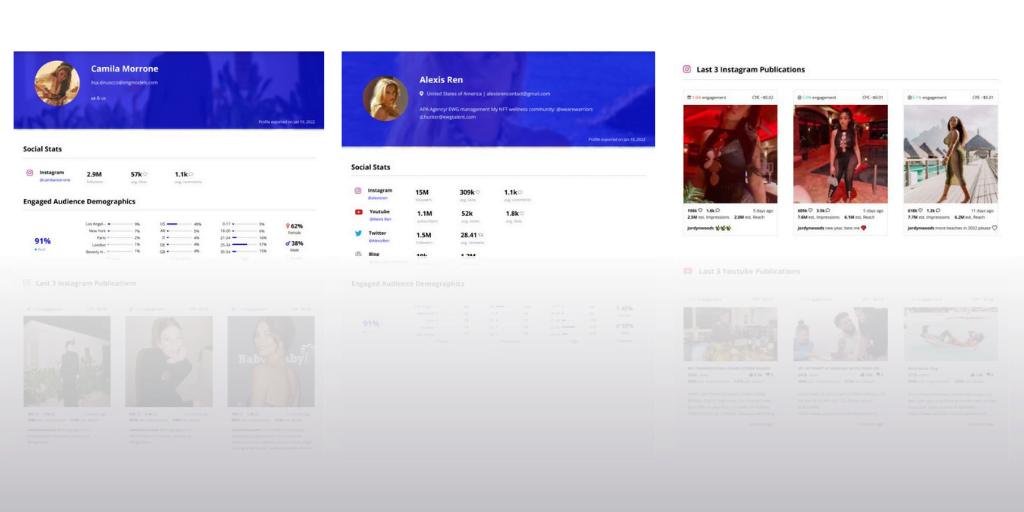 Instagram has absolutely changed the way that the modeling industry works. It's incredibly fascinating to see that most of the models featured on this list have actually found their modeling career thanks to Instagram. It's safe to say that it is a platform that every model and 'wannabe' model should be using.