Keeping track of the different types of influencers can be tricky, especially with terms like mega, macro, micro, and nano being thrown around – It's time to break it down! Our data analysts at Upfluence dug deep and analyzed over 700K influencers so we can present you with four types of influencers. Find out which influencer type is a good fit for your brand, and how they perform on social media.
Make sure to check out our FREE white paper on influencer types, engagement rates, and social media platforms in 2019!
Introducing our 4 types of influencers:
Specialist (<15K followers)
Mentor (15K – 100K followers)
Rising Star (100K – 500K followers)
Superstar (>500K followers)
Take a peek at their average engagement rates on social media!
General refresher: The lower the follower count, the higher the engagement rate and vice versa.
The Specialist
Meet the specialist, your not-so-mainstream influencer. The specialist influencer generally speaks to a small audience of people that share the same interests. Whether that's playing a geeky online game, taking apart retro cars, or sharing recipes for the best pineapple pizza, there is a community for everything. With less than 15K followers, specialists have the lowest follower counts BUT the highest overall engagement rates! Partnering with a specialist is great for local events, and increasing your brand awareness in a niche market.
Where to find specialists
Over 50% of specialists are on Instagram, and 30% can be found on Twitter!
Now, let's talk engagement rate. While specialists have the highest engagement rates, the Twitter ER is a bit misleading. Specialists' average Twitter ER is 6.79%, but it's a bit distorted. 50% of specialists onTwitter actually have engagement rates of 0.22% or lower. Why the drastic gap? Viral tweets yank up the average, but the majority of specialists don't go viral. So, don't go with a specialist if you want to score a viral hit.
Jordan Gibson is a specialist influencer on Instagram with A+ ratings across the board in our Upfluence Software database. Not only is he an artist in a niche for cartoons; he focuses on superheroes. His engagement rate is off the charts with nearly 20% – Wowza!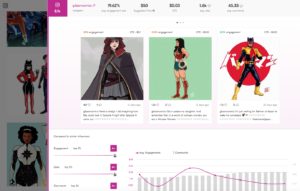 The Mentor
Mentor influencers are typically opinion leaders with authority on a particular subject. They are considered trusted sources in their field of expertise, but their reach usually doesn't get to the mainstream crowd. Think of news anchors, experts, or public speakers. The mentor influencer typically has anywhere between 15K – 100K followers and generates a pretty high engagement rate in comparison to more prominent influencers. Working with this influencer type is particularly useful if you want to boost your brand's credibility (i.e., product reviews or in-depth tutorials to strengthen your reputation).
Where to find mentors
Wow, Instagram takes them all! Well, almost. An overwhelming 86% of them are active on Instagram with an average ER of nearly 4%. YouTube, Twitter, and Facebook followers with engagement rates around 1% and lower.
Remember this guy?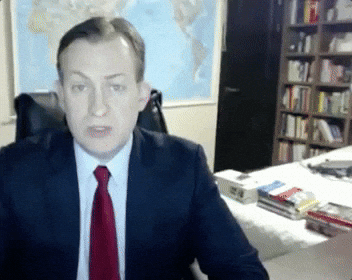 Robert Kelly, aka 'BBC dad,' is a prime example of a mentor influencer before he accidentally turned into a viral hit back in 2017. The academic and political analyst on inter-Korean affairs was giving a live TV interview when his two kiddos barged in, and chaos ensued! 
The Rising Star
All right, as you can tell from the name, rising stars are on their way to stardom and can have anywhere from 50K – 500K followers. This type of influencer is particularly popular in mainstream communities (i.e., fitness, travel, food, beauty…). Some rising stars can keep up high engagement rates, but it gets a bit tricky as their follower count keeps on growing. Among other things, working with rising stars is a great way to boost local and national brand awareness!
Where to find rising stars
Instagram is not surprisingly the most suitable platform to find tons of rising stars with a massive 79% on the platform. on Instagram, rising stars have an ER of 2.95%. Pretty good – better than on any other platform!
Then, we have a look at YouTube. About 10% of rising stars use the platform and generally have an engagement rate of nearly 1%. Twitter and Facebook aren't winning this race. Not too many rising stars to be found on either platform!
Beauty vlogger Yoshi Meza is a rising star influencer from Mexico. She has over 230K subscribers on YouTube and an average engagement rate of 10.35%! Overall, she is part of the best-performing rising stars with A + ratings.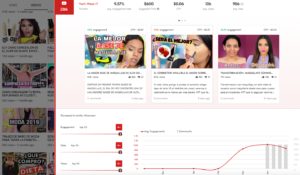 The Superstar
Last but not least, we have superstars among our types of influencers. Superstars are internationally recognized and can potentially make (or break!) a brand. Superstars speak to a massive audience, and they can have anywhere from 500K to several million followers. Be careful though, superstars are quite picky when it comes to brand partnerships. Influencers need to be authentic, and these influencers are under public scrutiny at all times, so they'll really look for how their values align with your brand. Actually, several of them start businesses to boost their brand. So, landing a superstar ain't easy, and not cheap. If done right though, you can rake in huge profits!
Where to find superstars
So we see that Instagram is ahead, but did you notice the shift to YouTube? 33% of superstars are on YouTube, which is a much larger percentage than we've seen with the smaller influencers. The engagement rates are a tad low, but that is not surprising, looking at the number of followers.
Nyle DiMarco is an American model, actor, and deaf activist. He's a superstar influencer on Instagram with 1.8M followers and an average engagement rate of 8.58%. DiMarco is famously known for winning America's Next Top Model Cycle 22.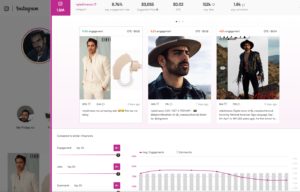 That's all for now! Download our FREE white paper to find out more about the different types of influencers, where they come from, and who performs best on social media!