Back-to-school shopping is a rite of passage for every teen and young adult. Once they're old enough to start spending their own money on new clothes and school supplies, students will want to seek out the best deals and choose products that align with their personal style and interests. This means they'll look to college influencers for shopping inspiration. Influencer marketing is an increasingly important channel for brands who want to reach Gen Z audiences. 44% of Gen Z have made a purchase based on the recommendation of a social media influencer. 
Brands can leverage the benefits of peer-to-peer marketing by collaborating with college influencers to promote their products to other college students who are also preparing for the new school year. College influencers who post about their own shopping hauls, and experiences of getting ready for college are highly relatable to other young people who are going through the same thing. This means college influencers are in the perfect position to create authentic back-to-college shopping content and help brands to grow their audience in the Gen Z niche. That's why we've put together a list of college and high-school influencers who will make strategic partners for your back-to-school marketing campaigns. 
Get inspired by 7 college influencers for the back-to-school season!
@Psychologee is a TikTok influencer who's found fame with the #studytok trend, sharing her top tips for studying, preparing for exams, and getting good grades. She uses her experience studying psychology at college in the UK to inform her TikTok content. This is a top channel to consider for partnerships as @psychologee ranks A+ within Upfluence software for engagement, views, and likes compared to similar influencers. 
As well as sharing practical studying tips, they also post about top discounts and deals, so if your brand is running a specific promotion for students consider reaching out to student influencers to drive interest. 
Chiara Schmidt is a content creator whose TikTok channel is dedicated to sharing top tips for surviving college life. She's built up a sizable following of young people who look up to her for advice from everything from dealing with homesickness, which shoes to pack, and tips for your first day. She often posts videos highlighting specific products such as the best laptop to take to college or her top 5 dorm essentials, which is a perfect opportunity for a brand collaboration! With 72K followers, she's in the 'rising star' category of influencers, who are rapidly gaining followers yet maintain strong engagement metrics. 
Taylor is a college student who shares friendly advice and product recommendations for anyone embarking on their first year at college. Her back-to-school partnerships include posting a video about her back-to-college shopping spree at JCPenney, plus a checklist of essential items you need to pack!  
Annie Long is in high school and she has created a successful YouTube channel dedicated to sharing tips for productivity, acing your studies, and being your best self. She shares details about her daily life including her morning routine, fitness workouts, and her typical weekend. Her great variety of lifestyle content means she is well-suited to working with brands across different verticals from fashion and home décor to fitness. She keeps her audience engaged by tapping into celebrity trends (she tested out the morning routines of US presidents) and sharing relatable moments from her own life. For the back-to-school season, she posts outfit ideas, productivity tips, and packed lunch inspiration. 
Daisy is a college student from Canada who creates YouTube content to help fellow students maximize productivity and do well in their studies. Her videos cover everything from how to take notes effectively, how to stop procrastinating, and her favorite back-to-school supplies. Upfluence data shows that 50% of her audience is aged between 21-24, making her a great choice for brands looking to reach college-aged adults.  
Olivia's channel features lifestyle vlogs about her experiences as a teen, featuring her favorite shopping hauls, her first forays into cooking, and dyeing her hair pink! Her candid videos make for very engaging content. 
Brock and Boston are 18-year-old twins posting about their adventures, school life, and favorite brands on Instagram. They also have a sister account @brockandbostonshop where they post about their shopping hauls and promote affiliate campaigns they're involved in. 
With a strong following and impressive engagement rate, they're a great channel to partner with if your brand is targeting older teens who are starting to shop for themselves. Back-to-school influencer campaigns that target Gen Z audiences directly (instead of aiming for their parents) can be a great way to create brand awareness among your next generation of customers and boost sales at the same time. After all, it's safe to assume that even if they're still using mom and dad's credit card, teenagers are making their own choices about their back-to-school purchases! 
Brock and Boston are currently teaming up with Amazon, which has created 'Amazon Teen', a  service where teens can shop securely using their parent's payment cards using their own login.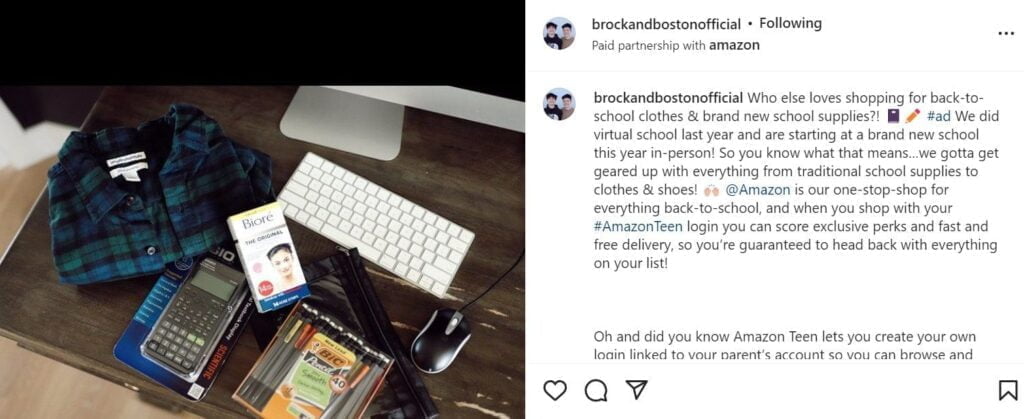 Find the perfect back-to-school influencers for your campaigns with Upfluence
If you're ready to start recruiting back-to-school influencers for your or your client's next campaign, try Upfluence's influencer search to cherry-pick top influencers according to your location, target audience, and industry niche! 
For more tips on succeeding with influencer marketing campaigns check out this checklist for back-to-school campaigns.