Influencer marketing can be a particularly lucrative marketing channel for digital financial services. Especially for the likes of fintech businesses and banking or investment apps that seek to reach a tech-savvy audience. Influencers are important partners who can help your brand earn credibility among new demographics. They can create engaging content for financial brands, making them more accessible to wider audiences. Before you get started, learn how to choose the best finance influencers, and which best practices to follow to get the most from your influencer marketing campaigns. 
Choosing the best finance influencers
Identify influencers active in the finance niche
As finance is a specific industry niche, you'll want to center your search on influencers and KOL (Key Opinion Leaders) who are familiar with the types of services you sell. Influencers with a genuine interest in finance will have more affinity with your brand, helping them to make authentic and engaging content for their audience. The world of finance and investment is one of jargon, processes, and regulations, so recruiting influencers who have a full understanding of your services is a must! 
Using a tool such as Upfluence's influencer search feature will help you to identify influencers and KOL's in any finance niche, whether that be trading, personal finance, or cryptocurrency thanks to keyword searches. You can also filter profiles by performance, location, audience size, and much more. Another approach to identifying your best brand advocates is to analyze your user database with Upfluence to identify influential customers who could be activated as influencers for your brand! 
Choose influencers who will reach your target audience

 
This might seem obvious, but it's worth emphasizing that your selected influencers should be speaking to your target audience via their social media channels. You should look at influencer profiles that match your target audience demographic, as we tend to listen to our peers the most. You should also check their audience stats, to see where their audience is located, if the audience is mostly male or female, and the average age bracket, to make sure they're a good match for your brand. 
Pick social channels with the optimal formats 
The most strategic social channels for finance influencer marketing are YouTube, TikTok, and Twitch. The reason for this is that content about financial planning and investments can often be technical and requires a long format to explain the subject thoroughly. The advantage with TikTok is that larger topics can be broken down into shorter clips which are easier to consume. Financial businesses are also lacking esthetically pleasing product imagery, so a face-to-camera video featuring a trusted influencer talking about your brand will be an effective format.
With a little creativity, Instagram can also be a useful channel for depicting the lifestyle that comes with good financial planning. American Express and their team of #AmexAmbassadors post photos to highlight their favorite features of their American Express card, such as the example below.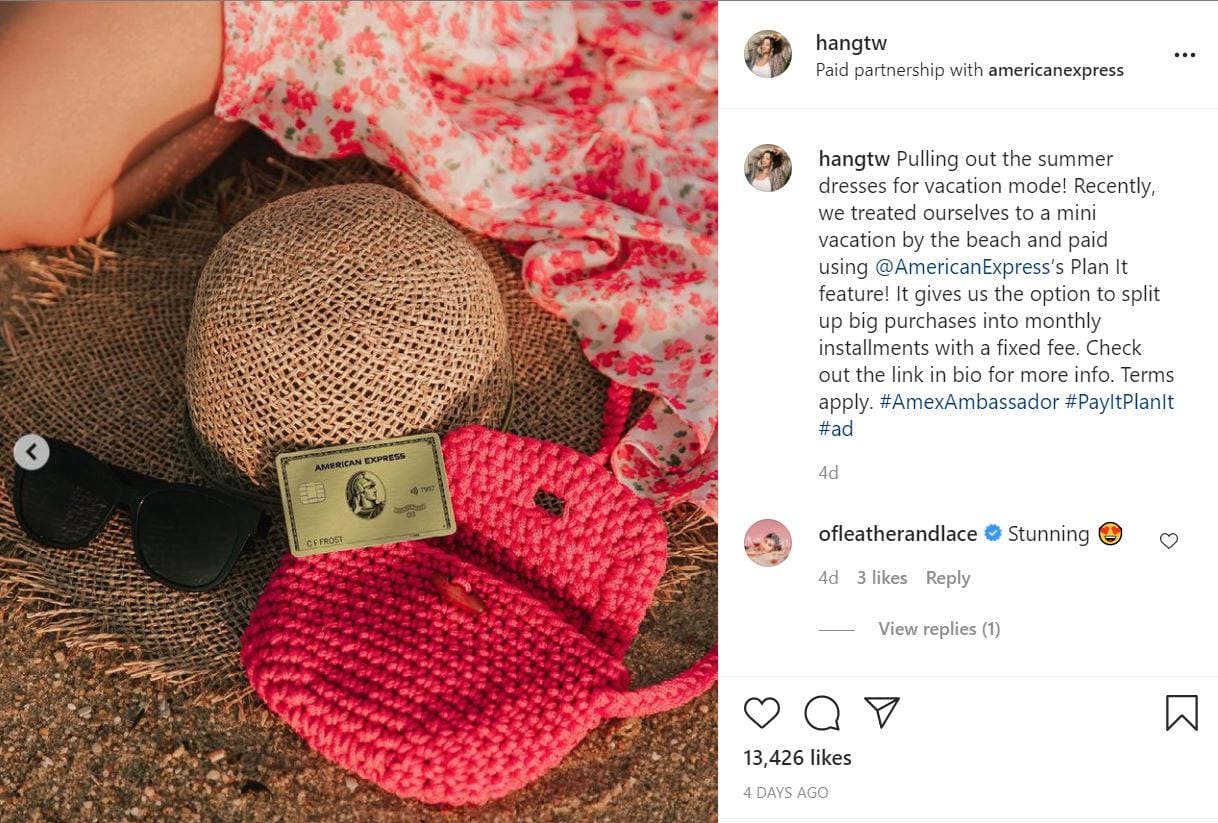 Creating effective campaign content 
Use how-to content to explain your service
People might feel daunted about using a new app or be unsure of how your service actually works. Your influencers' content should seek to reassure and educate them about the benefits of using your service. With content promoting finance businesses it's important that posts go beyond simply saying 'Check out this app' or 'Here's a banking app I love'. You'll need to back it up with clear explanations about how it works, how data is stored, and how your users' finances are protected. This will help build up trust in your services and dispel myths that trading and investment are difficult and complicated. 
Finance businesses should nurture long-term partnerships with their most successful influencers. One-off posts aren't impactful and don't leave a lasting impression on the audience. In fact, they can come off as quite unauthentic. That's why long-term campaigns with the same influencers will help them to continue brand growth, and reinforce the authenticity of their influencer's content, as they're invested in spreading the brand's message. Several posts spread over a longer period of time will help to build brand awareness and reinforce the key messages about your brand. Financial investments aren't usually impulsive decisions made on a whim (unlike buying a pair of earrings you saw promoted on Instagram) so a long-term campaign that explains your features in detail and demonstrates social proof will help people to convert. 
Use video to engage your audience 
Video content is highly engaging and a great way to convey technical information in a simple way. For fintech brands without a physical product to showcase, working with influencers to create video content will help to present your brand and services in a more entertaining and engaging way. Live video content on platforms such as Twitch is even more effective as it allows for audience interaction in real-time. Twitch streams are great for introducing your brand in a casual setting, where people can ask questions spontaneously via chat and get answers right away. Learn more about how Upfluence helped cryptocurrency platform Paxful drive usage among a Gen Z audience with a Twitch influencer campaign. 
Find out how @paxful successfully activated #Twitch influencers to drive usage of their #crypto & #bitcoin ₿ marketplace among Gen Z gamers https://t.co/tmKKB13m4r pic.twitter.com/zMA6nrtkyv

— Upfluence (@Upfluence) June 24, 2021
Transparency is key
When advertising financial services through influencer marketing, transparency needs to be front of mind. After the financial crash of 2008, the industry has become more regulated. This is no bad thing. In fact, following compliance standards helps brands and influencers to provide truthful information and help people find the services that are suited to their needs. This includes stating that influencer content is not financial advice, and being transparent about sponsored posts. Brands should seek to lead by example, after all, transparency helps to build trust and credibility which is essential to driving new business in the financial sector. 
Now you know what to keep in mind when selecting influencers and planning your campaign content in order to create authentic connections with your audience and drive conversions.