Combine Upfluence influencer data with your Klaviyo CRM for better targeting and improved influencer outreach by creating new audience segments, automated flows, and drip campaigns. Identify ambassadors from within your customer base and activate them with personalized outreach campaigns.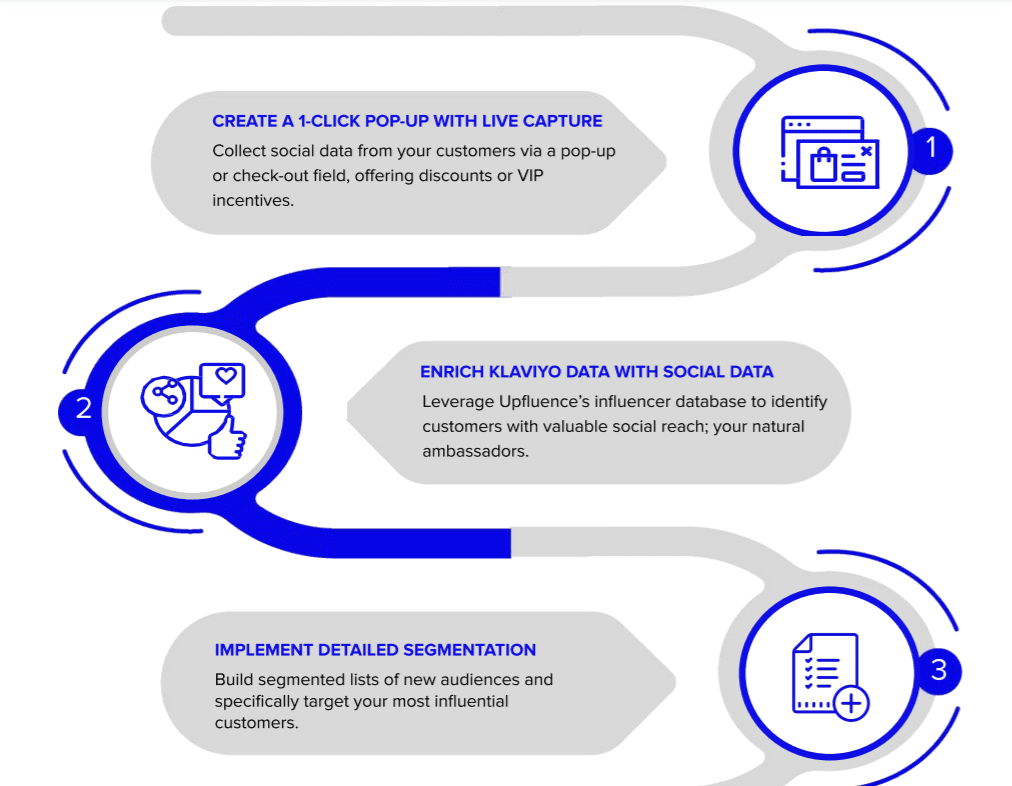 How to get powerful campaign segmentations with Upfluence and Klaviyo
Enrich Klaviyo campaigns with influencer data to boost email targeting and discover your best brand ambassadors.
Your goals:
Identify your most influential customers
Fine-tune audience targeting
What you need:
Upfluence influencer matching and free Klaviyo integration
This strategy is perfect for:
Enriching Klaviyo contacts for better audience segmentation, automated flows, and drip campaigns
Leveraging your customer base for influencer partnerships
INTEGRATE WITH UPFLUENCE TO ANALYZE ANY KLAVIYO LIST
Collect social data from your customers via a pop-up or check-out field, offering discounts or VIP incentives.
ENRICH KLAVIYO DATA WITH SOCIAL DATA
Leverage Upfluence's influencer database to identify customers with valuable social reach; your natural ambassadors.
IMPLEMENT DETAILED SEGMENTATION
Build segmented lists of new audiences and specifically target your most influential customers. 
CREATE TARGETED KLAVIYO PROCESSES
Continuously enhance audience segments, automated flows, and drip campaigns with social data insights.
ACTIVATE YOUR AMBASSADORS
Personalize communication to secure partnerships with influencers, brand ambassadors & affiliates in your existing customer base.
END-TO-END MANAGEMENT WITH UPFLUENCE IRM
Manage the entire influencer marketing process, from start to finish, all in one place.