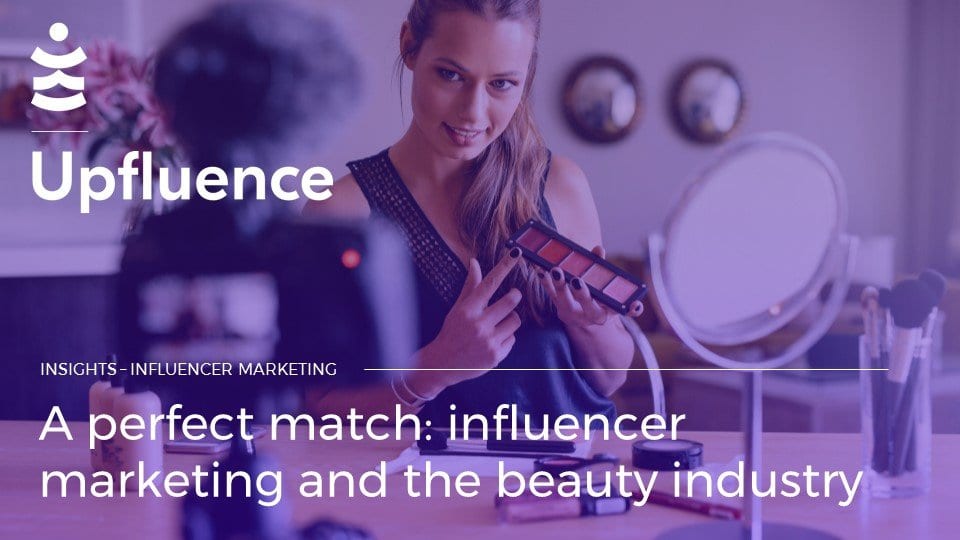 Humans have been using products to attempt to enhance their appearance since the Egyptians (and probably even before then). The beauty and cosmetic industry is certainly not new, but it's a industry which is continually evolving, diversifying, and generating new trends.
It could be argued that today we are more concerned than ever with our image – in particular since the omnipresence of social media and the rise of the selfie. This means that the beauty industry is now stronger than ever before. In this new digital landscape, what's the best way for brands in the beauty and cosmetics industry to promote themselves?
We show you why influencer marketing is the future of the beauty and cosmetics industry.   
A robust market with consumer demand driving innovation
The beauty and cosmetics market is looking very healthy – according to Business Wire the global market is projected to reach $675 billion by 2020, and is expected to grow at a rate of 6.4%.
Skincare currently has the largest share of the beauty market (35.5%), and consumers are calling for more efficacious ingredients and formulations which is driving the industry to constantly innovate. The past few decades have seen major scientific breakthroughs which have been driven in a large part by consumer demand.
As well as seeking more sophisticated products, Cosmetics Design states that consumers are becoming more interested in the ethical credentials of brands, whether that's the story behind the brand, sourcing materials responsibly, or using eco-friendly ingredients. Ultimately both these trends can be boiled down to the idea of transparency: consumers are tired of glossy, airbrushed ad campaigns and are looking for truth.
Trend projections for the beauty industry reveal consumer expectations are changing, and that brands must respond to this to stay relevant. For example, niche indie brands are bypassing traditional routes to market and are quickly gaining traction with consumers online. Smaller, independent brands are benefitting from savvy digital marketing, and due to more online purchases, heritage brands are losing their dominance: this shows us that the traditional buying journey for skincare and cosmetics has evolved. It's clear that digital campaigns need to be at the heart of marketing strategies for beauty brands.
A diverse and diversified market
Another big shift is how the market is expanding to include men. In 2016 the male grooming industry was worth close to $50 billion worldwide, and it's expecting slow but steady growth in the future. Premium brands Marc Jacobs and Tom Ford have both recently launched male cosmetics lines – another factor in the premium cosmetics market boom, which is expected to reach over $126 billion globally by 2019.
Male beauty influencers have been key in driving the trend for male cosmetics. James Charles (1.5m Instagram followers) and Manny Gutierrez (3m Instagram followers) are two of the most well-known, both of whom have partnered with cosmetic brands. Although the market for male cosmetics is still fairly small, it's certainly increasing – as the FT states, "that men can be the face of a global make-up brand underscores how companies like L'Oréal and Coty see diversity as an increasingly powerful market."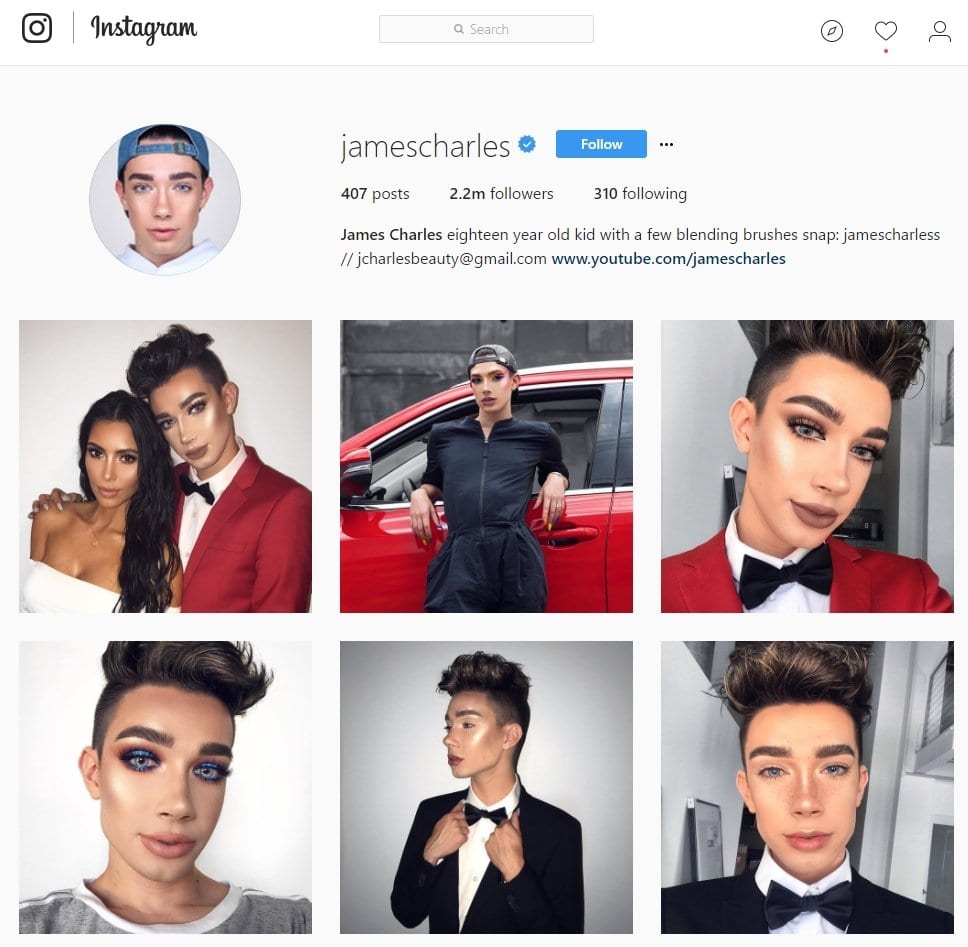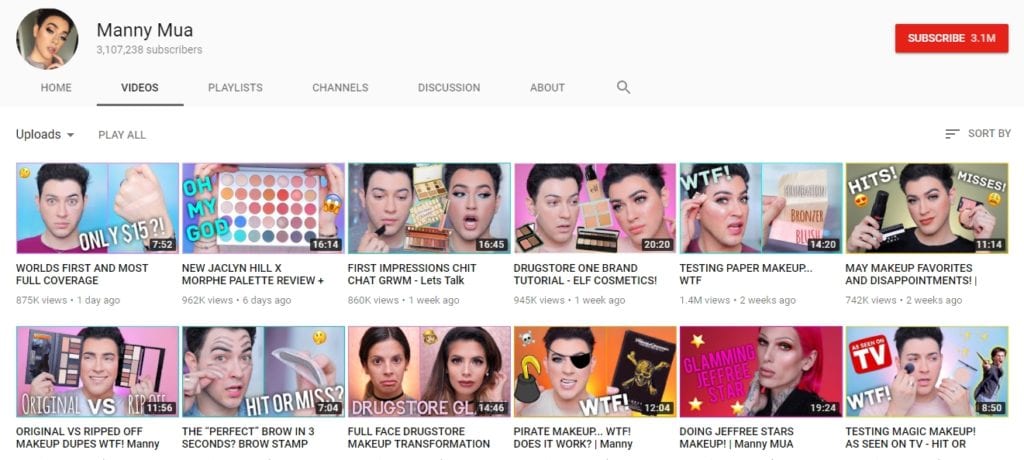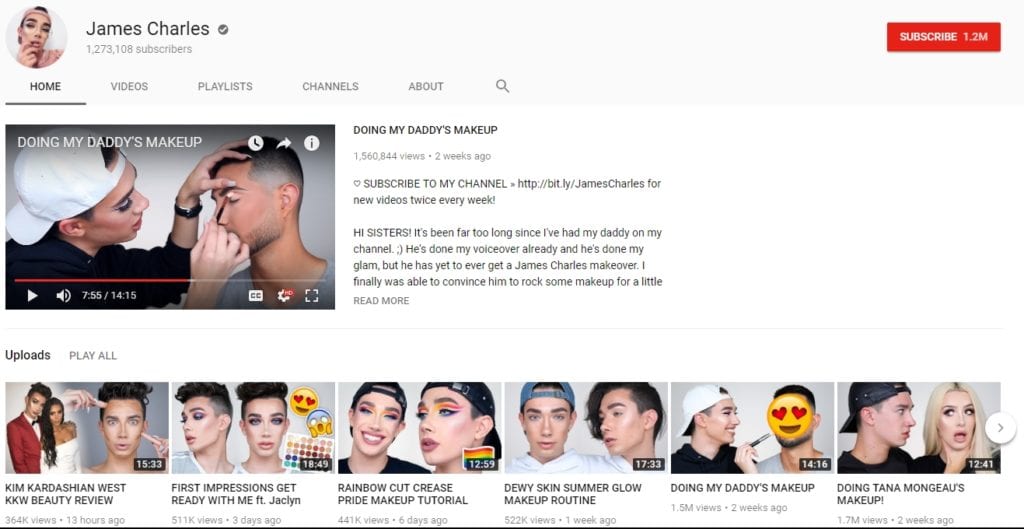 Putting the influencer at the heart of the marketing strategy
As we mentioned, the beauty and cosmetic industry is continually evolving and diversifying, and so too must its marketing strategies. Consumers don't want aggressive and intrusive traditional advertisements that promise the earth, they want to see how the products work on real people, and what results they can expect. This is where influencers are key.
Beauty influencers are social media users who have established credibility by posting their experiences on social platforms and have garnered a large audience. They may post reviews, tutorials or 'hauls'. After gaining a following, they then have the ability to influence others with their expertise and authenticity. A NY Times article puts it succinctly: "They're not just giving a makeup tutorial, they're telling a story about themselves. If you watch them every day, you're going to get to know them very well."
This personal touch and community-building is vital to the influencer's sway. According to NPD, influencer collaborations in prestige makeup brought in twice as much money as traditional celebrity-led ones in their first month. But collaborations aren't necessarily required; simple social media posts and mentions hold a lot of influence.
Social media: the key to success
Social media creates a constant flow of information and opinion from everyone in our social networks – from friends, celebrities, and even strangers, and we can communicate directly with whomever we want. Through their social media networks, influencers have formed strong relationships with their community and often respond directly to their 'fans' using social media. As Forbes states: "For brands and retailers trust is more important than ever. Consumers demand authenticity and expect influencer content to be genuine and realistic."
While Instagram remains a popular platform for beauty content, YouTube has become the go-to site for makeup and skincare advice. As of 2014 there were 14.9 billion beauty-related videos on YouTube and every month 700 million beauty videos were being watched on the website. A surprising statistic: only 3% of beauty-related content on YouTube is brand-led and controlled, meaning 97% is UGC made by beauty vloggers.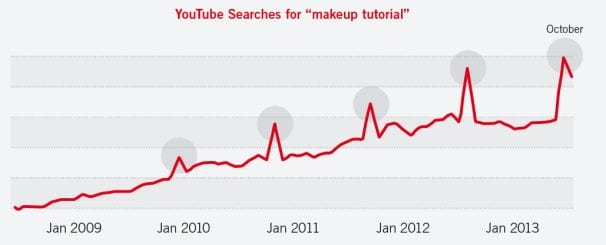 A recent survey found that 82% of women think that social media influences real-life beauty trends, and 92% of makeup users get information on makeup products from influencers' YouTube videos. Influencers have a profound impact on makeup and skincare consumers' purchasing decisions.
So, how can influencer marketing work for your beauty brand? Influencers can distribute their expertise in various ways depending on your objectives, which generally include:
Boosting business volume

Driving traffic to a website

Increasing brand awareness

Promoting an event or product launch

Developing the brand's social community
Essentially, beauty and skincare consumers are tired of photoshopped advertising campaigns, and are turning to advice from someone they trust. Karen Grant, global beauty industry analyst breaks it down: "As UGC continues to grow more prominent and influential, it's also building a reputation as the trusted voice consumers turn to when contemplating a purchase. Building and maintaining a strong and creative online presence is crucial to capture the most engaged beauty consumers."
It's evident from this recent research and analysis that influencers are a considerable asset for the beauty and cosmetic industry, and brands should take note of this strategy to remain relevant and secure future growth.
More: Influencer campaign for luxury brands: 6 steps to success