At the start of each influencer campaign it's a good idea to reflect on your overall strategy and goals. It's easy to lose sight of the big picture once your campaign has started, so Upfluence has put together a handy influencer marketing strategy checklist to help you and your marketing team iron out the important details and make strategic campaign decisions.
We outline each key step in creating an influencer campaign and offer useful tips to help you maximize your chances of success at every stage of your campaign.
We'll cover the campaign milestones below that you should be thinking about before diving in:
Goals
Influencer selection: social media channels & selection criteria
Budget: choose compensation
Campaign type: choose activation & create a brief
Tools: choosing which influencer software and integrations you'll use
ROI: deciding KPIs and amplifying influencer content
Download the influencer strategy checklist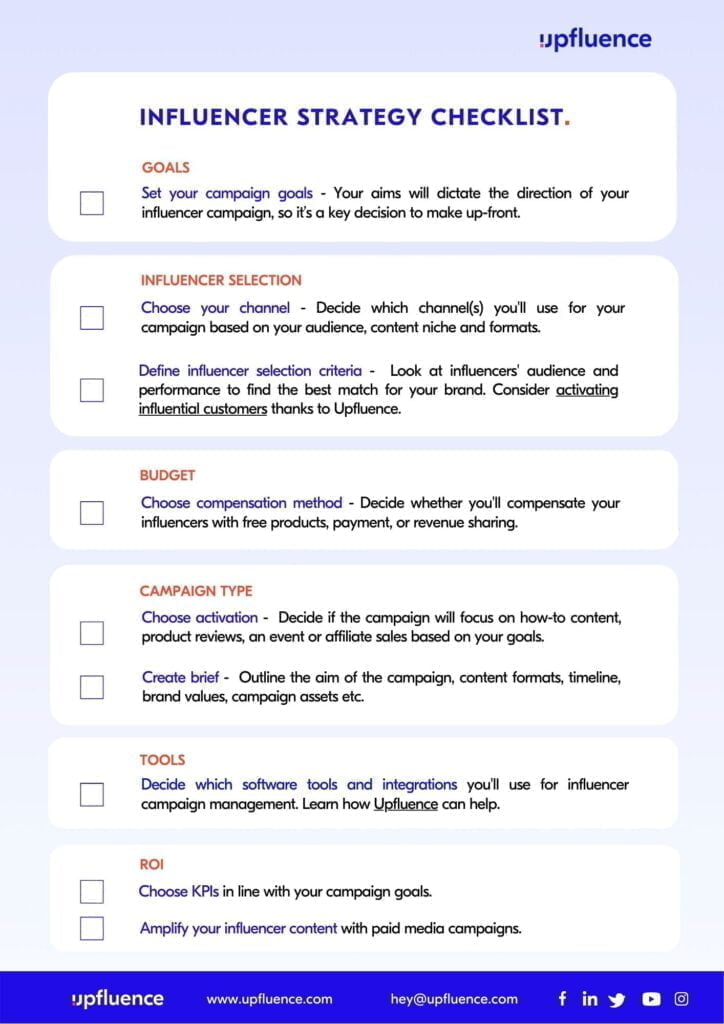 As you embark on your next influencer marketing campaign, make sure you don't fall prey to common mistakes that will reduce the impact of your campaigns. Seasoned influencer marketers and newbies should seek out the latest best practices and expert tips to ensure they are running effective campaigns that deliver results. With this in mind, Upfluence has created an ebook that adresses the 5 most common influencer marketing mistakes and offers easy ways to avoid them.
Learn the best ways to avoid these influencer marketing mistakes:
Not setting clear goals
Choosing unauthentic influencers
Not getting the most from data
Giving the wrong compensation
Not amplifying influencer content
Get insight needed to analyze your current influencer strategy and identify if you've fallen into one of these pitfalls. Use tips and tricks from our experts to create a winning influencer strategy from step one and avoid making similar mistakes in the future.