When investing in a new laptop, smartphone, or smart TV savvy consumers are turning to tech YouTube channels and Twitch unboxing videos to learn more about the products before making a purchase. This creates a strategic opportunity for consumer tech brands to use influencer campaigns to persuade new customers to buy their products. Consumer tech influencers have a genuine passion for the latest tech gadgets which makes their product reviews authentic and highly valued by their online followers. 
Upfluence's latest report on the consumer tech industry provides an in-depth analysis of tech influencers' performance. Our data insights aim to help brands in choosing the best influencer profiles, social media channels, and content formats for successful tech influencer marketing campaigns. 
We analyzed 1,000 tech influencer profiles to identify the latest trends and best practices within tech influencer marketing. 
Let's explore 6 tech influencer profiles to get an overview of influencer performance in the tech industry. 
YouTube subscribers: 1.21M 

Average views: 36K
Miguel is a tech influencer based in Spain. With over 1.2M subscribers on YouTube, he's classed as a mega influencer. He's well-known for his videos reviewing the latest smartphones and also tackles questions from his audience, like in the video 'Are AirPods compatible with android? He even teamed up with his influencer friend Antonio to test out whether a normal phone vs. a gaming phone in a call of duty battle greatly entertained the viewers. 
His audience is 75% male, with 95% real followers, making him a great partner for gaming and tech brands looking to reach a male, Spanish-speaking audience.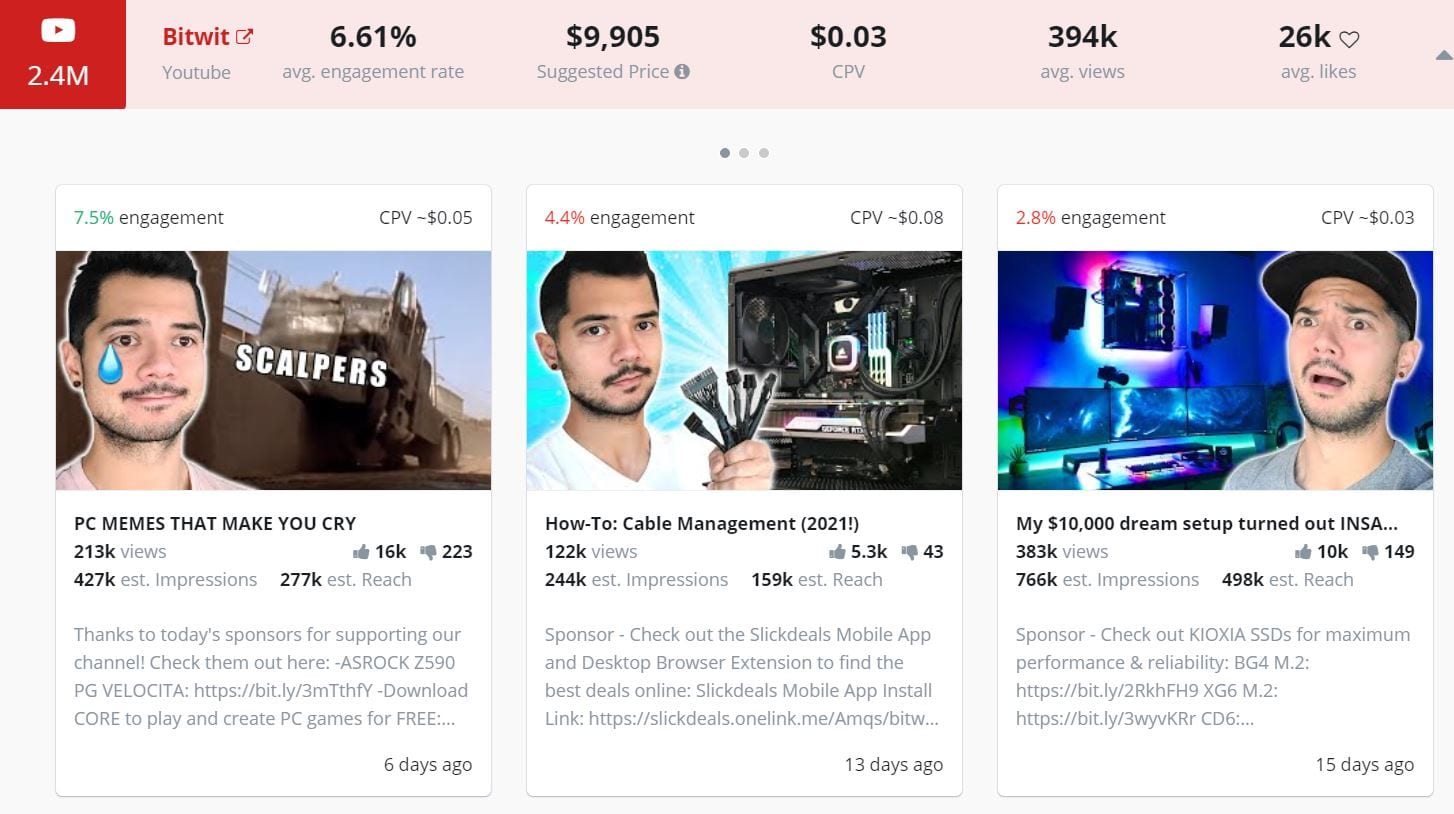 YouTube subscribers: 2.4M

Average views: 394K
Kyle is a mega influencer based in the US, with a highly impressive audience reach. His mix of informative and entertaining content is a winning combination that keeps his audience very engaged. His videos range from 'I just made a $1,000 mistake!' to 'The Best mini ITX'. He mainly focuses on gaming tech, charting the progress of his very own gaming pc build, sharing the ups and downs with his followers. 
His powerful reach has had a positive impact on his social engagement, with 394K average views and 26K average likes. With a YouTube audience of 91% male, he can help brands target male audiences interested in the gaming niche.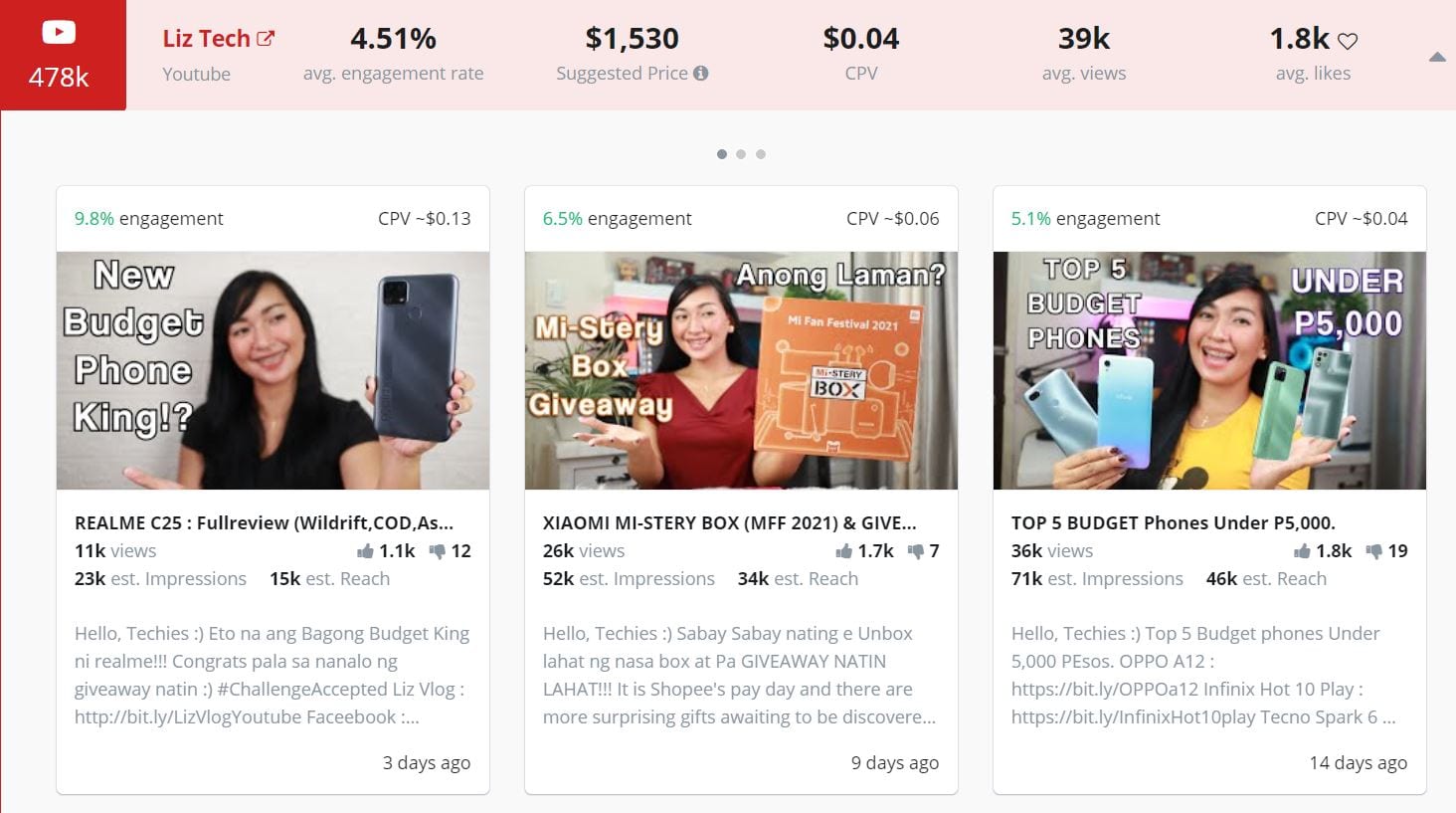 YouTube subscribers: 478K

Average views: 39K
Liz's YouTube channel features unboxing, review, and giveaway videos. She concentrates on creating content about smartphones from all kinds of brands including Realme, Huawei, and Samsung. She also has an active Instagram account where she mixes content about her latest tech discoveries and photos from her everyday life. 
She's from the Philippines and 88% of her audience is also based there. As a female tech influencer, she does have a significant female following 32%, even if the majority of her followers are male.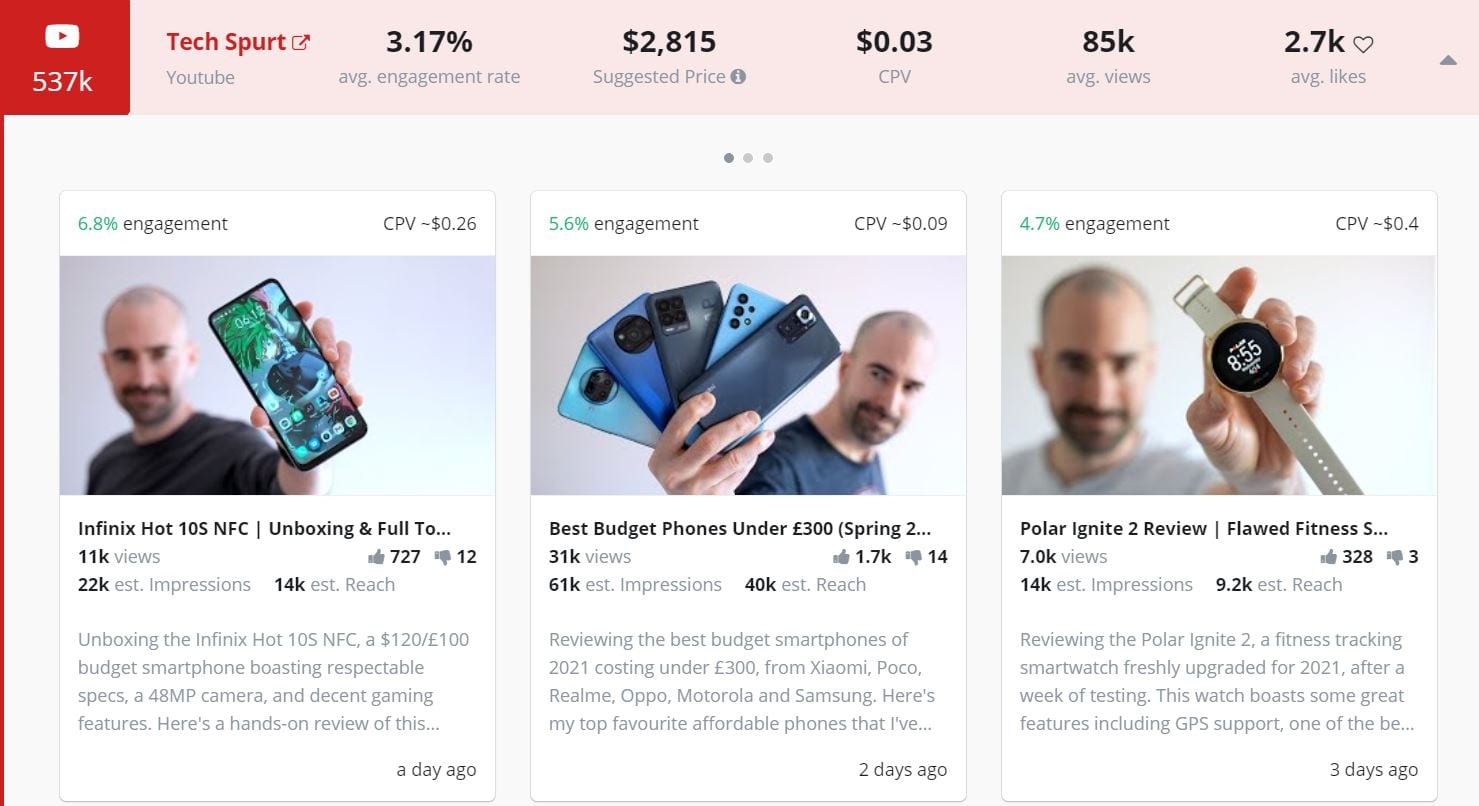 YouTube subscribers: 537K

Average views: 85K
TechSpurt is a versatile consumer tech influencer, featuring all kinds of gadgets from tablets, to smartwatches, fitness trackers, and VR tech. He creates in-depth product reviews and best-of lists to help his audience in choosing their next tech purchase. 
He's based in the UK, but his audience is from a range of English-speaking countries including 26% US, 21% UK, and 4% Canada.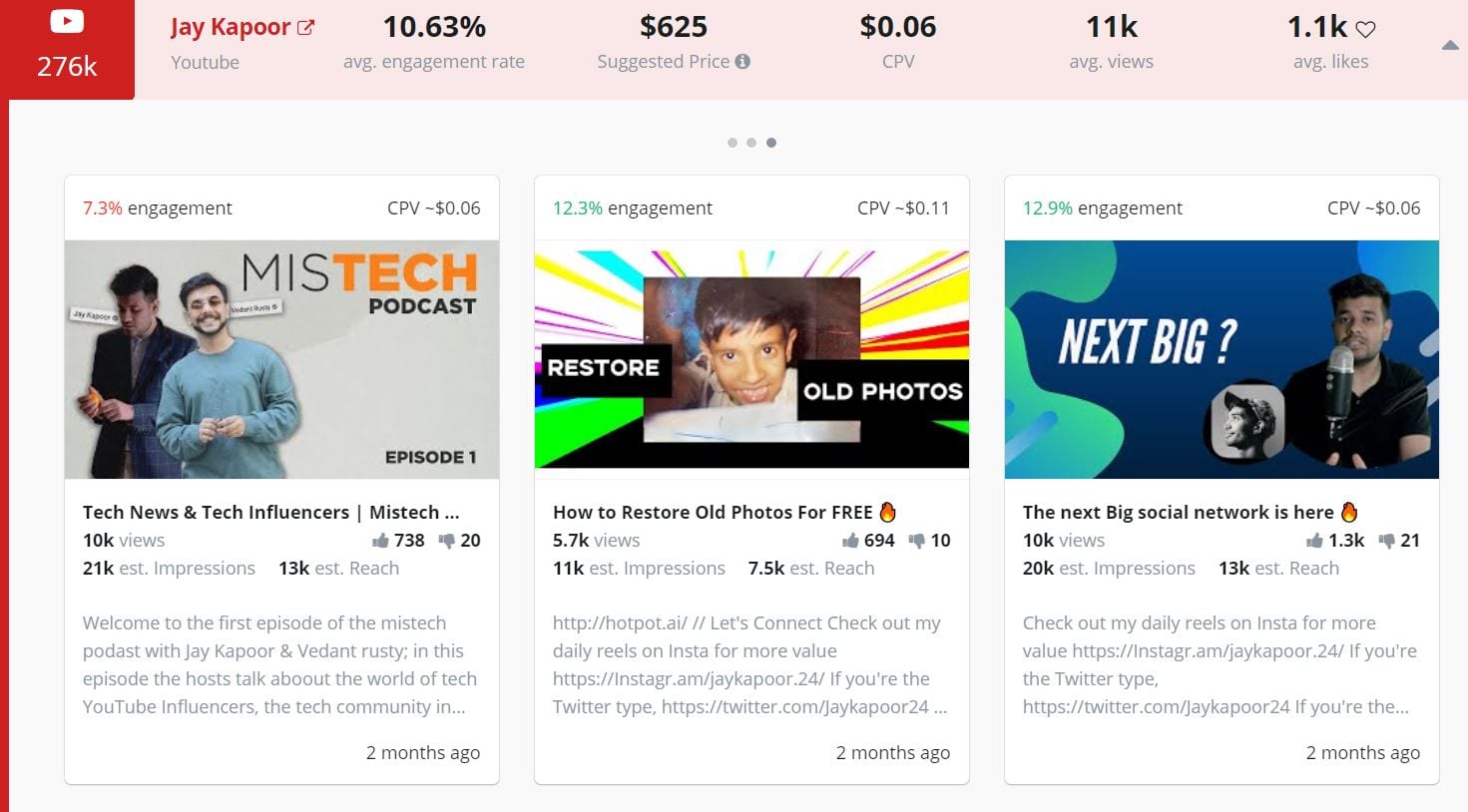 YouTube subscribers

:

276K

Average views: 11K
Jay Kapoor is a genuine tech enthusiast, creating useful videos about apps to boost productivity, how to save your phone from water damage, and reviews of the latest Macbook. He's even launched a podcast where he chats with other tech creators about the world of tech influencer marketing on YouTube. 
He's an Indian consumer tech influencer, and is most popular in his home country, with 89% of his audience based in India.  He has an average engagement rate of 11%, showing how his mix of general tech content and product-specific videos is working well.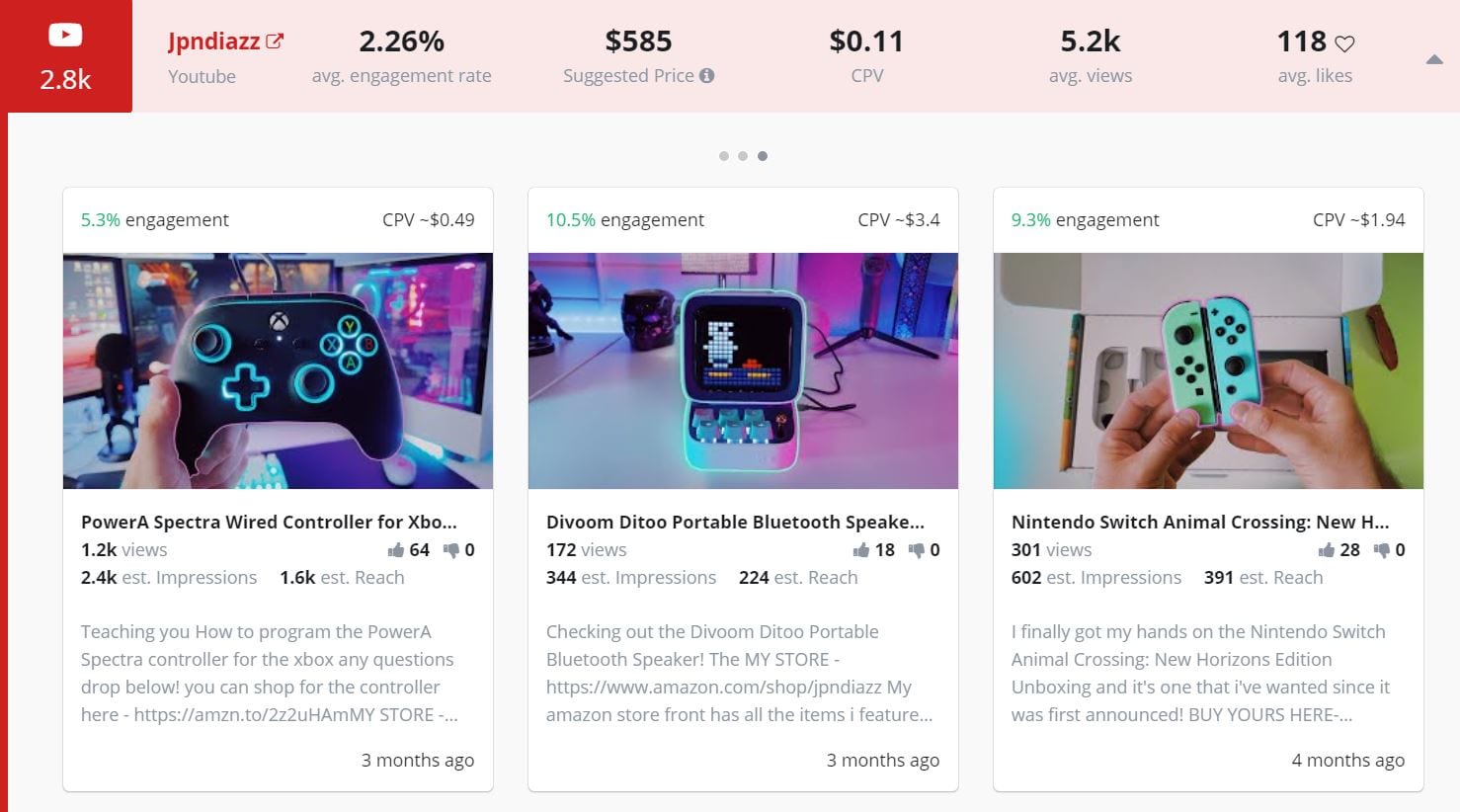 YouTube subscribers: 2.81K
Average views: 5.2K views
Juan is a micro-influencer based in the USA. He's established his YouTube channel in the gaming tech niche, he's recently created content about a wireless gaming mouse, an Xbox controller, and a gaming monitor. He also mixes in videos where he shares more personal content to build a stronger connection with his audience, such as the video entitled 'What would be your dream job? Q&A'. 
He's showing promising performance as a micro-influencer, he's been awarded an A+ for 'Number of Views' in Upfluence's ranking comparing the performance of similar influencer profiles. He's most popular with a Millennial audience, 48% of his subscribers are aged between 25-34. 
Find the best consumer tech influencers for your campaigns
This snapshot of creator profiles shows the common characteristics of tech influencers. We've seen how there's a cross-over between the tech and gaming industry as tech influencers' audience will often comprise men with an interest in video gaming. Our influencer audience analysis also revealed how location plays a big role in audience targeting. 
To find top-performing tech influencers to help you reach your tech brand's target audience try Upfluence's influencer search. With 20+ search filters including audience age, audience location, engagement rate, and keywords, you'll be able to pinpoint those influencers who are best-suited to your campaign.
Check out our dedicated guide to influencer marketing in the tech industry, full of tailored recommendations on building effective strategies based on Upfluence's latest industry insights.