It's that time of year when brands in every industry sprinkle their influencer campaigns with a touch of holiday magic. We have chosen 5 brands across the fashion, retail, drinks, fitness and beauty industries who are utilizing creative strategies within their Christmas influencer campaigns. From a Giving Tuesday campaign, to a Black Friday affiliate program and creator tutorials – there are ideas for every brand to put into practice. Christmas influencer campaigns come in all shapes and sizes. They use different types of influencers – from employee advocates to micro-influencers and celebrity TV personalities. Whatever your goals, or your marketing budget, we think you'll be inspired by the ideas behind these campaigns and will find elements you can incorporate into your own holiday season influencer campaigns. 
Aperol USA – #HappyAperolidays 
The festive season and alcoholic beverages go hand-in-hand. Aperol USA, usually a drink associated with summer months and sipping cocktails by the pool, has leveraged creators to promote their brand during the colder months. By launching a campaign using #HappyAperolidays, they are positioning the brand as an essential must-have for the holiday season. Creating a branded hashtag campaign is a great way to boost brand awareness and inspire user-generated content. 
The post below encourages people to make Aperol part of their holiday season celebrations by sharing a recipe for how to make an Aperol spritz.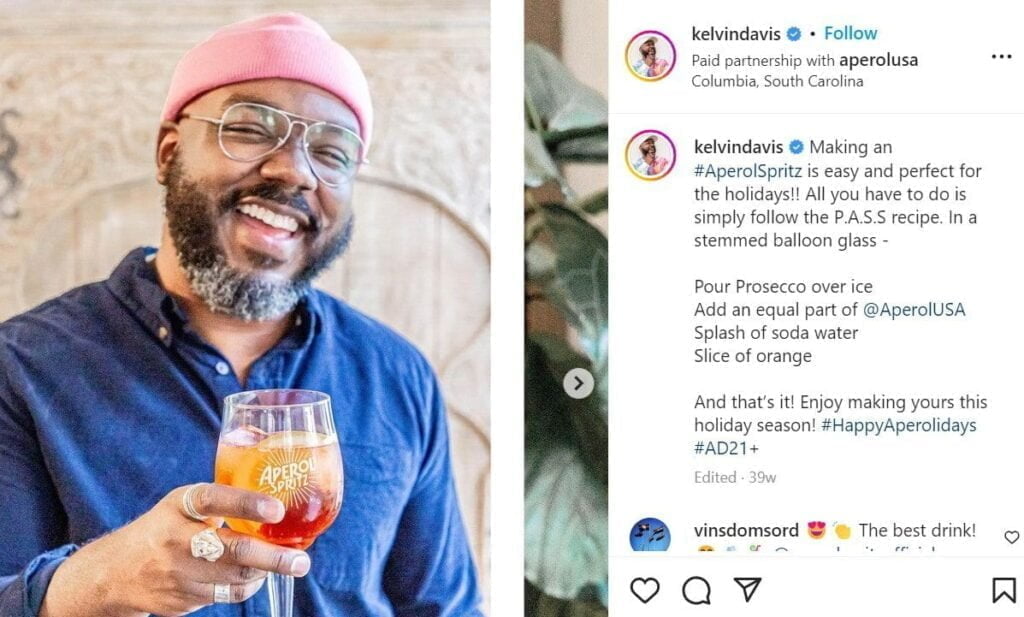 E.l.f cosmetics – 12 days of e.l.f giveaway
E.l.f cosmetics is a veteran of influencer marketing. They know a thing or two about how to utilize influencer-generated content to grow their brand. This campaign is a great example of reusing influencer-generated content on their owned channels. In this campaign they were running a social media giveaway every day for twelve days to promote their holiday collection and dedicated advent calendar. To build anticipation and showcase the product, they promoted the giveaway with a short video made by a creator retrieving the product from an advent calendar. Short-form video content is a popular format that enables brands to showcase their products in an engaging way.
Target – creator tutorials
If your brand is planning to launch a limited edition holiday season range then this campaign should inspire you! Target collaborated with a DIY and home decor influencer to create a fun tutorial to promote their limited edition gift wrap. By using a well-known influencer who is knowledgeable about crafts and who brings their unique creative flair makes this video tutorial stand out. 
Posting this reel to their own Instagram account meant Target delivered a valuable and educational video to their audience while encouraging people to buy their limited edition products.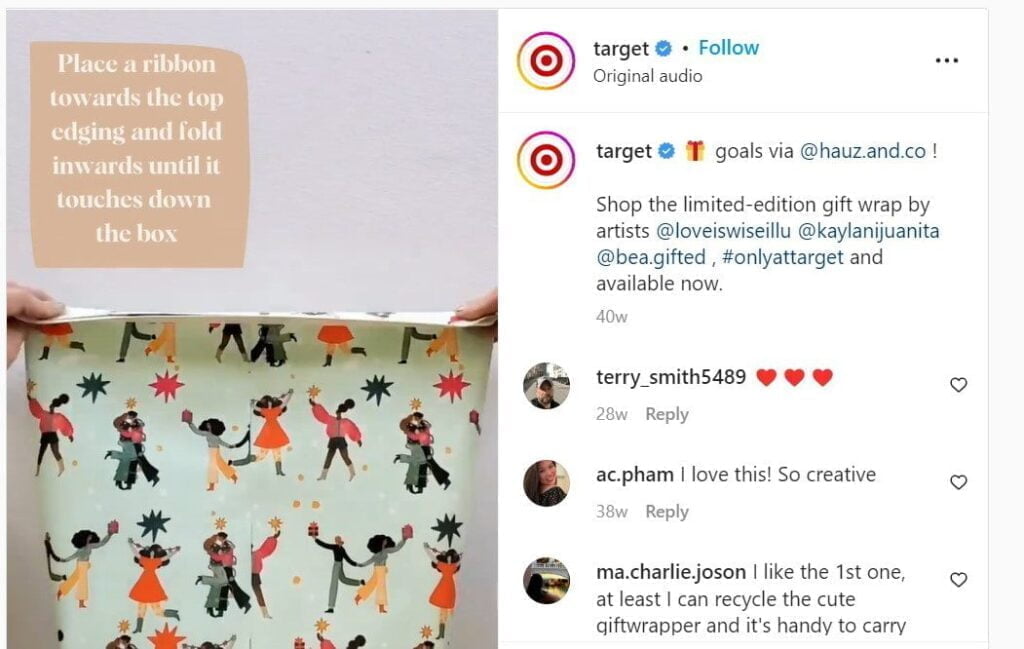 Gymshark – Black Friday affiliate program
Sportswear brand Gymshark team with influencer two Kathryn and Kendra to promote their Black Friday sale. In a long-form YouTube video Kendra teases the Black Friday sale by saying there will be 70% discounts and highlighting her favorite picks of what will be on sale. This kind of teaser video builds excitement and helps shoppers to know what to expect. 
What's more, Gymshark is maximizing chances of driving sales by sharing tracked affiliate links with Kendra and Kathryn to include in the YouTube video description. This helps the brand to track and attribute sales to this highly engaging piece of content.
DSW – The Festive Five
DSW's has brought in the big guns for their holiday marketing by enlisting the help of five influential personalities to guide their customers during the festive season. The Festive Five, as this influencer super group is referred to, created content to support the brand's holiday season marketing. DSW leveraged several formats to bring the best content to their audience, including a sponsored interactive US magazine profile of the Festive Five with clickable links, personal gift guides and Instagram posts. 
Hiring several high-profile influencers including TV personalities and CEOs, helped DSW lto harness their mass-market reach and expertise to bring a variety of personalized festive-themed content to their audience. Each of the Festive Five picked their favorite shoes to gift to friends and family or keep for themselves which is a great strategy to boost sales!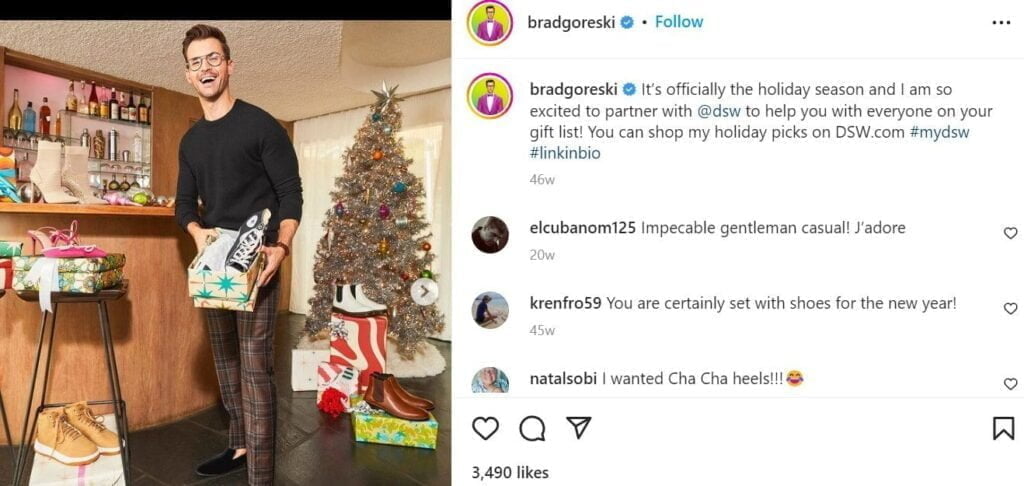 Honorable mention – Kiehl's Giving Tuesday Feeding America campaign!
We love this campaign for two reasons: 1) It's a giving campaign in support of the charity Feeding America, and 2) it shows how employees can be excellent influencers for your brand! Kiehl's knows that in order to connect with their audience and encourage them to part with their cash they needed to show the human face of their brand. That's why it was a great idea to share videos of their very own employees who showed their genuine passion for the cause.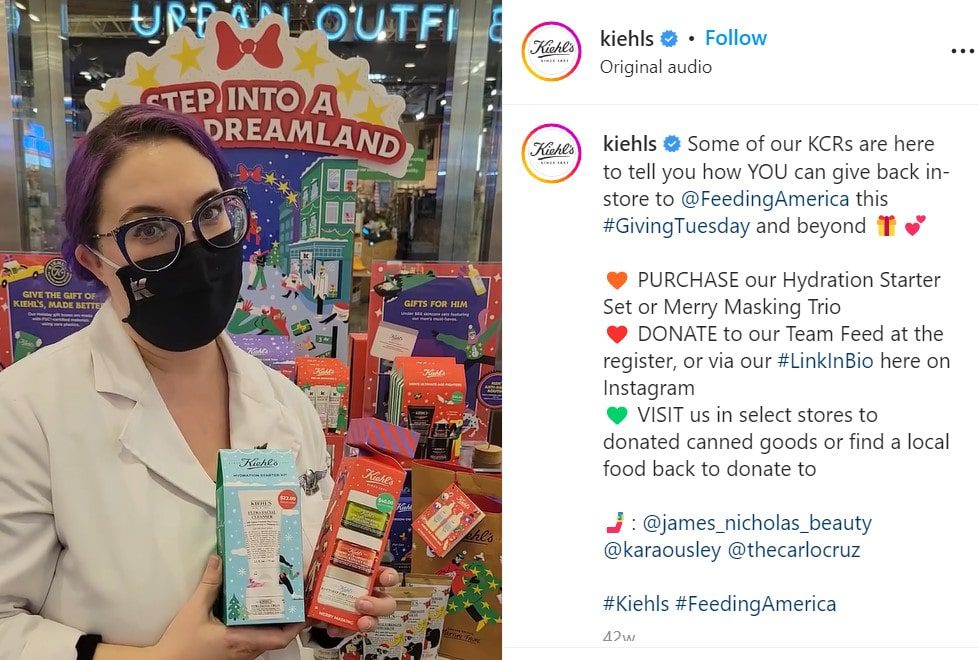 Inspired by these holiday season influencer campaigns?
If you want to make a splash with your Christmas influencer campaigns, like our favorite examples above, you'll want to optimize each stage of your influencer marketing campaign to ensure it delivers. 
Perhaps you too are interested in maximizing sales through affiliate marketing, see how Upfluence's affiliate marketing tools can help you manage holiday affiliate programs at scale.
Learn how to drive sales through creators with a break down of holiday season 2022 trends, top tips and practical resources to help you run high-performing campaigns with the Holiday Season Influencer Marketing Guide.