September is a jam-packed month for marketers. Many of you will be planning your Q4 campaigns, and deciding how best to spend your marketing dollars during the crucial end-of-year sales period. To guide you in making the best decisions for your business, this month's roundup offers inspiration for how to collaborate with creators for Halloween and the holiday season. You'll get top strategy insight on how to build an eCommerce affiliate strategy to maximize sales, plus an invite to join Upfluence and TINT's live webinar discussion on which types of creators you need to include in your marketing strategy. 
Be among the first to get Upfluence's monthly roundup delivered to your inbox, sign up to the Linkedin newsletter.
5 Halloween influencers to bring a spooky twist to your campaigns
Tapping into seasonality is a great way to make your content instantly resonate with your audience. Halloween is a hugely popular holiday in the US, celebrated in schools, homes, and workplaces across the country. Giving your campaigns a spooky twist at this time of year will help boost brand awareness and help make sure that your brand is front-of-mind ahead of the holiday season. We've picked out 5 different types of Halloween creators to inspire your campaigns. Whether you're a retail brand being featured in a Halloween haul, or a beauty brand mentioned during a Halloween makeover video, or anything in between – see how Halloween influencers can bring greater visibility and engagement to your brand. 
Holiday marketing campaign ideas
As you plan ahead for your holiday season marketing campaigns we wanted to share 5 examples of Christmas campaigns that cleverly leverage creators as part of their campaign. Working with influencers for your end-of-year campaign can give your brand a crucial uplift in sales. Influencer content from gift-guides to tutorials and affiliate promotions helps consumers to discover your brand and encourages them to make a purchase. Our top pick of 5 Christmas influencer marketing campaigns spans different industries including retail, beauty, beverages, and fashion. The campaigns feature different types of influencers from micro-influencers to celebrities. Whatever your goals or marketing budget, there are elements from these examples that you can incorporate into your own holiday season campaigns. Look no further for your holiday marketing inspiration:
Aperol USA – #HappyAperolidays 

E.l.f cosmetics – 12 days of e.l.f giveaway

Target – Creator tutorials

Gymshark – Black Friday affiliate program

DSW – The Festive Five
Building an eCommerce affiliate marketing strategy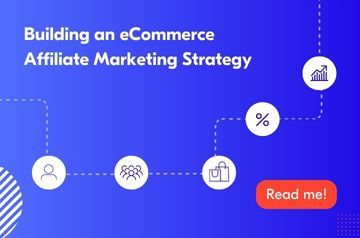 Driving sales is at the top of almost every brand's wishlist this holiday season. What better strategy to meet your end-of-year sales goals than an affiliate marketing program? Affiliate marketing is designed to drive maximum conversions. Influencers have a larger reach and higher engagement rates than typical affiliates, making them the perfect partners for a high-converting affiliate program. If your eCommerce brand is looking to optimize your affiliate program for the holiday season then this guide to building an eCommerce affiliate marketing strategy is what you need. We'll cover the basics such as how to set up an affiliate program, and for those ready to scale, you'll learn how to leverage influencer affiliates. 
TINT X Upfluence: WEBINAR | Generated Content: Influencers vs Content Creators
Join Paul Kahn, SVP Sales at Upfluence, and Ivonne Aldaz, Host of the Future of Marketing podcast at TINT for a timely discussion about which types of creators you should leverage in your marketing. From user-generated content creators to influencers, and everything in between it can be confusing to know who will make the most impact on your brand. In this Linkedin Live webinar, the experts will break it all down, offer key definitions and answer your questions about content creators.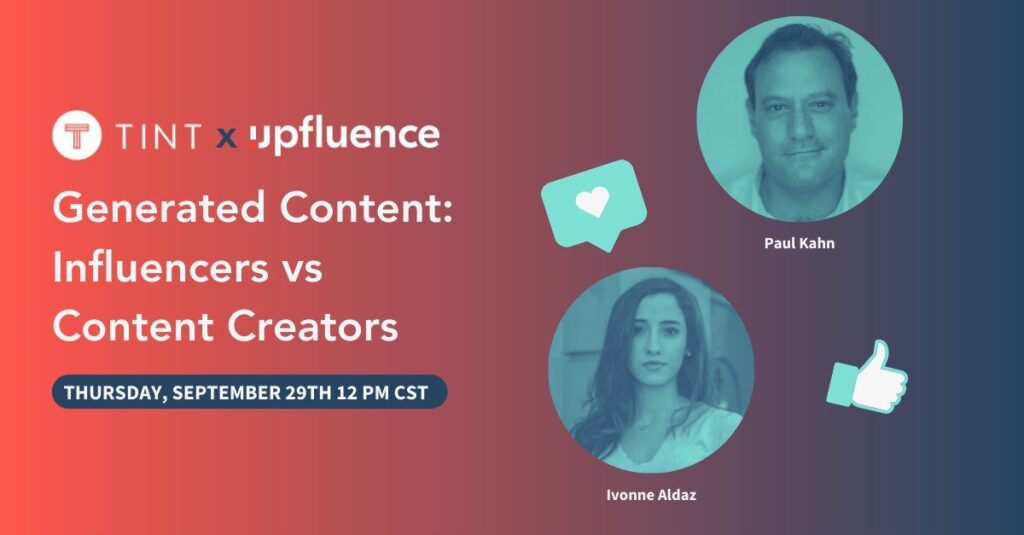 Join us for a Linkedin Live on September 29th at 12 PM CST. 
Influencer marketing news stories September