Halloween is the perfect time to get creative with your marketing campaigns! It's a time of year that calls for playfulness and thinking outside the box. So why not collaborate with a creator who can bring a spooky Halloween twist to your influencer campaigns? Influencers with a love for all things Halloween span all niches: from baking and beauty to home decor. We've identified 5 influencers from Upfluence's software who eat, sleep and breathe Halloween all year round to give you some inspiration for your next campaign!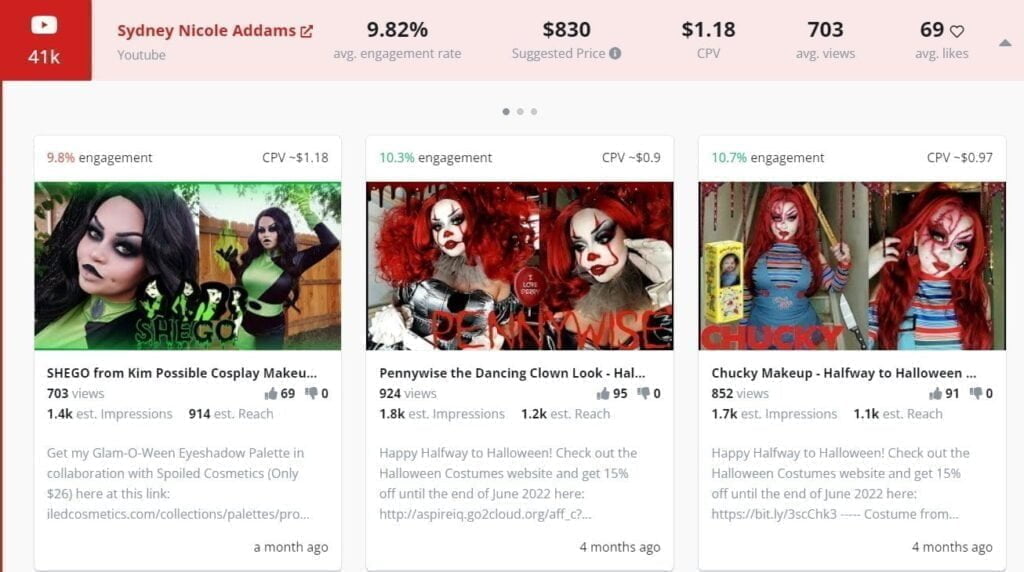 Sydney is most active across YouTube and TikTok where she shares content such as Halloween-themed make-up tutorials and shopping hauls such as this one featuring her favorite finds at Home Goods.
She enjoys embodying well-known characters such as the corpse bride, The Conjuring's Annabelle, and Cruella de Ville. She offers brands a wide reach within the beauty and cosmetics niche. Key brand collaborations include partnering with Alien cosmetics where she features the products as part of make-up tutorial videos and has also created a signature eyeshadow palette for the Halloween season.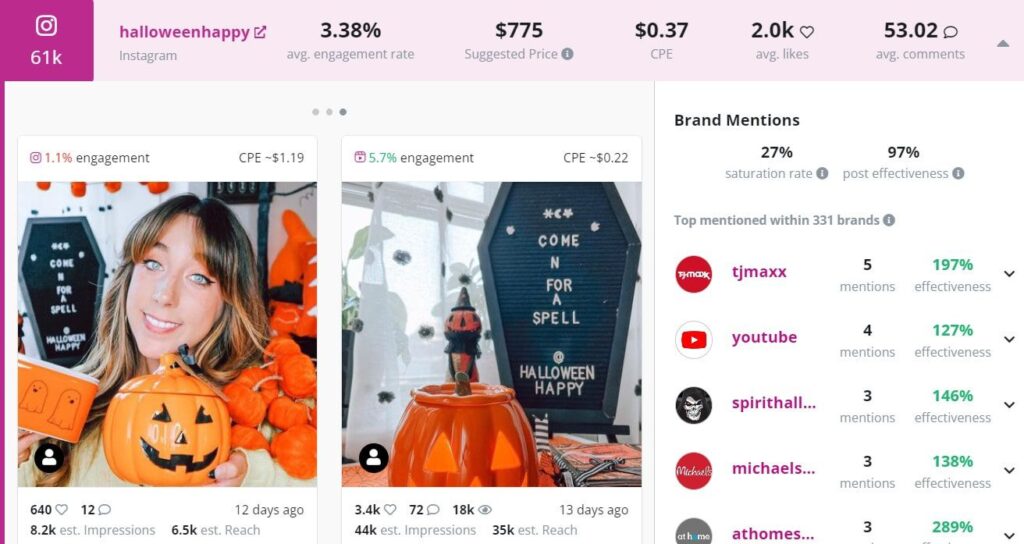 Sam is a huge Halloween enthusiast! Her social channels are 100% dedicated to sharing her Halloween-themed product finds, top bargains, and decoration ideas with her 61K Instagram and 22K YouTube fans. She has cultivated an active community of Halloween lovers earning her an average of 2K likes per Instagram post. If your brand is planning a seasonal Halloween line, whether it be stationary, candles, or dog collars – Sam is the creator for you! She uses her YouTube channel to promote Halloween shopping hauls and generates sales for brand partners by posting affiliate links in the description. Whatever your vertical, she will help you strategically target new audiences within the Halloween niche and boost sales of your seasonal line!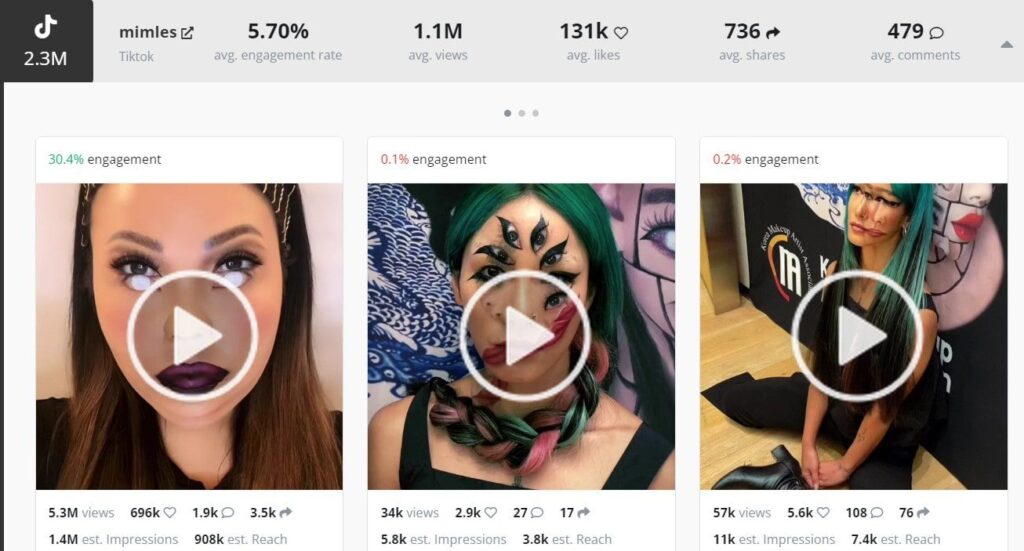 Mimi Choi is a top-ranking beauty influencer. With over 1 million followers she's got a mega reach while also maintaining a very strong engagement rate of 5.7%. Her strong performance stats reflect her impressive talent as a make-up artist which has led to many of her posts going viral on Instagram where she has 1.9M followers. She's partnered with the likes of Garnier, professional beauty brand Kryolan and NYXCosmetics. 
Mimi takes Halloween make-up looks to a whole new level! She collaborated with NYXCosmetics on their Halloween TikTok campaign with a look featuring iconic NYXCosmetics products. 
TikTok Followers: 239.2 K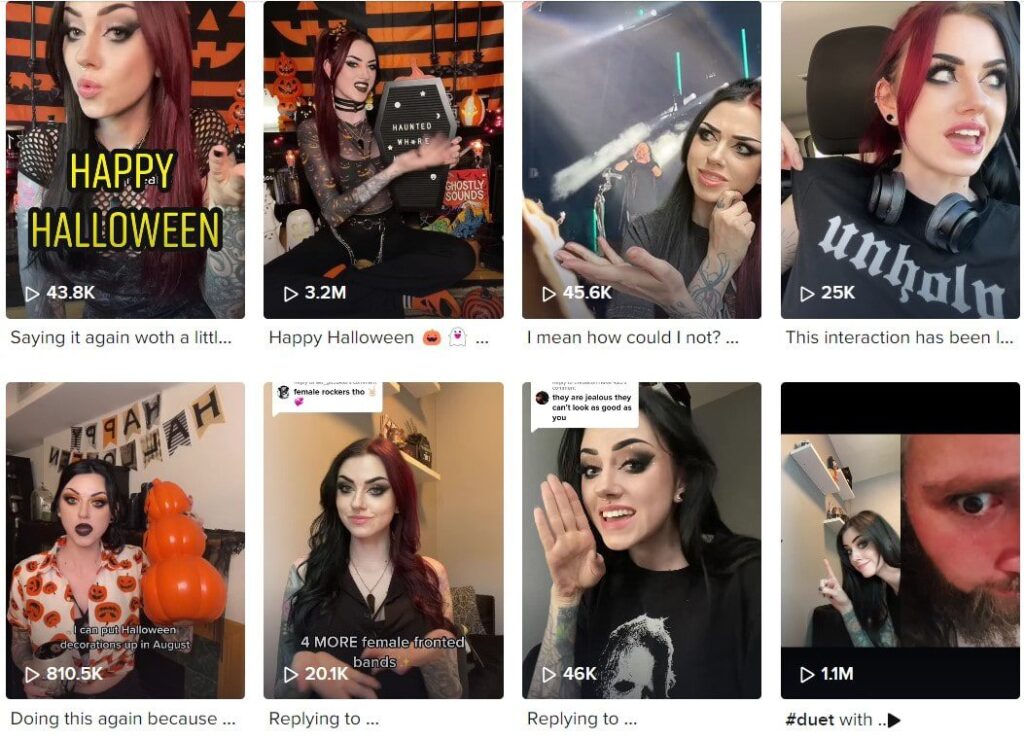 Jessica Smith brings her love of Halloween to life in her TikTok videos, adapting the latest trends with a Halloween twist. She posts videos such as 'Tell me you love Halloween without telling me you love Halloween' and Halloween giveaways. Her impressively high engagement rate of 17.6% shows the power of short-form, funny videos in engaging wide audiences. If you want to capitalize on this very effective content format – TikTok influencers are the ones to choose! 
Followers: 12K
Engagement Rate: 11.29%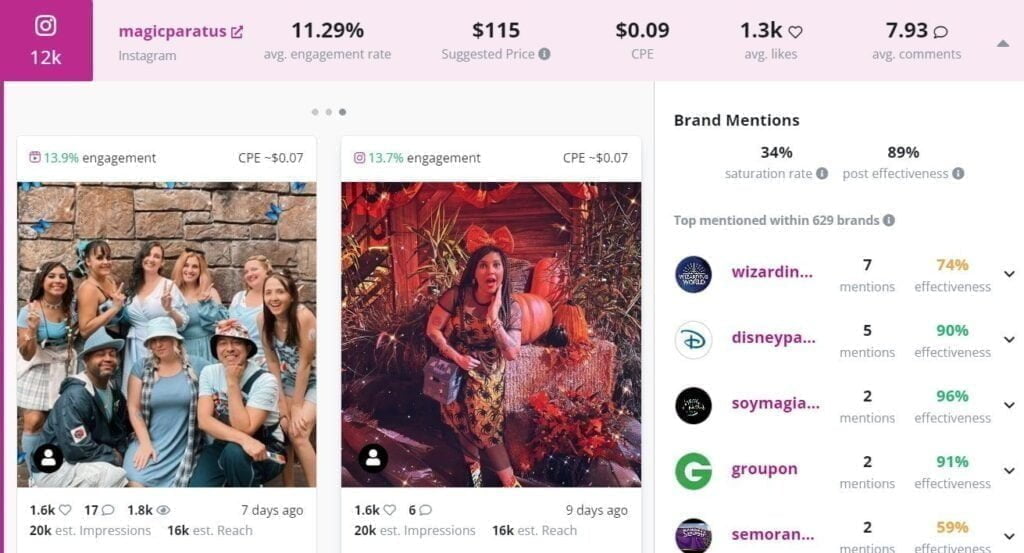 Niki Sama is a self-professed 'curator of everything spooky'. She creates playful content around Disney and Universal films and popular culture with a Halloween twist. Her Instagram content includes a Reel of her favorite Halloween mugs, fancy-dress from The Wizard Oz and much more. Niki is considered a micro-influencer with her online audience of 12K followers, with her real value as a creator in her very high engagement rate of 11.29%.
Find the best influencers for your next campaign
If you want to dig deeper into our selection of Halloween influencers you should try Upfluence's influencer search which offers 20+ advanced filters to help you find the creators who best fit your campaign. You can search according to location, platform, performance, audience, and keywords. 
With the holiday season just around the corner, now's the time to think about identifying brand ambassadors to help you boost sales! Learn how to use influencers to drive sales and smash your end-of-year goals with this jam-packed ebook on Holiday Season Influencer Marketing.