Authentic influencer partnerships are now the industry standard. Gone are the days of the one-off shout-out and purely transactional partnerships. As influencer marketing has matured, brands and influencers are looking to invest time and resources in authentic relationships that bring value to both parties. For brands, authentic influencer content goes the furthest in connecting with their target audience and generating conversions. For influencers, they choose their collaborations carefully, based on what aligns best with their interests and audience. So how do you go about creating authentic influencer content? The answer starts at the very beginning with influencer selection. Let's explore how to choose the most authentic influencers and how to keep authenticity front-of-mind during each stage of the campaign. 
Choose authentic influencers who align with your niche 
Your influencer search should focus on finding influencers that already have a genuine interest in your industry niche. Influencers act as a proxy for your brand, and those who have established an online presence within your industry will have additional credibility when promoting your products. You should narrow down your search to find influencers whose audience demographics and content style align best with your brand identity. Remember, your target audience is more likely to be inspired to try out your products if marketing messages are coming from influencers, people they look up to and can identify with. This works both ways. Influencers have invested time to build up trust with their audience, so will look to take on partnerships that resonate with their online identity and will be of interest to their audience. 
In the example below, creator @kiitana is partnering with luxury fashion brand Ferragamo. The collaboration works so well because @kiitana is a fashion and beauty influencer with an established audience who love being inspired by her creative looks. She creates content to showcase her polished look, and often collaborates with high-end luxury brands such as Prada. As a luxury fashion influencer with a large following on Instagram, she's the perfect fit for a brand like Ferragamo.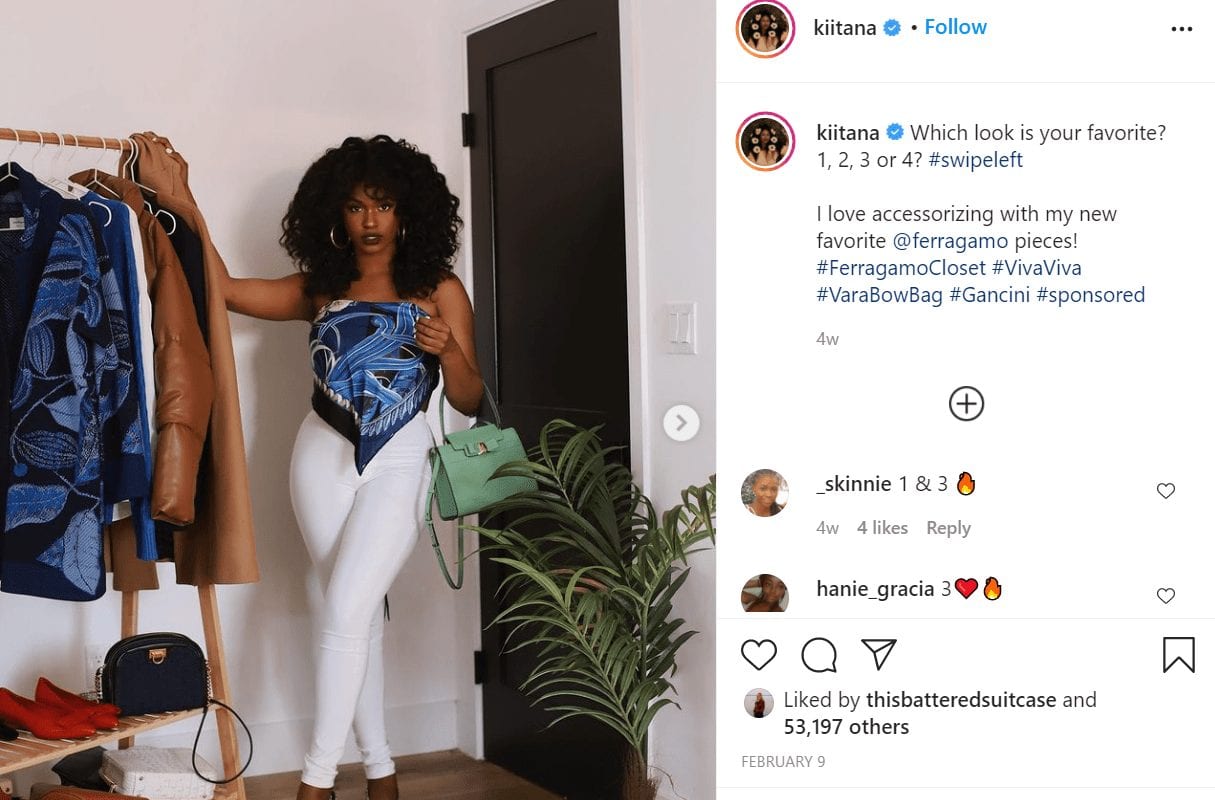 Leverage your brand community as brand ambassadors 
Authentic influencer content is created based on the experience of using your brand's products. Real experience is an important part of story-telling in an influencer's creation process. Being able to share their real opinions about the product and what value it offers helps them create engaging content for their audience. With this in mind, brands will find their most authentic content creators within their brand community, made up of customers, followers, subscribers, members, and employees, etc. Your community is full of brand champions who are already talking about your brand to their friends and family. You can amplify this activity by recruiting influential individuals in your community as brand ambassadors. By analyzing the social reach of contacts in your database, you'll be able to identify which customers would be valuable influencers for your brand. Upfluence's integrations with Shopify and Klaviyo help you seamlessly analyze your brand's databases for potential influencers.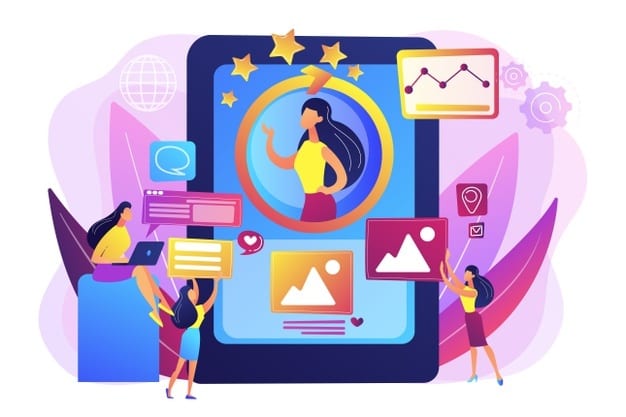 A flexible influencer brief yields more authentic content 
For brands, it feels natural to want to control every single element of your influencer campaigns. You might want to create a strict brief and provide elements like scripts for your influencers to use. But that won't help your influencers to create the most authentic content. The reason influencer marketing works so well is the added value and creativity influencers bring. They have their own content style and expertise – making their content look and sound different from the content brands create for their corporate accounts. Don't be afraid to use a flexible brief, giving influencer's enough guidance to meet expectations but enough room for interpretation. After all, influencers know their audience better than you do, and if they post using a brand's voice instead of their natural style, it won't sit well with their followers and it won't get the results you're looking for. A little flexibility and recognition of your influencer's expertise in content creation will go a long way to building a robust partnership for future campaigns. So whatever message you're pushing, let them say it in their own words! 
Amplify user-generated content 
As mentioned above, your customers are your most authentic content creators, so why not go a step further by encouraging them to post user-generated content (UGC) about your brand? Engaging social media campaigns often have an interactive element that invites people to get involved by creating their own content. Most social media users are not professional content creators, but the unpolished and genuine content they create shows how your products are used in everyday life which is easy for potential customers to relate to. Your influencer campaigns can help to drive more user-generated content by having your influencers encourage their audiences to post using a branded hashtag. Developing a specific hashtag helps you to collate all the posts that are part of the interactive campaign to help you measure participation. 
Clothing brand Aerie does this well. Their Instagram account invites people to post using #AerieREAL. There's no better hashtag for inviting authentic content! It also resonates with the brand's ethos of no retouching by sharing photos posted by real customers, not professional photoshoots.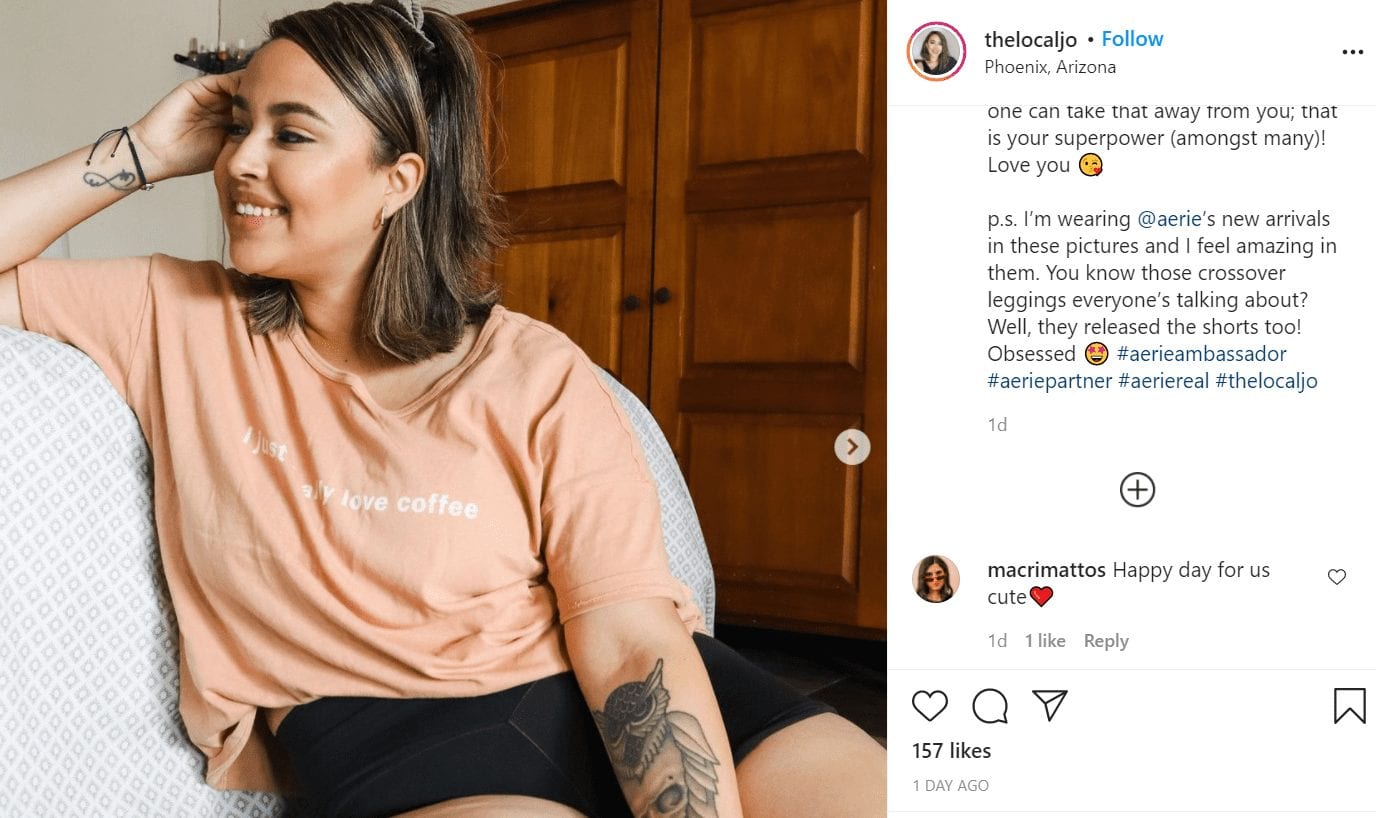 Get more from authentic partnerships by reusing influencer content 
Influencer marketing is one of the most effective marketing strategies of our time. However, most brands don't use the content they pay for to its full potential. Authentic content created by trusted influencers and genuine consumers can be extremely convincing for potential customers, so it makes sense to amplify this content as part of an evergreen content strategy. It will add a human touch to content that might otherwise be unnecessarily corporate and lacking in real-life examples. Influencer-generated content (IGC) can be repurposed and reused in so many ways across additional marketing channels to get the most from your top-performing most authentic content. Materials that bring the product to life by showing how it can be used in real-life work equally well as paid ads, organic content, social proof, or product reviews. Just make sure you get permission from your influencers to reuse the content they've created after the campaign has ended. Creating a dedicated influencer content repurposing strategy shows your influencers how valued their content creation skills are, helping to strengthen your relationship even further.