Food content is exploding on the internet. Whether you're interested in healthy eating, feeding a family on a budget, cooking vegan dishes or baking there are food influencers out there for you. Social media is driving food trends such as Cloud Bread, Butter Boards and Baked Feta Pasta, as well as offering tips and recipes. In this article we'll deep dive into the most popular food influencers including celebrity chefs, dairy-free cooks, barbecue enthusiasts and everything in between!
Check out this list of the top 20 food influencers to watch!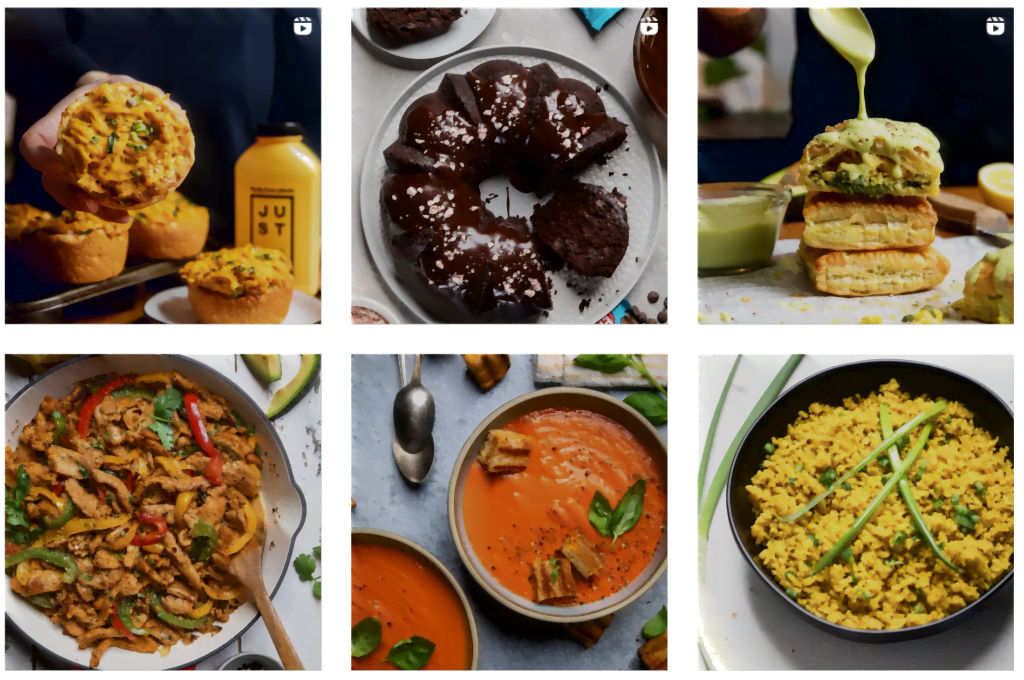 Larisha and Andrew create mouthwatering vegan and dairy-free dishes for their Instagram and YouTube channel. As well as their own creations, they review vegan products such as their 'The ULTIMATE Vegan Turkey Taste Test & Review' that they created around Thanksgiving. Their colorful recipe photos and vegan versions of meaty favorites have earned them 113K followers.


Gordon Ramsay is a British Chef and TV personality most famous for shows such as Hell's Kitchen and Kitchen Nightmares. On his YouTube channel where he has 20M subscribers he has a video series 'Next Level Kitchen'. His 'angry chef' personality has helped him to grow a huge following for his TV shows and social media content.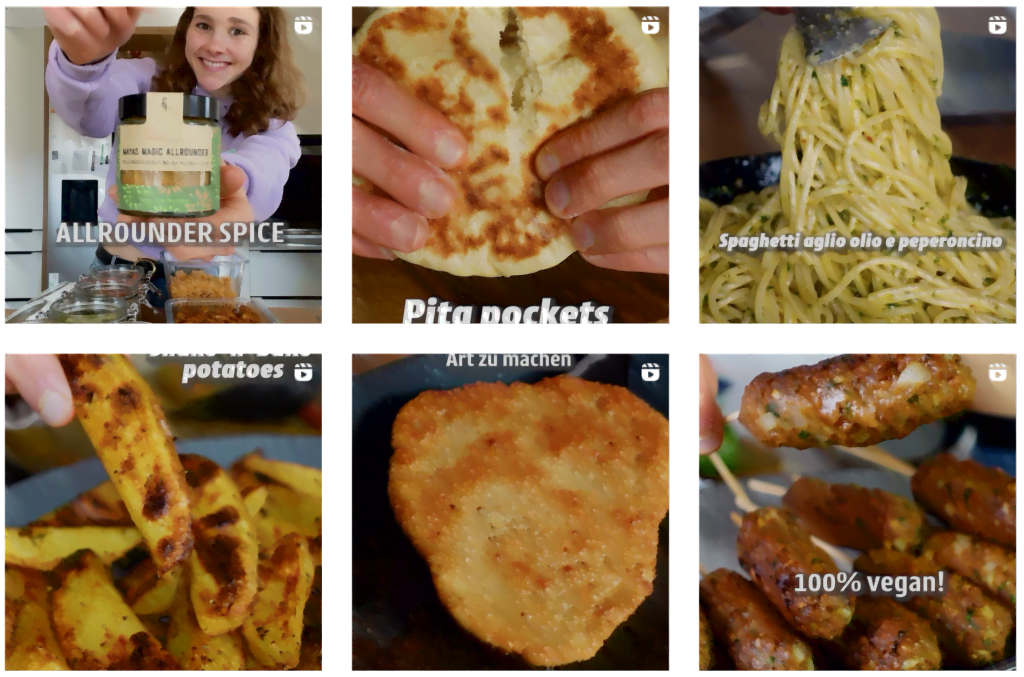 Maya creates Instagram Reels of her favorite vegan recipes such as vegan tuna sushi, and black bean quesadillas. With her audience being 86% female and 63% aged 25 – 34, she's a great choice for targeting Millennial women!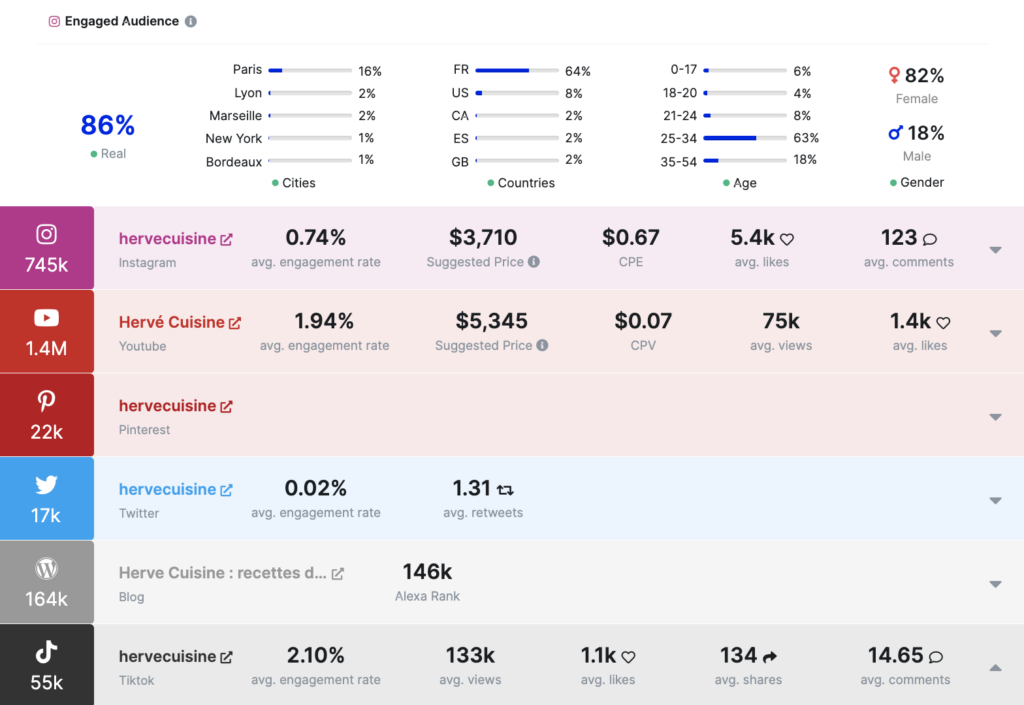 Hervé Cuisine was the first food channel launched in France in 2007, which now boasts more than 400 recipes from all over the world. His channel explores classic French recipes such as crêpes and fondue, as well as original flavor combinations such as sweet potato and chocolate muffins. The channel remains very popular among a Francophone audience, with 64% of subscribers based in France.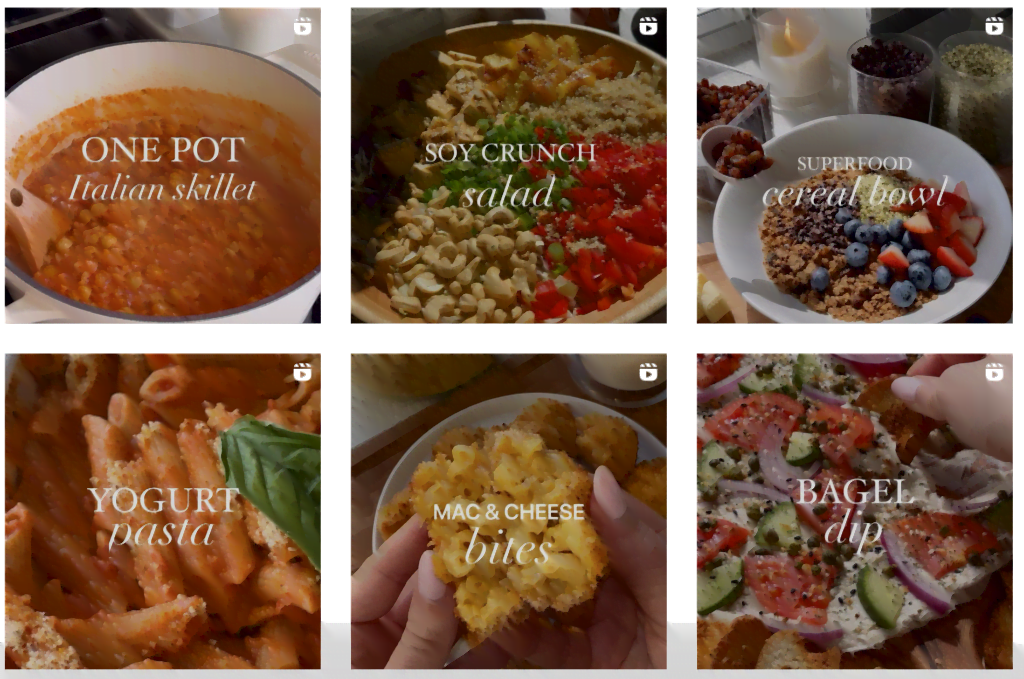 Danielle Brown shares beautiful photos of healthy plant-based food on her Instagram feed. As well as 'how-to' recipe Reels, she shares tips on meal prep. Her easy-to-follow videos have helped build a large audience with 3.7M followers, of which 66% are based in the US.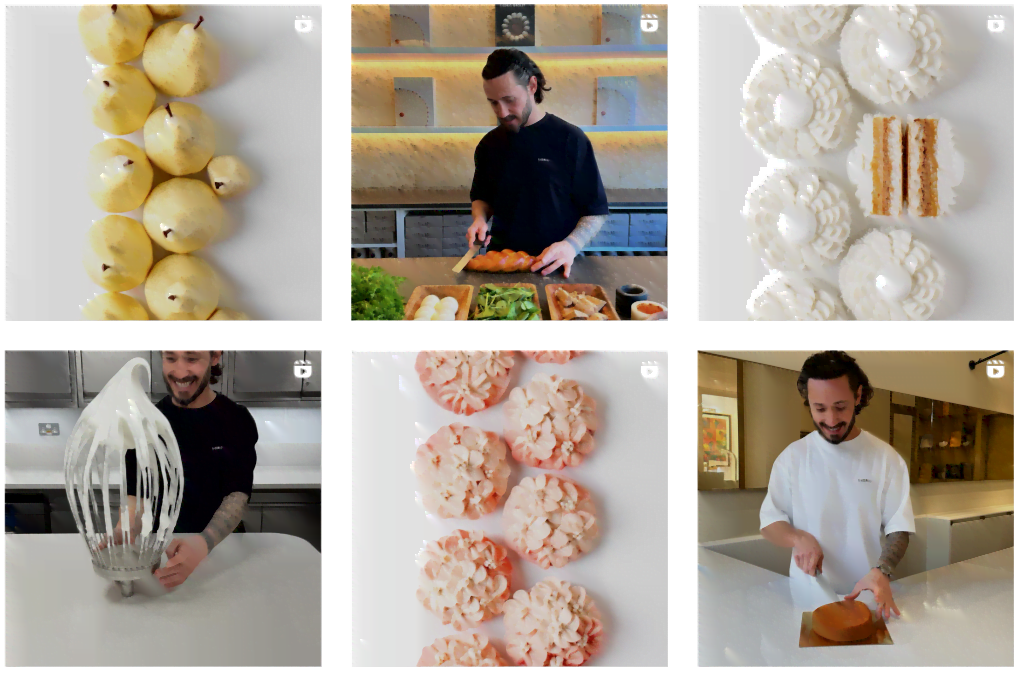 Cédric Grolet is a French pastry chef who specializes in making pastries that resemble fruit. His Instagram feed features beautiful, high-quality photography of delicate pastries that resemble anything from coffee beans to pears or strawberries. This account shows how food can be art!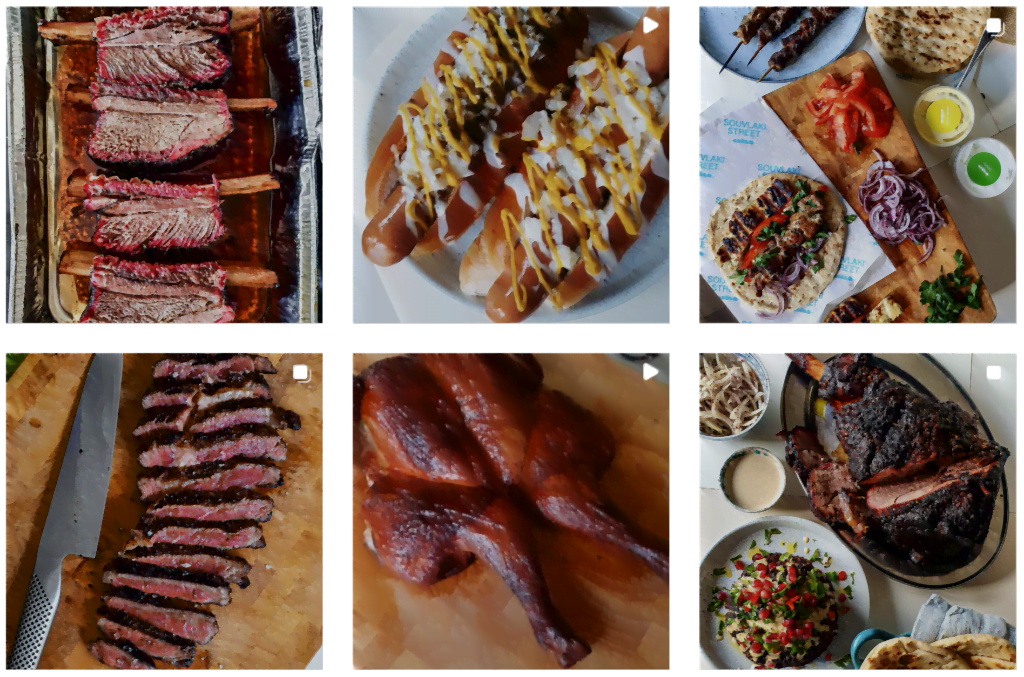 Allthingsmeaty is an Instagram account dedicated to barbecue meat and travel. He shares different cooking and barbecuing techniques, as well as restaurant reviews and product recommendations. A highlight include a barbecue grills that looks like under a car bonnet.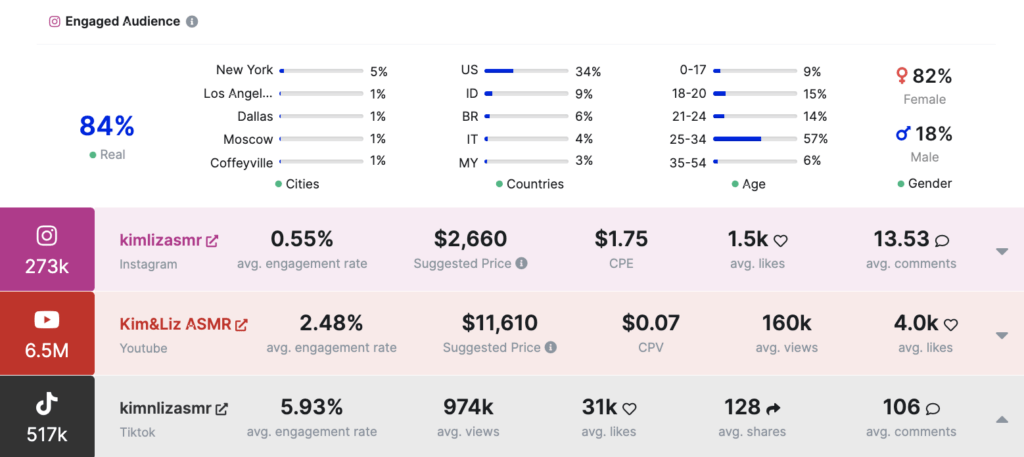 This channel combines food and ASMR content. Kim and Liz eat large quantities of sugary snacks, chocolate, fruit and fried foods in their videos. Their content in the food/ASMR niche has proven popular, earning them 273K subscribers.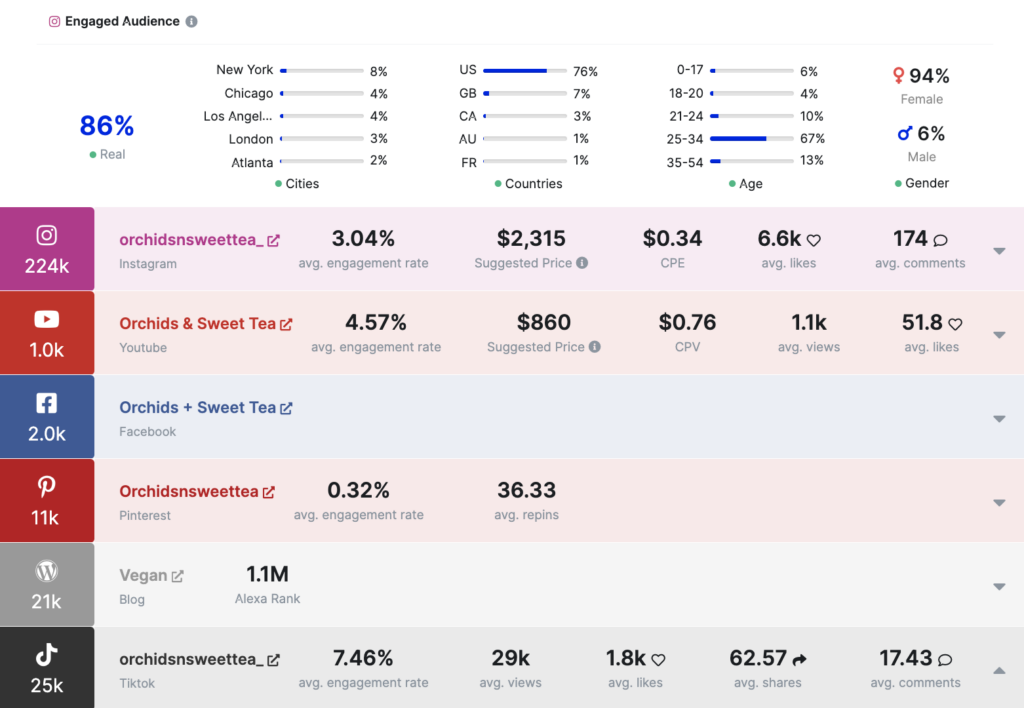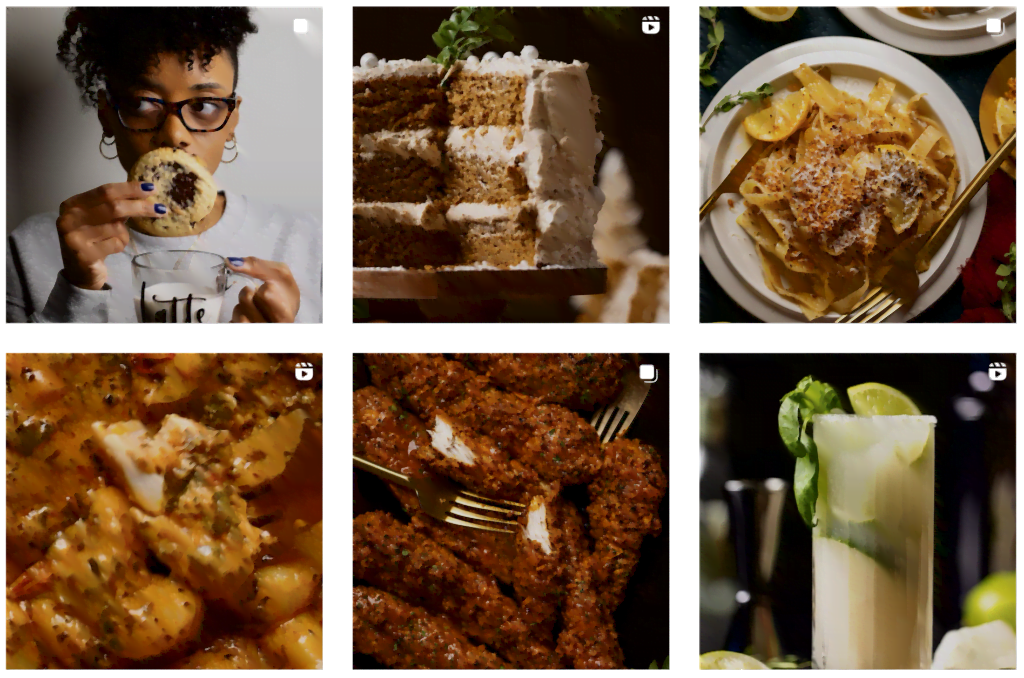 Shanika is a Cookbook Author, Recipe Developer, and Creator. She specializes in sharing healthy family recipes and mocktails on her Instagram account and blog. Although not fully vegan, her recipes are 'plant-forward' with flavors from Jamaica and Southern America. Her fusion food has helped her build up a following of 226K followers on Instagram.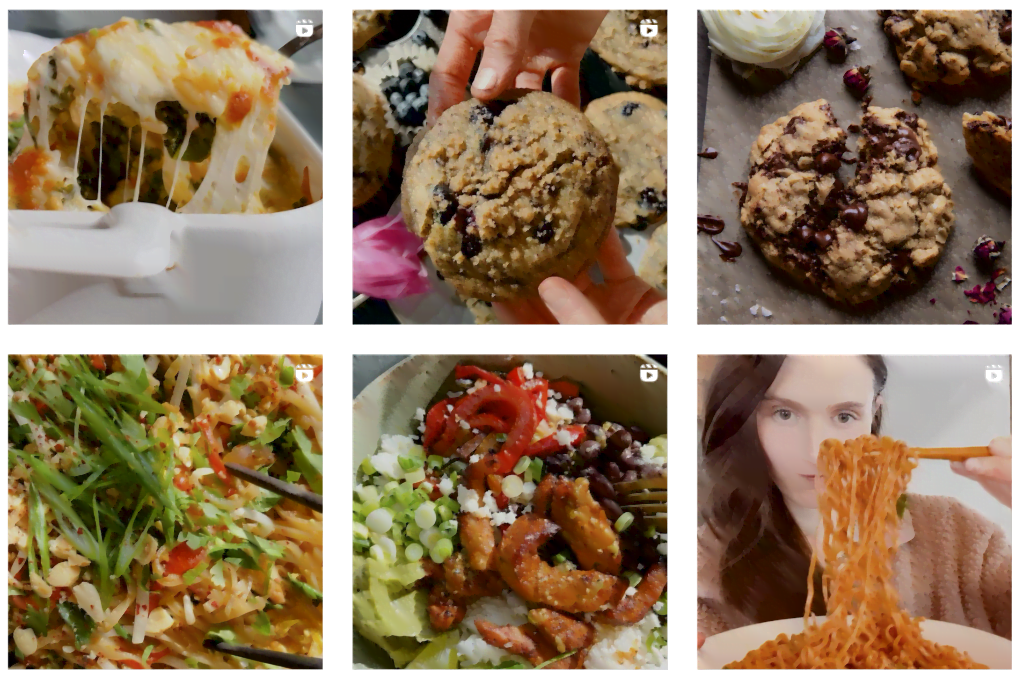 Tieghan started her food blog in 2012 which has now evolved to a very successful Instagram account with 5.2M followers. She's a full time creator who spends time developing new recipes, photographing them and creating cookbooks.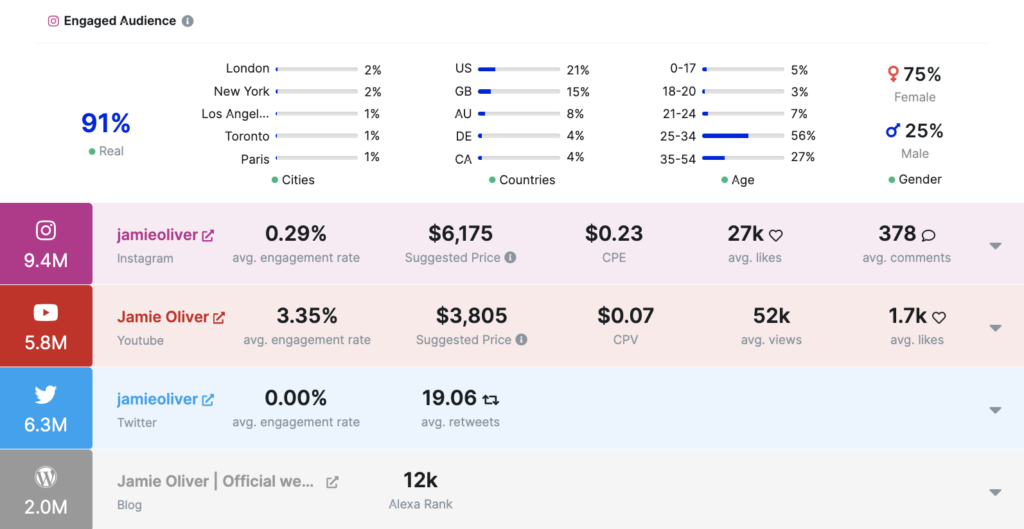 Jamie Oliver is a British chef who has created numerous cookbooks and cooking shows. He is known for his friendly and relaxed approach to cooking which has inspired many home cooks. His cookbooks focus on helping families eat healthier for less. He creates recipes that are budget friendly, quick to prepare and don't include too many ingredients. His casual approach to cooking has helped build a large audience of 9.4M followers on Instagram.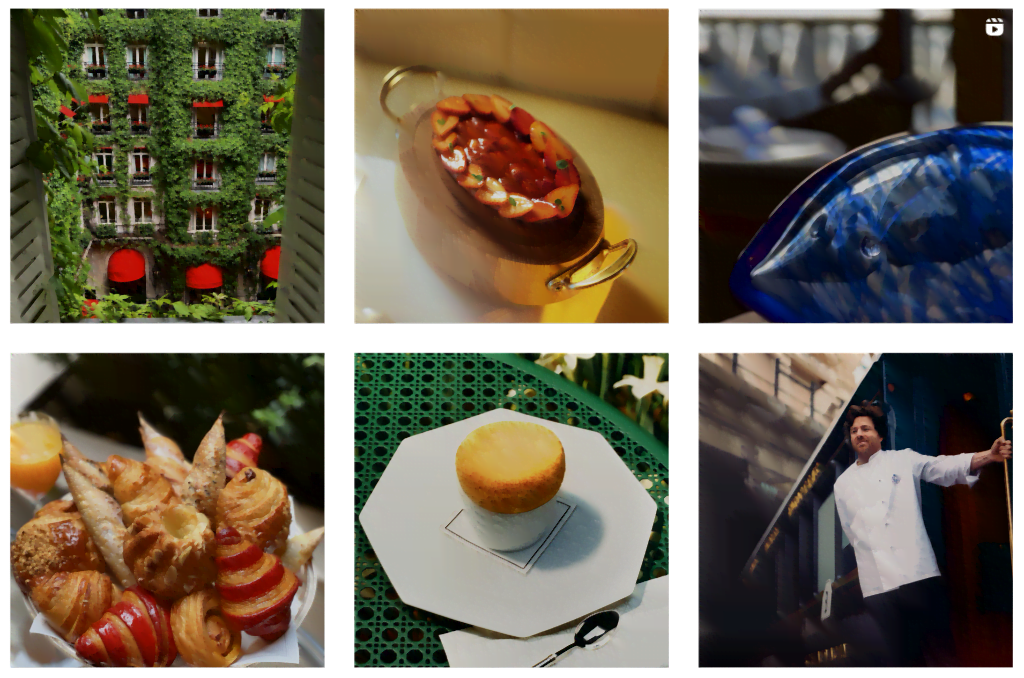 Jean Imbert is a well-known French chef who became famous after winning the TV show 'Top Chef' in 2012. The restaurant Plaza Athénée earned a Michelin star in 2022 thanks to Jean Imbert's efforts in refreshing the menu and drawing in a new clientèle.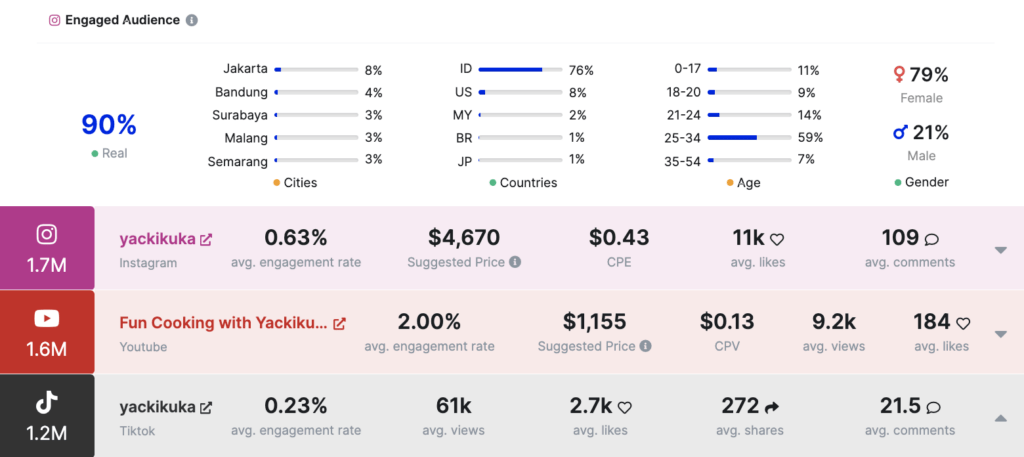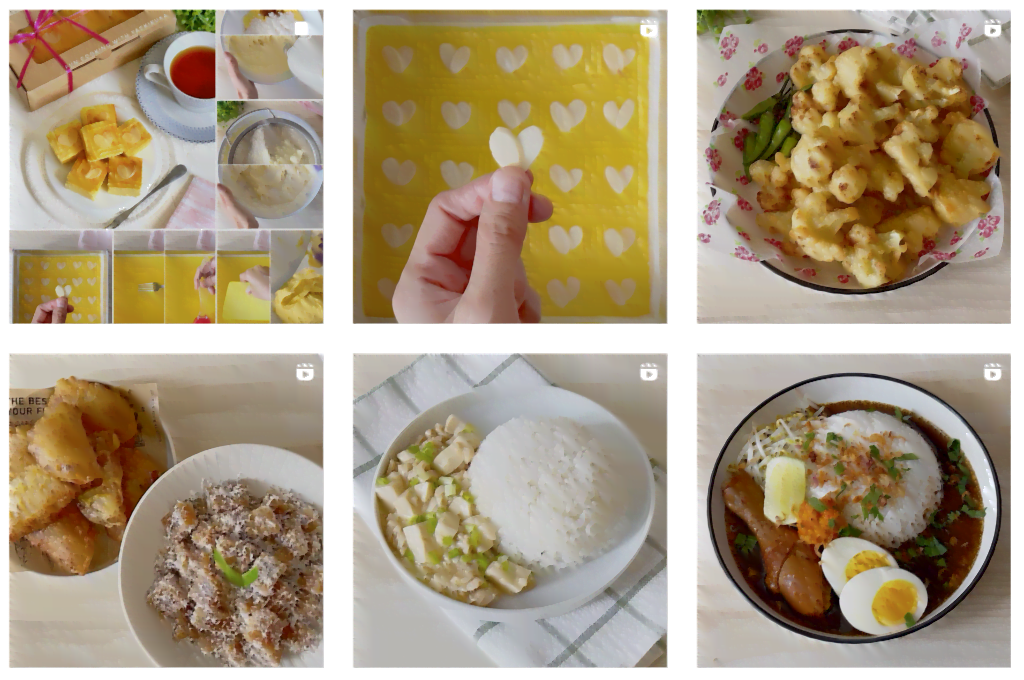 This channel is full of fun and whimsical recipes such as bunny-shaped rice, homemade donuts and Indonesian inspired food. The easy-to-follow videos shared on Instagram and YouTube have earned yackikuka over a million followers on both channels.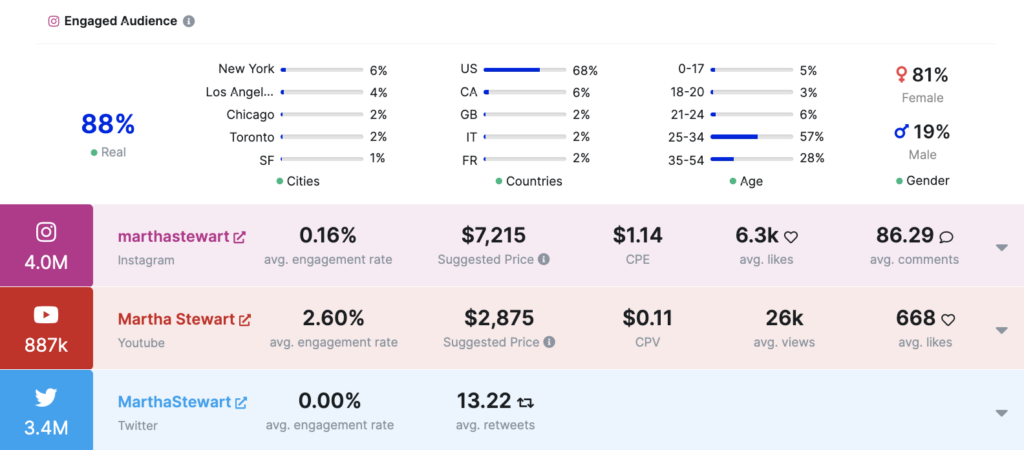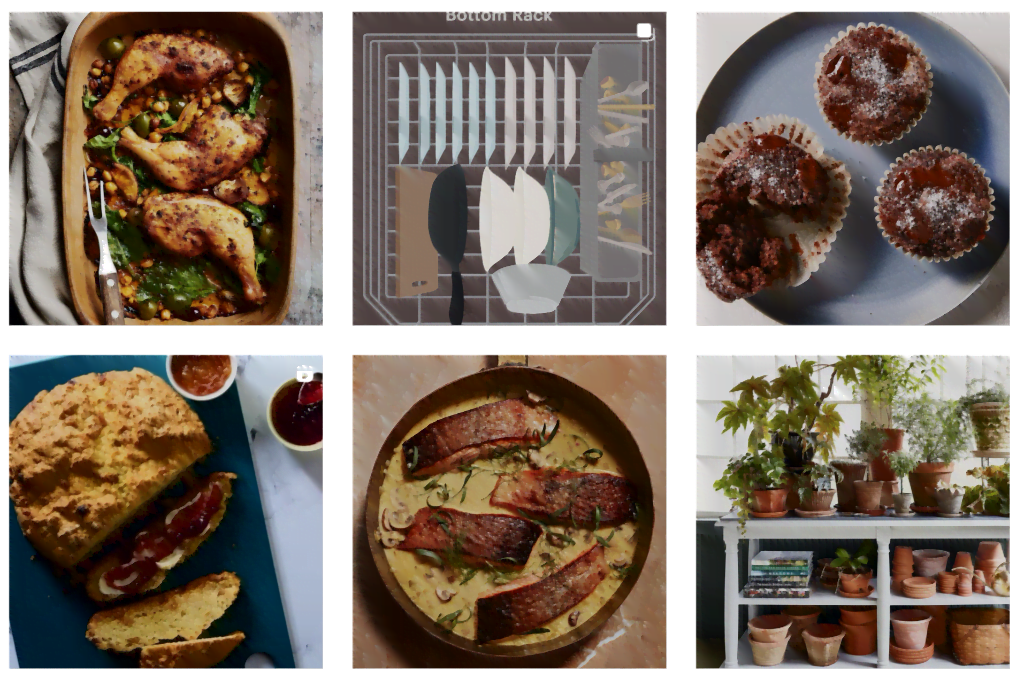 Martha Stewart is a business woman with a very well-known lifestyle brand including successful cookbooks, a magazine and a catering business. She has had several TV shows including the Martha Stewart Show, Martha Bakes and Martha Stewart's Cooking School. As a well-known TV personality in the US she has built up a huge Instagram audience of 4M followers.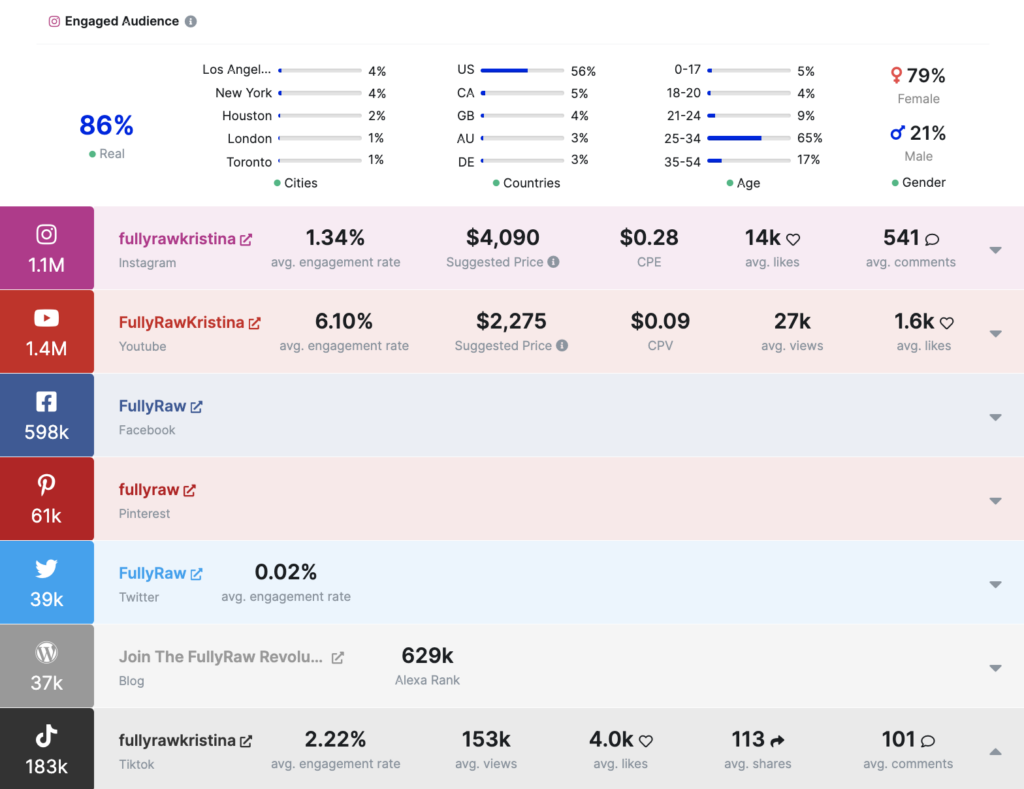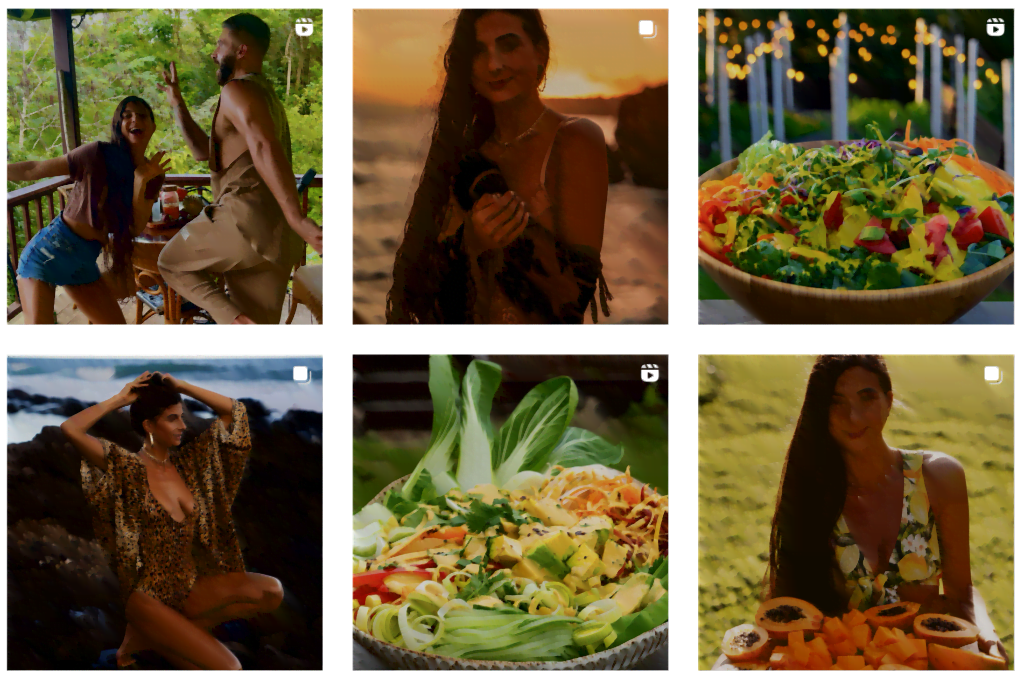 Kristina Carrillo-Bucaram is an Ecuadorian and Lebanese creator who specializes in sharing raw and vegan recipes including salads and fresh juices. She's created a food app and cookbook called The FullyRaw Diet: 21 Days to Better Health. Her fully raw approach to food has attracted a large audience of 1M followers on Instagram.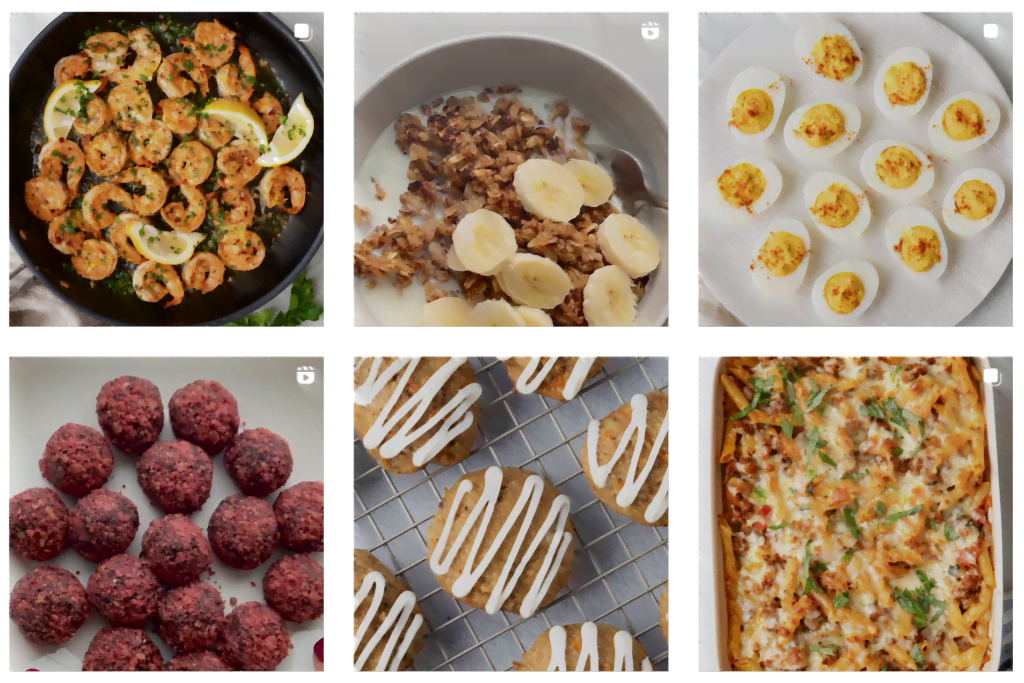 Yumna has created an Instagram account and food blog around sharing simple tutorials for cooking healthy and delicious food. Her recipes are inspired by her Lebanese roots and her favorite dishes as a child. She has created her own brand 'Oath Oats' that are flavored oats that can be used in plant-based and gluten-free recipes.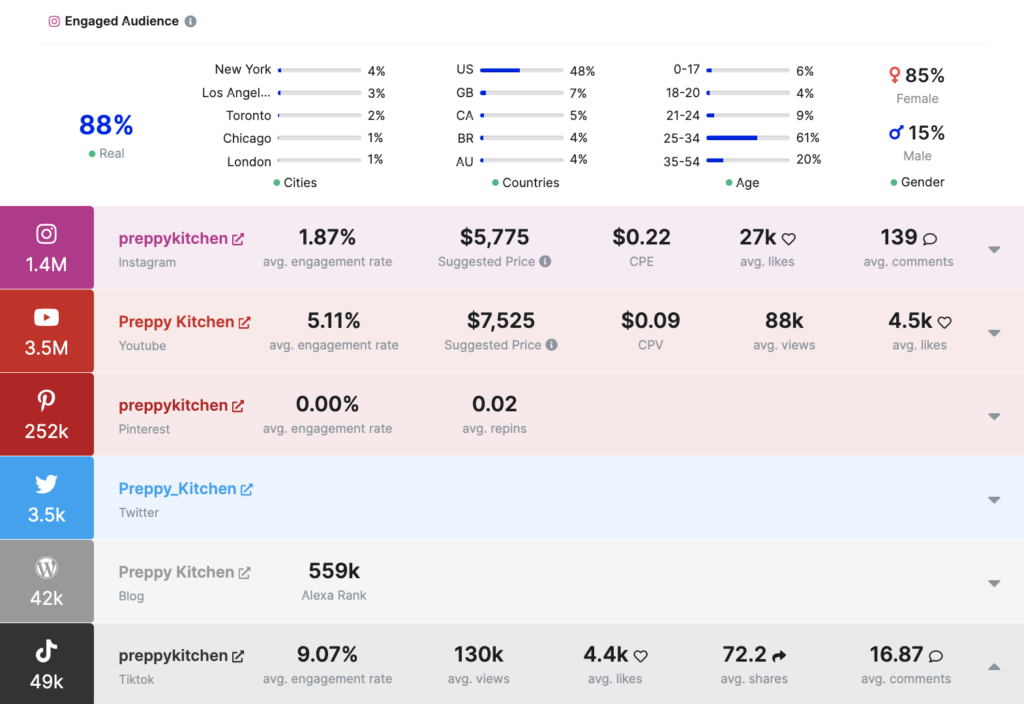 Preppy Kitchen is run by John, a dad who lives in Los Angeles and loves sharing recipes and tips on his YouTube channel. He bakes and makes a lot of desserts and kid-friendly recipes including hot chocolate cookies, Grinch cookies and banana cupcakes. He also shares hearty family favorites such as chicken pot pie soup and bolognese. His easy-to-follow recipes will help anyone gain confidence in the kitchen.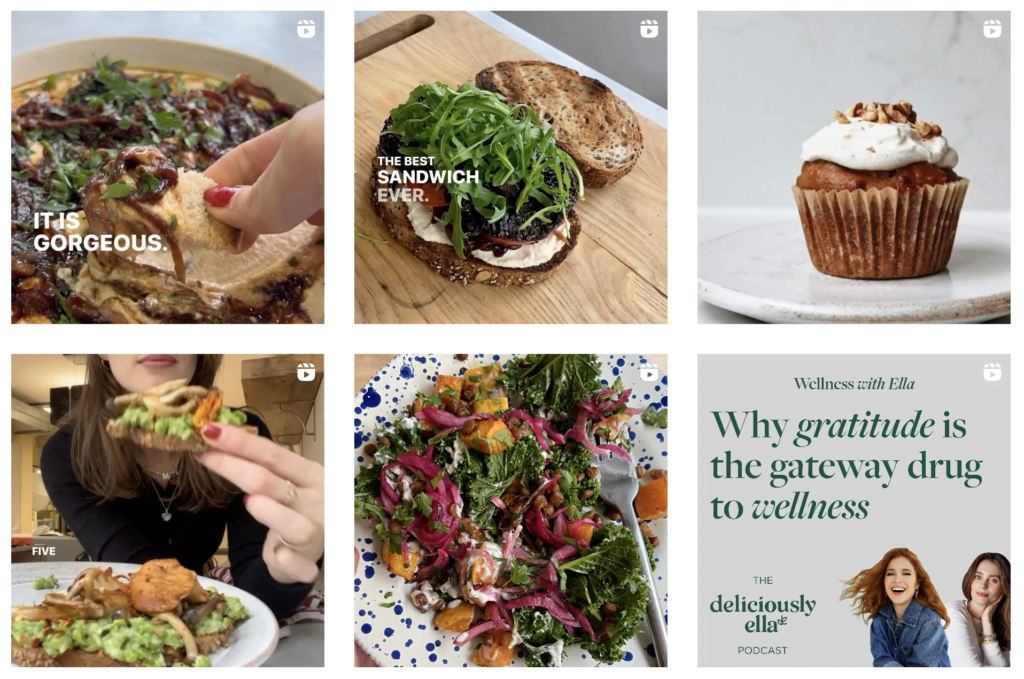 Deliciously Ella is a successful food blog and brand created around healthy eating and wellness. She's turned her hand to many things including a podcast, shop, app and website to help people cook simple plant-based recipes. Her simple approach to cooking has attracted a large following of 2.2M Instagram followers.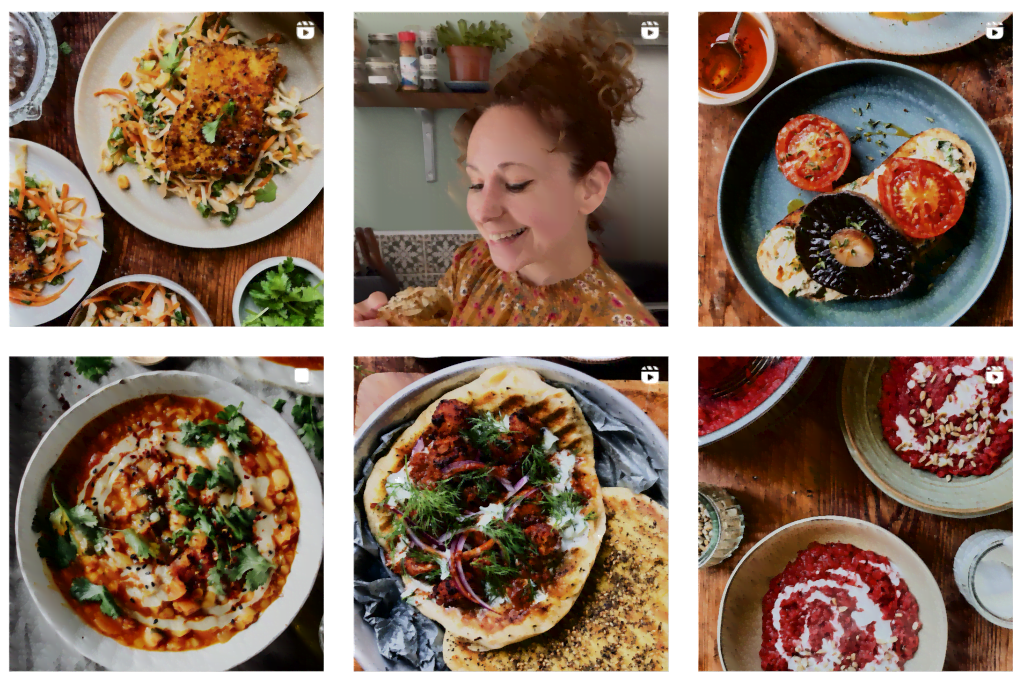 Niki Webster started her vegan food blog back in 2015 and as vegan diets have become popular and mainstream, she has attracted an audience of 288K followers. She champions cooking wholesome meals with fresh plants and aims to make veganism accessible to everyone.
There you have it, 20 food influencers who are creating entertaining and engaging content.
If you're looking for more insight on how to find the best influencers for your brand, whatever your industry niche – check out How To Find Influencers – The Complete Guide.