There is more than meets the eye when it comes to pop-ups. When used in the right way on eCommerce sites they can guide clients smoothly through their purchase journey without being an unwanted interruption. What can we learn from the pop-ups that convert? We share the best practices you should follow whether your aims are to improve sales, increase newsletter sign-ups, or reduce cart abandonment. 
Types and timing
The type and the timing of pop-ups are essential, get these two things right and you're already half-way to success. There is a wide choice of the types of pop-ups you can integrate into your online store. You can bring value to the customer experience and improve your bottom line by optimizing the timing of your pop-ups with the following examples.   
Welcome
Scroll-triggered 
Timed
Click link
Exit intent
Welcome
This pop-up should be used with caution as anything too intrusive can be a turn off for visitors who have just arrived on your site. At the very beginning of their visit, they'll want to easily absorb information on your homepage without being prompted to click away. However, the welcome pop-up does offer a unique opportunity to highlight an exclusive offer or new product promotion, and as the first thing they see when arriving on a website, it will certainly catch their attention. This enticing offer will encourage users to continue their journey on your site. 
Scroll-triggered
A scroll-triggered pop-up can be used to offer up helpful information to your website visitors after they've shown an interest in your site by scrolling down the page. It can direct visitors to another product page, prompt a newsletter sign up or share useful information such as delivery options.
Timed 
These pop-ups go hand-in-hand with the scroll-triggered type and will appear after a person has spent a certain amount of time on your site. You can make use of your website statistics to find the average amount of time visitors spend on your site and use that to decide the time trigger. 
Link click
These can be used strategically based on a user's interaction with your site. When a visitor has shown interest by adding an item to their basket you can encourage them to continue shopping by offering free delivery when a certain sum is reached. Or, if a product is out-of-stock, use the opportunity to ask for their email address so you can add them to a waitlist or inform them once the item is back in stock. 
Exit intent
Want to reduce cart abandonment? This type of pop-up will serve you well. Encourage visitors to complete their purchases with a well-timed pop-up at the moment they try to leave the site. You can achieve this by offering an immediate discount or by collecting their email address to send them a discount code for later use. Other options include reducing shipping fees or adding time-based incentives that will run out after a few minutes. 
Words that convert
An attention-grabbing title could be the thing that persuades a customer to convert. It's the moment to show your brand voice and frame the 'ask' in a creative way. A good place to start is to experiment with short, snappy titles like 'Keep in touch!' or 'Stay in the know' or simply 'Join us'. A pop-up should never have too much text, and often a short and clear heading is the most effective at grabbing attention. One way to create intrigue is to use questions to show people what they could be missing out on. When building a mailing list, your questions could be 'Want to get the latest news & offers?' or 'Want to get 10% off your next purchase?' to encourage people to input their details. In any case, you want to make sure the value proposition is clear. 
Another way to encourage sign-ups is to communicate the benefits of joining the subscriber community. You can allude to exclusivity as Nike did with their pop-up titled 'Be the first to know' which promises to send special offers to their list before anyone else. An alternative technique is to let the numbers do the talking with a phrase such as this example from LadyBlossBlogger 'Join 150K other female entrepreneurs'. This creates a sense of shared identity and community that people don't want to miss out on.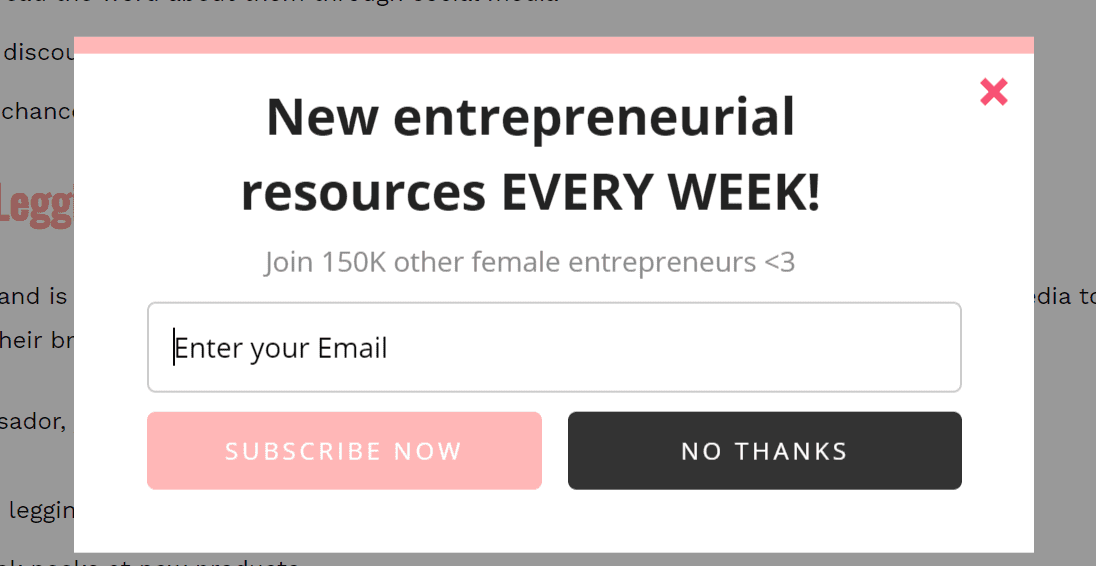 Once you've caught their attention, you need to encourage them to follow through with the desired conversion with a clear call to action. This is a key area where A/B testing will help to fine-tune the best CTA that works. Consider developing on the simple yet easily ignored 'Sign up' to show your brand voice like Meundies did with 'Sign me up!' Another way to have a creative call to action and ease frustration is to have two calls to action buttons, offering the preferred action and a choice to opt-out. It can work well when paired with a discount like in this example from Fashion Nova where the offer is to enter your email address for 30% off and the two options are 'I love saving money!' or 'I will pay full price!' Using the first person is immediately more relatable for customers visiting your website as it's framed from their perspective.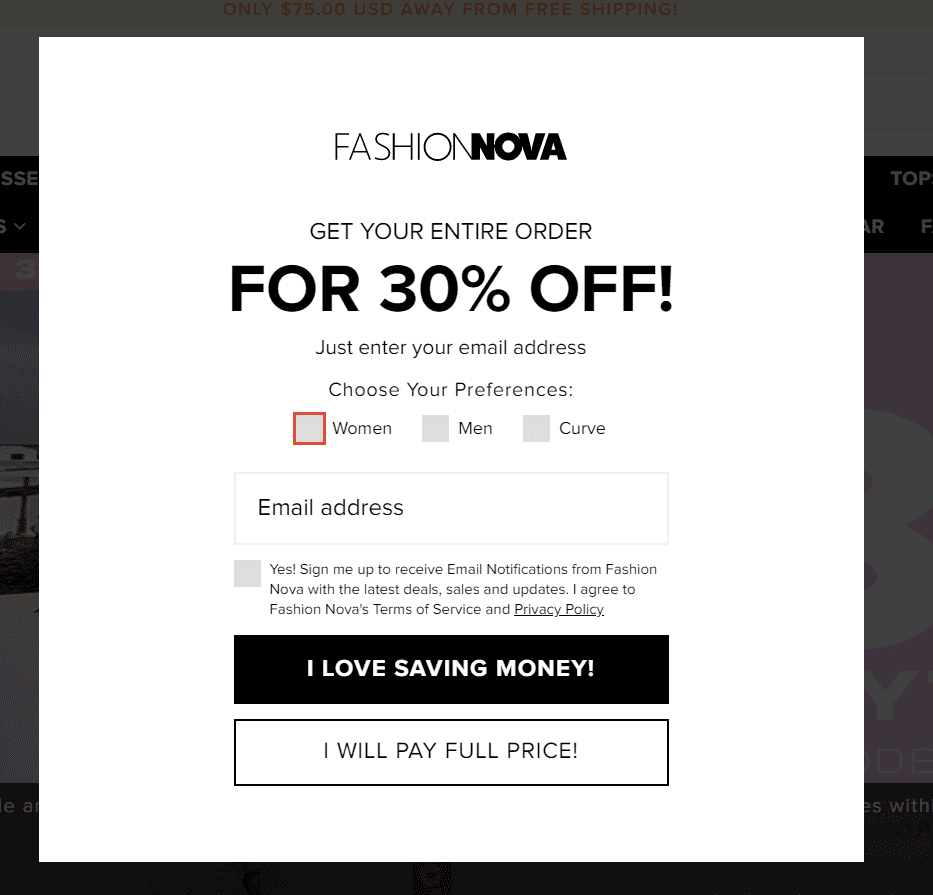 Visuals that pop!
How can you be sure to make your pop-up really pop out? It's all in the visuals! When designing a pop-up it should be visually pleasing and adhere to your branding. This could include adding your logo, as well as brand colors and fonts. Whilst colored backgrounds can be eye-catching it's important to avoid being garish by not using too many bright colors. Using two contrasting colors will ensure that the text is easy to read. If the pop-up will appear over a colorful product page then a white background with colored text will stand out and be easy to read. In this case, it's best to choose one or two colors from your branding that can be used to highlight information such as titles and buttons.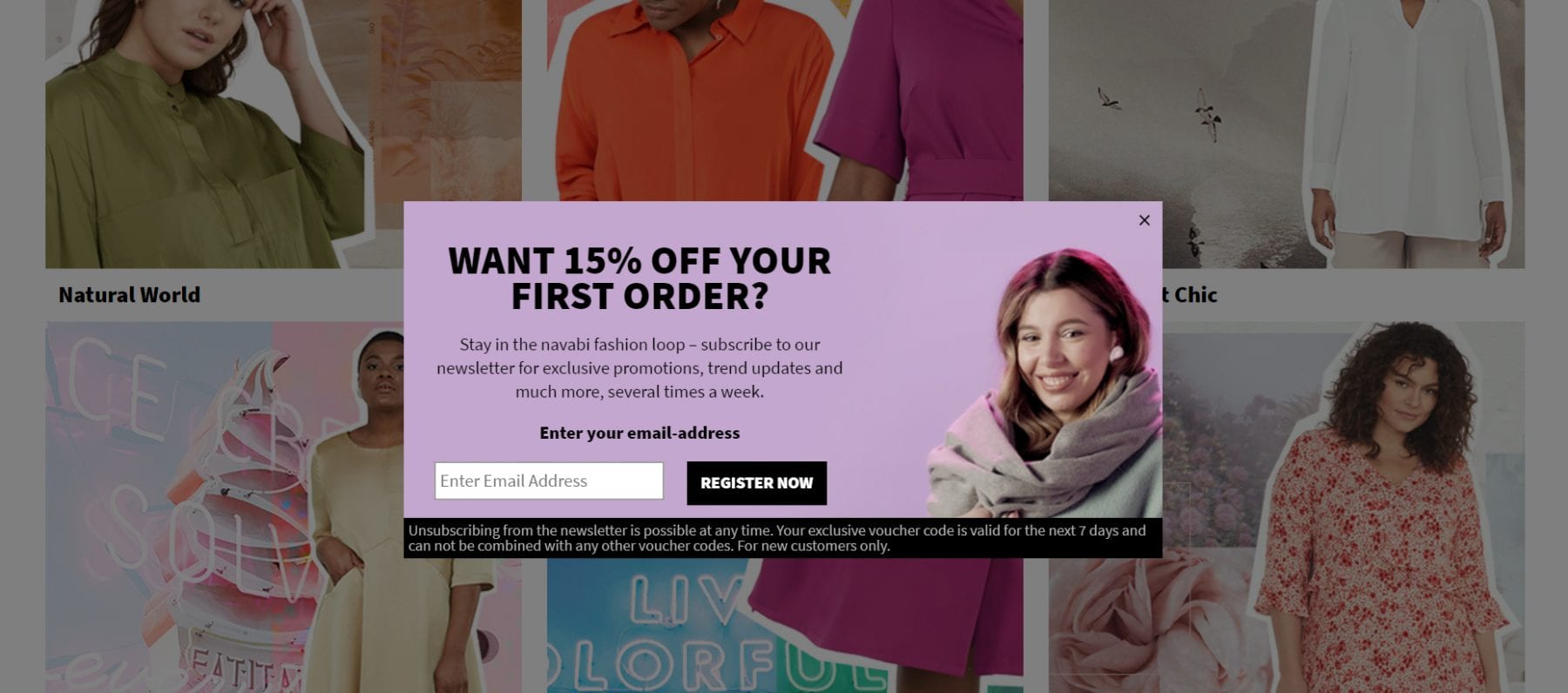 Incorporating images into the pop-up will also draw attention. It's a good idea to include images of people wearing or using your products as that will help humanize online brand presence and encourage visitors to imagine themselves as a customer.  If there isn't space to include images within a pop-up you can consider experimenting with the shape itself. Most pop-ups are squares or rectangles that align with the website design. However, an unusual shape can really stand out. This example from Yieldify uses fading and layers to create a striking 3D effect to their pop-up.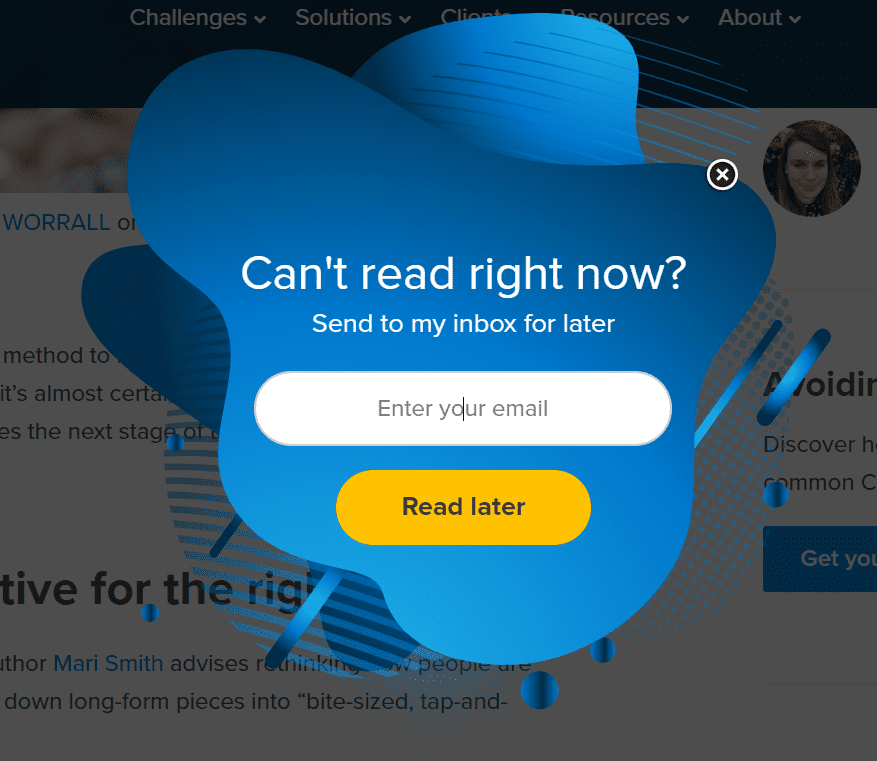 Incentives
Offering up an incentive is key to driving conversions for those who are interested but undecided about purchasing from your site. There are several types of incentives, but the most common is offering a small discount on their next purchase. The amount is often about 10-15% off for most eCommerce sites. This ensures a sale and a captured email address. If you want to avoid offering a discount widely, then offering just one high-value giveaway item as part of a competition could be the solution by encouraging customers to enter their email address to enter the draw. A second option is to offer incentives such as exclusive benefits for subscribers, such as early access to sales, a sneak-peek at new products, free-delivery or product samples. This can help to secure the initial conversion whilst nurturing a long-term client relationship.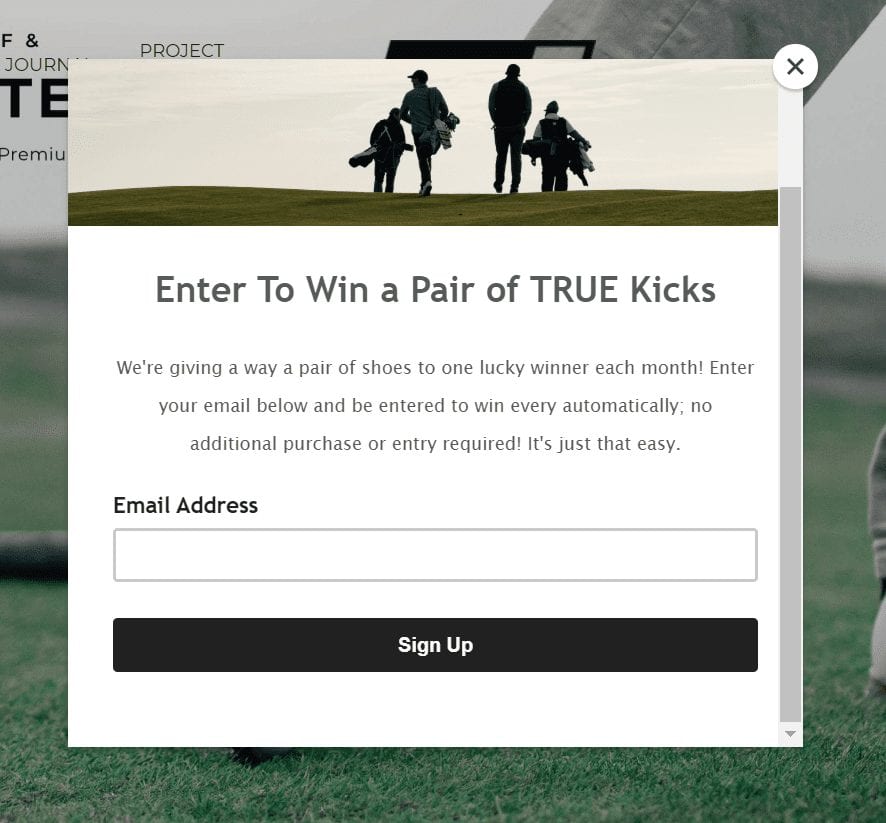 The alternative to incentives 
Another take on the typical incentive-driven pop-up is to have an open application form for customers to enter their details. This is most commonly used as a way to recruit brand ambassadors. It acts as a natural filter as only motivated customers would be interested in signing up for a brand ambassador program. Brands can use this as part of a tiered ambassador program with different levels of commitment and rewards. By including fields such as social media handle in the form, brands can analyze and select their most influential customers to work with as influencers and affiliates whilst working with their larger customer base on a referral basis.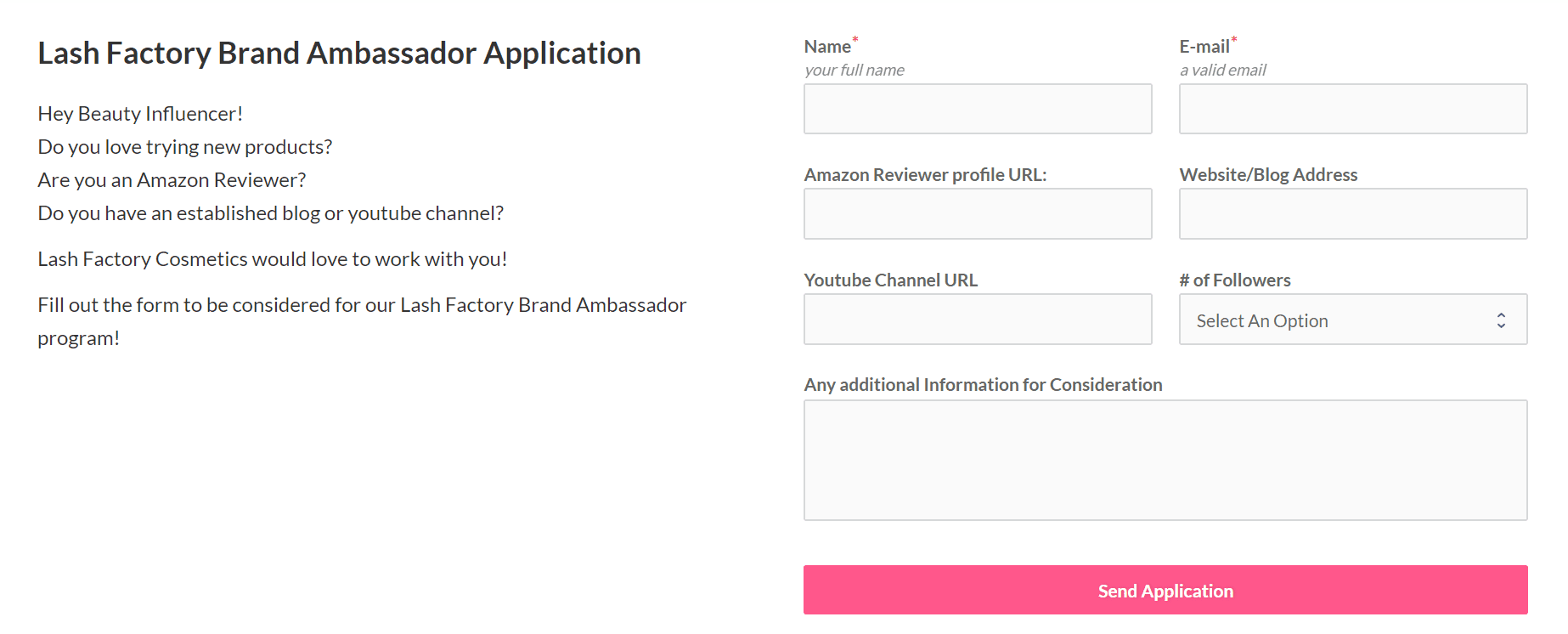 Are you feeling inspired to try a new kind of pop-up? Live Capture from Upfluence is a tool designed to help eCommerce brands recruit brand ambassadors from their community of customers, affiliates, and influencers. By using a pop-up to collect their customer's social data, brands can identify and activate their most influential customers as brand ambassadors. Live Capture integrations with other tools, meaning it's simple to run influencer marketing campaigns across ambassador and affiliate programs seamlessly.