An important way for brands to boost the results from their influencer marketing investment is to repurpose and amplify influencer-generated content (IGC) through influencer whitelisting. Make your influencer content work harder for you by delivering results beyond the initial influencer marketing campaign. Choosing your best pieces of influencer content and boosting it with ad spend will help it reach more people and reinforce your marketing messages to drive more conversions.
Get started with repurposing IGC in paid media campaigns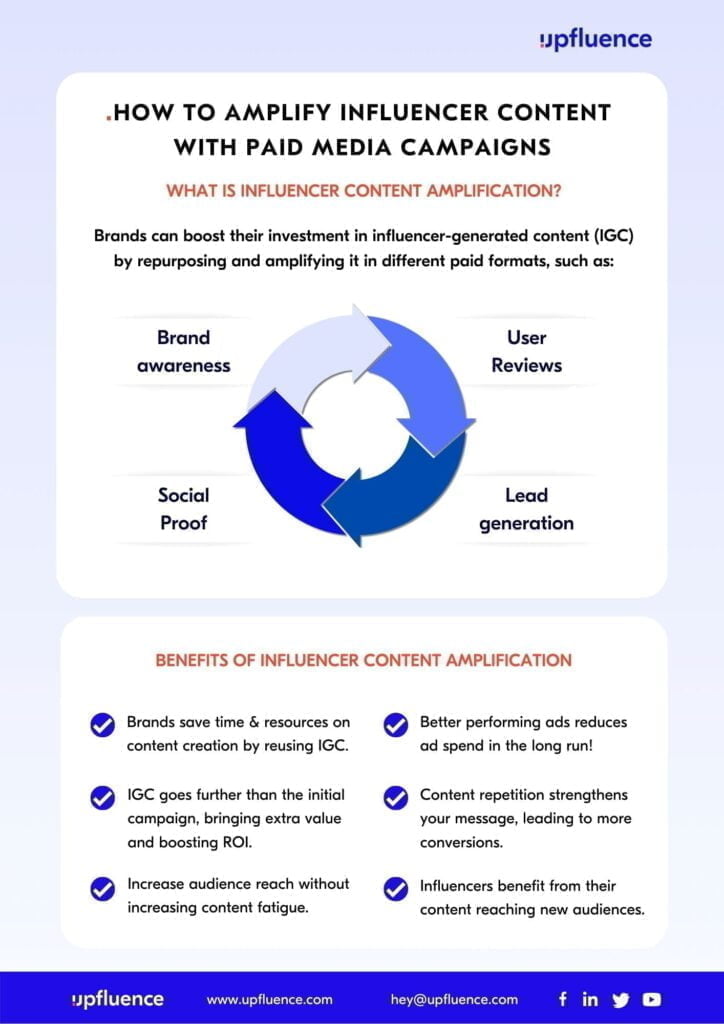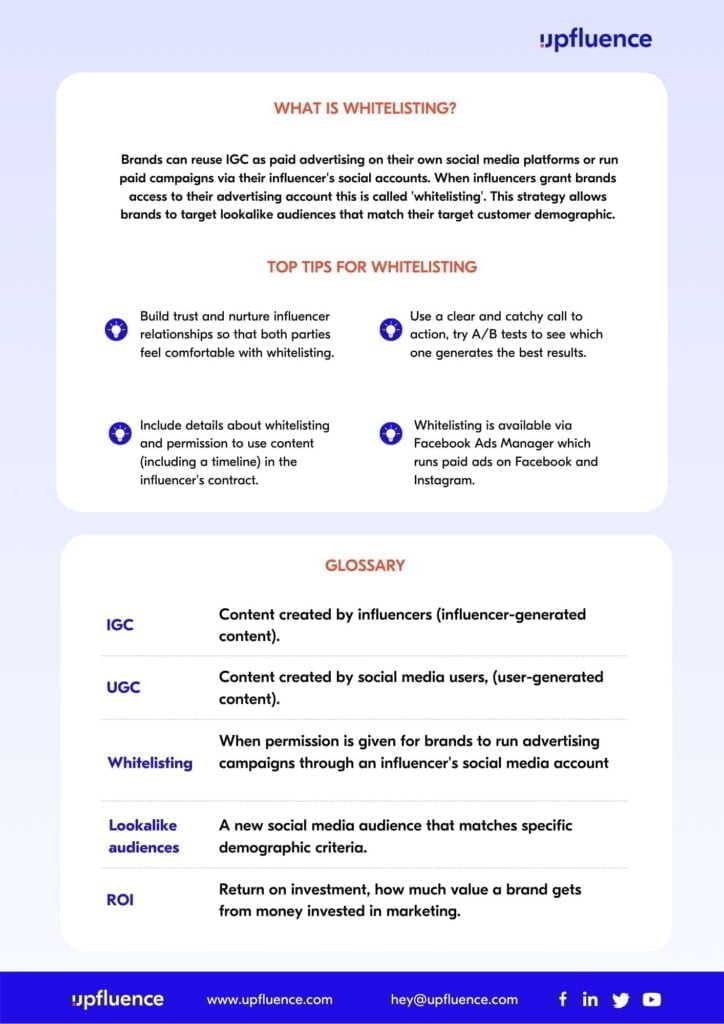 Download the above Cheat Sheet for Amplifying Influencer Content with Paid Media.
Learn how to run successful influencer marketing campaigns with our guide, Everything You Need To Know About Running Influencer Marketing Campaigns. 

Four ways to amplify influencer content for your brand
Brand awareness
Reuse influencer content on your brand's social media channels to boost brand awareness! Run social media ads featuring images and videos created by your influencers to boost brand visibility online.
User reviews
Your influencers are real users of your products. As such you can use quotes and clips from their video reviews in your paid media campaigns. Alternatively, you can publish your influencer's product reviews on your website or a third-party review site.
Lead generation
Using influencer content as part of advertising and lead generation efforts will encourage more sign-ups thanks to the in-built social proof and authenticity that comes from content based on your influencer's real-life experience of using your products.
Social proof
Sharing influencer content during the consideration phase of the purchase journey will help to convince new customers to buy your products. After all, potential customers are more likely to trust the opinion of influencers than the marketing messages published by brands. Demonstrating that other people including influencers have had a positive experience with your brand will help to drive people down the funnel towards making a purchase.
Benefits of whitelisting influencer content and amplifying it
Brands save time & resources on content creation by reusing IGC.
IGC goes further than the initial campaign, bringing extra value and boosting ROI.
Increase audience reach without increasing content fatigue.
Better performing ads reduces ad spend in the long run!
Content repetition strengthens your message, leading to more conversions.
Influencers benefit from their content reaching new audiences.
What is influencer whitelisting?
Brands can reuse IGC as paid advertising on their own social media platforms or run paid campaigns via their influencer's social accounts. When influencers grant brands access to their advertising account this is called 'whitelisting'. This strategy allows brands to target lookalike audiences that match their target
customer demographic.
Top tips for influencer whitelisting
Build trust & nurture influencer relationships so that both parties feel comfortable with whitelisting.
Find out what works best by testing the CTA, images, and copy to improve conversions.
Ensure the contract includes details about whitelisting, content use permission, and a timeline.
Whitelisting is available via Facebook Ads Manager which runs Facebook & Instagram paid ads.
Repurposing influencer content glossary
IGC – Content created by influencers (influencer-generated content).
UGC – Content created by social media users, (user-generated content).
Influencer whitelisting – When permission is given for brands to run advertising campaigns through an influencer's social media account.
Lookalike audiences –  A new social media audience that matches specific demographic criteria.
ROI – Return on investment, how much value a brand gets from money invested in marketing.