What's in store for the year ahead? At this time of year, you probably wish that you had a crystal ball to look into the future. With a lot of uncertainty around the global economic situation, ever-changing social media algorithms, and the pressure to get the most out of your marketing budget, it's no wonder you want to get ahead of the curve. Well, you're in luck! We're sharing a breakdown of the biggest influencer marketing trends for 2023. 
Despite rising inflation and shrinking marketing budgets, influencer marketing remains an essential strategy to have in your marketing arsenal for 2023. We'll explore the most important trends that you need to know so you can get prepared to boost your growth this coming year. Remember, in times of uncertainty, knowledge is power. The more you know about what's going on in the influencer marketing industry, the better you can plan ahead and outperform your competitors. 
Ok, let's dive into the top influencer marketing trends for 2023!
Influencer marketing and affiliate marketing are converging
Now, more than ever, businesses are more focused on generating sales and conversions than on awareness. In an economic downturn, marketers need to focus on strategies that will have a real impact on their company's bottom line. This means that they need to prove the efficiency of their influencer marketing campaigns with actual sales numbers. 
"One trend we've seen a lot, particularly accelerated by COVID, is Social Commerce – meaning how brands leverage influencers to sell products. It used to be that influencer marketing was all about awareness. How many followers do they have? What's their reach? What are their impressions? But expectations for a brand have changed; they're now thinking in terms of how many conversions did the influencer contribute? What has my gross merchandise value (GMV) generated? What's my ROI? Which are, in my opinion, much more interesting metrics." Vivien Garnès, The Future of Marketing Podcast. 
The trend toward creator partnerships that generate sales means that influencer marketing and affiliate marketing are converging. Expect to see a rise in using coupon codes, affiliate links, and revenue-share compensation as influencer marketers will borrow these tactics from affiliate marketing to help them better track and attribute sales generated from their campaigns. 
Indeed, over 45% of marketers are using tracked referral links to measure how many sales are generated from their influencer campaigns. Affiliate marketing tactics are becoming a crucial element for calculating a performance-based fee for influencers and creating high-ROI campaigns.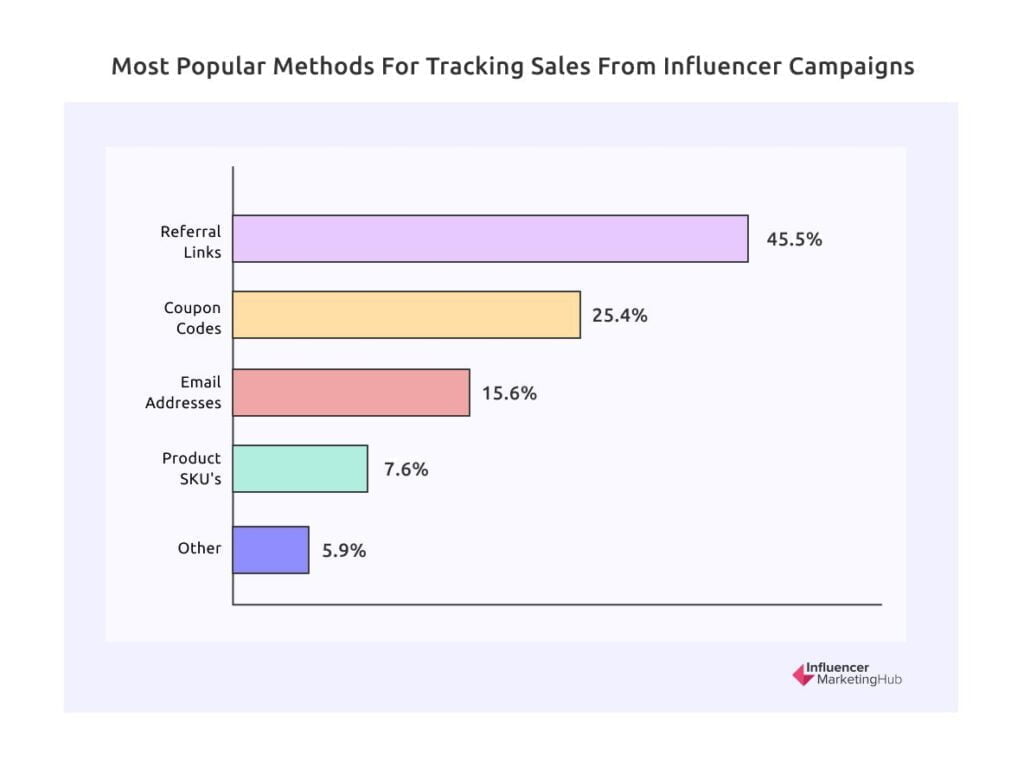 TikTok's share of influencer marketing spend is growing fast!
Instagram has long held the top spot as the social media network with the largest share of influencer marketing spend. While this will still be the case in 2023, TikTok is quickly gaining ground and is predicted to overtake YouTube as soon as 2024.
TikTok's engaging short-form video format and flourishing creator economy are continuing to attract marketing spend. According to this eMarketer report, by 2024, spending on the platform will be almost 10 times higher than it was in 2020.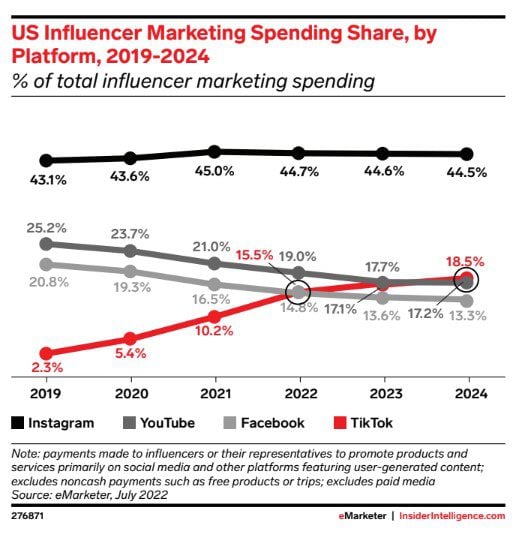 TikTok will take the lead in social commerce
TikTok is becoming a valuable channel for influencer marketing thanks to its virality and its algorithm that is designed to promote the discovery of new content via the 'For You' page. TikTok is essential for brands targeting younger generations. It recently beat Netflix to become the second most popular app for those under 35s. TikTok is bridging the world of entertainment and commerce, with 67% of users agreeing that TikTok inspired them to shop even when they weren't looking to buy something. Hence  #tiktokmademebuyit
"The worlds of entertainment and commerce have become closely entwined. Community commerce has exploded and TikTok has become a launchpad for product discovery and brands." TikTok For Business, Feb 2022
TikTok content is incredibly engaging and is influencing behavior. A study from The New Consumer and Co-efficient shows that TikTok users are inspired to listen to music or cook recipes after seeing a post on TikTok. Indeed, 27% of people report buying an item after seeing  a TikTok video.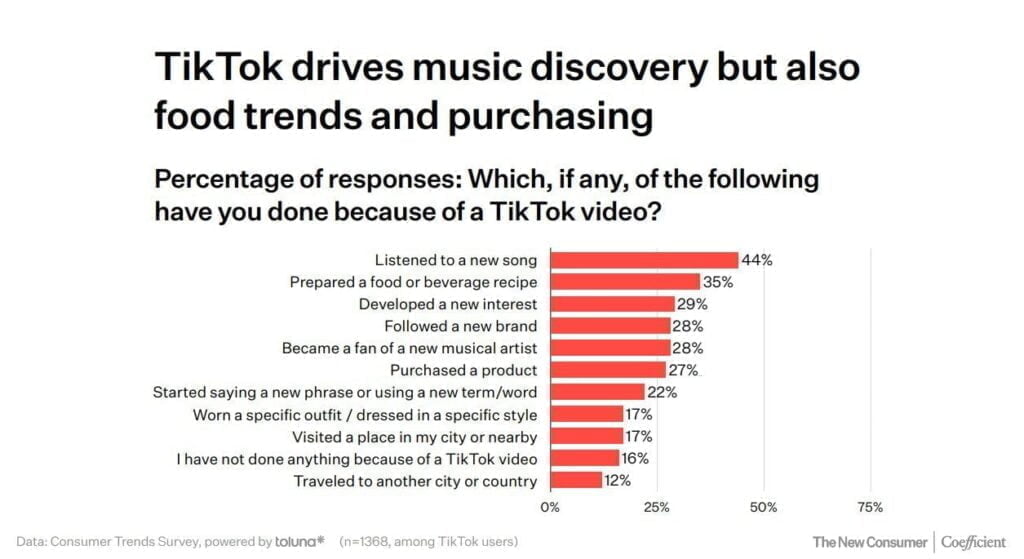 Ahead of the 2022 holiday season, TikTok launched in-app shopping for US businesses on the app, showing renewed commitment to expanding its eCommerce offering. Its Live Shopping program hasn't been fully implemented this year. But with so many brands looking to drive conversions and open to trying new strategies – could 2023 be the year that live social shopping takes off in the US? 
While Meta is technically the platform with the largest number of social commerce shoppers with 69.4 million. This is mainly due to Facebook Marketplace. However thanks to influencer marketing and the newly launched TikTok Shop, the platform is starting to gain ground.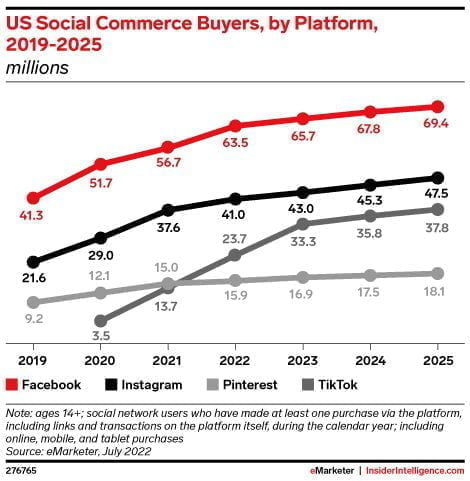 Acquisition costs are skyrocketing
Marketers are battling with rising ad costs. It was recently announced that Google ad costs have risen in 91% of industries. When you add inflation of 8.8% to that, it's clear why you need to make your marketing dollars go further. Increasing costs have been on the rise for a while. Data from The Common Thread Collective shows that in 2022, there's been a consistent 50%+ rise in ad costs which demonstrates this wider trend.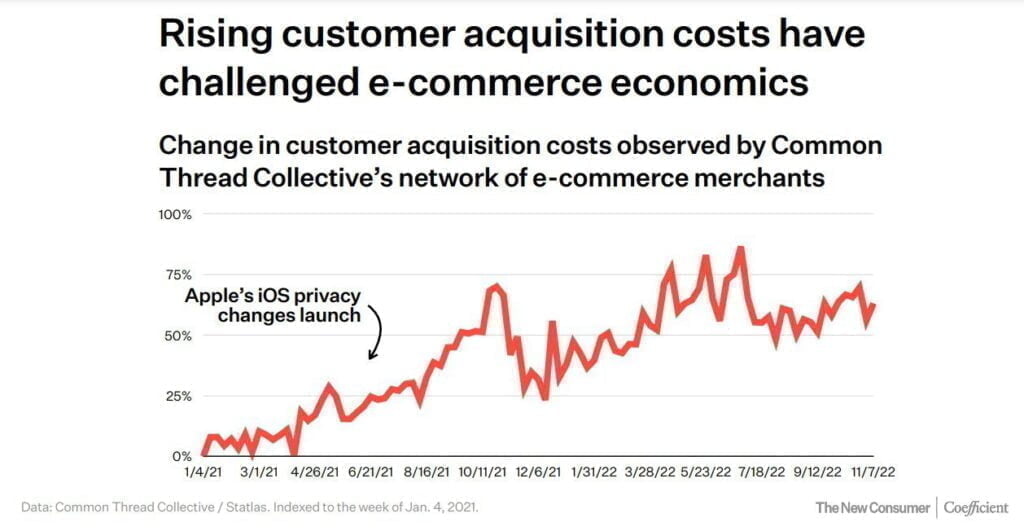 Upfluence CEO Vivien Garnès explains why ad costs are increasing and the context for marketers in 2023.
"Every company has its own situation, but with COVID, the real explosion of eCommerce that we've seen is on the consumer side – where more and more people who had never bought online before had no choice but to do it. But also on the merchant side – we've seen brands that historically had not sold a single unit online and had to make the jump all of a sudden.

Combine that with "The Cookie Apocalypse" – where devices and browsers are limiting the support for third-party cookies – on one hand, we have an increasing competitive intensity. On the other hand, we have fewer options and inventory. And so what we've seen is that it causes acquisition costs to skyrocket and become prohibitive. So we've seen a lot of our clients, as a result, spend less and less in programmatic ad buying – even on social media, which was for a long time, a strong performer." – Vivien Garnès, The Future of Marketing Podcast. 
Given that this trend is unlikely to slow down in 2023, how can marketers adapt? Investing in long-term partnerships with your top-performing creators is a surefire way to ensure continued growth for your business. Pair that with smarter asset use, and you'll have the holy grail of aligned influencer partnerships with strong content that's perfect for reuse across several channels and formats.
First-party data will play a bigger role in identifying authentic creators
Marketing has historically relied on third-party data to gather information about internet users' browsing habits for retargeting advertising campaigns. Third-party data has also been used to build influencer profiles and access influencers' performance metrics. However, given the rising concerns about data privacy and announcements by Google and Apple about removing third-party cookies, influencer marketing will need to adapt. Luckily, influencer marketing platforms like Upfluence are already ahead of the curve and have the tools in place to help you find the best influencers for your brand without relying on third-party data. Instead, marketers should focus on activating influencers from within their own customer base. With tools such as Upfluence's influencer matching, brands can analyze first-party data about their customers to identify influential customers who would make excellent ambassadors for their brand. After all, your customers already know and love your brand, making them your brand's most authentic content creators!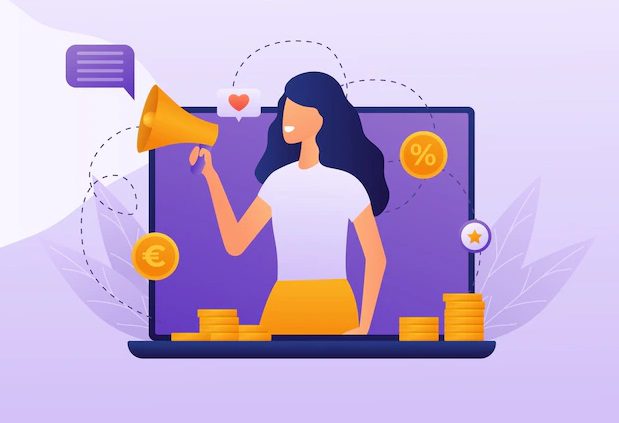 Influencer marketers will switch to more performance-based compensation
Building on the discussion of rising acquisition costs, influencer marketers will be looking to optimize spending on influencer marketing. Marketers' budgets are shrinking across the board, so performance-based compensation is a cost-effective way to incentivize influencers to drive results for your brand. 
Vivien Garnès, Upfluence's CEO explains how performance-based compensation helps to align everyone's interests and is mutually beneficial for brands and influencers. 
"I think the readiness of influencers to work with different kinds of incentives is really starting to show. It used to be that if you wanted to hire an influencer, it would cost one lump sum, you were facing the risk, and the influencer was putting in the work – that was the end of the agreement.

More and more, what we see is smaller upfront costs and an incentive that really aligns with everyone's interests – so it can be a coupon code that gives a commission or it's performance-based, so influencers who have generated virtual performance in the past are very confident in their ability to sell, and they can actually make a lot more money by removing the risk factor from the brand's perspective. That's a very big trend that I think will intensify in the years to come." – Vivien Garnès, The Future of Marketing Podcast.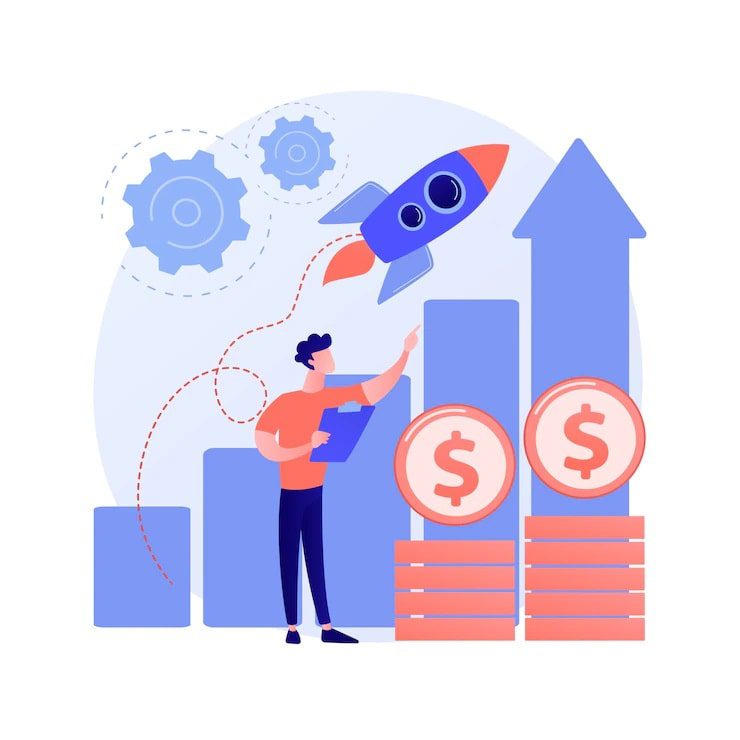 There you have it, a prediction of the 6 biggest influencer marketing trends for 2023! After a holiday season affected by inflation and changing consumer spending habits, marketers are looking to hit the ground running in 2023. While there still remains a fair amount of uncertainty, taking time to plan ahead and consider the trends will help you make smart decisions and kick off successful influencer marketing campaigns next year. 
If you could use help to make sure that you're getting the most from your influencer marketing spend in 2023, get in touch with our team! Whether you're planning affiliate programs or influencer marketing campaigns, with Upfluence, you'll have one tool to do it all!