How can specialized esports marketing agencies help you create a successful influencer marketing campaign?
The esports industry is growing at a rapid pace and this is set to continue, reaching $1.5B by 2023. Recent stay-at-home orders and the rise of gaming in popular culture have seen the average number of concurrent viewers on Twitch grow by 69% in 2020. Twitch has clearly been leading this growth, attracting even more streamers to the platform, with an average of 6.9M monthly broadcasters, fuelling even more content consumption on the platform. 
The continued growth of the esports industry means huge opportunities for brands and their marketing development. But how to invest in esports?
Marketing agencies specialized in esports have the answer. Thanks to their database and in-depth knowledge of the esports market; esports agencies facilitate influencer marketing activities and develop partnerships between brands and top-notch Twitch streamers. You can check out our recent article for more details on best practices for working Twitch influencers. 
What marketing activities eSports agencies facilitate?
eSports marketing agencies work with video games brands (game developing companies); as well as with traditional brands that develop products and services that appeal to gamers.
Endemic activities: 
To get the best out of a campaign, specialized marketing agencies make sure to use all channels of your chosen influencers. Twitch streamers also have important communities outside of gaming platforms. They are present on Snapchat, Instagram, Twitter, or Facebook. For example, Ninja; the biggest player on Twitch; has more than 14 million followers on Instagram.
Esports agencies manage cross-channel campaigns on every platform as well as on more traditional media; multi-channel management helps to reach a bigger audience and develop a bigger interest for brands.
When it comes to game launches; video game companies can get really creative. The launching of Grand Theft Auto V is a good example of how brands can become marketing masters when it comes to launching. A tweet with a link to a website for Grand Theft Auto V marked the beginning of the campaign. It was then followed by a trailer; street art and billboards in New York and all over the USA. On the day of the release; which was one year after the first tweet, the game earned 800 million US dollars.
Combining creative marketing campaigns with esports influencer marketing campaigns increases reach and interest.  Marketing agencies make the liaison between brands launching new games and influencers ready to test and recommend them to their audience. Twitch streamers have loyal followers who will likely show an interest in the product that their streaming superstar references.
On TBS, Conan O'Brien in his show "Clueless Gamer" invites famous people to try new games. It drives awareness and interest in video games; even for those who are new to the scene.  Using humor, these paid partnerships are an efficient and interesting marketing activity for video game brands.
Esports marketing agencies help find creative and innovative paid partnerships for game launches that promote and raise hype for their release.
Promoting game competitions
To increase awareness for smaller developer games and studios; brands can organize game competitions. These events gather streamers of all sizes; including gaming teams and spectators. With prizes and animations; competitions are highly attractive for players. Esports agencies provide help to promote these events through influencer marketing campaigns. By connecting brands and influencers willing to participate in the competition and promote it; agencies help raise interest and create an audience for the event and the brand.
Epic Games; the creator and developer of Fortnite organize some of the biggest esports competitions such as the Fortnite World Cup. The event used to be invite-only but now has qualifying rounds opening up participation to a much wider audience. The World Cup of 2019 saw the highest prize money yet with $3M going to the winner. The event was streamed over 3 days across multiple channels including Twitch, Facebook, YouTube, and Mixer. 
These events and competitions can be easily promoted by esports marketing agencies through partnerships with Twitch streamers and creative influencer marketing campaigns.
Campaigns to refresh games
Video game companies know the struggle of having games declining in popularity. The story of Rainbow Six Siege can give them hope when confronting this issue.
In 2008; the franchise Rainbow Six was seen as the new entrant in the market and everybody forecasted its expansion. Defying all previsions; the game knew an 8-year gap and the release of an updated version in 2011 didn't work. Ubisoft (the game developer); released its new version of the franchise in 2014 and this time everything was different. They added different features and focused on a multiplayer mode. By 2018 Rainbow Six Siege was among the top 10 games played on Steam, with even more changes planned for the coming years. 
Esports marketing agencies can help brands refresh games with influencer marketing campaigns. Agencies offer interested gamers to stream while they are testing games losing popularity. Their authentic feedback and interest in the game will drive their followers to try the game. By developing partnerships with relevant influencers; agencies can trigger a new interest in games lacking popularity and create new trends.
Non-endemic activities: 
Even if the gaming and esports industry can look like a closed world for uninitiated people; it offers a lot of opportunities when it comes to advertising and marketing. Sponsoring partnerships is one of the biggest opportunities for brands and marketers. Non-endemic brands can learn more about the opportunities for esports partnerships in our recent blog.  Twitch and other esports platforms trigger an enormous audience. Besides, esports followers are highly supportive and loyal to their streamers. As live streams are long and unfiltered; game influencers are seen as highly trustworthy.
Users are also extremely open to sponsored content and esports sponsors. 82% of them think that they are good for the esports industry.
Many Twitch streamers developed gaming sponsorships with non-gaming brands.
KFC has developed a partnership with DrLupo Twitch streamer. DrLupo used to be part of the same gaming team than Ninja. He has now more than 2 million followers. The brand partnered with him to promote its chicken wings through his live channel. For the campaign; DrLupo teamed up with Anthony Kongphan, to play Player Unknown's Battlegrounds. While they played, they organized a live stream contest. Every time the duo was winning a game round; users had to write "winner winner" to win KFC gift cards. This sponsorship gave a positive image of KFC to users and created more interest for the brand.
Onward and upward, every damn day. Doesn't seem to matter what is thrown at us, either. This community just keeps on surprising me.

Back at 8 AM CT

ALSO, from 5 PM to 9 PM CT, I'll be participating in the @kfc Chicken Dinner Challenge w/ @AnthonyKongphan. #ad

NOM NOM NOM NOM

— DrLupo (@DrLupo) March 25, 2018
Many other international brands; such as Red Bull, understand marketing opportunities created by the esports industry and are sponsoring different players to create brand interest and recognition.
Specialized marketing agencies, with their knowledge of the industry, create a bridge between traditional brands and game streamers; this enables companies to expand their marketing opportunities.
A big part of the esports industry is, of course, competitions and teams. Every year, prize pools are becoming more important within esports. These competitions and teams represent huge opportunities for traditional brands as they are followed by millions of viewers throughout the year.
With the success of these competitions; gaming teams are getting very organized and well-known. The top teams are popular all over the world and win staggering prizes every year.
According to ISPO, these are the top 5 most successful esports teams: 
Identification and management of specific esports teams/partnerships
Team Liquid: this team from the Netherlands is known for having the most experience in professional esports and the earnings to prove it with $35,689,948 in prize money. Their highlights include their League of Legends winning 4 League Championship Series, the highest level of competition for the game.
OG: they're best known for playing Dota 2, having won The International (the closing tournament) in 2018 and 2019. Their total game earnings are $33,658,036, putting them in second place just behind Team Liquid. 
Evil Geniuses: this American team is also a prolific player of Dota 2, receiving a consistently high ranking in The International, as well as winning the DOTA 2 Beyond The Summit Pro Series Champions in 2020. 
Fnatic: this strong team won the first-ever League of Legends Championship series back in 2011. Their Rainbow 6 team saw victory in 2020 by winning the Pro League ANZ Season 11. They're competing in Valorant for the first time in 2021. 
Virtus.pro: the Russian team gets the best results for Dota 2 and CS:GO. In 2020 they won the first-ever BLAST Premier CIS Cup. 
Many esports teams are sponsored by well-known brands, for example, Team Liquid is sponsored by Marvel Entertainment, and American team FaZe Clan has a long-standing partnership with the energy drink company G FUEL. Through these sponsorships, they increased their brand recognition and developed a positive image within a huge community of gamers. 
.@Tactical and @TLCoreJJ in the Scarlet Witch and Vision jerseys, the newest additions to our #LIQUIDxMARVEL collection. pic.twitter.com/l53Xib9dWA

— Team Liquid Honda LoL (@TeamLiquidLoL) January 30, 2021
Esports marketing agencies connect gaming teams with brands to create successful partnerships.
Sponsoring esports tournaments
As mentioned earlier; esports competitions and tournaments are big business in the esports industry. Sponsoring gaming teams or individual players creates important marketing advantages for brands. Companies can also sponsor events and tournaments.
As competitions are highly followed through live streaming on esports platforms; even on more traditional media (such as ESPN); brands can reach millions of consumers in very little time.
One great example of how a big brand can amplify an esports competition is the IBM sponsorship of the Overwatch League, announced in 2020 and due to last until 2022. It's the data company's first experience in the esports industry and they're planning to make a positive impact using their expertise to offer more precise ranking tools and other improvements thanks to artificial intelligence and cloud-based infrastructure. 
Specialized marketing agencies help brands in every industry to sponsor big esports events. Sponsoring these tournaments and competitions enhances a brand's image and create social media buzz within the gaming community. These agencies can connect brands with millions of consumers through one event.
Who are the trending Twitch streamers to work with?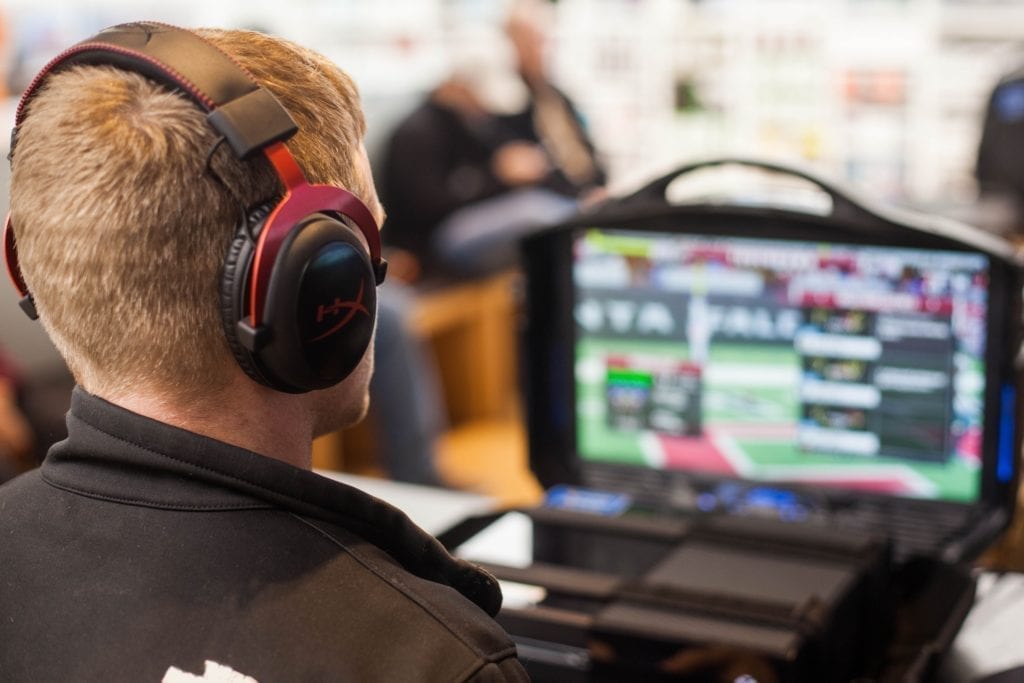 Esports agencies connect brands with top-notch gaming influencers to deliver a high-quality campaign and reach an authentic and loyal audience. As game streamers' popularity is changing rapidly and can grow in a few months, these esports marketing agencies link brands with up-to-date trending esports influencers. As a liaison between players and brands, agencies also choose influencers fitting brands' values and needs for the campaign.
Gaming influencers are now popular not only on gaming platforms but also in more traditional media and social media. Ninja is the most followed player on Twitch since 2020, and in 2018 was the first-ever professional gamer to be displayed on the cover of ESPN Magazine.
KittyPlays and LegendaryLea are part of the top female Twitch female players and attract thousands of viewers every day.
As one of the fastest-growing platforms for live video streaming, Twitch is the new frontier for brands to communicate in an authentic way to their customers. Twitch streamers have highly loyal followers that will develop a true interest in the brands the influencer supports. These are just some examples of how a brand can communicate but there are many more! Creative and innovative influencer marketing campaigns are developed all the time. Esports marketing agencies can help connect brands to the Twitch and eSports community to receive outstanding results. The esports industry has a lot at stake, make sure not to miss opportunities! 
Jumpstart your Twitch Influencer Strategy with our Twitch Campaign Checklist.