If you're in an eCommerce business, you know the struggle. You have a million competitors and a hundred different marketing channels to be on to reach potential customers. You know your products are unique and you're trying all sorts of new content opportunities. However, it's a bit discouraging to put in all that effort and still have low engagement rates and abandoned shopping carts.
How can you stand out? How can you get your customers excited? And the million-dollar question…How can you sell more?
We'd like to introduce you to our friend, user-generated content. User-generated content will help you build trust with your audience through engaging and authentic content. It activates users to go from "unaware" to "paying customer," allowing you to sell more with less ad spend.
What is User-Generated Content (UGC)?
User-generated content, often called UGC for short, is content made by consumers about a brand. Think videos, pictures, social media posts, reviews, contest submissions, and testimonials. It's often the most effective content brands can use. In comparison to brands talking about themselves, consumers are more likely to trust and click on content created by consumers, according to research conducted by TINT, the enterprise UGC platform. We'll get into these and more stats throughout the article. But first, let's clarify something else: what's the difference between influencer marketing and user-generated content?
What's the Difference Between Influencer Marketing and User-Generated Content?
The major difference between influencer marketing and user-generated content is who's paying who. When it comes to user-generated content, consumers and the content they create are just that: organic consumers posting unscripted and authentic content, for free. On the other hand, influencers are paid by a brand to post specific content.
Influencers run a business of their own, have a brand to maintain, and have their own consumers and revenue objectives. When they're posting about a product that they received for free from a brand, they have to indicate that the post is an ad or is sponsored, even if they're not being paid for the actual content, just like they would if they are being paid to post content. 
With user-generated content, there's no #ad in the caption or "thank you to my sponsors" in the video script. If the influencer was an unpaid fan of the brand and paid for a product, or simply wanted to post about an advertisement that they like, that would be user-generated content.
Influencer marketing is undoubtedly a great way to expand your reach and grow awareness of your brand, and user-generated content is the best way to supplement those paid efforts with organic content that truly converts your audience.
How User-Generated Content Can Help You Sell More Online
You might think user-generated content is limited to the top of the funnel. In reality, UGC knows no bounds. Leverage it in the awareness stage, the consideration stage, decision, and even retention. UGC is yours and the user's sidekick throughout the entire buyer's journey. Not only that, but you can also use it across all channels. From social feeds that you can't control, to product pages that you can, an omnichannel approach to UGC creates a 5-star customer experience. So, let's look at how UGC can help you sell more online, by showing how it helps throughout the entire funnel.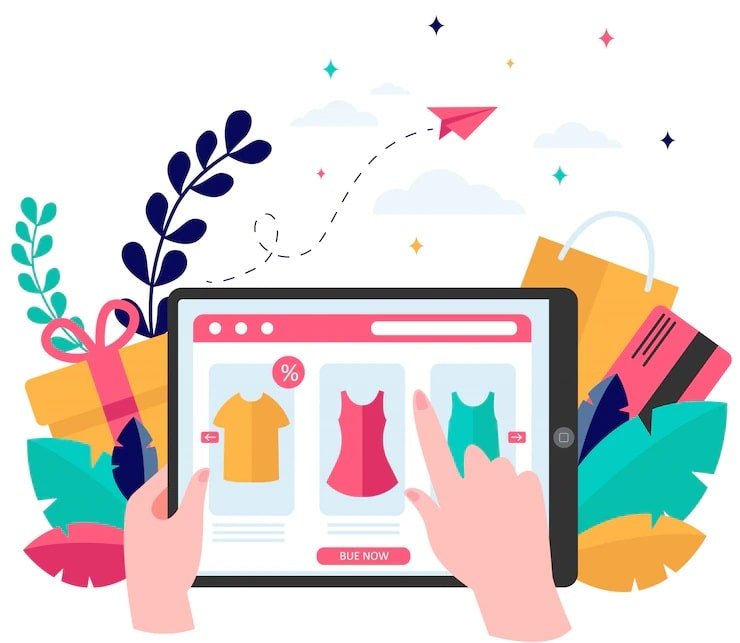 User-generated content can help you sell more online by:
Expanding your reach and growing awareness.

Getting engagement.

Building trust and shaping your brand perception.

Skyrocketing your click-through rates.

Personalizing your shopper's experience to increase conversions.

Hyperpersonalizing retargeting ads.
Let's dive in!
Expanding your reach and growing awareness
We'll start at the beginning. Your user doesn't know that you exist yet, and they may not even know that they need your products. If they're not actively looking for products like yours, then the only way to reach them is to meet them where they are. Who do they interact with? What apps do they use? Who do they follow?
UGC lets you reach your audience organically through friends, family, online peers, or content creators that they follow and trust.
76% of consumers have purchased a product because of someone else's recommendation before.
Not only do consumers trust fellow consumers more than brands, as we mentioned earlier, but they are also more than willing to buy a product they weren't already in the market for if it comes with a great recommendation. This can happen organically when someone stumbles upon a video where a content creator mentions your brand or product, or it can happen via ads. Brands find videos like these, request rights to them, and then create video ads from them. This allows them to target specific demographics for hyperpersonalized targeting. The user sees it on their feed, stops the scroll, and watches.
Consumers have become so attuned to brand-created content that they've gone ad-blind. UGC breaks that mold. It's relatable, it's engaging, and it makes them aware of who you are and what you do. People pay attention to UGC, allowing you to expand true brand awareness more than a post that they'd scroll past without a glance.
Getting engagement
Many people think of engagement as a vanity metric, but it's certainly a worthwhile metric to track and can help inform revenue projections. But what is engagement, really?
While the answer may vary from person to person, one way to think of engagement is the micro-interactions between a user and a brand. If a user glances over your content, there is no engagement. If they stop the scroll and keep your content on their screen for a bit, that is engagement. If they enlarge your content, click through a carousel post, replay a video, or leave a like or comment, that's engagement. They might visit your email or webpage multiple times and/or share your content. These are all very positive signs that your user is engaging with your content.
Six in 10 marketers report that their audience engages more with user-generated content than brand-created content. This represents a huge potential for improving the sought-after engagement that marketers know and love. When users see UGC, they pay attention. Then, they start to engage.
Building trust and shaping your brand perception
UGC doesn't just capture attention and get engagement. It builds trust. Consumers are more informed than ever and, as mentioned before, they've gone ad-blind. They already know what to expect: brands tooting their own horns about how great they are, even if they have terrible reviews. They can spot a professional, staged shoot from a mile away. As soon as they do, the blinders go up.
But once they see raw footage of someone that looks like them, in a house that looks like theirs, consumers notice, engage, and begin to trust it. They can relate to it in ways they can't relate to a professional commercial, even if they don't actually know the person in the picture or video. When brands go all-in on this kind of content, consumers notice and find it to be credible, helping them to trust your content and your brand.
72% of consumers believe that reviews and testimonials submitted by customers are more credible than the brand talking about their products. (State of User-Generated Content)
Skyrocketing your click-through rates
So, now we know that user-generated content captures attention, gets engagement, and builds trust. But did you know that consumers are also more likely to click on content that features customer photos as opposed to brand-created content?

While engagement metrics show whether or not people are paying attention and resonating with your content, click-through rates can indicate if your content is targeted to the right audience, and whether or not it is persuasive enough to actually get closer to a sale. With average click-through rates of 3.17% on Google Ads, 1.11% on Facebook Ads, and 0.22% on Instagram Ads, marketers know how hard it can be to get clicks.
There are a few elements you can experiment with to improve click-through rates: copy, creative, CTA, content position, and audience. You can implement UGC into the copy of your ad by, for example, simply copying and pasting a short 5-star review. If the review also had an image or video, you could use that as your creative. By looking at your visual UGC, you can get a feel for your audience demographics and see if there are some tweaks you can make to your targeted demographics. Identify a fitting CTA and experiment with different content positioning placements, such as in stories, in feeds, on the right side panel, near the header, etc.. And it's not just social media or paid ads that provide an uptick in clicks. UGC within emails produces a 73% increase in click-through rates and produce more conversions.
Personalizing your shopper's experience to increase conversions
Thankfully, those clicks are not in vain. If they don't lead to conversions, then they simply drive up your cost-per-click (CPC). However, when brands use UGC, their CPC drops by about 50%. This means they're not only getting more purchases, they're also reducing ad spend. Consumers are likely to purchase products because of someone else's recommendation, even a strangers', and they're also more likely to purchase if their shopping experience is personalized to them. Personalization is crucial to your consumer.
77% of shoppers are more likely to buy from brands that personalize their shopping experience. (State of User-Generated Content)
With a wide diversity of UGC in your shoppable commerce, on product pages, digital screens in stores, or wherever shopping happens, your consumers don't have to guess what something might look like in real-life, or on their body type, or on their skin tone. UGC naturally allows you to embrace DEI. This makes the user feel included in your brand narrative, build trust for your brand, and helps them to imagine themselves using your product. Not only can users see happy customers that look like them, but they can also see customers in environments that they can relate to, because no one lives in a staged shoot with perfect lighting.
Target does a great job of this. They feature customer photos on their product pages, showcasing what something looks like on people of various different shapes, sizes, and colors. They also include reviews on the bottom of their product pages. Other companies allow for personalized reviews wherein they can include things like their skin type and body measurements. This way, other consumers can filter reviews based on their own skin type or measurements.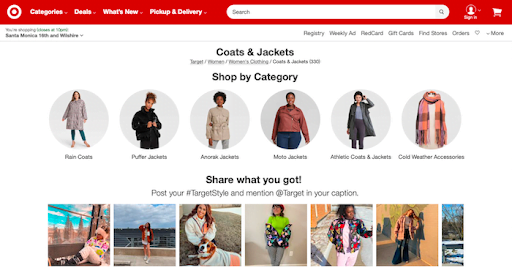 Hyperpersonalizing retargeting ads
After a user interacts with your site, you can use their activity data stored in cookies to retarget them with hyperpersonalized ads. You already know what subsections they were looking in and what specific products they clicked on. Equipped with this info, you can create various ads out of organic UGC to match demographic to demographic and product to product.
People that have already interacted with your site are often much warmer and more qualified leads than those that have not. By retargeting ads to them on the right channels, you can easily lower ad spend and boost sales. For example, Myfix Cycles, a Canadian Bicycle retailer, earned $15 for every $1 spent on its Facebook retargeting campaigns. That's a 1,529% Return on Ad Spend (ROAS).
By blending the power of retargeting with the power of hyperpersonalized UGC, your next retargeting campaign is sure to impress.
How does influencer marketing tie in?
If you find that your brand doesn't have enough UGC, influencer marketing is the way to go. Similar to UGC, influencer marketing can be used throughout the funnel, whether to supplement UGC or to be used on its own. Let's revisit the major ways UGC can help you sell more and pinpoint how to use influencer marketing in each stage.
Expanding your reach and growing awareness.
While UGC expands your reach and grows awareness from peer to peer, influencer marketing helps you to reach more audiences on a much larger scale. Whether working with nano-influencers or micro-influencers, these creators have much larger followings than your neighbor from down the street. They have dedicated followers that have made room for them on their social media feeds because they enjoy their content and choose to see it, in contrast to paid display ads which, unfortunately, we can't unsubscribe from. With the use of influencer marketing, you can tap into these audiences to get the word out about what you sell.
Influencers are pros at the social media game. They know, possibly better than anyone else, the importance of engagement. Their engagement rates can be the difference between landing a top paying sponsor vs. not, even if they have a huge following. Brands are looking for influencers that get high engagement because it indicates that their posts are actually getting attention and that their followers take action. If brands are prioritizing reach and brand awareness, it may make more sense to hire influencers based on follower count. If brands are looking to boost engagement, they should hire micro-influencers with less than 25,000 followers. This is the sweet spot where followers are more likely to see the influencer as a friend and to trust the content that they post.
Building trust and shaping your brand perception.
In the 2019 edition of Edelman's annual Trust Barometer, which reports on who, what, and where consumers place their trust, participants were asked why they followed and trusted influencers.  Answers showed that the relatability of the influencer was nearly twice as important as the popularity of the influencer, meaning that consumers are more likely to follow and trust an influencer when they see a bit of themselves in them. Overall, 63% of people trust messages from influencers more than messages from brands. To build trust, brands should hire multiple micro-influencers, which have more niche audiences with higher engagement rates, as opposed to celebrities. As influencers climb to celebrity status, consumers are more and more hesitant to trust them. It feels less like a recommendation from a friend, and more like a predictable,  bi-weekly sponsor post.
Skyrocketing your click-through rates.
As previously mentioned, click-through rates on ads are quite low, usually around or below 1% on social media. However, influencers see double or triple those rates, according to an analysis of influencer marketing campaign results:
"CTR is highly concentrated around the median of 2.34%. Videos with a higher CTR typically have a clear and simple call to action. Oftentimes campaigns with the highest CTRs also use limited time promotional codes to drive interest and urgency." – Influencer Marketing Benchmark by Grapevine
You can even continue to leverage this uptick in click-through rates long past the duration of the campaign with your influencer. If they grant you rights to the content, you can continue to use it on other channels, such as your website, product pages, and display ads, just like you could with UGC.
Personalizing your shopper's experience to increase conversions.
Hiring microinfluencers is one way to personalize your shopper's experience. They have a niche audience that's usually centered around one topic area, such as plants or healthy eating. Their followers have already deemed that they relate to this person or their content enough to give them a follow. When the audience relates to the content they're seeing, they're far more likely to convert. Microinfluencers have that relatability and trust with their audience, unlike celebrities or mega-influencers. Another option for personalization is to hire influencers based on your target demographics, whether micro- or mega-influencers.
Hyperpersonalizing retargeting ads.
If you are able to get the rights to your influencer content, you can use it for retargeting ads just as you could with UGC, only with more control. With completely organic UGC, you're limited to the content that already exists. With influencer marketing, you can hire specific people to create content about specific products. This is a huge advantage of influencer marketing because it opens up so many options for hyperpersonalized retargeting campaigns.
Use UGC to drive movement through your funnel
User-generated content helps you to sell more by driving movement from one stage of your funnel to the next. From generating awareness and expanding your reach, to getting engagement, to building trust, to skyrocketing your click-through rate, to either the ultimate conversion point or a retargeting campaign, UGC keeps the consumer where you want them. When used with the power of influencer marketing, your brand will have plenty of personalized, trustworthy, and engaging content to start selling more in no time.
To get more insights into the latest consumer trends and how marketers can leverage user-generated content, download TINT's State of User-Generated Content report. To see the latest influencer data in your industry, check out our Influencer Marketing Industry Reports.
This blog was contributed by Olivia Lucero, Content Marketing Manager at TINT.