In 2016, Forbes reported that physical activity is on the rise among the US population, and a similar trend can be found globally – especially among millennials, who are perhaps the healthiest generation so far. More and more people are prioritizing a healthy lifestyle, and there has been a noticeable boom in healthy living. And, of course, sports and physical activities are playing a big part in this health and wellness movement.
Many sports brands have been quick to capitalize on this by diversifying their product range to capture the zeitgeist. As this growth in the sports industry continues, we look at the drivers behind purchasing decisions and how sports brands can leverage influencer marketing to boost sales.
Before we dive in – we've added our analysis of fitness influencer performance plus 6 actionable recommendations to help you build the best influencer marketing strategy for your sport or fitness brand. Download available at the bottom of this post!
So, how (and why) does influencer marketing work so well in the sports industry?
The sports industry: a growing and diversified market
Perhaps a reason for the recent uptick in sports participation is because the last couple of years saw many new innovations in the sports industry. New technology and more affordable and accessible equipment has made sports more attractive and attainable to the average person. At a professional level, tech innovations have made watching sports events more immersive and engaging, increasing their viewership.
The worldwide sports market is now worth more than €450 billion with an average growth of 4% per year, higher than the overall economy.
Worldwide sports market growth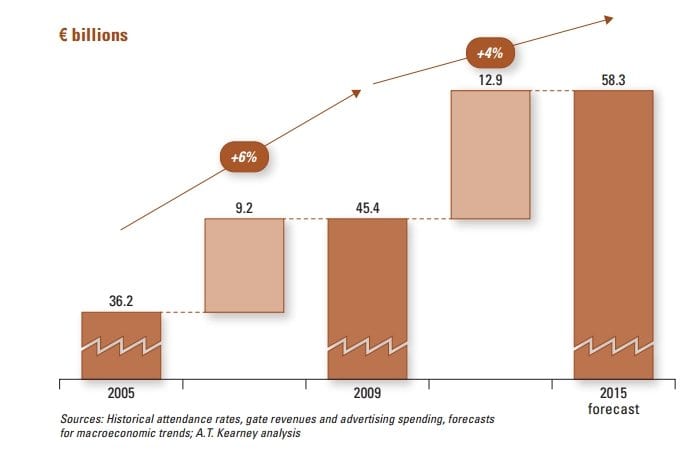 And as the sports market is growing, it's evolving – it's now composed of several branches and sub-sections. For example, many sports brands have successfully incorporated fashion, beauty, and food into their product ranges, and are focussing on facilitating an overall healthy lifestyle, not simply concentrating on sports items.
Brands are thus appealing to consumers by incorporating all aspects of a healthy lifestyle into their brand identity, from non-sports clothing to 'sporty' makeup and perfume. FastCompany refers to this diversification into lifestyle products as 'athleisure'. According to Morgan Stanley, athleisure sales totaled €87 billion in 2016 – that's up 40% in the last six years.
The power of influence and aspiration
In a booming market such as the sports industry, brands need to work hard to differentiate themselves from their competitors. The most effective way of doing this is by developing a robust social media strategy. Using blogs and social media platforms increases brands' visibility on the web, and will attract a wider range of consumers; ultimately boosting sales.
Identity and a sense of community have always been an important facet of the sports industry: the teams you support and the sports you play make up part of your persona. Nowadays, these ideas of identity and community are becoming increasingly influential in what brands we buy. With these concepts gaining impact in our purchasing decisions, influencer marketing is a compelling way to tap into consumer lifestyle.
In the world of sports, aspiration and inspiration are powerful motivators (just check the 59 million photographs tagged with #fitspo on Instagram for confirmation).

By eliding your brand with a trusted, influential voice who embodies the lifestyle ideals of your customer base, your brand will resonate more deeply with consumers. And a deeper connection creates loyal customers.
Influencers are the perfect tool for getting eyes on your brand as they already have a loyal following who trust their content. What's more, by choosing the right influencer (yoga vs bodybuilding, for example) you can pinpoint your target market with laser precision – much more efficient than generic ads.
Who are the influencers in the sports industry?
Consumers want content from legitimate sources – sometimes this is an athlete, but it could also be a "fitfluencer": a social media star who has built a community around their healthy lifestyle. In many cases, a 'real person' holds more sway than a celebrity, as we trust information and recommendations from our peers over any other source.
An example of an Instagram fitfluencer is Emily Skye. As a personal trainer, she started blogging about workouts and meal plans and posted about her healthy lifestyle on Instagram and YouTube. She now has 2.4 million Instagram followers generating engagement levels on her posts.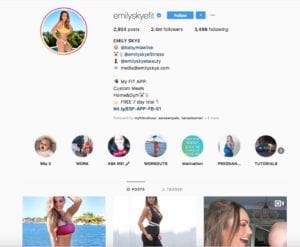 Sports brands are working in collaboration with influencers like Emily and launching joint communication campaigns. These fitfluencers have become indispensable partners for sports brands, by helping to boost brand awareness and creating positive brand associations among their core demographic. This is usually done through native advertising: sponsored blog posts and sponsored social media posts that are incorporated into their news feeds.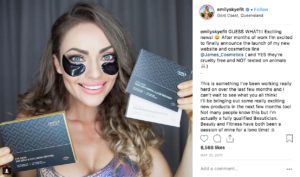 Emily's recent partnerships include beauty companies (James Cosmetics), food & beverage companies (Lucozade), as well as sportswear companies (Reebok); all of them with an athleisure slant. Other Instagram fitfluencers include Jen Selter (11.3m followers), Kayla Itsines (6.9m followers), and Joe Wicks (1.8m followers) all of whom have successfully worked with brands on native advertising campaigns.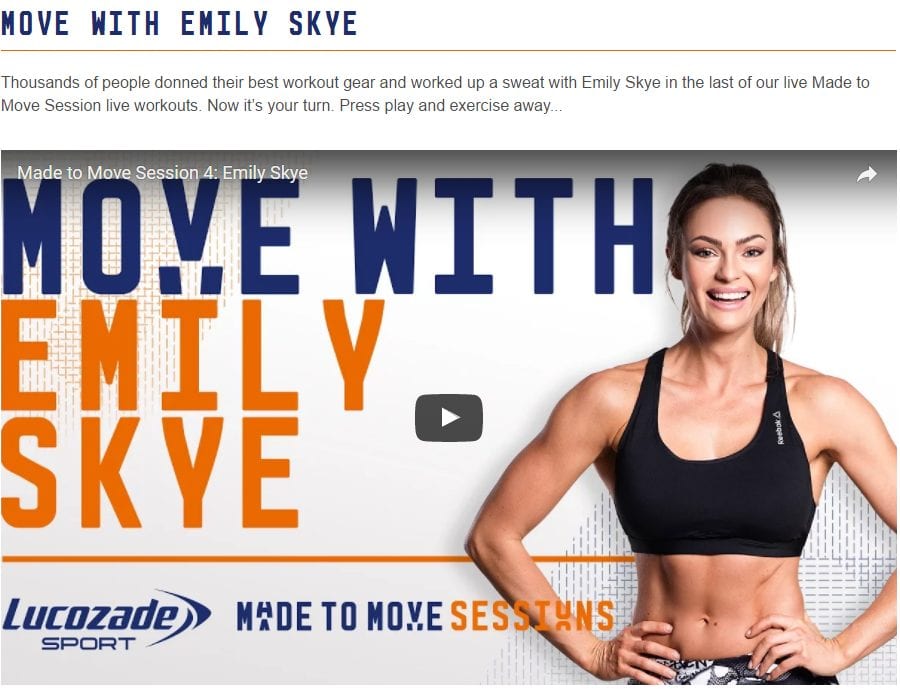 To recap, the main objectives of an influencer-led native advertising campaign are threefold:
generate web traffic and potential leads for the brand, and
boost the brand's reputation, both of which will lead to
increased business volume.
Influencer marketing is allowing sports brands to reach new customers in previously inaccessible areas, for example, customers who have been inspired to take up a new sport (or even try it for the first time) as a result of the aspirational lifestyle of the influencer. It also allows sports brands to gain credibility in the sports community at a relatively low cost and small timeframe.
It's clear to see that influencers are broadening the scope of advertising campaigns in the sports landscape. Influencer marketing is a strong, effective marketing method that gains results quickly, and many marketers believe it will continue to grow in popularity and relevance.
Looking for ways to improve your influencer strategy? Check out our in-depth analysis of fitness influencer performance plus 6 actionable recommendations to help you build the best influencer marketing strategy for your sport or fitness brand.
Download it here:
The Top Influencer Marketing Strategy for the Fitness Industry.