Paying influencers helps you to build strong partnerships and incentivize strong performance. It comes down to choosing between offering monetary payment such as a flat fee or commission, or offering free products.
This post will help you answer the following questions to ensure you choose the best payment method:
How much will I pay my influencers?
Should I use products or monetary payment to pay influencers?
How do I make sure I'm not overpaying or underpaying an influencer?
Before we get started, we think this influencer marketing strategy guide (below) will be useful when you're ready to explore beyond influencer payment and dive into all aspects of strategy best practices and tips.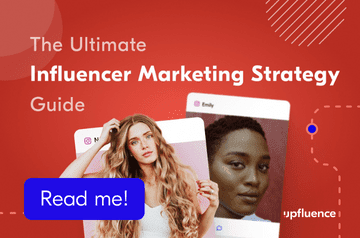 Ok, let's get started!
There are several considerations when deciding what to offer influencers. Influencer payment is just one of many important costs that should be considered in your influencer marketing budget.
Marketers want to incentivize influencers to do their best work and offer fair compensation while maintaining a high return on investment. With this in mind, we'll explore why monetary payment is best in some situations and how to go about deciding on a price. We'll also look at alternative models of influencer payment including product as payment, combining product and payment, or offering other incentives. Overall, both product and monetary payment remain equally popular, with Influencer Marketing Hub reporting that 34.5% of marketers offer payment while the same percentage offer free products instead.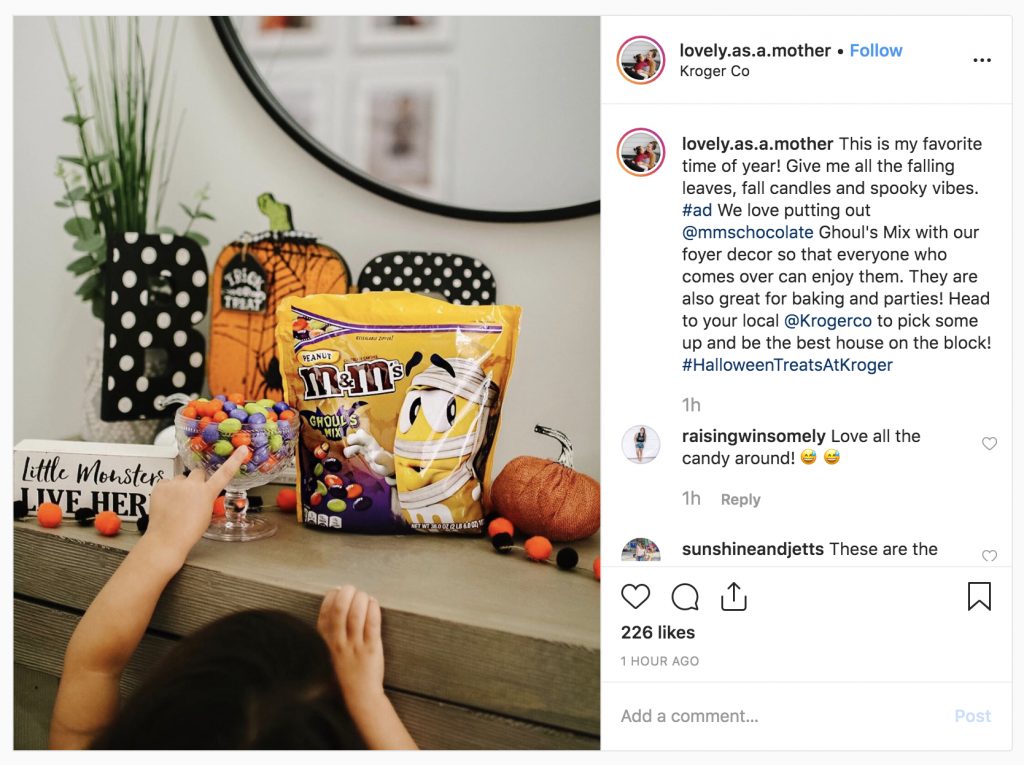 Paid partnerships with influencers
How much should you spend on paying influencers?

How much money you spend depends entirely on the nature of your campaign and your budget. As Influencer Marketing Hub reports, Instagram influencers can be paid anything from $10 to $10,000 per post. Their calculations are organized by influencer follower size, with nano and micro-influencers receiving less compared to mega and macro-influencers. This is useful guidance to consider when deciding how much to offer your influencers per post.
But there are several other factors at play as we'll explore below.
Paying influencers a flat-fee
Brands can use several performance insights to decide how much to pay their influencers. Upfluence provides a suggested price metric and a CPV (cost-per-view) or CPE (cost-per-engagement) on every influencer profile. You can use this as a benchmark for you to set your offer. You can also look at an influencer's engagement rate and post-effectiveness (success of sponsored vs. organic posts) and their A-F performance rating compared to similar profiles. These data points help to paint a bigger picture of the value they can offer your brand and how much cash you should part with.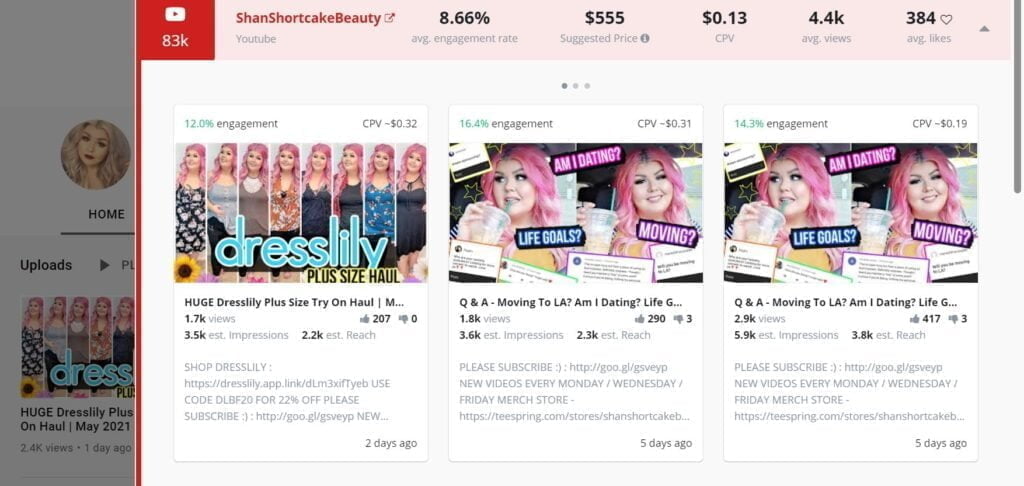 Top Tip: Be the first to suggest a price during your negotiations. You should make sure your offer is in line with your total campaign budget. It can also help negotiations when brands show initiative by offering payment from the beginning.
Performance-based payment
If you're starting out with new influencers, you may want to see concrete results for your brand before committing to a certain fee. This is when you should pay influencers a performance-based fee. You can set a payment rate based on your specific campaign KPIs. A typical way to decide a performance-based fee is to offer payment based on the number of impressions, clicks, or conversions generated during the campaign. Your campaign KPIs will help you decide which performance metrics your monetary payment will be based on.
When you're ready to start paying influencers for your campaigns, Upfluence offers one-click influencer payments, and can help you process all creator payments easily and in any currency!
Revenue-sharing
Revenue-sharing is when brands are paying influencers a % of the total revenue generated from the campaign. This model offers a great incentive for influencers right from the beginning. Creators will have the potential to earn more money than accepting a flat rate. It's also advantageous for brands that can minimize risk and maximize ROI by paying influencers according to the value generated from the campaign. Brands can offer revenue-sharing as part of an influencer affiliate program.  Influencers would share affiliate links with their followers, helping brands track sales and compensate influencers accordingly.
A few things to note if you're running a paid campaign:
Brands usually save more on long-lasting relationships. Having an established relationship with influencers would always reward brands in the long run.

You could always include non-monetary elements in your paid campaigns when negotiating. (E.g. Instead of paying an influencer $500 for a post, ZZZ Headphone company provides that influencer with a new pair of their headphones, on top of $300 compensation.)

What is your intended ROI? Generally, companies could

earn about $5.78 in media values for every $1 they spend

on influencer marketing campaigns. With this in mind, companies need to take a realistic look into their current budget, past campaigns, and potential future return on investment before spending on influencers.

Don't go over your budget! You shouldn't spend more because an influencer is trending at the moment. What matters more is if an influencer fits your brand, and could deliver according to your marketing purpose.
Product-based partnerships with influencers
Another way to compensate influencers is through non-monetary means. Product seeding, i.e sending out free products to your influencers in exchange for content is a successful influencer payment model for many brands. It's good for smaller brands who are starting out in influencer marketing. This model allows them to get their products into influencers' hands and start building fruitful partnerships.
Free products
If you want to avoid paying influencers a monetary fee, a free product sample or membership to your service could be incentive enough for influencers to post content about your brand. If you don't have the funds to offer the monetary payment or you're launching a brand new product, then sending out product samples could be the best way to compensate your influencers. Be sure to do your research and offer your influencers products that align with their content. Better yet, invite them to choose which products they'd like to test, review and promote to their audience.
Offering a product or service as influencer payment can work for brands that offer big-ticket items. For example, a car brand might offer a free car or a free one-year lease of a car in exchange for a number of social media posts. Other luxury items such as watches or jewelry can also be used as payment without the need to offer a monetary fee. This could be a good way to incentivize mega or celebrity influencers for example, who might otherwise charge a high fee.
For smaller items, you can offer additional value to your influencers such as a monthly or yearly supply of products, early access to a new product collection, or a discount code off future purchases.
Top Tip: Use a tool such as Upfluence to easily manage to send out your products to your influencer network all in one place!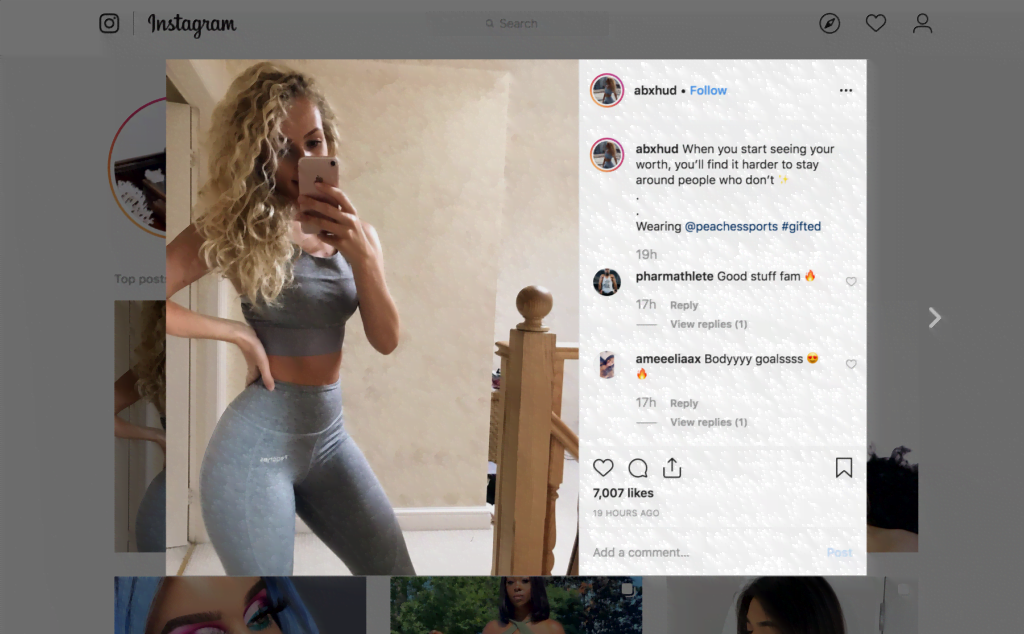 VIP brand benefits
This type of compensation can work with brand ambassadors. They already love your brand and are promoting it organically to their social network. You can offer exclusive benefits such as free products, event passes, goodie bags, early access to sales, etc. This will effectively incentivize influencers who already know and love your products. VIP benefits can be used to reward brand loyalty and incentivize brand ambassadors to post user-generated content about your brand to their social feeds.
Brand association
If your company is particularly well-known in your industry, many influencers can find being associated with your brand an attractive reward. For this to work well, you must make an influencer feel special to represent your name. Finding influencers who share the same values, interests, and possibly aesthetics with your brand will yield better results when getting influencers to support your brand without a monetary return. (E.g. AAA Biking Company chooses 10 influencers in the biking community to become their ambassadors, where they have exclusive perks while promoting the brand to their followers.)
Good causes
Similar to brand association, some influencers can feel enticed to work with brands or non-profits that promote a cause they care about. Sourcing out influencers with the same passion and awareness is an important step if your company decides to use this strategy. (E.g. Planned Parenthood reaches out to influencers who are passionate about reproductive rights to post about a new campaign they have.)
A few things to note if you're running an unpaid campaign:
Certain industries have a better chance of exchanging products/exposure for influencers' content. These include beauty, fashion, travel & leisure, events, luxury goods, etc.

If you choose to send influencers samples or products for a review in return, you need to accept that they might not like your product or give it a glowing recommendation. However, there are steps you could take to avoid an influencer leaving you a horrible review, such as searching for influencers who have already used similar products, or better yet, products from your brand.
Choosing how much you'll be paying influencers is a huge consideration that should tie in with your wider influencer strategy and campaign goals. Learn how to budget for influencer payouts and much more in The Ultimate Influencer Marketing Strategy Guide.
Header image: Family photo created by rawpixel.com – www.freepik.com