Behind every successful campaign is a well-planned influencer marketing budget. It might not be catchy, but it's true! If you want to make sure that you reach your goals without frivolous spending, then it's necessary to plan your influencer marketing budget properly. Almost every marketer is delivering influencer campaigns as part of their digital strategy. In fact, 75% of marketers dedicate a portion of their budget to creator partnerships. If this includes you, then you've come to the right place. Maybe you have questions about how much to spend on influencer marketing? Or what factors to consider when planning your budget? You'll find the answers below. 
How do you plan an influencer marketing budget?

Planning an influencer marketing budget involves calculating how much you will spend on influencer marketing software, creator compensation and media buying. The factors affecting your influencer marketing budget include: how many influencers you'll work with, what type of influencers you work with and on which social media channels. Your method of influencer compensation is likely to be the biggest factor to consider when planning your budget.
The amount of money brands spend on influencer marketing varies considerably. However there is a clear trend that shows that in general, influencer marketing spend in the US is steadily increasing, and will reach $4.62 billion in 2023. For individual brands, the number of influencers you work with and the nature of the campaign will have a huge effect on the amount you can expect to spend. That said, the majority of brands, 67%, spend less than $50K. 
Whether your budget is $5K, $50K, or $500K, we'll offer insight to help you plan your budget so that you get the most bang for your buck. The last thing you want is to discover hidden costs – so we've laid out all the factors you need to consider when putting your influencer marketing budget together to send to your CFO. 
The right value proposition 
You've found your ideal influencer who can drive your message to their audience. But what does the influencer get in return? Creating a value proposition to entice an influencer to work with you is one of the most important aspects of your offer. 
Your offer should be appealing, without costing you a fortune. That's why it's useful to think about non-monetary incentives and rewards that will help you secure partnerships with your selected influencers. Incentives such as free products, VIP benefits, and event passes have a higher perceived value to the influencer, while the actual cost to your brand is fairly low.
Top tip: Creators prefer partnerships that offer value to their followers, such as discount codes and free product giveaways which helps them to maintain high audience engagement.
Here are some ideas for non-monetary incentives for creators:
Exclusive access to new products

Invites to brand and industry events

Publishing privileges on research results/ features/upgrades/etc

Official badges to add to sites or social media profiles ('Official Brand Partner', 'Brand Ambassador' etc.)

VIP experiences (for the influencer or selected members of their audience)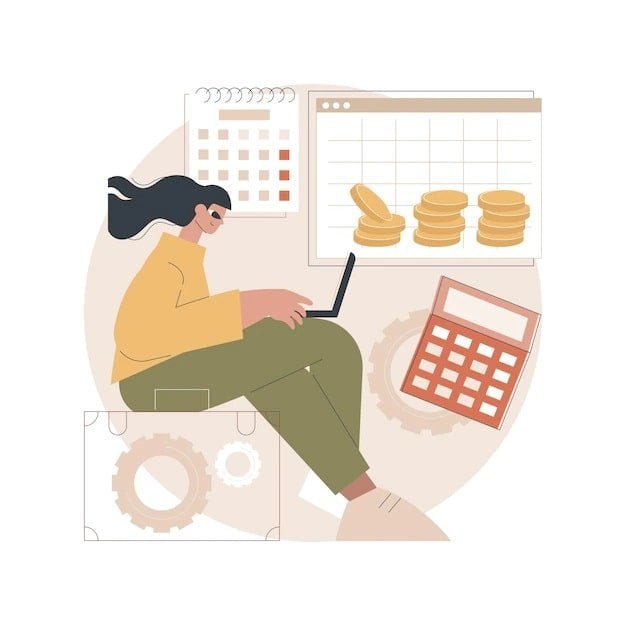 Influencer compensation
How much you decide to pay your influencers for their work will obviously impact your overall budget. If you want to see results then you need to compensate creators for their time, efforts, and a job well done. Every marketer is trying to get the balance right between offering fair compensation, managing risks, and generating a high return on investment. When planning your influencer marketing budget consider which of these compensation models will work best for your campaign: 
Product gifting – Offering free products or subscriptions in return for social media promotion can work well with brand ambassadors or organic influencers as they're already fans of your brand.
One-off fee

– You may agree to a one-off fee based on the content delivered by the influencer. This approach allows for a more straightforward budget prediction; however, it can leave several gray areas for marketers when it comes to predicting an influencer's performance.

Performance-based pricing – Performance-based pricing enables marketers to deep dive into post-campaign data and pays influencers for conversions towards which they have made a measurable contribution. Remember, if the influencer delivers beyond expectation, you will pay more. The KPIs for performance-based pricing are: cost-per-engagement, cost-per-acquisition, and cost-per-click.
Affiliation/revenue sharing – This model compensates influencers by paying them a percentage of the profits from each sale they generate. An affiliate model offers brands clearer attribution and performance tracking, which minimizes the risk of low ROI as payment is based on influencers' performance.
We have also outlined 6 key factors to consider when deciding how much to pay your influencers.
Recent trends show that offering monetary payment is just as popular as gifting influencers free products. As the industry matures and influencers professionalize, it will be more common to see performance-based fees and revenue-sharing programs, which are incentivizing and allow influencers to make a living from content creation.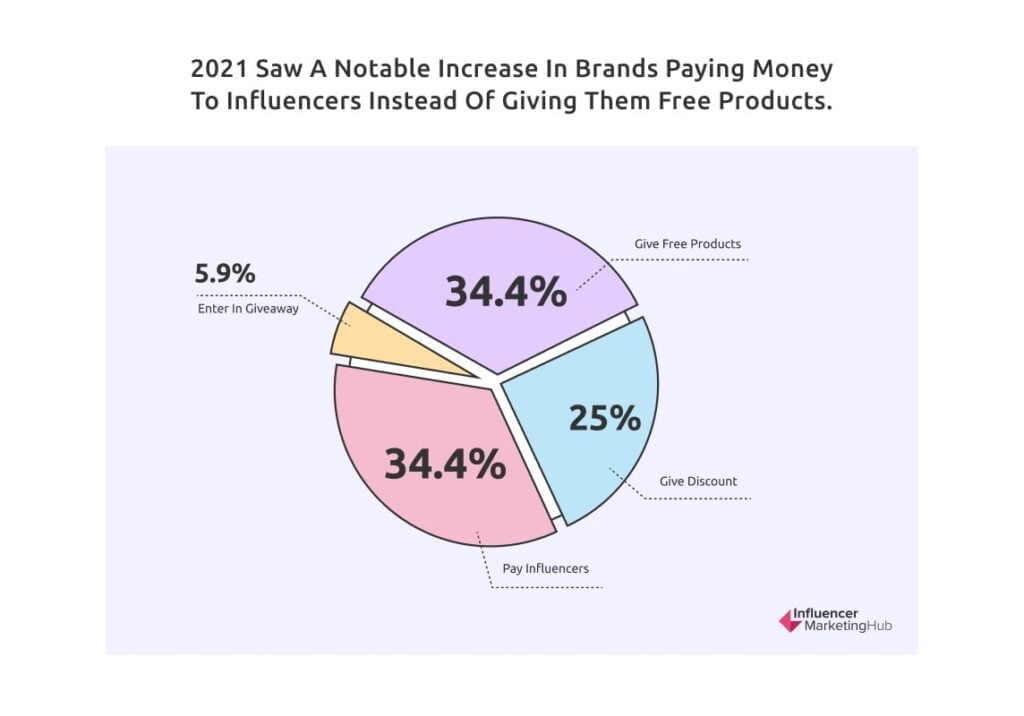 Cost of influencer marketing according to the type of creator 
The price of influencer compensation will vary for each individual influencer, however, there are some important trends to consider. Some influencer categories will certainly charge you more than others. For example, working with macro-influencers or celebrities will carry a higher price tag. The brand collaboration between Charlize Theron and Dior cost a whopping $55 million dollars. This is an extreme example, but it highlights that working with influencers and celebrities with a global reach will cost more. 
Indeed, data from Influencer Marketing Hub supports this, showing how influencer prices on Instagram vary according to categories:
Nano-influencers: $10–$100 per post

Micro-influencers: $100–$500 per post

Mid-tier influencers: $500–$5,000 per post

Macro-influencers: $5,000–$10,000 per post

Mega-influencers: $10,000+ per post

Celebrities: Varies, but over $1 million isn't unheard of
Cost of influencer marketing according to social media channel
The cost of working with influencers will also vary by platform. Certain platforms and content formats require more time for content creation than others, so the price will reflect this. Influencer Marketing Hub's data reveals that YouTube is the most expensive platform for influencer marketing, followed by Instagram and then TikTok.
Average price range for Mid-tier influencers by platform:
YouTube:  $1,000–$10,000 per video

Instagram: $500–$5,000 per post

TikTok: $125–$1,250 per post
Some platforms see a lot of variation. For example, according to Statista, TikTok nano influencers charge $4 per post on average, whereas influencers over a 1 million followers will charge a minimum of $1,034 per post.
Ultimately, the cost of influencer marketing will depend on the nature of the campaign and the effort required to produce the expected content. For example, a one-off shoutout on Instagram will cost a lot less than a mini-series on YouTube. Video content will cost more than still images, given the extra cost of equipment and time needed for editing. 
Compliance fees
Compliance fees can include the legal or administrative costs associated with preparing influencer contracts, non-disclosure agreements, exclusivity, or content rights. If you plan to work with an influencer long-term or on campaigns with large payout sums, ensuring your contract and brief have specific legal and marketing guidelines is critical. This will help protect both brands and influencers by preventing non-compliance and making the campaign expectations clear to both sides.
As well as legal or administrative fees, brands can expect to pay extra influencer fees for exclusivity as this would mean creators would have to give up any other brand collaborations for the duration of the campaign which would have a direct effect on their income. Moreover, if a brand wants the rights to use the influencer content on their own channels, or for whitelisted ad campaigns for example, then they will need to pay a premium. Many influencers will charge according to the number of content brands want to own and for how long.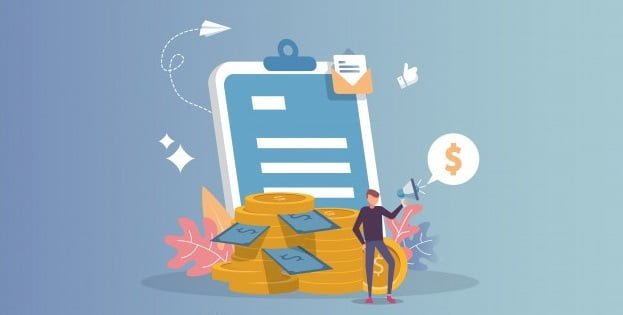 Influencer marketing software
If you are looking to scale your influencer marketing campaigns or streamline campaign management, then an influencer marketing software is a worthwhile investment. Using a dedicated software, such as Upfluence, will help you run impactful campaigns and offers tools to help you manage your campaigns including influencer identification, outreach, sending briefs, making payments, and tracking performance. These powerful features will no doubt save your marketing team valuable time and effort. While it may involve upfront or monthly costs, the time saved from using influencer marketing software to run ROI-positive campaigns will be worth it. 
If you're still weighing up whether to invest in an influencer software we've written article that explains why using an influencer marketing software beats running a manual campaign. 
Media space
You can increase the reach of your campaign by paying for social media ads, website ads, newsletter sponsorships, or paid press distribution. By combining influencer marketing with paid media campaigns you can make sure that high-converting, influencer-generated content can be maximized across all marketing channels and drive more results for your brand. If you want to get started with amplification, check out these 5 steps to boosting influencer content with paid media. Don't forget about extra costs such as hosting your website, creating landing pages for campaigns, sending product samples, or hosting events.
A final piece of advice for anyone planning an influencer marketing budget is to be sure to plan for all eventual costs from the beginning. Remember that influencer marketing payout fees aren't the only thing you should be budgeting for. It's important to keep an eye on the extra time and costs associated with running a successful campaign. 
Your budget can be the deciding factor when it comes to the effectiveness of your campaign. If you don't allocate enough, your influencer impact could fall short of expectation. If you spend too much, it's possible you won't get the ROI you were hoping for. 
Learn how to incorporate the lessons learned in this article into your next campaign with The Ultimate  Influencer Marketing Strategy Guide.