Social commerce closes the loop between browsing social media and online checkout. Almost every social media platform has advanced social commerce features, helping customers to view, compare and buy products without leaving their social media app. Social commerce influencer strategies can help brands drive online sales with conversion-oriented campaigns utilizing commerce features and authentic influencer-generated content.
Social channels have embraced their new potential as sales channels and are creating more opportunities for creators to earn income directly on social platforms. This move by social media companies ensures their top creators remain active on their platform and continue to grow their audience of potential shoppers. These developments mean social media is no longer simply a shop window, but a genuine commerce platform. The role of creators has also changed, progressing from influencers to salespeople. We'll explore how in this new context, brands can leverage influencers to drive sales through commerce features, live social shopping, and ads. 
Influencer content enhances trust and social proof 
Influencers have already gained the trust of their followers who look up to them and enjoy their authentic content. For brands, influencer content plays a dual role in improving credibility and demonstrating social proof. Online users watching TikToks of an influencer's beauty routine, or scrolling through images of an influencer in the latest sunglasses, aren't only discovering the product, they're seeing how it's used in real life. In this way, influencer content is crucial to brand discovery and consideration which needs to take place before purchase. Long-term partnerships between brands and influencers demonstrate genuine brand affinity and build trust between an influencer's followers and the brand in question. Influencer content based on their real experience of the products makes for more authentic and convincing content which will therefore help to drive conversions in the long run. 
Influencers can leverage social commerce features
There's a full suite of social commerce features adapted to each platform that influencers can utilize to boost sales. Influencers' posts can become instantly shoppable when the right tools are integrated. By using product tags and stickers within their Instagram posts, influencers help users to easily find out more information, browse a product catalog and proceed to checkout, without ever having to visit an eCommerce store! Content creators can create stylized images featuring multiple products, effectively creating a personalized product catalog tailored to their audience and entirely shoppable from within their Instagram feed.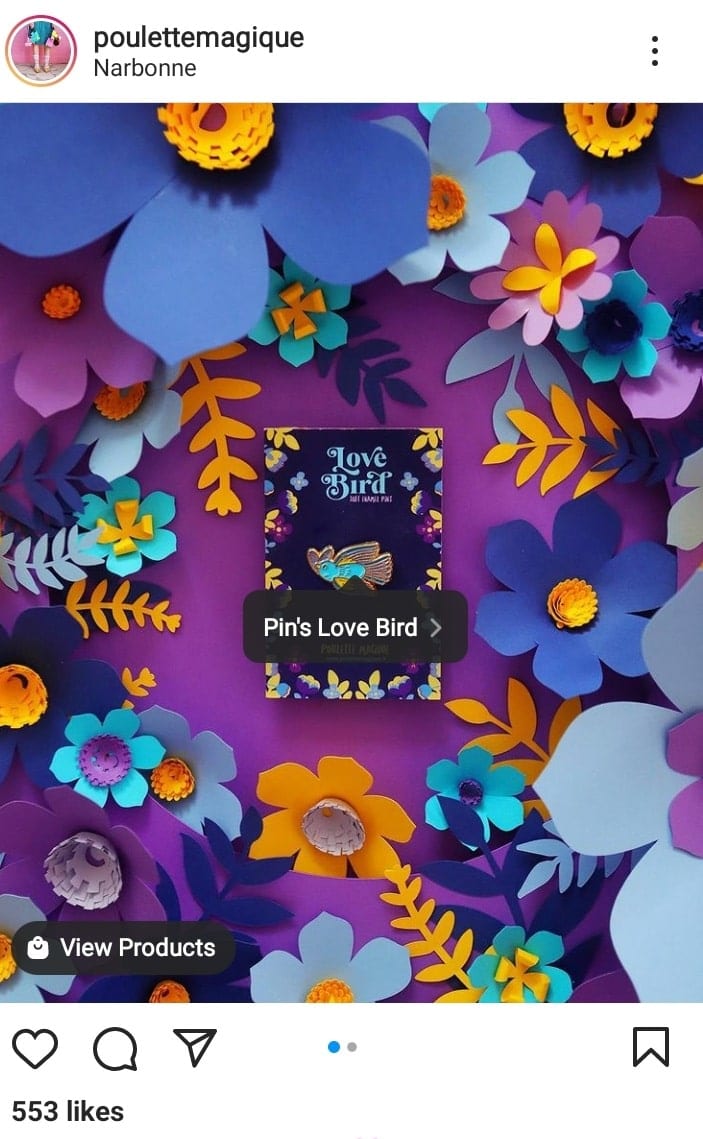 Working with Pinterest influencers is a smart way to tap into social commerce too,  thanks to product pins that offer detailed product information. This is especially useful for people in the consideration phase who want to compare products. Influencers can also create public boards around a certain theme or brand, and link to relevant content within pins such as a blog post or eCommerce site. 
Swipe-up links within Instagram Stories and the ability to link to eCommerce sites from TikTok profiles are also helping to drive sales in a way that's directly attributable to an influencer's post. Influencers can also include discount codes and affiliate links within the captions of their posts to promote sales or link directly to a brand's Facebook or Instagram Shop to enable in-app checkout. You can check out this blog to find out which platforms have the best social commerce potential for your business!
Influencers become salespeople with live social shopping 
Live social shopping is an interactive way for brands to sell on social media in real-time. A live video feed features a host presenting and testing out products encouraging people to make purchases right away through buy now buttons and embedded links. With the rise in popularity of live social shopping making its way to the West, what better way to drive even more sales than to run live social shopping sessions with well-known influencers. As trustworthy and relatable figures, influencers are the perfect candidates to go live on camera to engage with their audience and drive tangible conversions for your brand.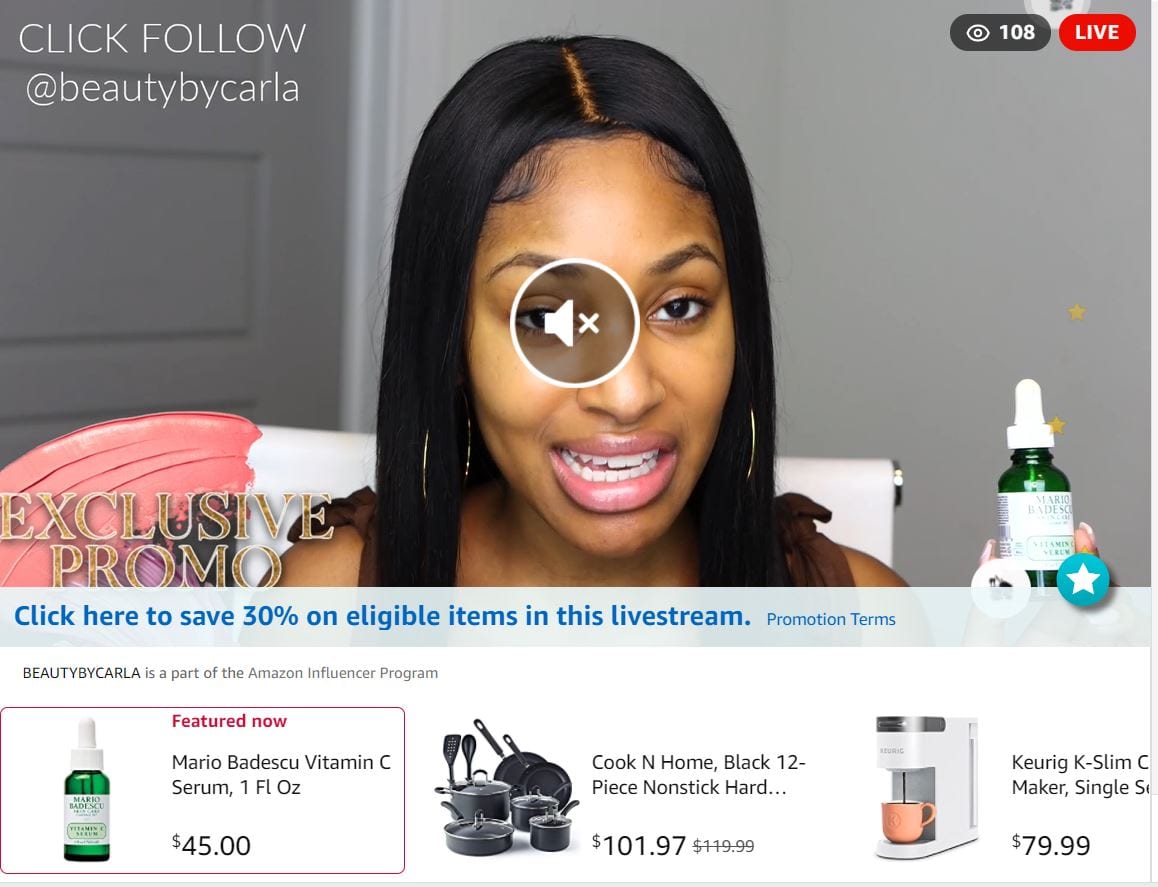 @beautybycarla is a perfect example of how an influencer can become your brand's best salesperson. With a sizable audience on Instagram (18K) and TikTok (11K), she already has a captive audience of people who love her content and she's become an A-List Amazon Live creator. Leveraging her skills for live video content via Amazon Live helps brands to sell directly to customers, as the whole purchase journey can be rolled into a few minutes of streaming. You see the product being presented, check the price, view the specifications, decide to ask a question in the chatbox, and then all being well you proceed to checkout, just like in a real store, only now it's happening 100% online! 
Use influencer content for social ads 
Influencer content can play a key role in driving social commerce when repurposed and optimized for social ads. Social media creators are experienced in making engaging content, which's far more likely to lead to a conversion than a corporate product image. You can get the full benefit of top-quality influencer content created for your campaigns by repurposing it for paid campaigns. Social media ads allow you to create ad visuals that can feature several products such as a 'Facebook Collection' ad that doubles up as a mini product catalog. You can also add a prominent 'Shop now' button and clear call-to-action which will further drive sales. 
Brands can get more value from their influencer-generated content by using it in whitelisted ads, which are run directly through the influencer's social media profile. Influencers are more familiar and relatable to social media users who are more likely to engage with influencer content than brand content, further increasing the chance of conversion. Your influencer's personal content style, plus optimization for conversions is a winning formula for social commerce sales!