In 2021, 3.78 Billion people purchased consumer goods via the internet—that's 344 million more than the previous year. The majority of this eCommerce spend came from purchases made on mobile phones. Demand for shopping on cell phones is higher than ever, at the same time content is being produced at its fastest rate, ever.
100+ million photos are uploaded to Instagram every day. 
That's just one of several social media platforms. Add in the content coming in from TikTok, YouTube, Twitter, and Facebook, and the amount of content being published to the web each day will make your brain spin.
Or, if you're a marketer it'll turn on the light bulb in your mind.
It's clear that people are 1) buying through mobile more than ever, and 2) using content consumed on mobile devices to make buying decisions. When a box arrives on their doorstep, they share the unboxing experience through their Instagram stories. They'll take eCommerce products and make before-and-after TikTok videos to share with their audience of friends, family, and fans.
Your audience, fans, and customers are creating user-generated content about your products constantly. If your brand isn't collecting UGC to repurpose across your marketing channels—you're missing out on engagement, traffic, and conversions.
User-generated content benefits range from increased reach to higher engagement, to more conversions, and many in between.
Let's discuss the 7 benefits of user-generated content. But first, what is user-generated content?
What is user-generated content?
User-generated content, often called UGC for short, is content made by consumers about a brand. Think videos, pictures, social media posts, reviews, contest submissions, and testimonials. It's often the most effective content brands can use. In comparison to brands talking about themselves, people are more likely to trust and click on content created by other people over brands, according to research conducted by TINT, the enterprise UGC platform. 
Although, just because something is posted to social media doesn't make it user-generated content. There are differences between UGC and influencer marketing posts (which are also posts from people about their experiences with a brand). 
UGC differs from influencer marketing because it's posted organically, without a contract or payment terms. Unlike influencers who are paid to post about a product (and sent scripts or specific phrases to say during their promotion), UGC is the authentic experience. It's a raving review from a happy customer who's excited about their package that just came in. And just like influencer marketing, it does wonders for eCommerce.
Why is user-generated content important for eCommerce?
Especially in eCommerce, UGC is critical. UGC allows brands to capture attention, easily hyper–personalize the shopping experience, simplify the buying decision, and increase sales. Better yet, none of this requires the brand to increase its content production budget and make more content. It's all done naturally. Brands strategically collect UGC through platforms like TINT to keep it tagged, organized, and ready to share across your marketing channels.
Better yet, it's what consumers want. In TINT's 2022 State of User-Generated Content Report, they found that 76% of consumers have purchased a product because of someone else's recommendation before and 72% of consumers believe reviews and testimonials submitted by customers are more credible than the brand talking about their products. With user-generated content, brands turn their happy customers into brand ambassadors sharing their products, brand mission, and values with like-minded audiences, which is what consumers resonate with most.
Brands realize the user-generated content benefits they can add to their marketing strategy—just by reposting their customer's existing content. Here's why they're focused on UGC as an integral part of their marketing strategy.
What are the benefits of User-Generated Content for eCommerce?
Bernard May, CEO of National Positions, a 5-time Inc. 500 company, award-winning marketing agency, and Google Premier Partner, focuses on UGC to drive results for his clients.
"Moving product online can be difficult when you are quickly trying to show the quality, features, benefits, use, and every other consideration that goes into a purchase decision. This is where providing a piece of UGC from a variety of real customers can change the game. In essence, you are building more trust, with more engaged potential customers, at a much faster rate, which is perfect for e-commerce products."
The power of UGC can be summarized in 7 key benefits: 
User-generated content reduces bandwidth and time spent on content creation
Brands can either put a huge portion of their net profits towards content production to cultivate daily touchpoints with their audience across multiple marketing channels—or, they can have their audience do the heavy lifting for them. They can cut their content production budgets (saving money on expensive shoots) and collect the most engaging, high-quality user-generated content showcasing their products. Those resources can be reallocated to your time and budget with other projects.
Kailynn Bowling, the co-founder of ChicExecs PR & Retail Strategy Firm, says "Fortunately, you don't need a lot of time or a big budget to do UGC right. UGC invites customers to do the hard work for you. Over time, you'll have a library chock full of UGC at your disposal. For very little cost, you get the quality content you need. If you're bootstrapping a marketing team, UGC builds your media library quickly," in her Inc article on UGC.
Awareness: User-generated content grabs attention
User-generated content cuts through the marketing noise of brands trying to compete against each other with in-house content. People are showing less interest in pretty brand photos and more interest in content from people they relate to. They want to see how a skincare product impacted somebody who has the same skin type as them or how somebody liked the indoor plants they ordered. UGC grabs more attention than stock images created by brands.
New York Times Bestselling author Ramit Sethi uses feedback from his happy readers to promote book sales on Twitter. He takes book testimonials, shares a screenshot image, and pulls out specific points to share in his 280-character limit tweet. Then, he adds a photo of the book as well to make it clear which of his products the testimonial is talking about.
Awareness: User-generated content boosts your reach and engagement
With user-generated content, you can expect to see more engagement from your online and in-person audiences. That increased engagement leads to boosted reach and more impressions (win-win!). Content showcasing real customers talking about their experiences leads to more interaction with user-generated content than other types of content and an expanded reach.
Kora Organics reposts user-generated content to their Instagram feed to show audience members on the fence about buying how much their customers are liking the results of using their skincare products.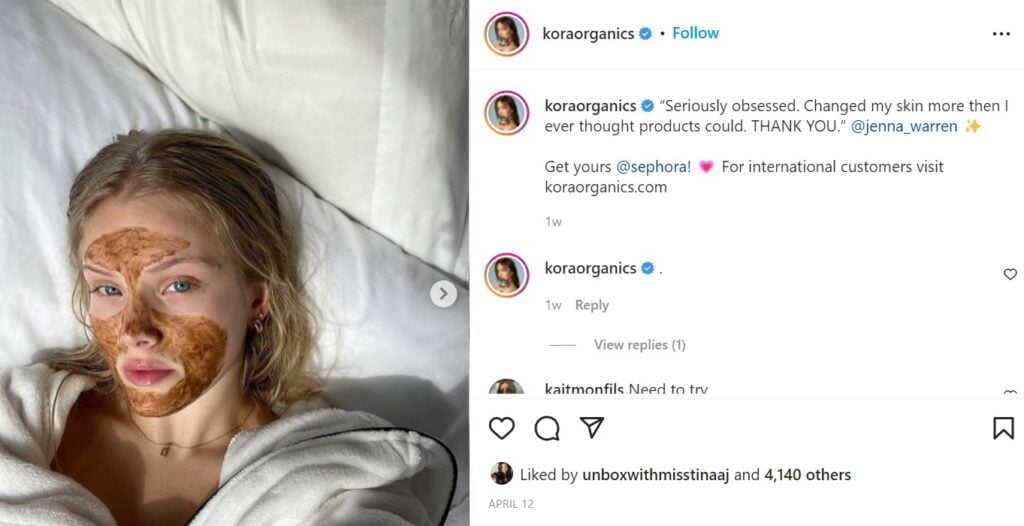 Consideration: User-generated content is the most trustworthy content
People trust user-generated content more than they trust brand-created content. UGC raises credibility levels more than a top-celebrity endorsement can. With user-generated content, brands take authenticity to the next level. Audiences, fans, subscribers, and customer avatars get to see the brand through the lens of a happy customer—and that speaks volumes.
Chipotle has dedicated its entire TikTok strategy to user-generated content. They repost the best, most aligned content from their fans and customers creating a trustworthy, credible, and authentic marketing channel. Strategizing user-generated content across its social channels has helped Chipotle cultivate a strong relationship with Millennials and Generation Z.
Consideration: User-generated content allows you to diversify and personalize the shopping experience
Giving your customers a platform to share their experiences with your products increases your brand's ability to implement diversity, equity, and inclusion organically. It also allows for increased personalization and allows your audience to relate to your content, going hand-in-hand with building trust which is critical for eCommerce companies.
As TINT explains in their article on how user-generated content impacts businesses, 
"People want to hear real stories from company leadership, happy users, and diverse voices to feel that they can connect with brands. Consumers want to buy from brands that reflect their own values and worldviews. Diversity, equity, and inclusion (DEI) initiatives are incredibly important to today's consumers."
Conversion: User-generated content increases sales by simplifying the purchasing decision  
User-generated content is better at converting leads than professional stock photos. People want to see the real, raw experience of your products. UGC simplifies that purchasing decision by allowing people to see products in different kinds of lighting, environments, and with different people. This builds trust and relatability, going a long way in easing the decision to click on the 'Buy' button.
Alongside sharing the bells and whistles of their features, ConvertKit shares successful creator stories to showcase how building an email list can help creators solidify their businesses. Their product pages feature several testimonials from happy customers to encourage leads to try out the email platform's free trial.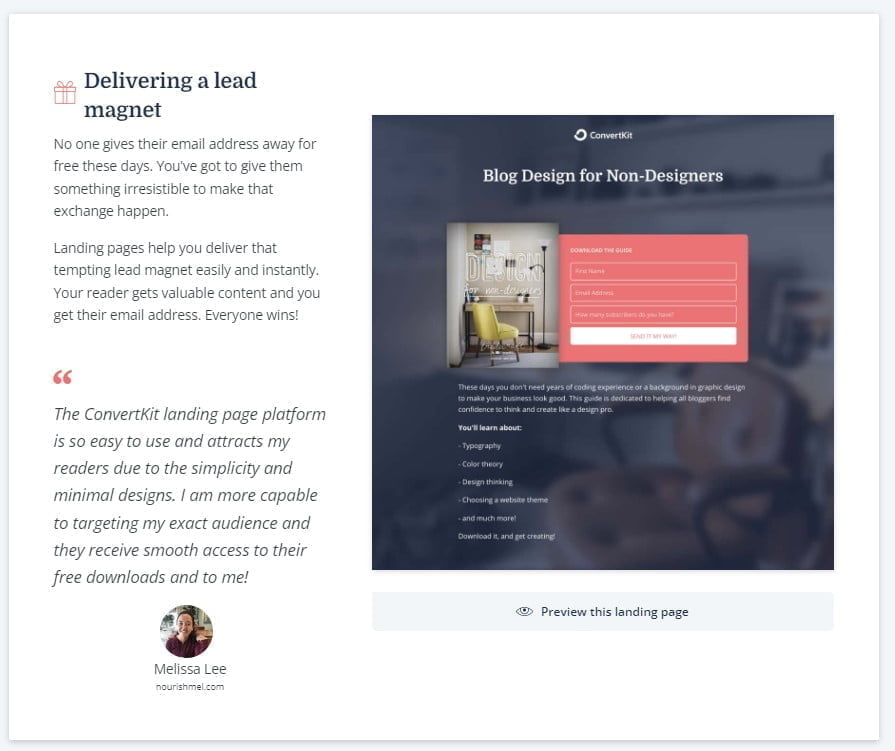 Loyalty: User-generated content gives you insights into your audience
UGC is a direct line of communication to your audience. With UGC, you can learn more about your customer, brand perception, and how customers interact with your products. This social listening gives critical feedback on areas of improvement which is crucial for eCommerce businesses. When brand perception is crafted by what people are saying and posting—knowing customer sentiment and improving on their feedback is key to increased customer lifetime value and brand longevity. Brand monitoring is a must.
Youri Hollier, Director of Digital and Social at Tim Hortons, thinks the biggest mistake brands can make is looking at their social media channels as one-way streets. 
"You have to engage in conversation. If you're not engaging in conversation, you're missing a huge opportunity to connect with guests, learn from guests, build loyalty, and improve sentiment. And I think even to this day – after social media being a thing for over a decade – it's still something that I think marketers get wrong because they're just treating it like a one-way platform."
User-generated content for eCommerce
One big benefit of user-generated content in eCommerce it's that UGC increases your return and minimizes your investment, making for a great ROI. People want to see your brand from the perspective of customers. And UGC allows for that experience. 
To see how your brand can strategically place user-generated content in your marketing funnel, and to get in on the consumer and marketing trends every marketer should know—download TINT's 2022 State of User-Generated Content Report.
If you're ready to tap into the benefits of user-generated content for your brand, schedule a demo with TINT.
This post was written by Eva Gutierrez on behalf of TINT.