Social media influencer marketing as a commerce strategy has proven to be one of the most successful sales strategies for e-commerce brands. There's no denying we're all spending a lot more time online. The internet has become central to how we work, learn, and shop. With store closures, and more time spent inside, it's no surprise that online sales are booming. This year, eCommerce sales in the US will amount to $843.15 billion, showing a 6.1% increase from last year.  Digital marketing channels such as social media and influencer marketing are therefore important tools for brands to leverage as consumers' journey to purchase takes place increasingly exclusively online.
Given the increase in mobile internet usage and the fact people are spending more time on social media, it's the perfect moment to analyze the role of social media and influencers in driving online purchases. Social media has become crucial to driving sales not only via eCommerce sites but directly within social platforms, otherwise known as social commerce. By investing in the right influential partner and aligned social channels, brands can grow their organic online reach, improving the customer experience, creating new opportunities for continued influencer partnerships, and fuelling more online sales. Let's examine how social media and influencer marketing contribute to the key stages in a buyer's journey: awareness, consideration, and purchase decision. We'll offer tips on how brands can turn social media trends to their advantage and generate even more sales with influencers and social commerce. 
Awareness and product discovery
At first glance, social media is simply a channel for entertainment, funny animal videos, and catching up with friends. But brands would be wrong to underestimate the importance of social channels in setting consumers on the path to purchase. The traditional way of reaching social media users is through social media advertising or by sharing organic posts. Brands can introduce online audiences to their products by running product giveaways and competitions, posting short video demonstrations, or utilizing related hashtags. Populating your feed with content that showcases your products and shares useful information will help users along their way in product discovery. 
Product discovery on social media
Instagram, Facebook, and Pinterest are fertile grounds for product discovery by design. New social commerce features such as product tags and stickers on Instagram and shoppable product pins and catalogs on Pinterest promote product discovery and are helping social media channels meet the needs of the modern consumer. These features are great news for brands looking to drive sales with social media. 72% of Pinterest users are inspired to shop when using the channel, even if they aren't looking for anything in particular. We recommend brands go beyond clever content creation and utilize the newest social commerce tools and integrations to raise awareness about their products to a much wider audience.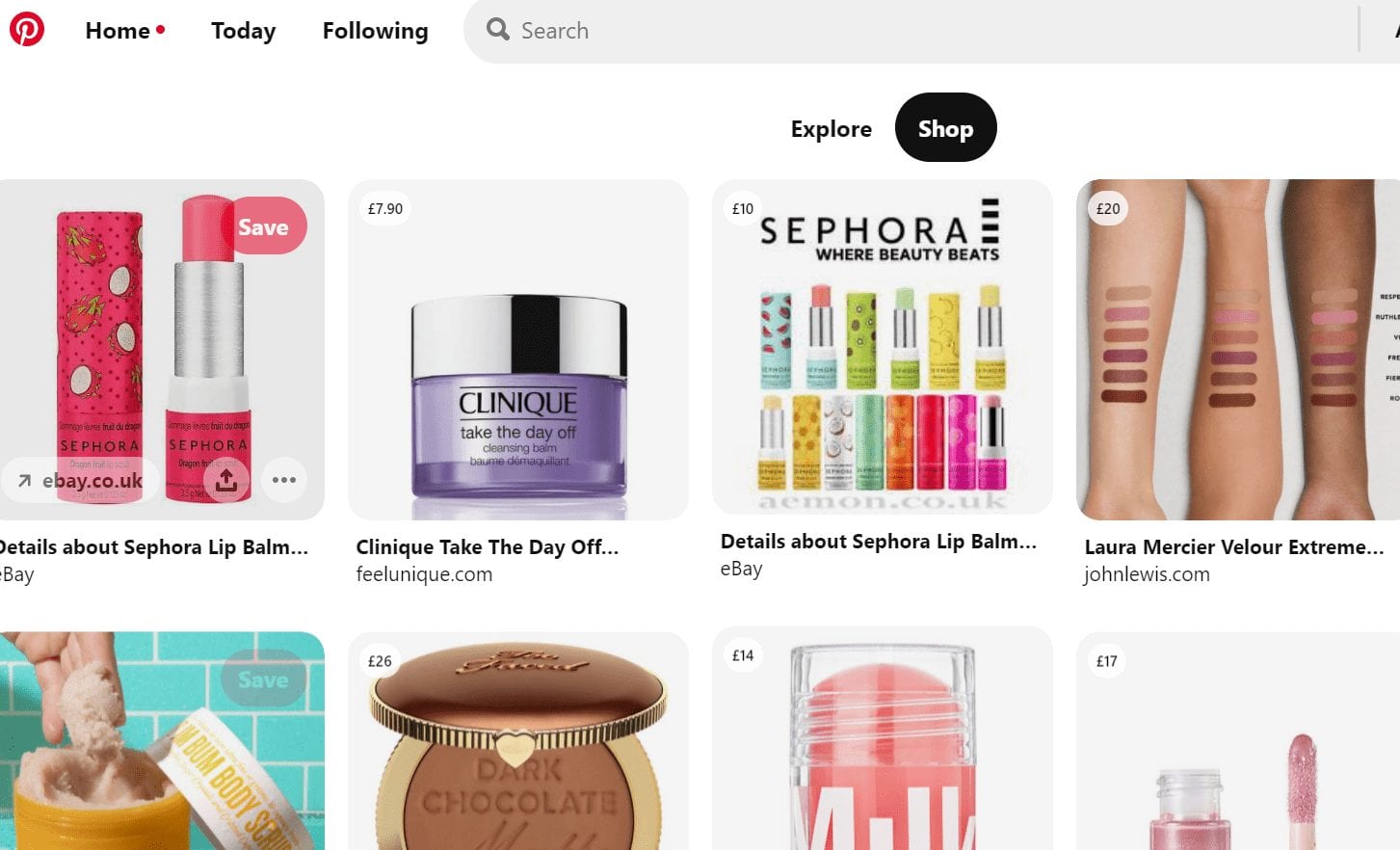 Another key factor for brands to harness is the power of word-of-mouth advertising on social. Consumers hear about brands and products from the people they follow, like their friends and family, as well as their favorite influencers. They might learn about a new lipstick from a friend who's posted a selfie on Instagram, or hear about a new smoothie blender from their favorite fitness influencer. We are far more trusting of recommendations that come from people we know or admire. A study shows that a high proportion of people (93%) trust friends and family as a trusted source for product recommendations. Businesses can use this to build online brand awareness by turning their customers, fans, and followers into ambassadors. Offering incentives to your happy customers in exchange for them posting about their positive brand experience on social media will be sure to generate more interest in your brand from your target audience. You can check out our blog post for tips on working with brand ambassadors. 
As already mentioned, influencers are key actors in promoting brands on social media in the early stages of the purchase journey. Influencer campaigns are a great way to help new audiences discover your products. You could team up with an influencer to promote your seasonal product line, collaborate on a signature product or even curate a product collection. One great example is from dessert company Gü which partnered with influencers to promote their Valentine's Day pudding collection. The selection of foodie influencers shared sponsored posts showcasing the Valentine's Day packaging and ran a giveaway competition for their followers. A great way to drive high engagements on sponsored content and get your products into new hands! 
Influencer content can also go further than helping people find your brand at the 'discovery' stage. Creator content can show people the real benefits of your products and how they work – an essential part of the 'consideration' step in a buyer's journey.
Consideration – weighing up the pros and cons 
At this stage in the purchase journey, a potential customer knows what they're looking for. They might even have some product models in mind, but what will convince them to choose your brand? That's where social media comes in! Customers will be looking to compare prices and features before making their final decision. By leveraging influencer content such as product reviews, how-to videos, and social proof, brands will be able to stand out from the crowd. 
According to Trustpilot, 9 out of 10 consumers read reviews before buying. So sending free product samples and asking a selection of influencers or real customer brand ambassadors to post a review is a great tactic here. It's relatively cost-effective for brands and it leads to content that offers an in-depth insight into the product and should address any unanswered questions potential customers might have. A positive product review, not only shows off your products at their best, it showcases the coveted seal of approval from real customers and influencers alike, another motivating factor encouraging undecided people to buy from you. 
An important element in this is authenticity. For an influencer to be convincing and natural in promoting your brand to their audience, they need to genuinely understand your brand, your products, and your values. One way to address this is by working with influential customers – they have authenticity in spades! Your customers, by definition, are already fans of your brand and know your products inside out, so who better to promote your brand to an online audience? Using a tool such as Upfluence can help you identify customers with the most valuable social media reach so you can activate them as influencers and ambassadors for your brand. Learn more about the advantages of working with organic influencers in our blog post.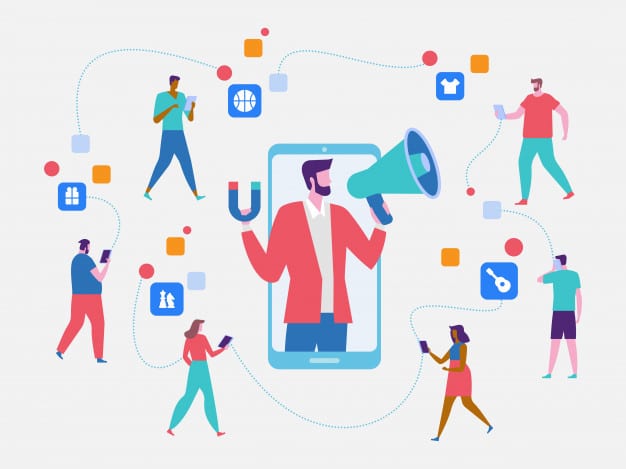 Another way that social media is crucial in the consideration phase is the possibility for users to communicate directly to brands through direct messaging. Let's imagine you want to buy your partner a new watch for Valentine's Day. You saw a design you liked being worn by an influencer in a recent Instagram post, you scroll back a little further – it was mentioned in their holiday gift guide collaboration with the brand. You visit the brand's Instagram profile to investigate further. By now you've been looking for the perfect watch for two weeks and you've got watch ads popping up left and right and center. You want to make the right decision – but there's so much choice! You need to make sure it can be delivered to your country so you reach out to the same brand on Facebook Messenger. Good news, they can deliver to you and have even sent you a link to their Facebook Shop, it couldn't be easier to buy the watch! 
We've skipped ahead a little, but it's clear that having that quick and easy direct contact through brands via direct messaging on social media can help answer important customer questions and tip the balance in your favor at the consideration stage. 
Purchase 
As we saw in the above example, more people are conducting their whole purchase journeys online. Thanks to the likes of Facebook Shops and Instagram Shops, placing an order and checkout can now happen directly within social media platforms. We know that customers seek out convenience when shopping online, and what could be more convenient than seeing a post about a product you like and then being able to buy it just a few seconds later, without even switching tabs? Social commerce helps to seal the deal by providing a frictionless checkout process. Integrating product catalogs and easy-to-use checkout systems within the familiar setting of a social media platform that someone uses daily makes it a far more preferable option for consumers.
We've seen how at each stage of the purchase journey, social media channels offer levers to help influence the buying decision. A successful marketing strategy will leverage key elements such as influencer marketing, social commerce features, and direct messaging to drive even more sales along the way.
Take the next step in delivering your influencer marketing campaign with our guide, Everything You Need To Know About Running Influencer Marketing Campaigns.