In between Black Friday and Cyber Monday is the day dedicated to supporting small businesses: Small Business Saturday. During the holiday season shoppers are lured in by the huge discounts offered by the big players such as Target, Walmart and Amazon. To make sure that small businesses don't miss out during this key shopping period, American Express launched the first Small Business Saturday in 2010 to take place every year on the Saturday after Black Friday. 
When is Small Business Saturday? 
In 2022 Small Business Saturday is on November 26th in the US, and on December 3rd in the UK. 
Why promote your business on Small Business Saturday? 
The giant retailers who have huge advertising budgets make it difficult for small businesses to stand out from the crowd during the busiest shopping period of the year. If you own a small or local business, Small Business Saturday is the perfect opportunity to connect with local shoppers and drive more sales! As a small business owner you've no doubt faced many challenges in recent times, from Covid-related closures and a looming recession. However, there are reasons to be hopeful about a Small Business Saturday campaign! The NRF reported that last year, 51 million people participated in Small Business Saturday. Want in on the action? Let's find out how you can promote your business! 
How to promote your business on Small Business Saturday?
The key to promoting your business is to use marketing materials in-store and online to tell the story behind your business. You want to connect with local customers by showing them the unique value your brand offers and how they can also support the local economy by shopping from small businesses.  Use tactics such as discounts or limited edition offers to drive sales on the day itself and boost your revenue. Don't forget to tap into digital marketing and social media to build a buzz around your campaign! 
Here are 5 ways you can boost your brand this Small Business Saturday! 
Start your Small Business Saturday communications early!

Remind people why they should shop from small businesses

Launch in-store promotions 

Use social commerce to sell online

Run an affiliate program with influencers
Read on to dive deeper into each of these strategies and get tips to put them into practice this year!
Start your Small Business Saturday communications early!
In the frenzy of holiday shopping, a lot of consumers plan their spending around Black Friday and Cyber Monday as they're the most well-known events. This means that small businesses should publicize what they're organizing for Small Business Saturday ahead of time so customers know what to expect. 
Decide early on how you're going to mark the occasion, with holiday promotions, an in-store event, or maybe an online campaign? Then prepare your promotional materials so people are aware of Small Business Saturday and how they can support your business on the day.
You should mix and match online and offline strategies to spread the message. For example, you can create dedicated social media banners and profile photos for your brand's social media profiles, you can send a dedicated email blast or launch a countdown to the day via social media. Don't forget to incorporate the hashtags #SmallBusinessSaturday and #ShopSmall in your online communications! If you have a brick-and-mortar store you can also put up stickers and signage in the store or hand out flyers promoting the event. 
Remind people why they should shop from small businesses
During the holiday season, many businesses are pouring the lion's share of their ad spend into advertising promotions. But don't worry if you don't have a huge advertising budget. Small businesses can connect with their customers in a way that's more powerful than large conglomerates. Remember, people connect with personal stories more than ads, so why not put your business' origin story at the forefront? Utilize social media, local radio and TV spots, or local press to talk about how your business got started and introduce the people behind it. Think about what makes your products unique and how people can support their own community by shopping with you. You could take a moment to highlight some key members of staff, post a 'flashback Friday' or share a 'how it started vs. how it's going' post.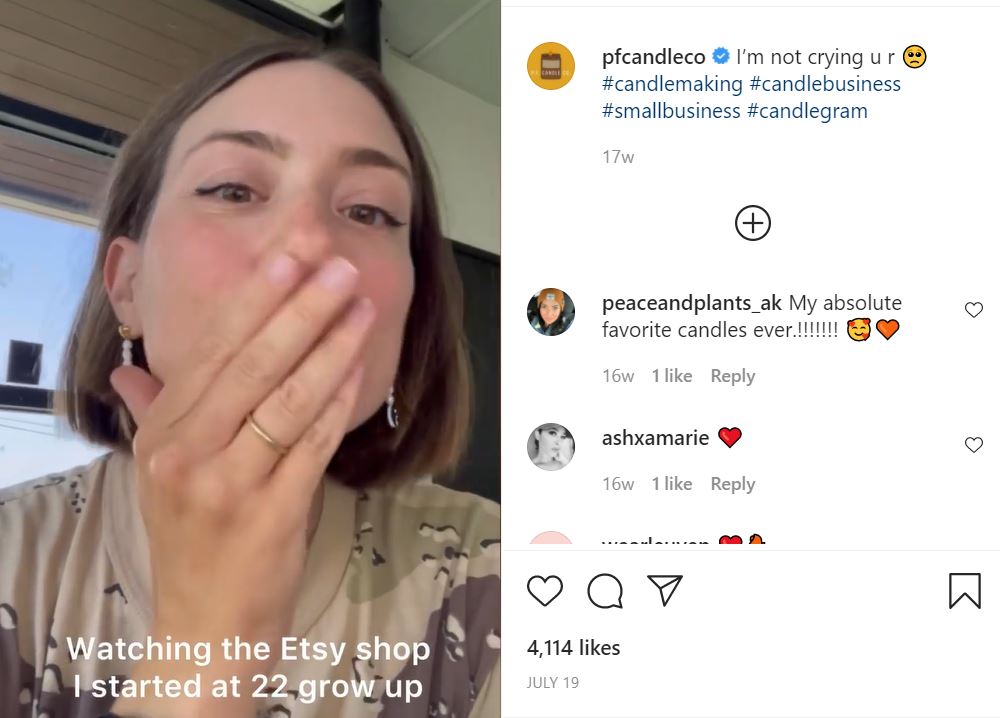 Launch in-store promotions 
To drive more sales during Small Business Saturday, consider launching a sale on selected items, creating holiday gift bundles for a discounted price, or offering a $5 gift card when customers spend more than $50. You can leverage urgency and scarcity tactics by running a one-day-only sale or encouraging people to shop from your holiday line before stocks run out. In brick-and-mortar stores, you could also have product samples and demonstrations on-site or offer a free gift with every purchase. These are some of the many ways to offer a small incentive for new customers to come in and shop. 
Get inspiration from independent plant shop Ansel and Ivy who offered a free watering can to the recipient for gift card purchases over $100.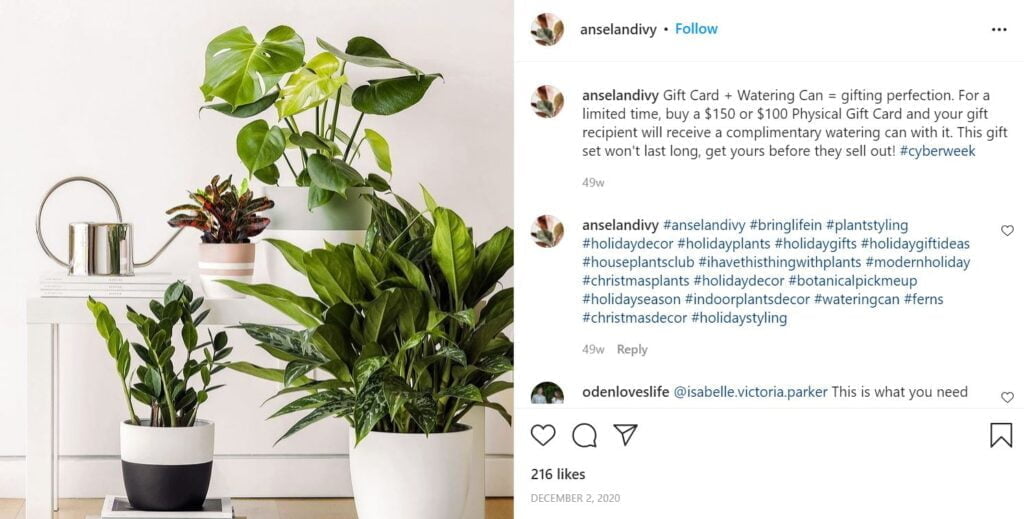 Use social commerce to sell online
Leverage social media as part of your sales strategy for Small Business Saturday by utilizing the social commerce features available on your brand's social media pages. You can drive sales with in-app shopping on Facebook, Instagram, and Pinterest for example, highlight your best-sellers with product stickers in Instagram Stories, and share curated product catalogs with product pins. When promoting Small Business Saturday in your social feeds you can boost conversion rates by making every post shoppable and encourage more online sales by offering free delivery or a limited time discount.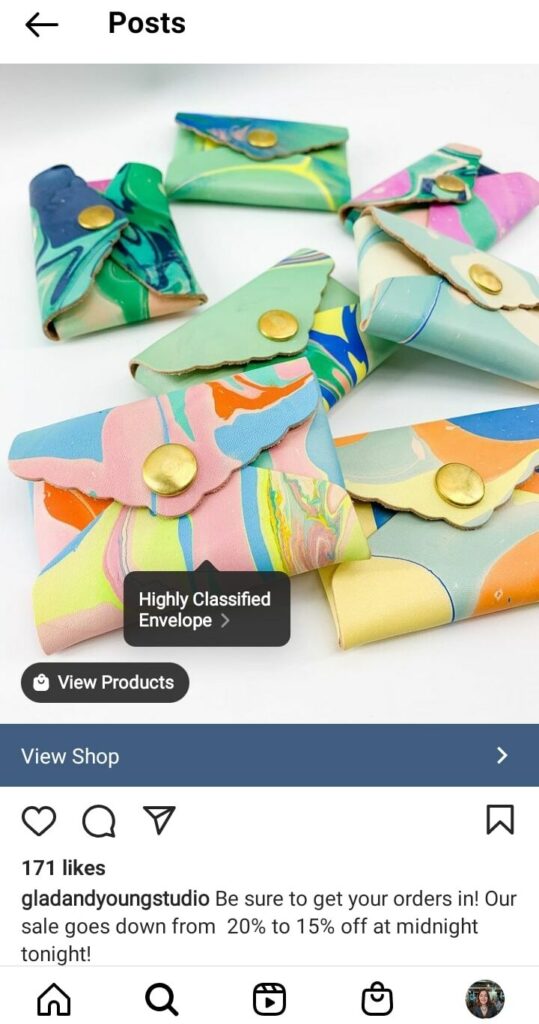 Social media is an important tool for connecting with your online audience, it's great for brand storytelling, showcasing your products, and driving sales! It's the perfect way to complement in-store sales by offering customers a seamless way to purchase online, helping you reach a much broader audience and going beyond people in your local area! 
Run an affiliate program with influencers
Influencers can help boost the reach of your Small Business Saturday campaign and help you drive sales! You can work with locally-based influencers whose audience will likely be based close by to your store to promote your products. Your influencers could come for a private tour of your store or workshop and create some teaser content ahead of the day itself. They can promote their favorite products, and show how 'shopping small' aligns with their values, and encourage others to do the same. 
If you have an e-commerce store then consider launching an affiliate program. Your affiliates can drive sales directly for your business by publishing a discount code or affiliate link on social media to encourage their audience to shop with your brand. This is a great strategy for small businesses because the risk is completely reduced – you only pay affiliates based on the number of sales they generate for your store. It means guaranteed ROI and you don't waste money on marketing strategies that don't pay off for your brand.
Do you want more ideas to ace your holiday season marketing this year? Check out our expert guide to Holiday Season Influencer Marketing for top tips on working with influencers to maximize sales during Black Friday and beyond!