What is a YouTube influencer?
A YouTube influencer is someone who creates and publishes video content on YouTube in order to grow and engage with their online audience. The number of subscribers needed to be considered a YouTube influencer varies. Nano-influencers, for example, may only have a few thousand subscribers (between 1,000 – 5,000) usually, whereas a macro-influencer will have over 500K subscribers. 
YouTube influencers work across many industries including tech, fashion, beauty, fitness, and more! Common forms of YouTube influencer content include shopping hauls featuring products from their favorite brands, product review videos, unboxing videos, livestreams, and how-to videos. Brands that sell products that benefit from additional explanations and demonstrations can leverage YouTube creators to share this kind of engaging and educational content that can in turn influence purchase decisions. 
Why work with YouTube influencers?
Video is known as one of the most engaging content formats. It's therefore not surprising that people spend so much time on YouTube, the leading online video platform. In fact, people watch over a billion hours of video every day on YouTube. This makes it a very strategic platform for brands to use to engage their audiences. 
People are coming to YouTube to watch funny videos and learn about subjects that interest them. It's the second largest search engine on the internet, meaning the potential to reach new users interested in your industry niche is huge! That's where influencers come in. Teaming up with YouTube creators helps brands to communicate educational and entertaining content about their products in an authentic way. 
YouTube influencers build an engaged audience by posting highly watchable videos that show off their personality and interests. They build trust by posting regularly, interacting with their subscribers in the comments, and creating the kind of content that they want to see. Brands can harness YouTube creators to reach new potential customers who are already engaging with related videos on the platform. While people may skip past your brand's YouTube pre-roll ads, they're far more likely to tune in to a video posted by their favorite YouTuber that features your products in a more authentic way.
It's not only a great way to create engaging content for your target audience, it can also lead to sales. 70% of people report having purchased a product after seeing it promoted on YouTube. This proves the potential for YouTube to be a key channel in your paid media and influencer marketing strategies. 
Before we jump in, I think this guide will be useful for when you expand your search beyond YouTube. It will prepare you for influencer search more generally and it's jam-packed with top tips and practical advice!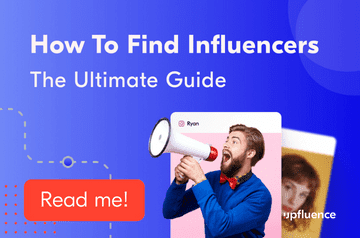 Ok, let's get started!
Use Google and YouTube to manually search for influencers
Let's start with the most basic way to get started with your influencer search. If you know the industry niche and products you'll be promoting, you can start by simply searching for influencers using keywords. As mentioned above, YouTube is a very popular search engine and so is designed to surface the most relevant results according to your search terms. If using Google, then don't forget to filter your results by 'video' to help you find YouTube creators faster.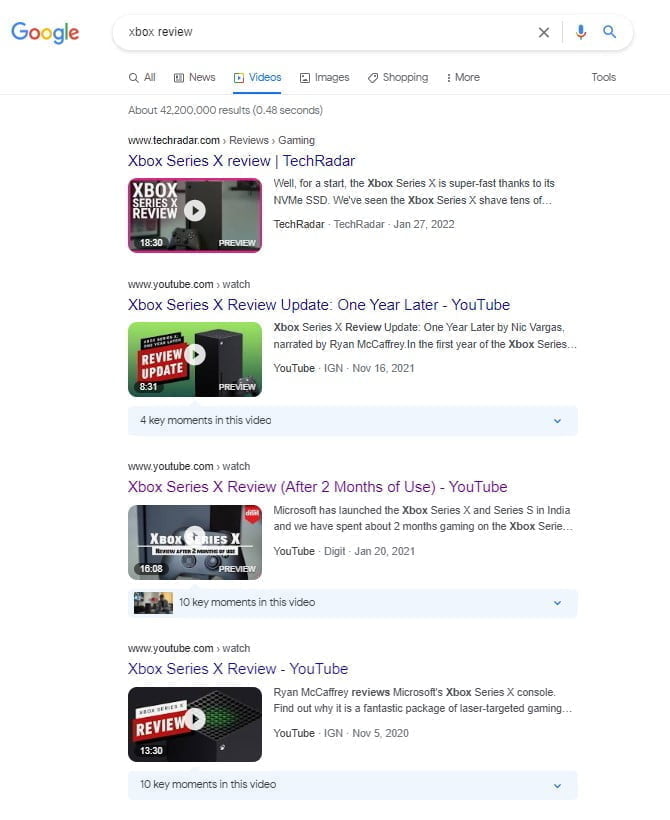 On YouTube, you can also find highly relevant results by searching using hashtags. Many creators will use key hashtags in the video description or title to make their content more discoverable. By searching through the results of your hashtag search, you're very likely to come across content from relevant YouTube creators. The example below shows fashion influencers who have posted videos featuring the hashtag #clusemas as part of watch brand, Cluse's holiday influencer campaign.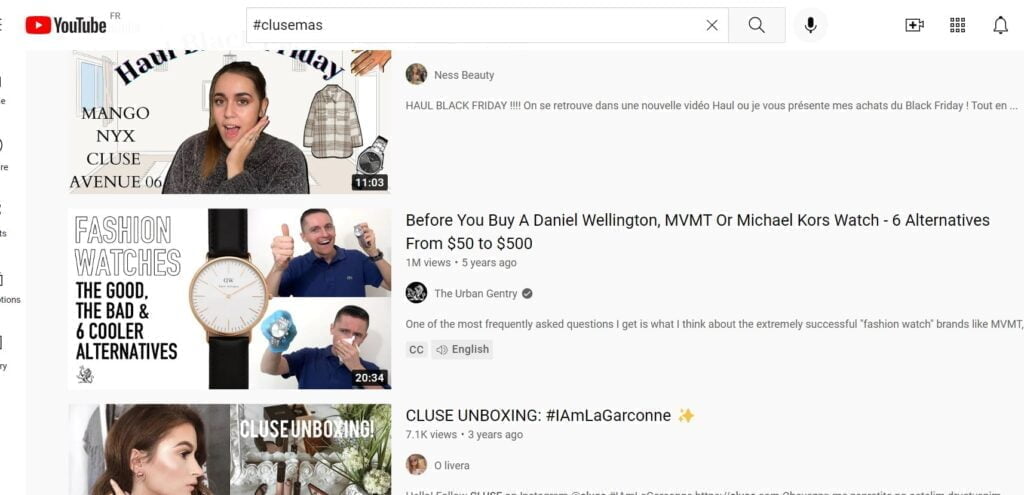 Finally, you can also use YouTube to find suitable creators by searching the 'explore' tab featured in the left toolbar. This tab brings together trending videos based on the content you've already watched. You can also use topic filters such as fashion and sport to see a feed of the trending videos for those niche areas. 

While these techniques are 100% free and are a good way to become familiar with popular content creators in your niche, it's not a foolproof method for finding YouTube influencers. First of all, with very limited possibility to use filters, you cannot do a very targeted search for influencers as you would using a dedicated influencer database. Using YouTube and Google means you may also get results from brands and media outlets instead of creators. All in all, these methods offer little precision and will take up a lot of time before you've compiled a list of suitable influencers. 
Search for ready-made influencer lists
As influencer marketing has become a popular strategy in literally every industry many blogs and online publications have begun publishing lists of influencers in certain niches. It's a way for industry blogs to highlight the most popular influencers of the moment and give brands inspiration for their next campaign. Influencer marketing has grown so much that it's often hard to know where to start if you want to know who are the top influencers in a certain industry. With new creators arriving on social media every day it's become quickly saturated and brands are overwhelmed with choice. That's why looking at curated lists of the top-performing influencers can help you narrow your search and understand more about the characteristics of creators in your niche. 
The example below shows how easy it is to find quality lists of influencers in your niche with the hard work already done so you don't have to! A simple search of 'plant influencers on YouTube reveals over 4 billion results with many top lists appearing in the first few pages of results. Yes, these lists may feature the same influencer profiles, but they will definitely give a good indication of the most well-known influencers in your niche!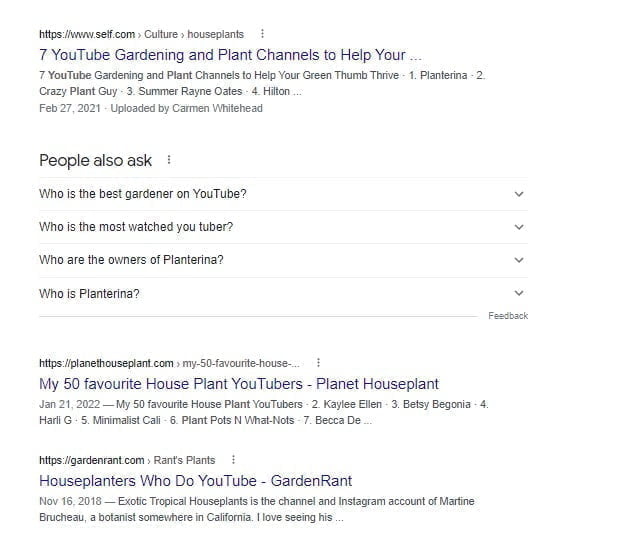 Use an influencer marketing platform
For those looking to find both quality and quantity in their influencer search, using a dedicated influencer marketing platform is a good idea. Platforms like Upfluence have a large influencer database of creators making it easier to export lists of relevant influencers in one go. Using a database offers much more advanced search filters, helping you to find the most relevant influencers right from the beginning. Using Upfluence's influencer search tool you can search using 20+ advanced search filters, allowing you to search for influencers according to platform, location, engagement rate, language, keywords, and much more! Influencer marketing platforms offer a more targeted search, helping you to find the best influence profiles in record time. 
Here's a sneak peek at how you might use Upfluence's influencer search tool to find influencers to promote your gardening brand.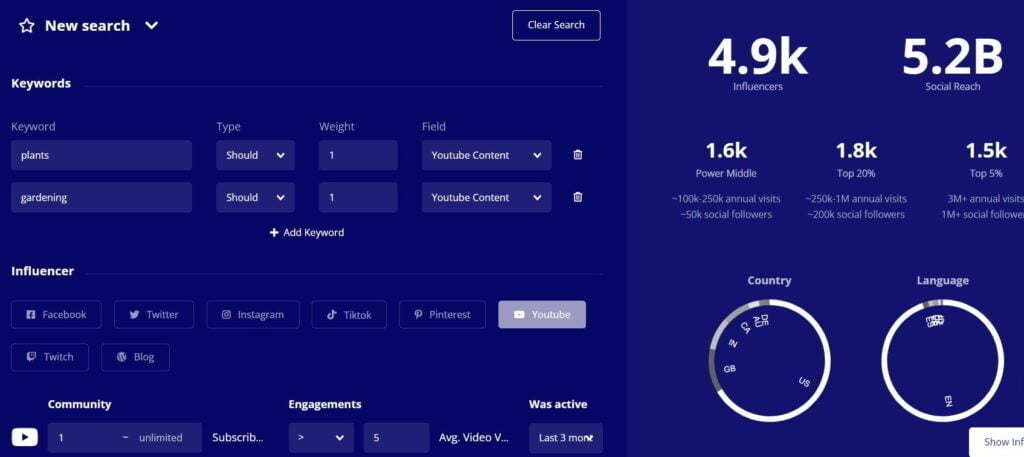 Turn your customers into YouTube influencers
Another way to find YouTube influencers is by looking at your current brand network. You may already have influential YouTube creators within your brand's community of customers, employees, subscribers, and social followers. Working with influencers who already know and love your brand can lead to collaborations that are 52% cheaper for your brand. Plus, as they already have experience using your products, content created by your influential customers will be totally authentic too!
Using Upfluence's integrations with Shopify, WooCommerce, Klaviyo, and Zapier means brands can simply connect their contact databases to Upfluence to begin analyzing social reach data and identifying influential contacts in their network. The whole process takes minutes and will provide you with a great shortlist of influencers who already love your brand and so are primed to be activated in your next campaigns! 
Get started on your search for the best influencers for your brand with How to Find Influencers – The Complete Guide, jam-packed with top tips and practical advice!