Tiktok is making a name for itself as one of the most important social platforms for social commerce. In its early days, it was primarily the domain of dancing adolescents; now brands have discovered the platform's potential for reaching their next generation of customers. For brands looking to sell more on TikTok, a recent wave of commerce features and more advertising options have opened up a whole new sales channel for digitally savvy businesses. 
However, to succeed in selling on TikTok you shouldn't simply copy and paste your current marketing strategy. Brands need to align content to the expectations of users – short, entertaining, and engaging videos that don't look or feel like ads. Indeed, advice from TikTok to brands is 'don't make ads, make Tiktoks'. While this might seem daunting for the uninitiated, there are plenty of strategies you can leverage such as influencer marketing, in-app selling, and paid ads. Let's look at the best ways to sell more with TikTok!
Get on the 'For You' page
The 'For you' page is a curated feed of TikTok content that's personalized based on users' preferences and interactions on the platform. Having your brand's content featured on the 'For You' page is a big boost to brand visibility and the first step in generating more sales. While there are no hard and fast rules to crack the algorithm, your brand's TikTok content should be following some key best practices. These include creating engaging content by tapping into trends on the platform, using relevant and popular hashtags, and keeping people watching right to the end of your videos. You can find more tips for optimizing your brand's organic TikTok content for the 'For You' page in our CEO's recent answer on Quora. While brand content is key for establishing a strong online presence, influencers can help you scale reach and sales – we'll find out more below. 
Collaborate with TikTok creators
Partnering with high-performing TikTok creators is a smart strategy for brands looking to grow their revenue. If you are new to creating content on TikTok then try leveraging the content creation expertise of influencers. They know how to tap into content trends and make videos that will entertain and resonate with TikTok audiences. 
Creators who use your products and have an affinity with your brand are perfectly placed to promote your wares in an authentic and convincing way. Influencer content on TikTok can help brands to drive sales in a less intrusive way than traditional advertising. Videos that are fun and engaging – a must for TikTok –  are likely to be more memorable than corporate-looking videos. This can have a huge benefit when it comes to sales. In fact, TikTok reported that 25% of users bought or researched a product after seeing it featured in a TikTok.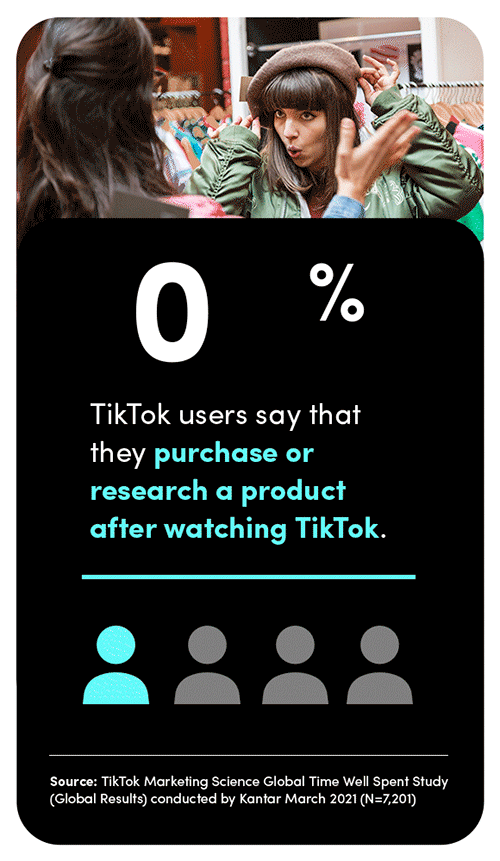 You have several options for promoting product discovery, such as having influencers feature products in one or a combination of the following ways:
as part of a day-in-the-life post/video

outfit-of-the-day post, 

in a how-to video, 

or as part of a branded TikTok challenge. 
Don't forget to use a branded hashtag with your challenge! This can prove a very effective strategy as TikToks using a sponsored hashtag have an engagement rate of 8.5% on average. By creatively featuring products in content designed specifically for TikTok, creators are nurturing your next generation of customers. With the addition of a clear call to action, a link to your shop in their profile, and brand mentions, influencer content is crucial for launching customers on a social-driven journey to purchase.
Promote purchases with shopping experiences on TikTok 
With the rise of viral brand challenges and the popularity of the hashtag #Tiktokmademebuyit, the platform has become a huge player in social commerce. As such, TikTok is investing in ways to monetize the platform for creators and help brands to sell more. A great example of this is TikTok's partnership with Shopify, launched in 2020. It has helped e-commerce merchants leverage TikTok as a sales channel by creating native shoppable video ads and helping them easily track conversions of their ad campaigns. 
The latest feature to be announced is that brands can now include a shop tab within their profile, allowing them to display all their products within a native TikTok storefront. They'll also be able to add product tags within their organic posts, helping users to easily click through to purchase. Building a native shopping experience within TikTok is key for creating a seamless purchase journey and encouraging more conversions. To be able to navigate quickly from product discovery (in a TikTok video) to consideration (thanks to product information in the Shop tab), and finally to purchase (via a link to merchants' online checkout) will greatly accelerate the number of sales generated through TikTok. 
Shopify is bringing commerce to TikTok. Social commerce is the next frontier of entrepreneurship. Shopify is the infrastructure powering the creator economy, unlocking shopping for creators & brands. We are creating the ability to convert fans➡️customers.https://t.co/wvQbnB95dF

— Harley Finkelstein (@harleyf) August 24, 2021
Sell more with TikTok ads 
Thanks to strategic audience targeting and the 'Shop now' button, paid ads can directly boost a brand's sales through TikTok. Using paid media to optimize your brand's and your influencers' best TikTok content to generate sales in this way will help you get more from your content and improve your marketing ROI. Creating in-feed shoppable video ads that look like TikToks offers seamless discovery and purchase, helping to scale your sales strategy. Research from TikTok shows that video ads on the platform are most effective when shot in high-resolution, are between 21-34 seconds long and feature a clear call-to-action.
Levi's was one of the first brands to be able to test out advertising on TikTok. By repurposing high-performing influencer content as clickable paid ads they were able to increase engagement and website traffic, doubling views of products featured in the campaign. This shows why TikTok advertising should have its place within your social commerce strategy! If you want to learn more about repurposing influencer content for whitelisted ads on TikTok, check out our step-by-step guide to whitelisting. 
@callenschaub

Loved creating my oddly satisfying Levi's jeans last month. Get my bespoke design at Levi.com! #ad
TikTok has gone one step further in helping brands to sell more through influencer-generated content with the launch of Spark ads earlier this year. This new ad format allows brands to sponsor organic content that aligns with their aims and features their products, without having to create any content themselves. It enables them to leverage content that's already trending on TikTok and direct it to strategic audience segments. Imagine a TikTok creator has mentioned your product in a make-up tutorial video, your brand can then sponsor that piece of content as a paid advert to your chosen demographic as a way to maximize the reach of content that's already performing well organically and increase brand awareness. 
The best TikTok sales strategy will use a combination of influencer campaigns, organic brand content, social commerce features, and paid advertising. For your TikTok sales strategy to have the most impact on your brand, be sure to create content that fits in seamlessly with organic content. Don't forget you can maximize your ROI by reusing high-performing content created by your brand or your influencer partners as paid media for a targeted method for driving sales among specific audiences.