If you're an online brand that isn't using social media as part of your affiliate marketing strategy then it's time to listen up! As a brand marketing and selling online, you need to meet your customers where they are—scrolling TikTok, watching YouTube, and posting on Instagram. The easiest way to use social media for affiliate marketing is activate social media influencers in your industry niche as affiliates for your brand. Choose a social network that is relevant to your brand's audience, then launch a dedicated affiliate program there. Influencers will post content that includes an affiliate link or promo code, driving more people to your store to make a purchase! 
The rise of social commerce and the popularity of social media influencers means brands should start doing affiliate marketing on social media channels instead of relying on blogs, review websites, and mailing lists. Consumer behavior is evolving and your affiliate marketing strategy needs to move with the times! Social media is fueling product discovery and purchases, making it the best channel for affiliate marketing. In this article, we'll dive into why brands should do affiliate marketing on social media, how to work with influencers, and launch an affiliate program on social media.
How does affiliate marketing work? 
Affiliate marketing is a sales-boosting strategy where brands work with affiliate partners to promote their goods or services in exchange for a percentage of the profits. The basic process for generating sales through affiliate marketing is this:
The brand mandates its affiliate partner to promote its products/services. 

The affiliate shares a coupon code or tracked purchase link with their audience. 

A person clicks on the link and is taken to the eCommerce store to complete their purchase. Or they use the affiliate's coupon code at checkout to benefit from a discount. 

Each sale generated from the affiliate's content is recorded and attributed. 

The affiliate receives their commission based on the number of sales generated. Their payment is usually a flat fee per sale or a % of the profits from each sale. 

Go back to step 2 and repeat! 
Need more help developing your affiliate strategy? Read this in-depth guide to building an eCommerce affiliate strategy. 
Why should brands use social media for affiliate marketing?
Affiliate marketing isn't a new strategy. Affiliate marketers have been around for a long time, building up audiences for their blogs, website, or mailing list. Most affiliate recommendations would happen within a blog where an affiliate reviews a product, explains how to use it, dives into its strengths and weaknesses, and includes an affiliate link to purchase it. This means that every customer who has read their blog and gone on to purchase the item generates a commission for the affiliate. 
Here's an example from Spruce Eats, featuring their article 8 Best Slow Cookers for 2022. The blog format is usually a comparison of several products or a list of the top products that year with an accompanying product review. This helps affiliates target people who are further along their purchase journey and are considering their next purchase. You can spot an affiliate blog because it'll include a disclaimer like the one below explaining that the author may earn a commission from links in the blog.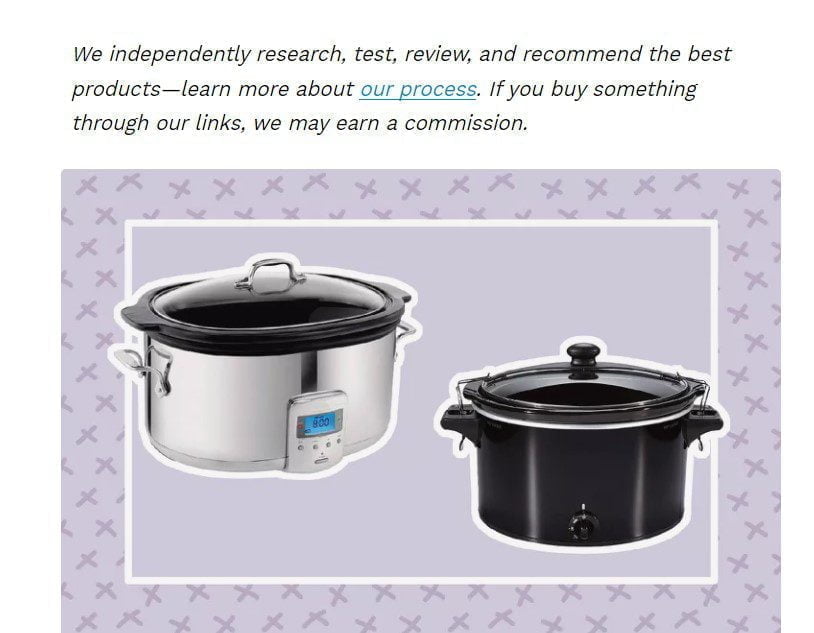 The article includes an in-depth review of several slow cookers, including a star rating, pricing information, an overview of the top features, and the affiliate's opinion on the slow cooker's strengths and weaknesses. Crucially, the link to buy is made visible and easy to click on to help customers make their purchase.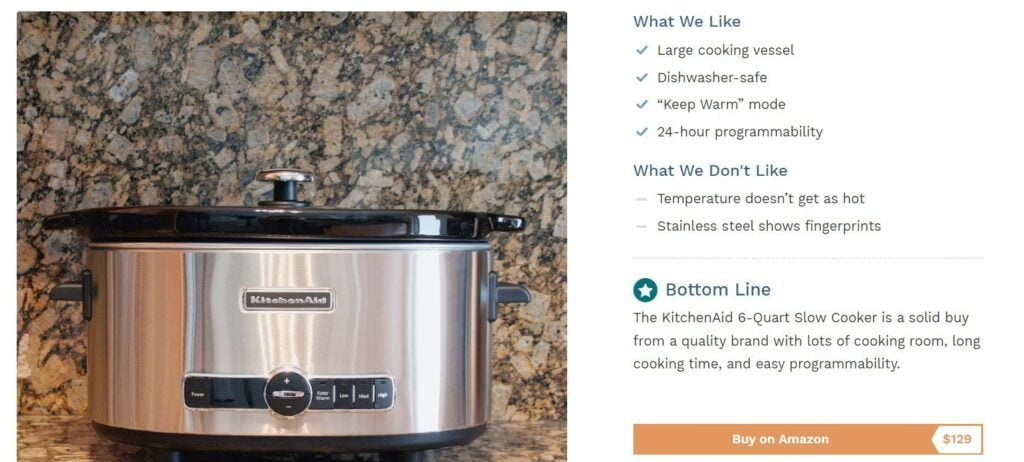 But what does any of this have to do with social media? 
Well, as we said at the beginning, to succeed in digital marketing you need to meet customers where they are, and they're increasingly spending more time on social media following their favorite influencers and learning about new products than scrolling blogs. That's not to say that traditional affiliate marketing through blogs is dead. However, even if affiliate blogs are working for you right now, you could see even better results with affiliate marketing on social media. 
Here's why. 
The rise of social commerce
Social commerce is huge! It's growing really fast, three times as fast as traditional commerce, and will reach $1.2 trillion by 2025 according to Accenture. Social media channels like TikTok, Instagram, and YouTube are driving product discovery. People are hearing about new products from their favorite influencers or their friends and family who are creating user-generated content. In fact, 55% of US social media users are purchasing products they first discovered on social media. This is a huge opportunity for brands that are doing affiliate marketing! People are receptive to receiving product recommendations via social media and are even seeking out content to help them make a decision about buying a product or not. 
Video content is king!
Social media offers brands many different content formats to test and see what works best. Right now, short-form video content is king, meaning fewer people are likely to engage with long-form blog articles. Working with your affiliates to create video content will help them engage and convert more customers. Video content brings a product to life and adds a new dimension to how-to videos. Showing your product in action is the best way to convince someone of its value! 
Not to mention the power of live streaming for generating sales. TikTok has seen huge success for livestream shopping in Asia and is looking to replicate this in European and American markets. The potential for live video content to impact sales is huge! TikTok reports that 50% of all users have made a purchase after watching live content on the platform. 
Boost audience reach
Using social media, whether that be TikTok, Snapchat, or Instagram is one of the most popular online activities. In 2022 there are more than 4.5 billion social media users worldwide, showing that running affiliate programs on social channels help affiliates to reach and convert a captive audience. Brands should choose their chosen social media platforms strategically, based on their target audience, instead of trying to run affiliate programs across all social networks. To give you an idea of the audience size of each social media network, check out the graph below from Statista. The biggest channels in terms of audience reach are Facebook, YouTube, Instagram, and TikTok. Keep this in mind when choosing which channel to prioritize!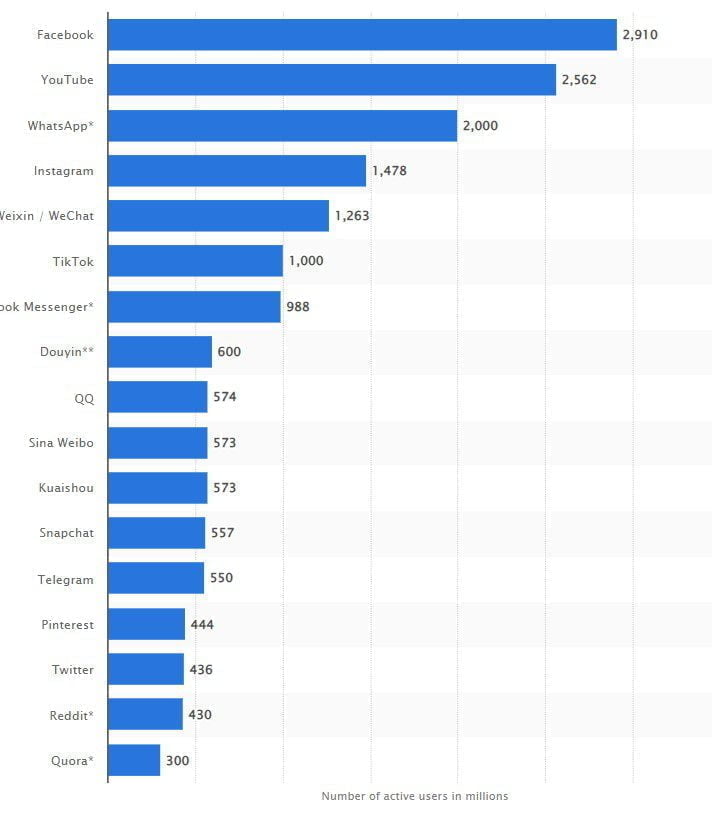 For more insight, check out this blog about the benefits of running affiliate programs on Instagram. 
How to use influencers for affiliate marketing on social media 
Increasingly, brands are seeking to generate sales and conversions instead of awareness and engagement. In an economic downturn and with increasing ad costs this is truer than ever. The good news is that brands can leverage social media influencers as affiliate partners for their brand. Influencers have already established an engaged audience around a particular industry niche. They are expert content creators who are trusted by their audience. This puts them in the perfect position to drive sales for your brand using affiliate marketing on social media. 
Why turn influencers into affiliates?
Influencers can help you reach (and convert) large audiences on social media

Target your ideal customers by collaborating with an influencer in your industry niche
Influencers can boost brand trust by offering social proof which is key to more conversions! 

Influencers are social media experts! They know how to create content that will convert their audiences. 

Save money on high affiliate network fees and work with your influencers instead! 
6 steps to using social media for affiliate marketing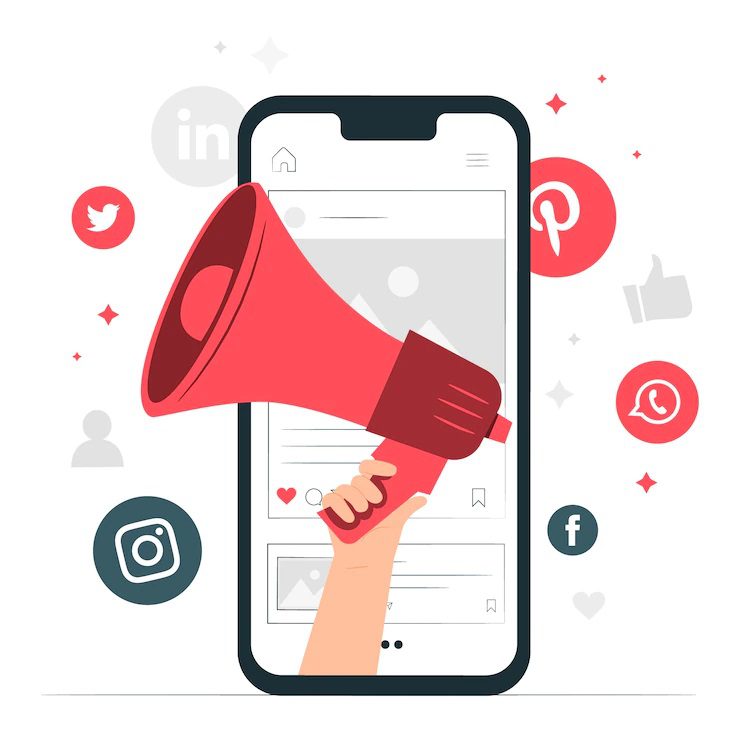 Identify your best affiliates

.
Work with your existing influencers or use a tool such as Upfluence to identify top-performing influencers in your industry niche. 
Reach out to your affiliates with your offer.

 
Write an outreach email that sets out clearly your expectations for their participation in your affiliate program. Affiliate marketing is a win-win strategy so be clear about the compensation you can offer. State if you will send them free products and what type of commission they will earn (a flat amount per sale or a % of profits). 
Send out your brief and contract
Create a detailed brief that explains the campaign, which social media channels are to be used, and which content formats they should create. Include key messages as well as dos and don'ts when talking about your brand/products. You should also send out a contract that explains the terms of your agreement, expectations, and compensation. 
Send out products, promo codes, or affiliate links
Make sure your influencer affiliates have everything they need to start promoting your brand. Be sure to send out products, and generate personalized promo codes or affiliate links so that you can track and attribute each sale generated by your affiliates. 
Using a tool such as Upfluence helps you to easily track the number and value of sales, attribute individual sales to affiliates, see how much commission has been earned, and calculate the ROI of your affiliate program in real-time. 
After each sale has been generated, be sure to pay your affiliates in a timely fashion and offer incentives for your top-performers! 
For more detailed instructions, learn how to run an affiliate marketing program on social media using Upfluence in this infographic.
If you need in-depth insight, check out the Ultimate Guide to Building An Affiliate Marketing Strategy.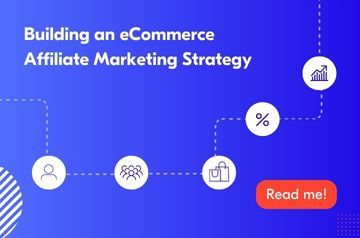 Cover image: Freepik.com