With the back-to-school season predicted to yield $37B in sales, brands can't afford to miss out on this huge opportunity to drive sales. Collaborating with influencers at this time of year is a great way to reach new audiences and drive sales for your seasonal promotions. Back-to-school deals are taking place across all industries from clothing to stationery, furniture and groceries. But how can you target back-to-school shoppers in particular? The answer is in this list of 10 back-to-school influencers! 
Brands will typically target parents during the back-to-school season, so it makes sense to collaborate with parenting influencers who will focus their content on helping families prepare for the start of a new school year.  For brands targeting a Gen Z audience, then working with high-school and college aged influencers is a great way to drive sales among this generation who are starting to spend their own money on their BTS supplies.  When choosing which back-to-school influencers to work with, your target audience will help to guide you. 
Get inspired by our top pick of back-to-school influencers!
Kumiko Love, the supermom behind @thebudgetmom, shares her savvy spending tips with her 696K followers. Kumiko offers budgeting advice on social media, and introduces her followers to brand deals or hosts giveaways as partnerships with brands. For the back-to-school season she shares tips for staying within your budget. This will be a key consideration for many shoppers this year so it can be a great idea to align your brand with this type of influencer.

Anna is another mommy blogger that can help your brand reach her audience of 1.3M followers on Instagram. She shares content about raising her family of 4 children. She has worked with toy companies, supermarket brands and beauty brands. She also has a YouTube channel with 1.71M subscribers, where she shares more vlog-style videos about her family's day-to-day activities.

As amazing as mommy bloggers are, we can't forget about the dads! Jared is one of the most popular dads on social media, with more than 395K followers on Instagram. He frequently shares his adventure of being a dad, raising three children with his wife Ellie. In the past he's teamed up with a pharmacy brand to promote their health supplements and vitamins around the back-to-school season. 

Ashley is a Chicago-based mom who posts about her family life and how she educates her children as part of the 'unschooling' lifestyle. Even if her children don't attend mainstream school, she takes advantage of the BTS season to stock up on essential learning supplies and new clothing so her children are ready for the transition back to home schooling. She's an award-winning blogger whose recent collaborations include Walmart and Lenovo.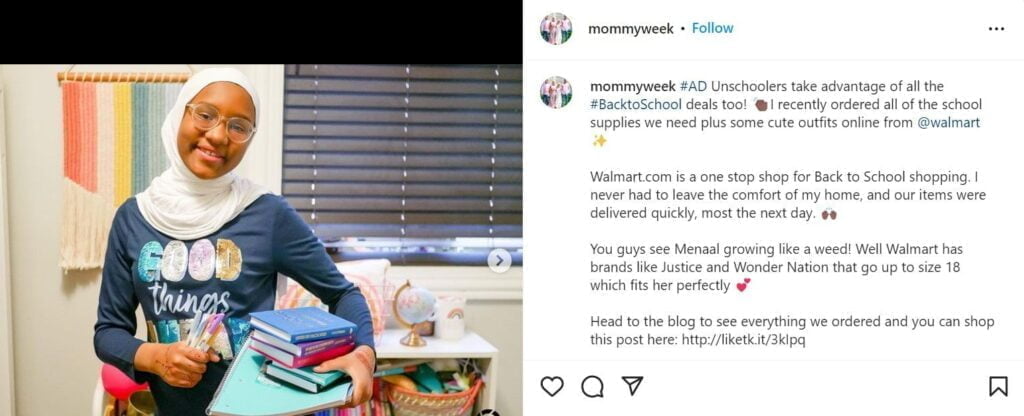 The Weiss Family share vlogs about their daily life raising 6 daughters on TikTok and YouTube. TheWeissLife is a great channel to partner with around back-to-school time as many parents are looking to them for advice, tips, and giveaways to help them survive shopping at this time. TikTok is usually associated with younger generations, but as Gen Zers age and become parents themselves hashtags such as #parentsoftiktok have grown in popularity. Their candid videos create a genuine connection between them and their audience. It's no wonder they already have over 1 million followers on TikTok & YouTube!
Sydney is a college-age Youtuber who documents the daily life of what it's like to be a teenager. In the video below you can her collaboration with Home Depot where she vlogs about decorating her room for college and getting ready for the year ahead!
Lisa is usually considered a "bigger sister" to her 361K subscribers on YouTube. This is because she frequently shares studying, organizing, and even health tips to her followers who are the majority of the same age. Lisa loves sharing tips on productivity in school, comparing products, or simply taking her subscribers on her daily getting ready for school. On YouTube she creates content for the back-to-school season such as this unboxing video, a great idea for brands looking to boost brand awareness and sales at this time of year. 
Study to Success is also a YouTube influencer who creates content primarily around studying tips, time management, learning tool reviews, etc. Their content expands to practical tips such as how to best organize your studying space, or which laptop is best for studying purposes. If you want to work with influencers who give practical advice and routines, Study to Success is definitely a great example to check out!
Megan is a teacher who shares her favorite books and learning materials on social media. The back-to-school season is an important time of year for teachers too. They'll also be stocking up stationery supplies, new outfits, and books for their classroom. If you want to tap into the audience of educators who will also be shopping at this time of year then partnering with a teacher influencer is a great strategy!

While school supplies and learning aids are the first products to come to mind during BTS season, we can't ignore other important elements of schools – such as daily lunches. Jessica Woo is a viral TikToker best know for her daily bento boxes, prepared for her kids' lunches at school. After all, a big part of going back to school is having a balanced and nutritious lifestyle, so that your little ones can excel in classes!
Learn more about working with influencers for back-to-school promotions in this dedicated strategy guide.