YouTube has a thriving community of stellar beauty creators. Cosmetics and beauty are growing industries on the channel as so many top beauty YouTubers are showcasing the latest beauty products, talking about the biggest beauty trends, and offering practical tips in their tutorial videos. In a recent blog we've highlighted the importance of video content in your brand's content strategy, and working with YouTube creators is a great way to integrate engaging video content into your online marketing!
Upfluence's industry report on the state of influencer marketing in the beauty industry revealed some key findings about beauty influencers' performance:
Mega influencers (with over 1 million followers) have the highest number of YouTube views compared to other influencer categories.
#makeup & #skincare are the two most popular hashtags in beauty influencer content on YouTube.
Beauty influencers on TikTok have the highest number of followers compared to other platforms including Instagram and YouTube.
Free download – get performance insights for 50 Beauty Influencers!
How will beauty influencers perform for your brand? Here's an overview of key performance insights from our Top 50 Beauty Influencer List.
477M
5.8M

Instagram Engagements

85%

Female audience
Download the full report to deep dive into each individual profile to see their real follower count, average views, recent posts and audience demographics to begin a data-driven search for your next creator collaboration! Download it, save it and come back to it when planning your next campaign.
Download 50 Beauty Influencer profiles
Want a sneak peek of what's inside? Check out our shortlist of the Top 25 Beauty YouTubers you should know about!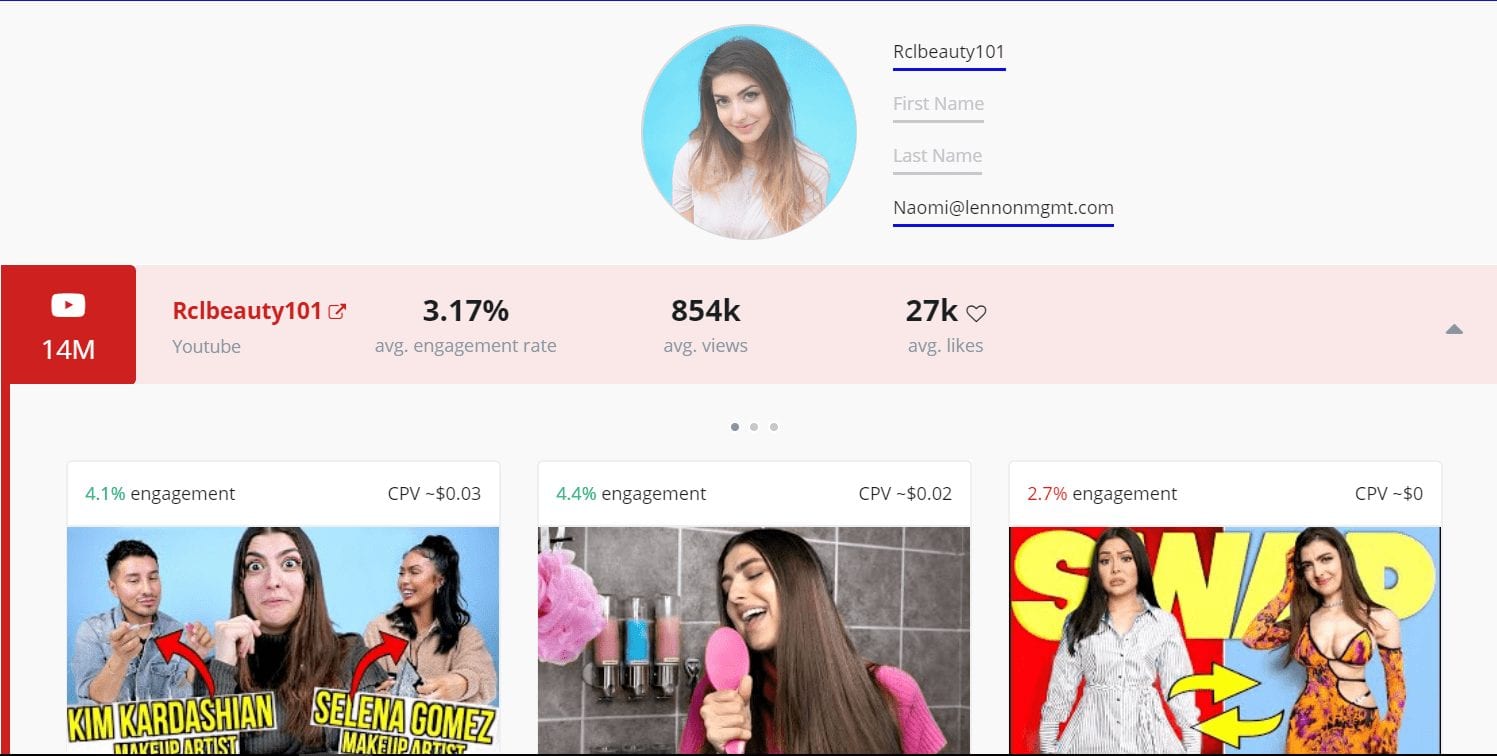 Rachel Claire Levin is one of the biggest beauty YouTubers & has one of the fastest-growing YouTube channels in the world. Her audience is slightly younger, and the internet personality makes different types of videos ranging from DIYs, life hacks, comedy, skits, and more. RCLBeauty101 has 14M+ subscribers & over 3 billion video views.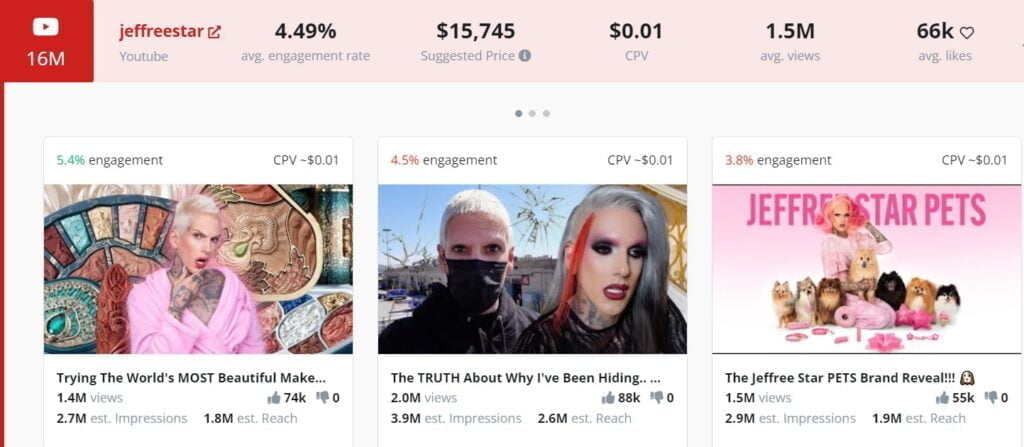 Jeffree Star, who goes by jeffreestar on YouTube, is a singer/songwriter and a true OG Beauty influencer on the Internet. Jeffree is actually known as the most followed person on MySpace in 2006. Yes, you read that right, Jeffree's big break dates back all the way to that time we used MySpace (throwback to MySpace Tom!). While he's been part of the YouTube community since 2006, Jeffree started posting more tutorials & beauty tips after launching his own cosmetics line Jeffree Star Cosmetics in 2014. Since then, he's amassed nearly 1.5 billion collective video views and 18m+ subscribers on YouTube alone.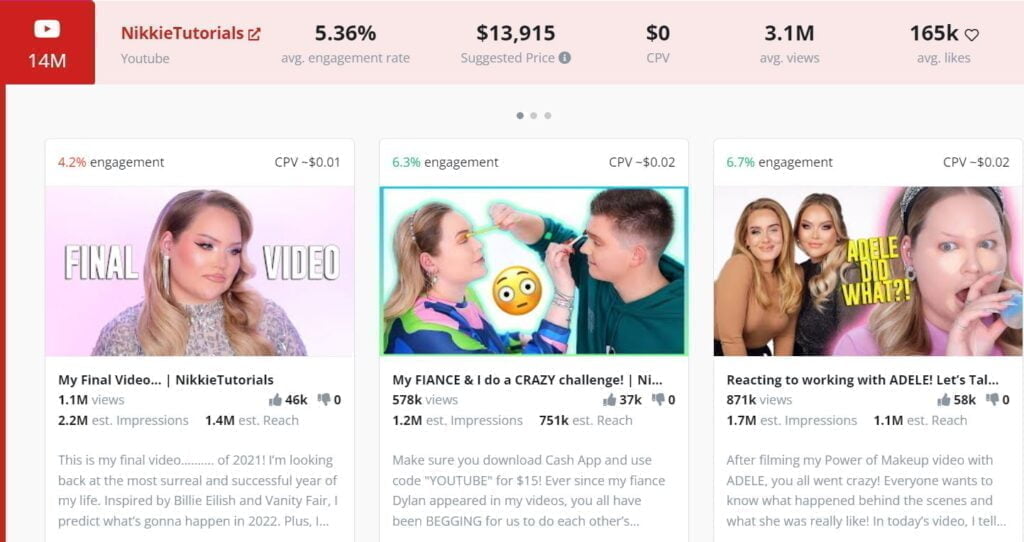 With over 14M subscribers and 1.5 billion total views on YouTube, Dutch beauty vlogger Nikkie is a YouTube sensation. Nikkie is all about keeping it real and doesn't shy away from showing her bare face. She sees makeup as a fun way to change her look,  much like she demonstrates in one of her early viral hit videos, The Power of Makeup. The beauty YouTuber has done makeup videos featuring celebs Kim Kardashian & Drew Barrymore on her channel and collaborated with several beauty brands like Ofra & Maybelline. In 2021 she became the host of the Eurovision Song Contest.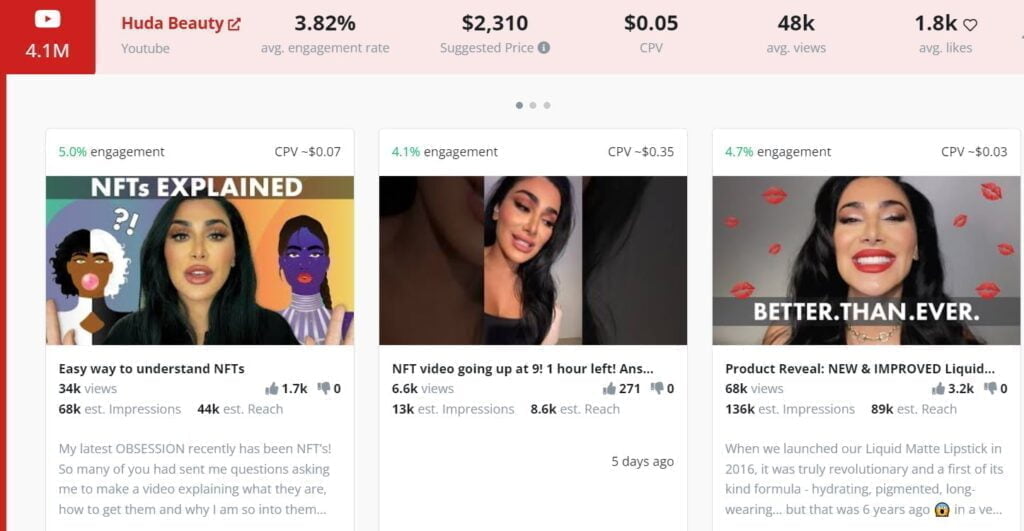 Huda Kattan is a YouTuber with 4M+ subscribers, but even more famous Instagram beauty guru with 49M+ followers. She launched her own cosmetics line Huda Beauty in 2013, which has been received really well by the beauty community. On her YouTube channel, the Iraqi-American beauty YouTuber covers beauty hacks, DIY Makeup tutorials – all of which are frequently accompanied by her adorable daughter or other family members. Huda has been featured in Time Magazine, and most recently has been  ranked number one on the cosmetify Beauty Influencer Rich List in 2021.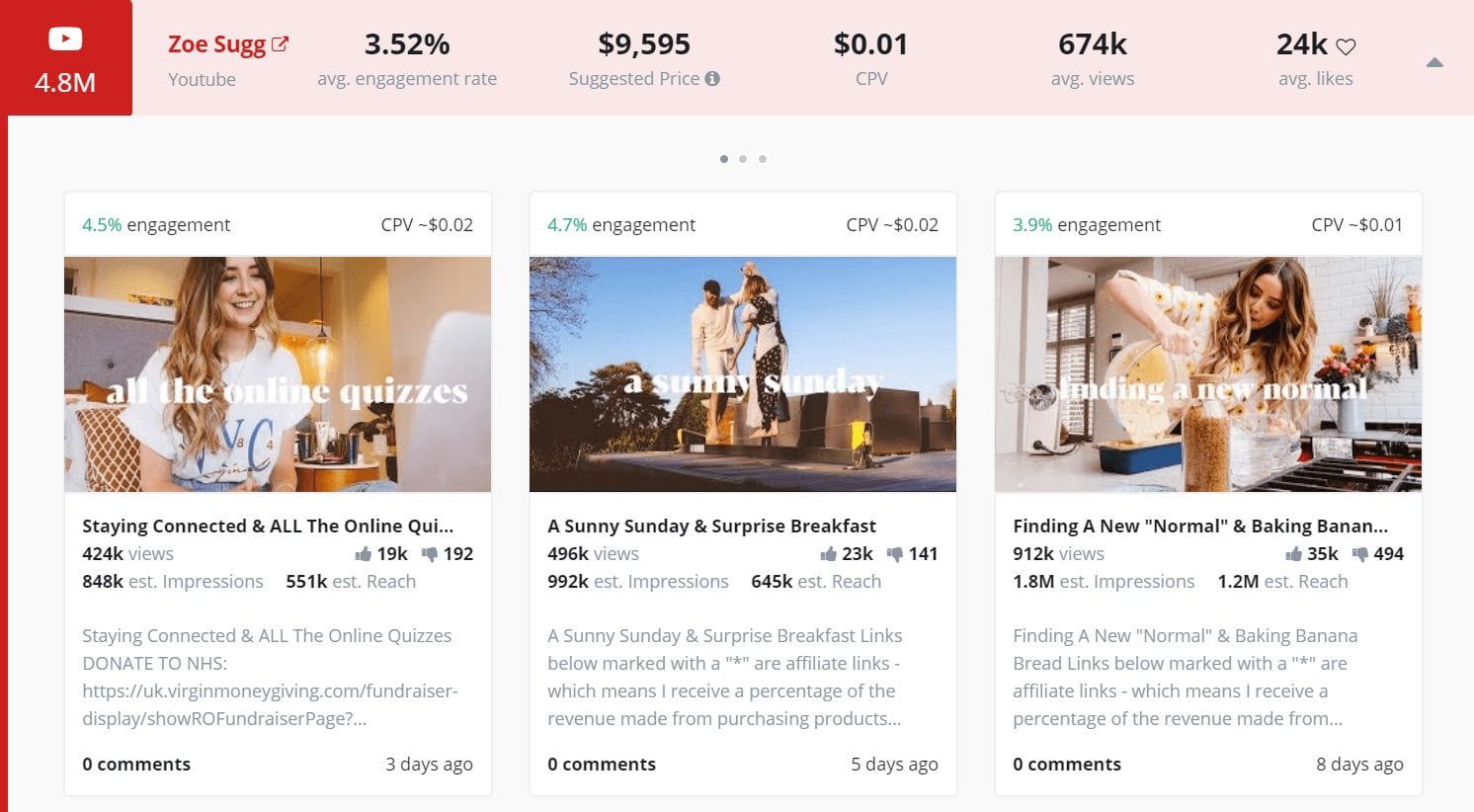 While Zoe Sugg hasn't been super active on her main YouTube channel called Zoella, she still counts as one of the top beauty YouTubers out there. Zoella has been in the biz for a while and accumulated a massive 10M+ subscribers on her original beauty YouTube and over 1 billion views on all her videos. She's now more active on her personal account, Zoe Sugg where she shares a broader mix of beauty and lifestyle content. She's known for her sweet personality, beauty tips, and sharing her life with fellow YouTuber & boyfriend Alfie Deyes and their new baby. All in all, Zoe is quite a busy bee; she's published books, launched her own beauty line in 2014, and collaborated with ColourPop Cosmetics on a limited edition makeup range.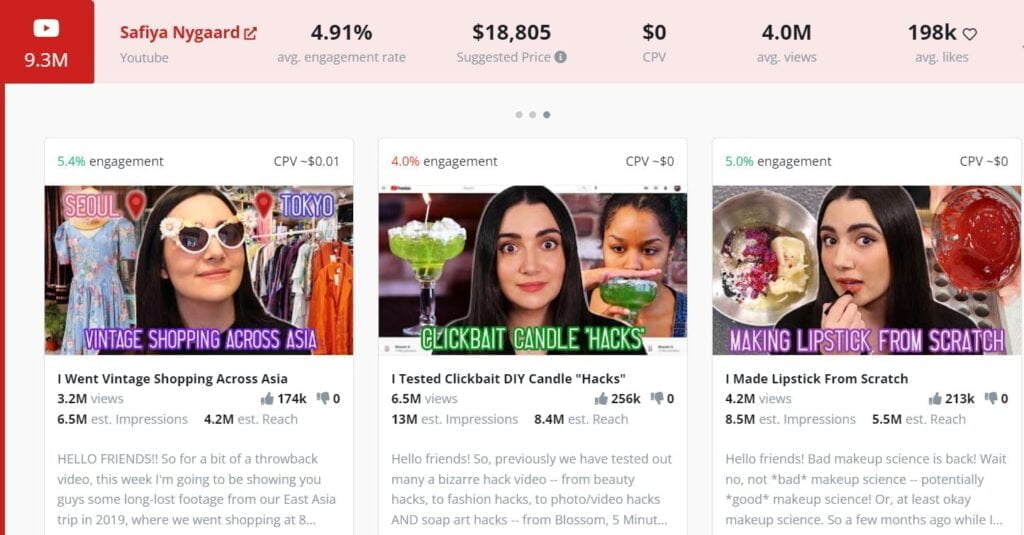 The former BuzzFeed employee & regular on BuzzFeed's series Ladylike, left the company in early 2017 and created her own channel. Of course, loyal fans were quick to follow, and her channel blew up. Currently, this rising star & beauty YouTuber has over 9M subscribers and 1 billion+ video views. Whether she's posting beauty advice, makeup reviews or trying out questionable style choices, Safiya knows how to entertain a crowd. She released her own lipstick collection with ColourPop Cosmetics.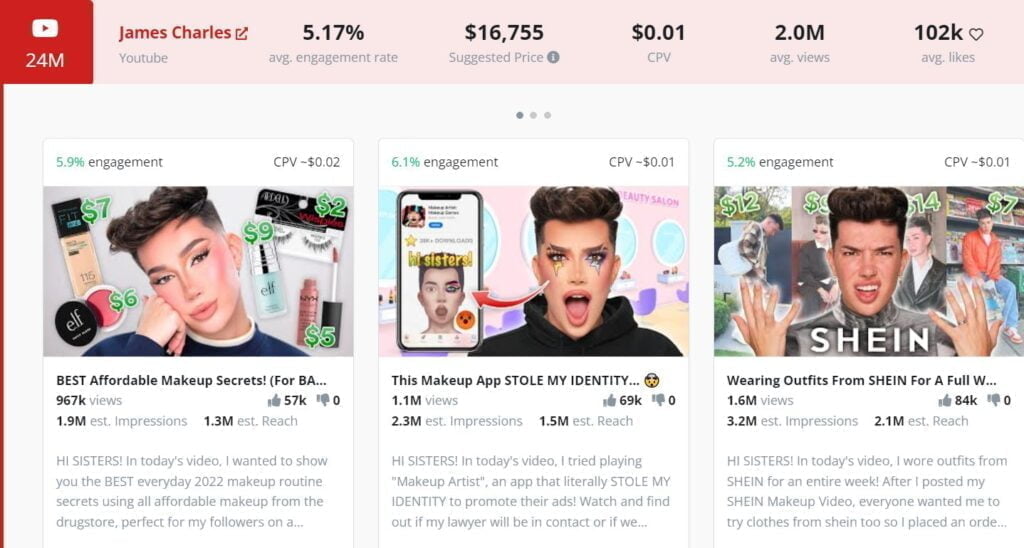 James is very well-known creator in the world of influencer marketing. The 22-year old YouTuber has had quite the career for such a short time on earth. He was appointed the first-ever male spokesmodel for CoverGirl in 2016, does modeling on the side, and collaborates with several other cosmetics brands like Morphe. Of course, he's long joined the club of 1+ billion collective views on YouTube and has 24M+ subscribers. As a popular name in the industry he hosted, directed, and co-produced the YouTube Originals reality competition series Instant Influencer in 2020.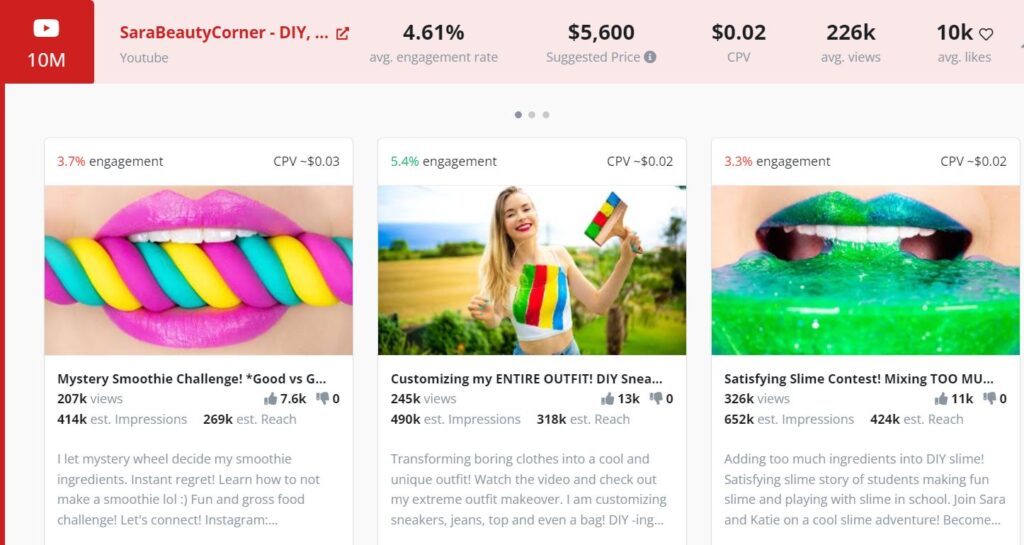 Sara says she's just a "regular girl who loves all girly related stuff". On her channel, she posts about DIY, comedy, nail art, and everything makeup. Since joining in 2012, the YouTube beauty guru has gained over 10M subscribers and more than 2 billion video views. While she resides in Norway, the pretty blonde often goes traveling and shares her adventures with her fans. She's most notoriously known for her cute & colorful nail art tutorials.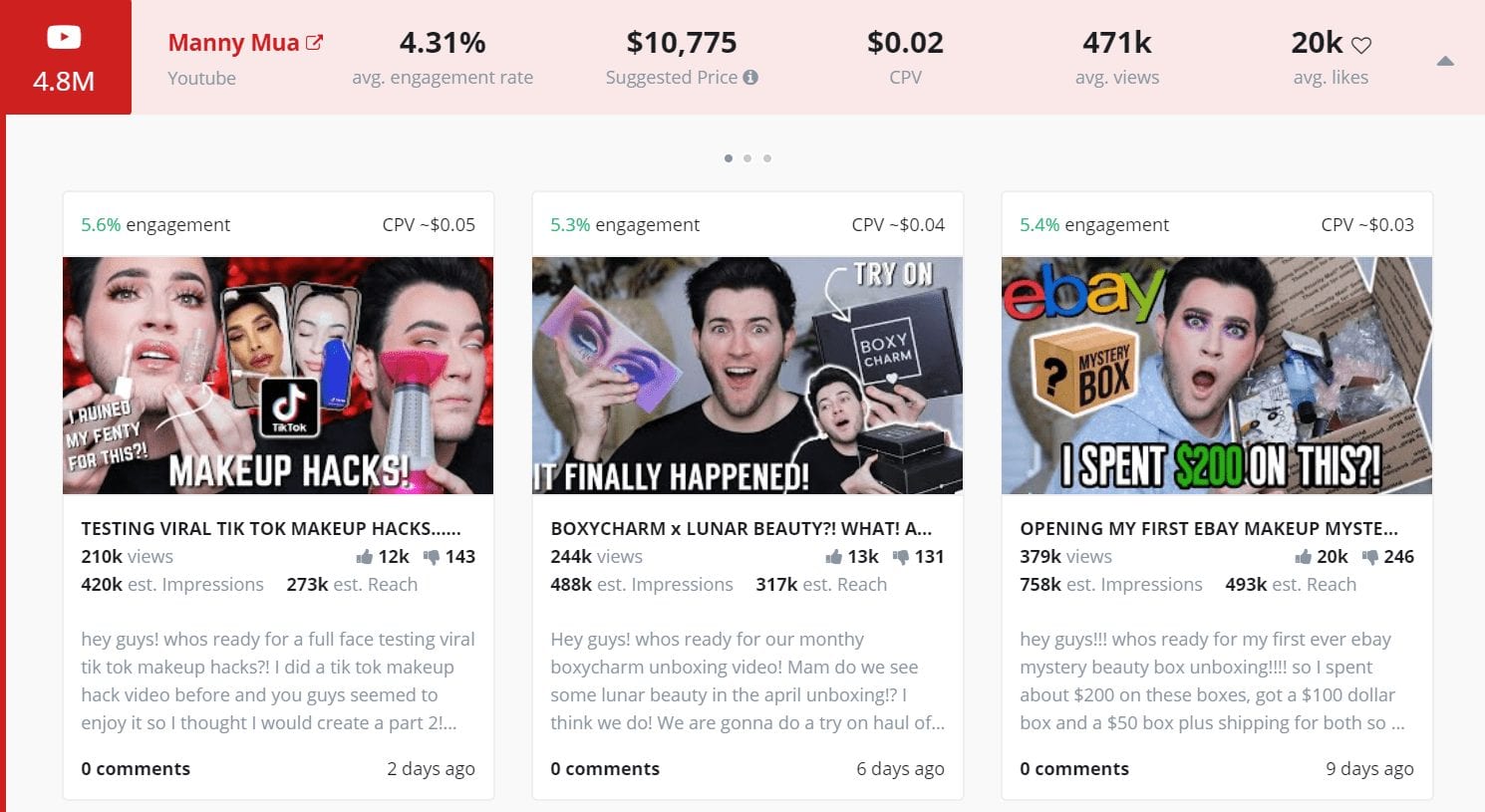 Manny Gutierrez, or better known as Manny Mua on YouTube, is a self-proclaimed boy beauty vlogger. With nearly 5M YouTube subscribers who adore his tutorials, reviews, and other shenanigans happening in his life, Manny has been a VIP beauty YouTuber since first joining in 2014. We've previously talked about his successful collaboration with Makeup Geek, and his mission for makeup to be genderless. In 2017, Manny also became the first-ever male brand ambassador for Maybelline cosmetics and was featured in Maybelline's "That Boss Life" campaign promoting Big Shot Mascara.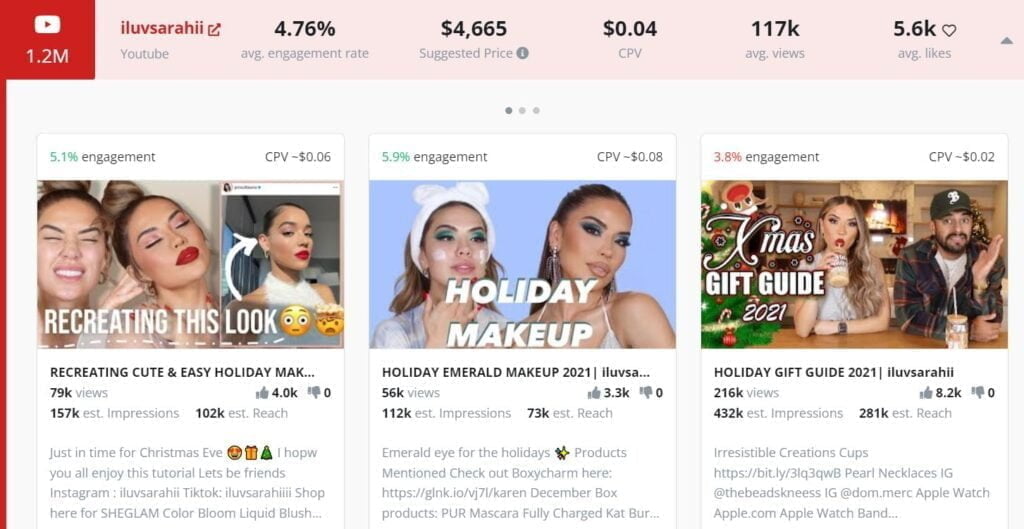 This beauty creator is of Mexican origin and shares her beauty looks and tutorials on her YouTube channel and Instagram feed. Her most popular videos include seasonal makeup looks for Valentine's day for example. Her large following of over 1M+ subscribers have earned her 11K average views for her videos.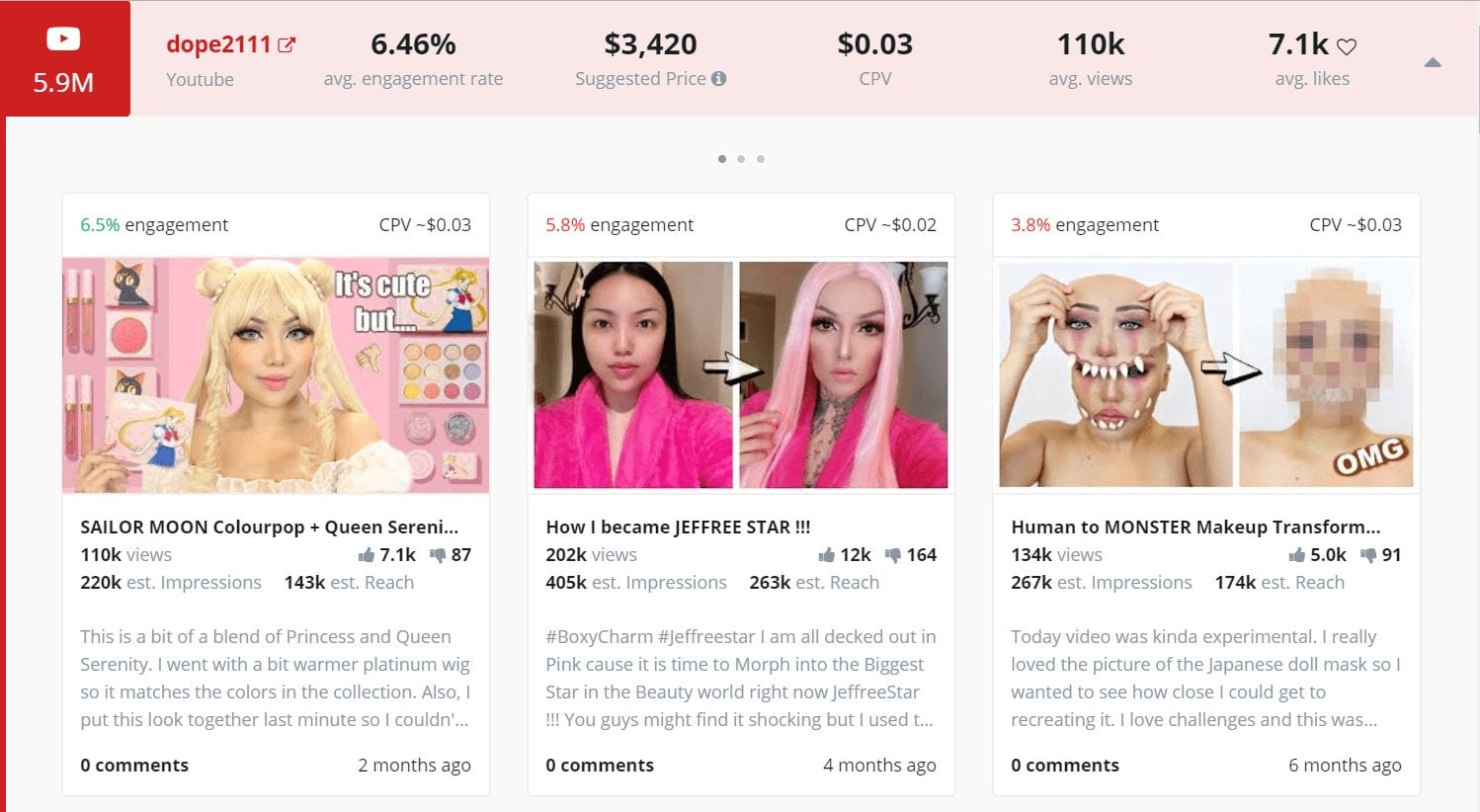 Promise Tamang Phan, known as YouTuber dope2111, started making videos as a hobby and blew up. She teaches her fans about makeup transformations – dope transformations, one may add. Promise Tamang Phan's tutorials are mind-blowing and it's truly fascinating to watch her turn into celebrities like Beyoncé, Disney princesses & Bratz dolls. Overall, she's amassed a following of 5.9M+ subscribers and 1.5 billion video views.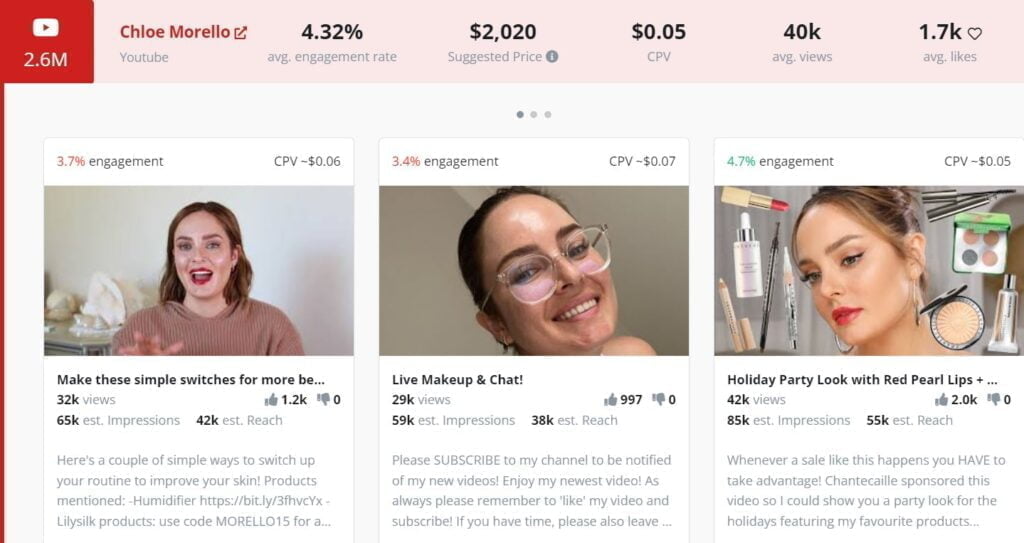 Chloe Morello is an Australian beauty YouTuber with over 2.6M subscribers. We've previously talked about her successful collab with Pixi alongside Dulce Candy and Weylie Hoang. On her channel, she shows practical tips and tricks to up your looks for any occasion. Also, Chloe isn't afraid to make fun of herself & the beauty industry every now and then.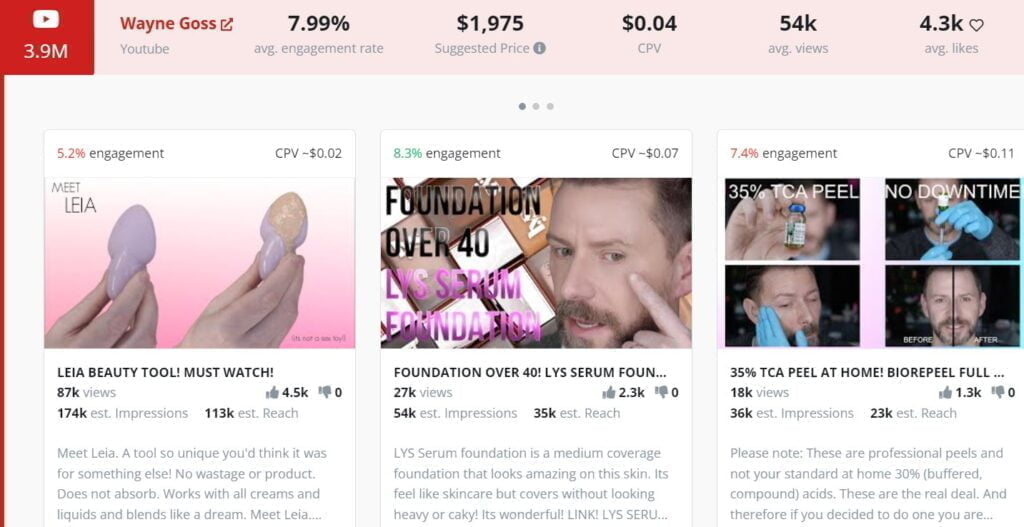 Professional makeup artist Wayne gives honest reviews and beauty tips. In his videos, Wayne shows practical step-by-step instructions to perfect any look, what to use and what to toss. With over 15 years in the makeup industry, Wayne does not shy away from calling out bad beauty trends & fads. So, for anybody fearing they've been using makeup all wrong these past few decades, Wayne knows just how to fix it.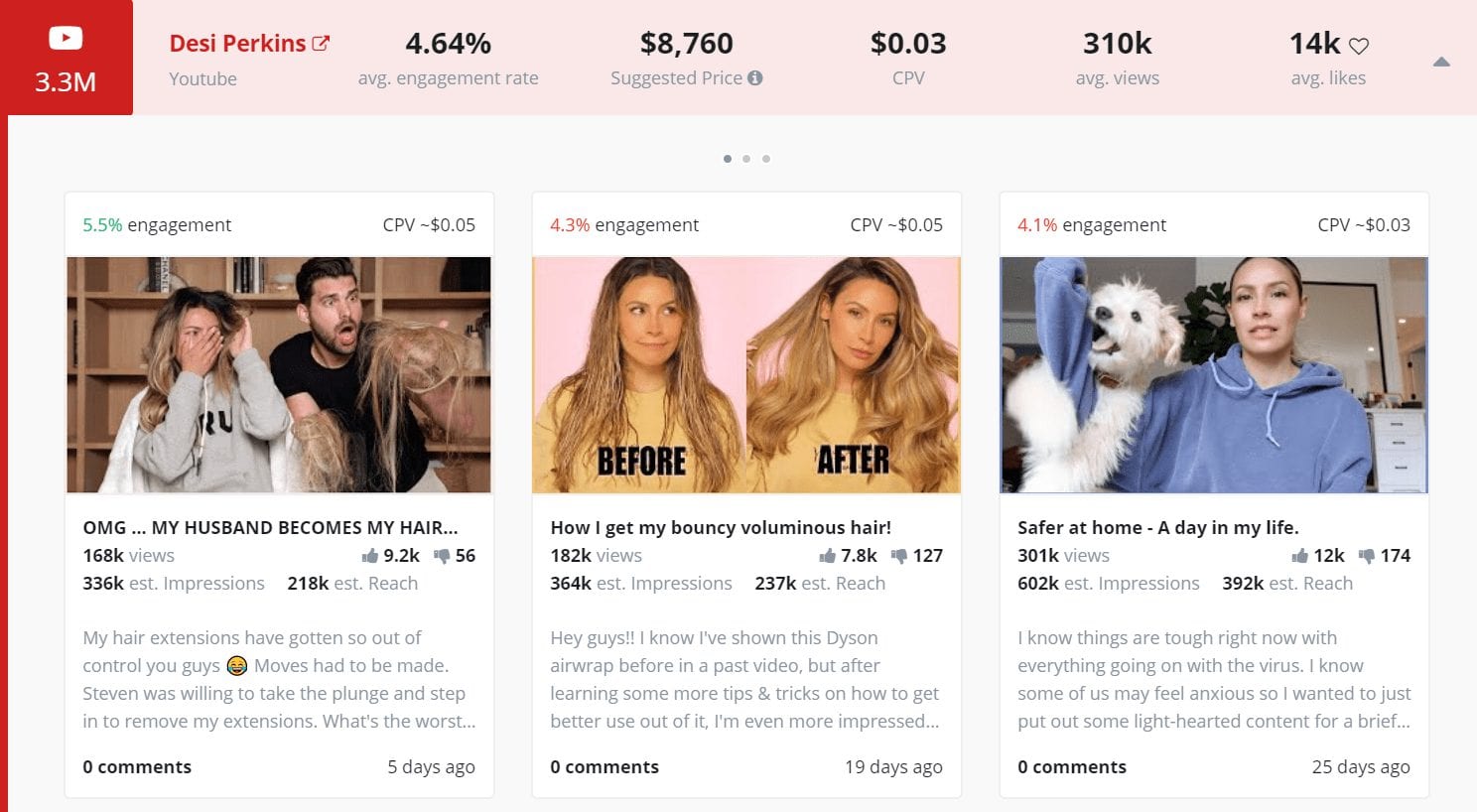 Desi Perkins is a fiery Latina and self-proclaimed YouTube Ninja. Her YouTube channel has over 3.3M subscribers (+4.2M Instagram fans). She's famously collaborated with Kim Kardashian. Aside from partnering with Lancôme, MAC, and La Mer, Desi also launched her own makeup line in collaboration with Dose Of Colors & fellow beauty influencer Katy 'Lustrelux' Degroot.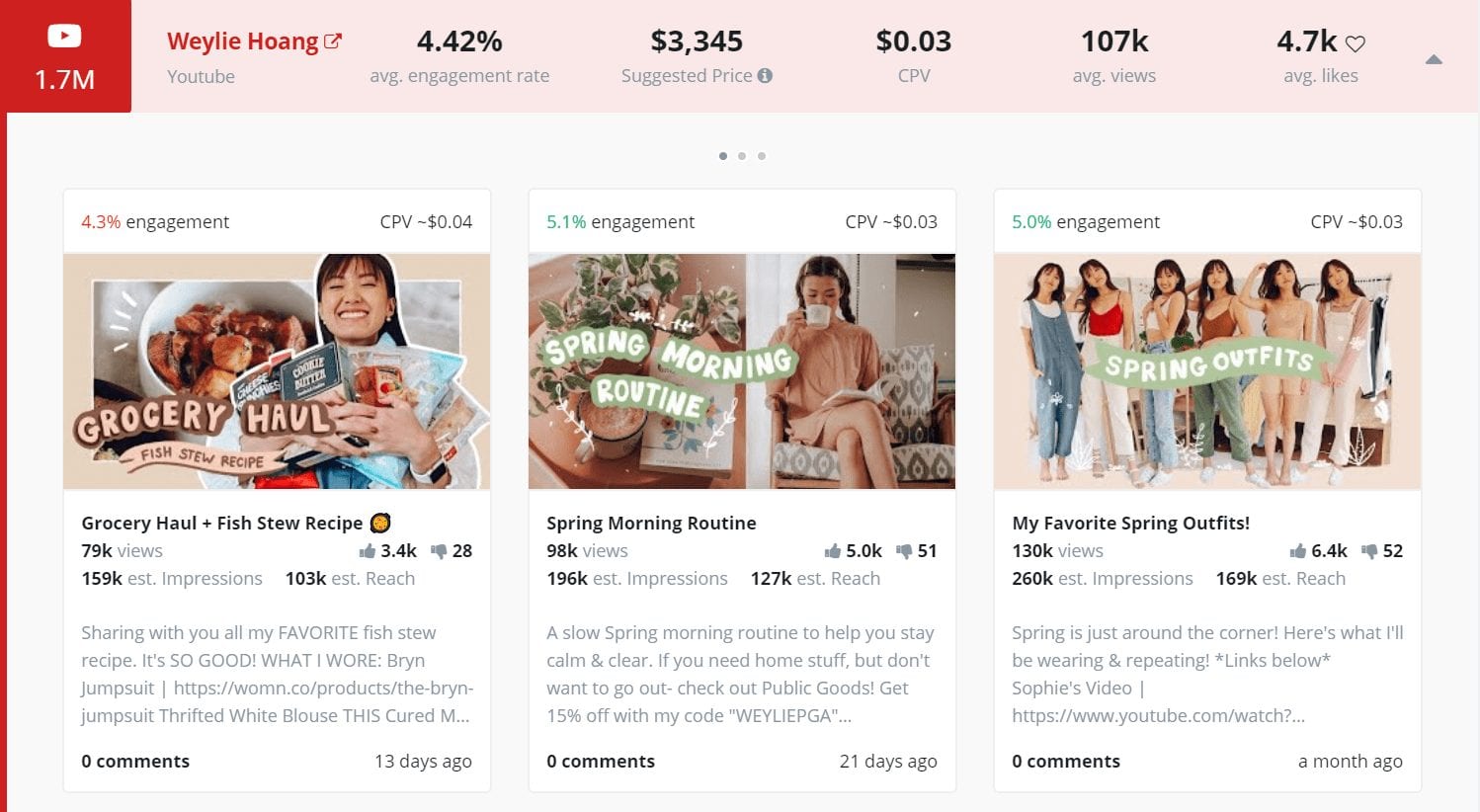 Weylie Hoang is the sister you never had and posts videos about hair, beauty, advice, and all the other bits of her life. Her 1.7m subscribers tune in regularly to hear what Weylie has to say. In 2018, Weylie became one of the pixipretties in collaboration with Pixi Cosmetics for a selection of eye makeup.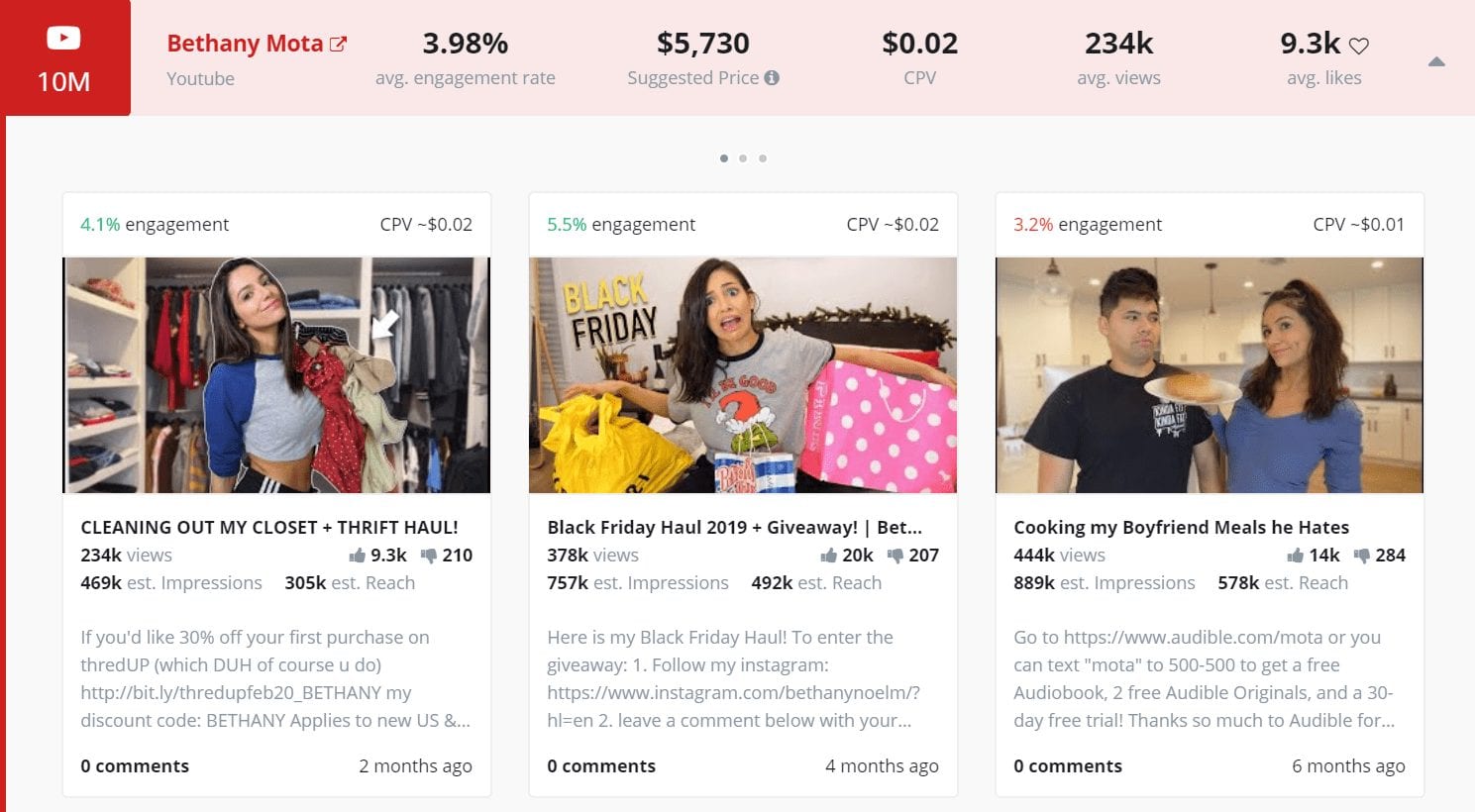 Bethany Mota covers pretty much anything and everything on her channel, ranging from traveling to beauty and fashion tips. Her loyal fanbase, also called motavators, has grown to over 10m subscribers and she's just shy of passing the 1billion collective views count. While she's dabbling more in comedy recently, she still posts routine makeup videos and gives beauty tips.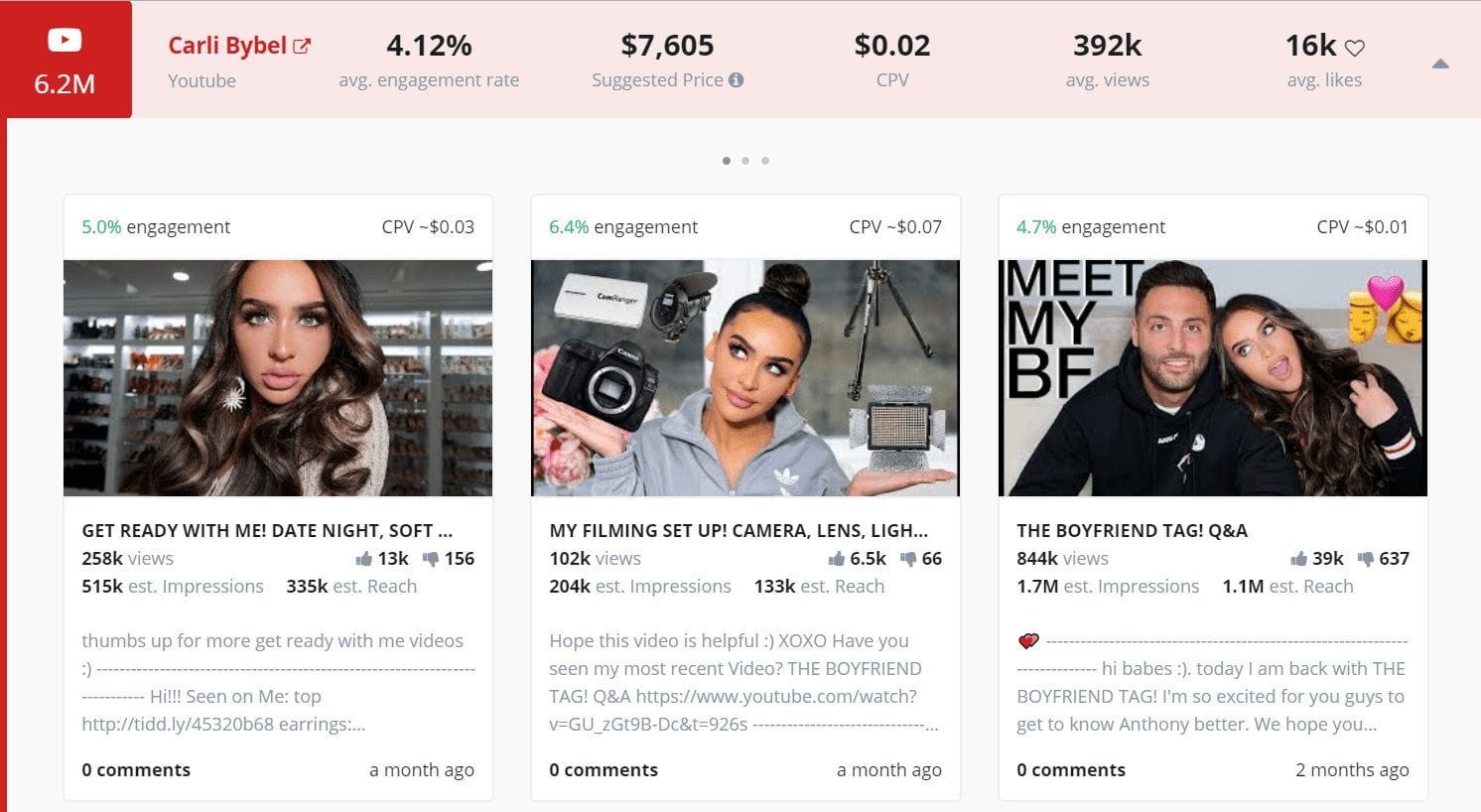 With a following of 6m+ subscribers on YouTube and half a billion video views, Carli has joined the ranks of YouTube's beauty elite. Whether fans want to look like Marilyn Monroe or the mother of dragons, Carli's got just what you need. However, Carli's main focus are easy-to-do makeup styles for any occasion, like a nice lunch date or a night out. Aside from that, Carli is a vegan and enjoys her life with five adorable felines.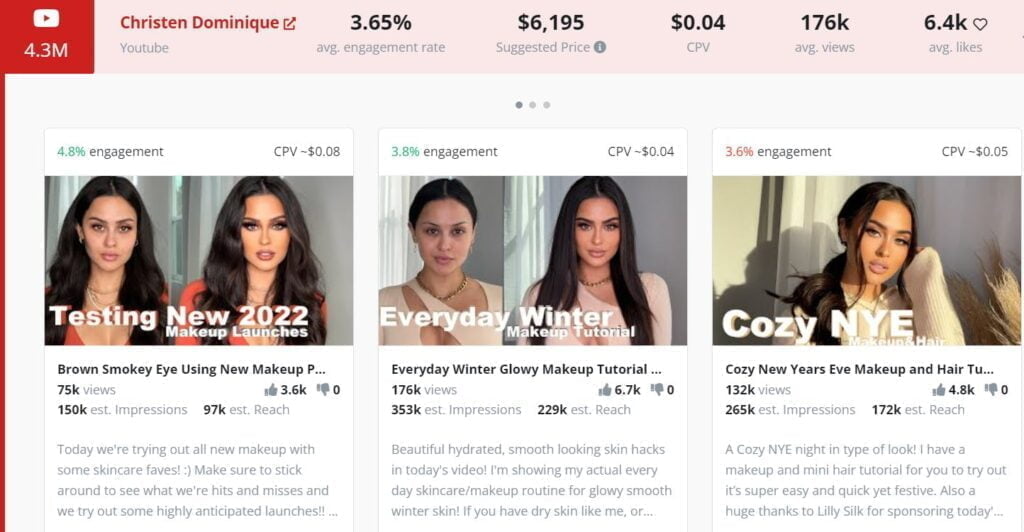 Christen has over 4m subscribers on YouTube and evolved quite a bit from the days when she started doing makeup videos for friends and family. Brands like L'Oreal, Sephora, and Urban Decay all spotted her makeup talent and collaborated with Christen in the past. On top of that, the beauty YouTuber is running her own makeup line Dominique Cosmetics  and the beauty community is absolutely loving it.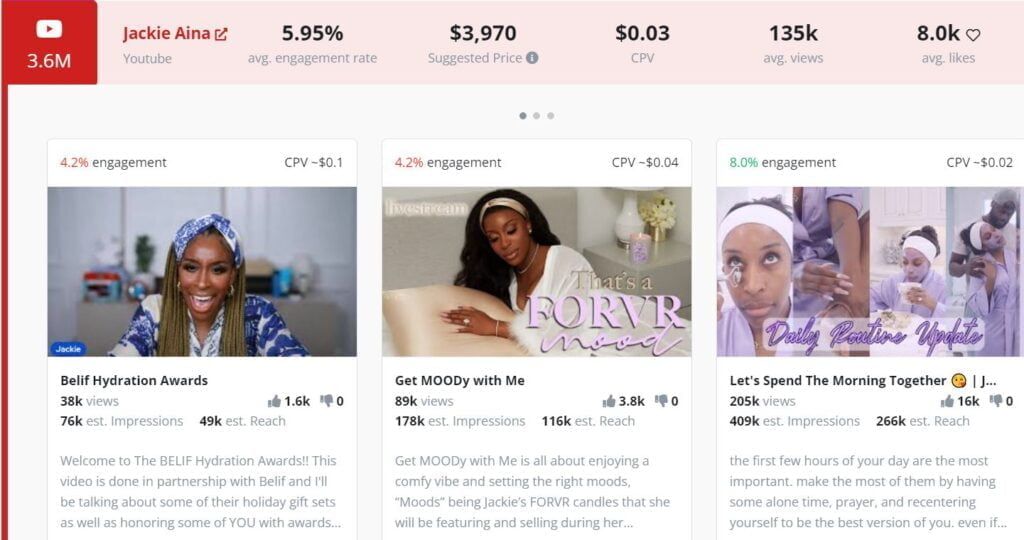 With over 3M YouTube subscribers, Jackie hopes to change the standard of beauty one video at a time. Her impressive makeup skills are on point – just like her stand on lots of important issues. She openly talks about skin bleaching, the pressure to wear wigs or makeup brands that aren't inclusive enough for people with darker complexions. Plus, she has collaborated with TooFaced Cosmetics for a set of foundations.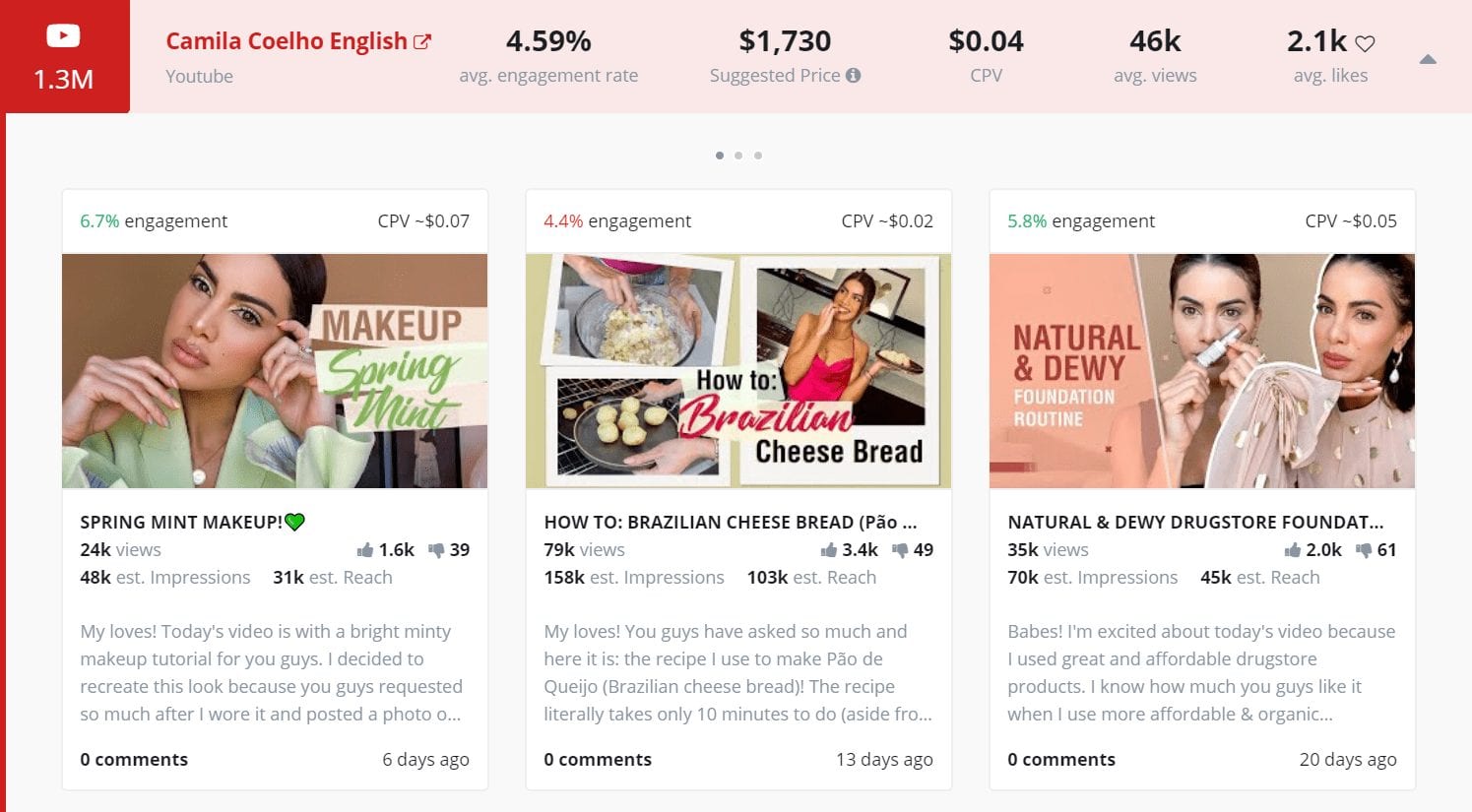 Brazilian stunner Camila Coelho has not one, but two major beauty channels. Her main channel Camila Coelho with over 3.3m subscribers is in Portuguese, while her second channel with 1.3m fans is for all English-speaking folks. Beauty brand Lacôme chose Camila for their first-ever influencer collaboration to create L'Absolu Rouge, a collection of 10 limited-edition lipsticks.

Kiwi Shannon Harris got inspired by watching other beauty vloggers and ultimately made her own channel Shaaanxo. To date, Shannon has over 3.1M YouTube subscribers and 400m+ video views. Beauty brands Clinique and Smashbox have both collaborated with Shannon in the past. Besides, Shannon runs her own cruelty-free cosmetics line xoBeauty.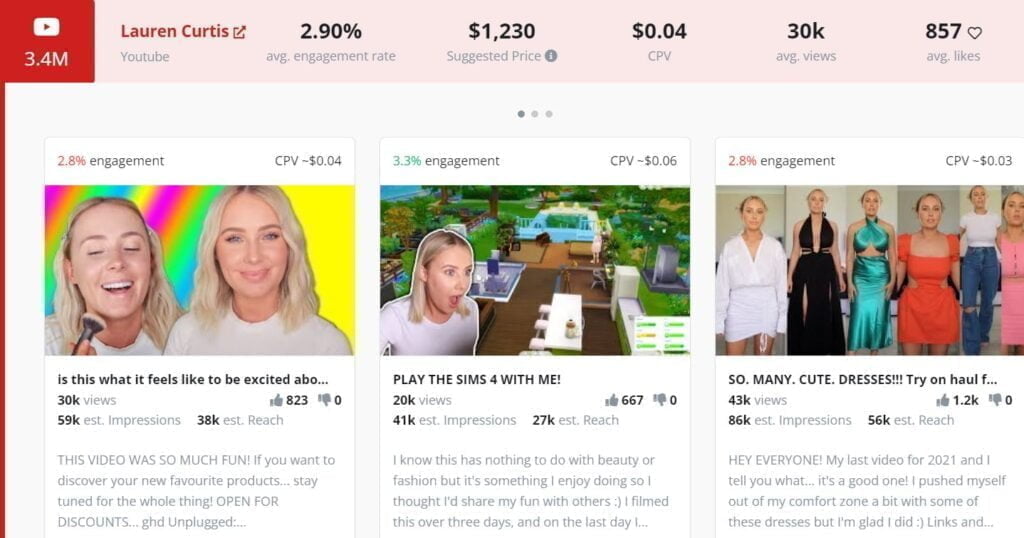 Australian-native Lauren covers anything from makeup and hair tutorials to product reviews and hauls. The pretty blonde has amassed over 3.4M subscribers in a short period of time. Whether you're looking for an easy everyday look or a touch of zombie for Halloween, Lauren's got you covered.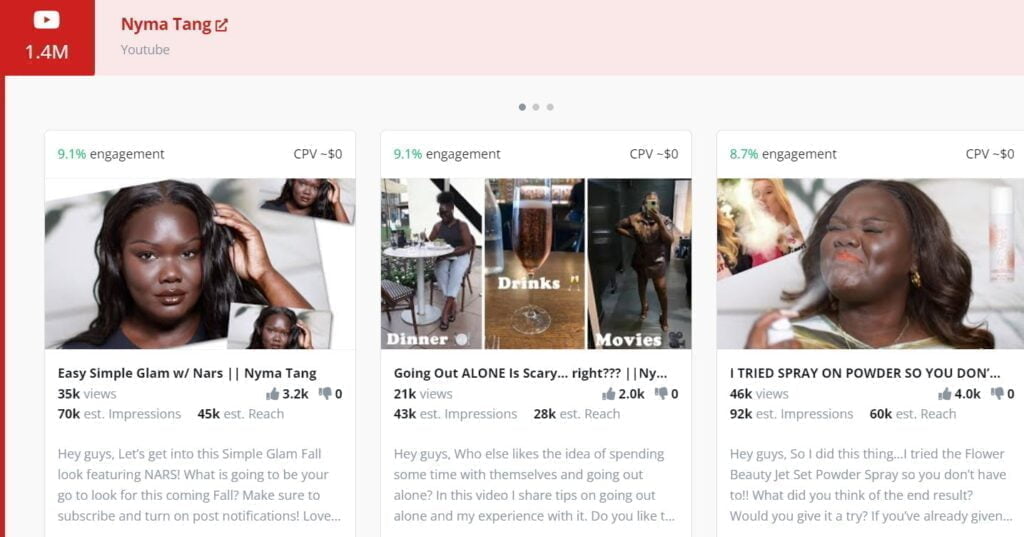 Aside from her fabulous glam looks, Nyma is known for voicing her honest opinion. In her YouTube series The Darkest Shade, she puts makeup brands' darkest foundations and concealers to the test. With over 1.1m subscribers, she is the #1 go-to beauty guru for anybody with a darker complexion. Nyma collaborated with MAC for a dreamy red lipstick.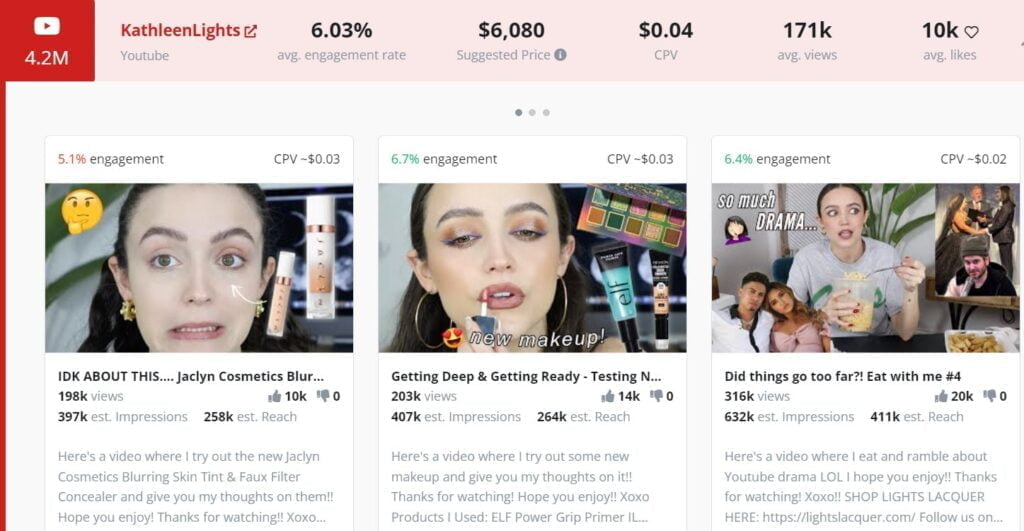 Oddball Kathleen says she loves all things beauty. She primarily posts reviews and easy-to-follow makeup tutorials and her 4.2m subscribers on YouTube love Kathleen for her honesty and quick wits. Thanks to her popularity, brands like Colourpop, Ofra Cosmetics, Morphe & Makeup Geek all collaborated with Kathleen in the past few years.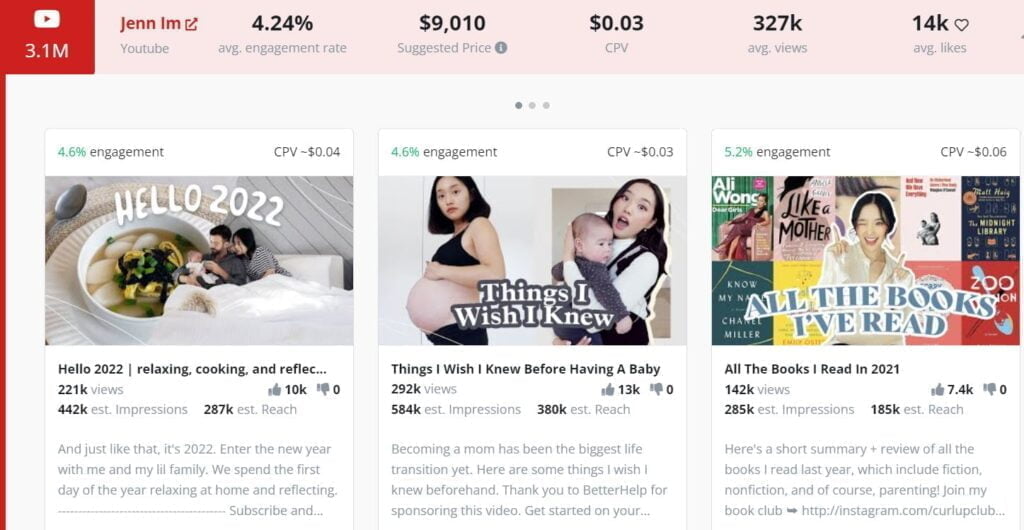 Beauty vlogger Jenn has over 3M subscribers on YouTube and 1.7M Instagram followers. The bubbly Korean-American beauty YouTuber shares beauty routines and stunning looks with her fans. Also, she works with several different fashion labels and cosmetics brands. In 2016, ColourPop and Jenn collaborated on a collection of lipsticks & eye shadows, which turned out to be a big success.
Still looking for more inspiration? Deep dive into these influencers' performance and discover an extra 25 profiles in our free downloadable influencer list and performance report of 50 Top Beauty Influencers.
Download 50 Beauty Influencer profiles
Prefer to speak with an expert? Book a call with our team! They'll be happy to answer your questions about identifying the best beauty influencers for your next campaign.