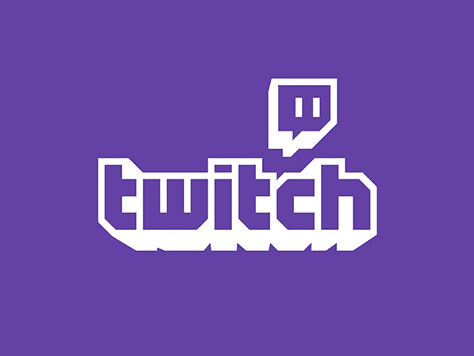 To most people, a twitch is an abrupt, seemingly uncontrolled motion often resulting from a sudden bout of nervousness. To marketers, it's one of the most valuable influencer marketing platforms, and to gamers, the first thing that usually comes to mind is Twitch.tv, the world's leading platform for live video streaming, and one that caters primarily to the video games industry.  Established in June 2011 before being acquired by Amazon in 2014, the platform is now home to over 124-million total clips and three million unique broadcasters per month viewed by 15-million daily visitors. The platform is quickly becoming relevant to anyone interested in influencer marketing.
Twitch is so prolific in the gaming sector that it's become one of the biggest money-spinners in the industry. Not only did Amazon shell out $1 billion for it – the highest paid Twitch streamers are worth millions, earning their fortunes from things like paid ads, affiliate sales, sponsorships and no small number of tips. Given its scope, along with the fact that the platform is expanding its focus into other areas, such as music broadcasts and other creative content, it's also home to many influential voices.
How Much do Twitch Streamers Make?
It's difficult to determine who makes the most money on Twitch or even what the top Twitch earners make since most of the information is not readily available. However, there are numerous educated guesses, combined with claims from major influencers on the platform. Moreover, earnings and net worth do not necessarily correlate to the number of subscribers a channel has, which is also known only to the owner of the channel and to Twitch itself.
According to the Forbes, the wealthiest streamer on Twitch is Tyler Blevins, who goes by the name of Ninja and makes over $350,000 per month from subscriptions alone. Another enormously successful broadcaster is Michael Santana, who makes $2 million per year as a professional player and streamer of the popular MOBA League of Legends.
How Do People Make Money Streaming Videos?
For anyone with a passion for video games and a knack for entertaining the public, Twitch is a dream come true. Sure, not many people are literally making millions on the platform, but many are earning a living wage and more. Twitch offers streamers various income channels, including subscriptions, in-video ads, selling merchandise and in-game items, affiliate and partnership programs, corporate sponsorships and donations. Here's an overview of the top ways people make money on the platform:
Subscriptions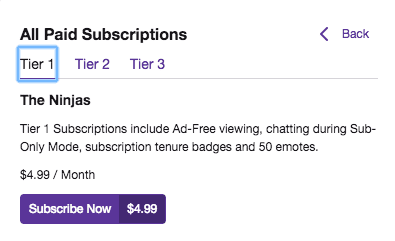 Subscriptions are the favorite source of income for the best Twitch streamers, as they provide a recurring monthly income.  Affiliate and Partnership programs holders can charge a monthly subscription rate ($4.99 to $25); which is split 50/50 between the channel owner and Twitch. Gamers who have been streaming for at least eight hours over seven days or more in the previous 30, have an average of three viewers per stream and an audience of at least 50 followers is automatically invited to become an affiliate. Upon becoming an affiliate, streamers can start charging subscription fees to viewers of the channel.
In-Video advertising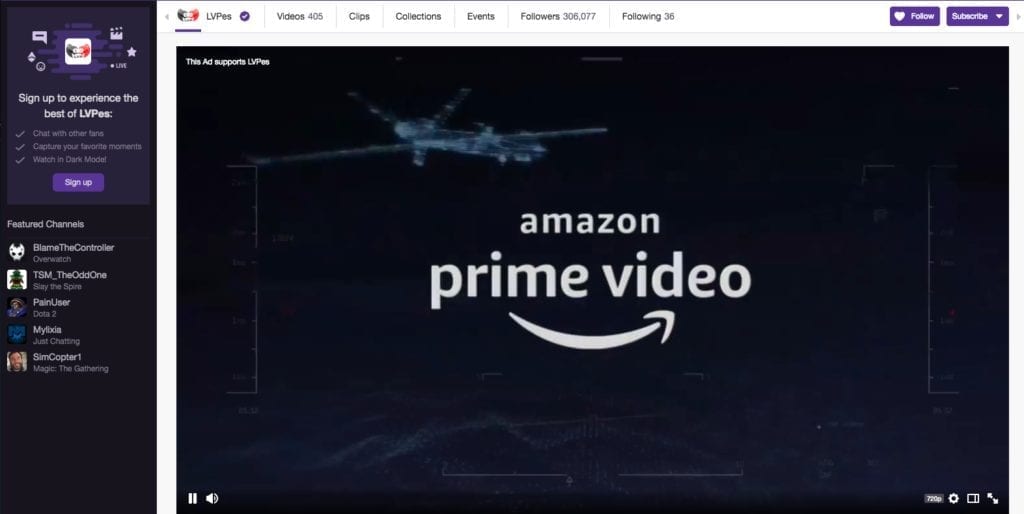 In-video advertising is only available to Twitch partners, members of an exclusive program that's aimed towards top Twitch streamers on the platform. After being manually vetted and accepted into the partnership program, streamers can run ads in their video streams. Twitch pays streamers per thousand views, and the rate varies depending on the time of year. For example, video game publishers often pay more for advertising during holiday seasons or during major product launches. Also, broadcasters may use video ads to support free subscriptions, while offering paid options to those who are willing to pay to remove ads.
Affiliate Marketing
 
Merchandise, including in-game items, is another way that streamers make money on Twitch. Also available only to members of the partnership program, affiliate marketing with games and in-game items earns streamers a 5% share of the revenue. If Twitch sells a specific game or has in-game items available for a title, a relevant sales box will appear beneath the video stream. The sales box appears on every channel, but only Twitch partners receive the commission. Finally, partners may also sell customized merchandise, such as t-shirts, through the Twitch store, for which they'll receive a far higher portion of the proceeds in most cases.
Donations

Donations are a surprisingly large source of income for many streamers, including some of the most successful ones. Unlike subscriptions, which come with a hard limit of $25 per month, donations come with no such cap, so people can donate as much as they want to their favorite streamers. Although the tipping culture rarely extends to the anonymity of the internet, the live nature of Twitch is perhaps one of the reasons that it has become a significant source of income for many. Streamers who receive generous donations often reward donors with recognition, which is why there are a few users who donate upwards of $100,000 per year.
Sponsorships
This is where things get really interesting from an influencer-marketing standpoint. Much like celebrity endorsement, brands whose target audiences consist of gamers may partner with an influential Twitch streamer to endorse a new product launch. While Twitch certainly doesn't have the reach of YouTube and other social media and video-sharing sites, its more industry-specific focus makes it extremely valuable for any business who counts gamers among its target customers. Provided streamers and brands alike remain authentic to their viewers, sponsorships can bring in huge amounts of revenue for both parties.
How Twitch Helps Brands Reach a Highly Targeted and Engaged Audience
When business leaders think about influencer marketing, the platforms which usually come to mind include Facebook, Twitter, Instagram and YouTube. After all, outside the gaming sector, most people haven't even heard of Twitch. Furthermore, even the most influential people in gaming primarily reside on other platforms. Easily the most famous, for example, is Swedish online personality Felix Kjellberg, who goes by the name of PewDiePie and is the most-subscribed person on YouTube with 66-million followers and over 18-billion views.
We rarely hear about influencers on other channels; there's a lot to be said for setting your sights on niche markets. What makes Twitch so effective for reaching out to influencers is that it has an industry-specific focus and a deeply engaged user base. In the world of competitive gaming, for example, it simply has no rival. In other words, if your audience includes gamers, then you'll be missing out on a key demographic of your ideal customer.  We've set out everything you need to know to master influencer marketing on Twitch. 
For those directly involved in the gaming industry, such as publishers, developers or hardware manufacturers, reaching out to influencers on Twitch should clearly be the first and biggest step in any outreach strategy. However, getting in front of audiences on Twitch can also help many other companies expand their reaches. After all, gaming aside, it caters to a large demographic, which consists primarily of male users (81.5%), and by far the biggest age group are millennials between the ages of 18 and 34. However, the female population of Twitch users and streamers alike is steadily growing as well.
Ultimately, if your product or service is likely to be of interest to gamers, Twitch is the obvious influencer platform to go for. Nonetheless, those in other industries may also find influential figures on the platform, such as those involved in music broadcasting, creative content and so-called in-real-life streaming, an extremely broad category that covers everything from cosplay to cooking.
Here are a few ways that companies are reaching out to influencers on Twitch:
Tyler Blevins, known on Twitch as Ninja, has more than eleven million followers and makes at least $350,000 per month from subscriptions alone. Tyler is the most influential Twitch streamer of all time; having caught the attention of global food-delivery service Uber Eats, they aimed to help players ensure that no gaming session was interrupted by the need for culinary sustenance.

Guy Beam, also known as DrDisrespectLive, has over two million followers, making him one of the biggest personalities on the platform. He partnered with developers of free-to-play battle royale game H1Z1, the Daybreak Game Company, to market the full release of the title from early access on the Steam and PlayStation platforms. For what started as a small indie studio, this earned an enormous amount of exposure.

Ben Lupo, also known as DrLupo, is a professional gamer and Twitch streamer with a community of over half a million followers. In one of the more unusual partnerships forged on the platform, KFC worked with the influential broadcaster to advertise its chicken wings during live sessions of PlayerUnknown's Battlegrounds. The so-called Chicken Dinner challenge popularized the phrase 'Winner, Winner Chicken Dinner'.
Saqib Zahid, known on Twitch as LIRIK, has more than two million followers and some 232 million monthly views. Unlike most streamers, he doesn't use a webcam, instead providing only commentary and comical audio clips. However, his wide reach caught the attention of gaming giant Ubisoft, who partnered with him to advertise its first-person shooter Tom Clancy's Rainbow Six: Siege.

A Blueprint for Influencer Marketing on Twitch
With its relatively industry-specific focus, Twitch certainly isn't a suitable platform for every business, but that's actually its greatest strength. The fact that it's still a niche platform makes it the most valuable influencer marketing resource for any business involved in the gaming sector and/or any organization targeting a demographic that is likely to be hanging around on Twitch. The fact that Twitch is home to a relatively close-knit community of people who share common interests makes it more valuable in many ways than the world's largest social networks and other platforms.
If your business targets gamers or other groups represented on Twitch, then you'll do well to educate yourself on how to reach out to leading influencers on the platform and learn how to execute a marketing campaign that will have a hugely successful impact on your bottom line. Assuming you've already got a clear overview of your target audience, let's look at some of the top ways you can promote your brand on Twitch:
Paid sponsorships can be a win-win for everyone. Popular streamers make a ton of money out of them, while brands can enjoy enormous exposure and build credibility through authentic partnerships. Since there's no small amount of money involved, it's also relatively easy to find paid sponsorships, but it can also be prohibitively costly for smaller organizations, such as indie developers and crowd-funded startups. Paid sponsorships tend to work best for established brands with generous advertising budgets and established reputations in their industries. It can also be hard to launch a successful paid sponsorship; since marketers need to pay special attention not to compromise authenticity. In other words; like any other form of influencer marketing; it's less about advertising and more about building credibility with real relationships.
Affiliate marketing is a low-risk marketing option in which businesses only pay for results, such as leads generated or sales made, while streamers earn commissions. Although much easier on the budget and highly scalable by nature; the amount of exposure affiliate marketing brings is a lot lower than it is with paid sponsorships. It also has a poor reputation among some circles; many Twitch users will simply ignore affiliate links and video ads. Nonetheless, this approach does bring the benefits of being easier on the wallet and low-risk; making it more suitable for smaller brands hoping to gain exposure through lesser-known streamers.
Product reviews and unboxing videos, though more often found on YouTube, are a popular video category on Twitch as well. What makes product reviews so popular from a marketer's perspective is that it allows them to tap into an audience that's already in the mind to purchase something; after all, they're conducting research into what they should buy. Better yet, genuine product reviews are authentic by nature, which also means it doesn't cost anything to the product developer. However, before sending review samples to leading influencers on Twitch; you'll want to make certain that you've perfected your product; since earning a bad review can be disastrous, having completely the opposite effect to what you intend.
Live events, such as product launches, are a great way to tap into large influencer audiences without spending any extra money. Many gaming influencers thrive on the opportunity to be among the first to experience a hyped-up new product. As such, getting them on board for a big event like a launch day is an effective way to provide a more engaging brand experience to your target audience too. Other newsworthy events, such as competitions, giveaways, game tests and eSports challenges can also be great opportunities for brands wanting to get their products out before the masses while also having them endorsed by influential gamers.
Conclusion – What Makes Influencer Marketing So Effective?
Ultimately, it's the authenticity of influencer marketing that makes it such an effective way to reach out to clearly defined targeted audiences. Unlike celebrity endorsement strategies, it's not just about the exchange of money. Rather than having someone like the Sex Pistol's Jonny Lydon advertising butter for Country Life (and becoming the subject of much derision), influencer marketing is all about people advertising the things they genuinely love to an audience of people with shared interests.
As experts in their field, Twitch influencers confidently share their opinions. When it comes to Twitch; every gamer with charisma and skill enough to entertain people can become an influencer (and earn a whole lot of cash in the process). That's thanks in a large part to companies that invest in influencer marketing strategies; improve their reaches, build credibility and narrow down their target audiences to a group of engaged and dedicated people who are much more likely to become paying customers.
Why not have a look at our how-to guide to help you get started with Twitch influencer marketing.