If you haven't heard yet, Instagram user Arii, aka Ariane Renee, recently sparked a discussion on social media after posting she failed to sell 36 T-shirts of her own brand – despite having 2.6M followers! What went wrong? Let's dig in and dissect what happened here!
First things first, in her since-deleted post, Arii wrote:
Unfortunately, the company that I'm working with goes based on your first drop sales. In order for them to order and make my products (even to keep working with them) I have to sell at least 36 pieces (knowing I've become super irrelevant, I already knew it was gonna be hard) but I was getting such good feedback that people loved it and were gonna buy it. No one has kept their word so now the company won't be able to send out the orders to people who actually bought shit and it breaks my heart.
People were confused: 2.6M followers and she can't sell 36 shirts?
Twitter was quick to chime in, and the 18-year old's post wasn't met with much sympathy. Several people called her out on having a 'pity party,' and roasted Arii who first rose to fame on the app Musical.ly. A tweet stating the "influencer bubble is bursting" gained over 100K likes. Yikes!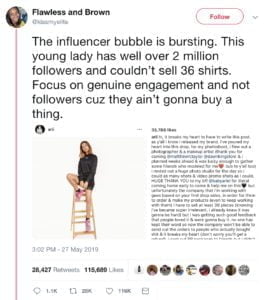 Genuine engagement is what matters most – Not followers!
Ok, saying the influencer bubble is bursting might be a bit drastic, seeing how the IM industry is growing like crazy. No, this fiasco showed us that relying on follower counts is no guarantee for success…And frankly, THAT is an influencer marketing myth that should be squashed once and for all. In Arii's case, we found a couple of issues why her merchandise didn't take off as planned, starting from not knowing her target audience to bad promotion & basic designs. Here's the breakdown.
Newsflash: 2.6M followers ≠ 2.6M customers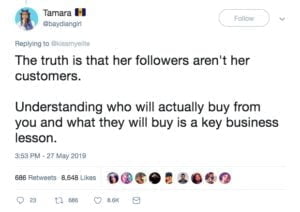 Credit: @baydiangirl
Tamara here hit the nail on the head. If only followers turned into customers by default, that sure would be nice. But sadly, that's not how it works. Having a ton of followers doesn't mean they'll convert into sales. A number is just that – a number. Especially for large accounts with millions of followers, it would be naive to assume they'd all love the brand, right? You need to look for the subset of people in your audience that actually identify with what you're selling!
Follower Analysis: Arii overlooked a few key issues.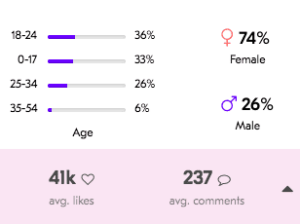 If only Arii had a look at her Instagram stats in Upfluence Software before launching her brand!
Now, we mentioned earlier Arii became famous on the app Musical.ly (now Tik Tok), an app geared towards teens. A quick look at Upfluence software showed us that just about 70% of her audience is under the age of 24…and, 33% were under the age of 18. What does that tell us? A large chunk of her audience are teens that have no to limited purchasing power! And while Arii's followers are 95% real, many of them are passive. Arii's Instagram posts generally get 41K likes and only 237 comments. Especially, the number of comments is a dead giveaway that Arii's Instagram account has lots of passive followers. In fact, Arii scores D ratings for likes and engagement, and even an F for comments.
It is likely that many of her followers initially swept over from Musical.ly a couple of years ago, but don't actively follow her anymore. So before putting her brand out there, Arii should have done some research into who her remaining active followers are, and what they might like. Maybe starting a conversation wouldn't hurt? (Genuine engagement is key, remember?).
Marketing 101: No promotion = No sales.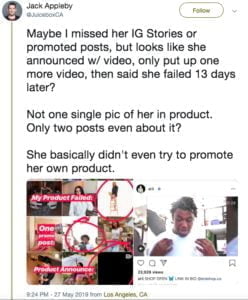 Jack is right! Arii made little efforts to promote her brand.
Promoting your product is one thing, doing it right is the another. Taking one look at Arii's Instagram, it's clear: Arii didn't promote her brand (enough) nor in a relatable fashion. Putting your brand out there once or twice might have worked a few decades back, but it won't do the trick in 2019. We live in a fast-paced world where people are exposed to 4000 to 10000 ads every day! So adding to the clutter with a couple of random posts won't get you anywhere. You'll have to strategically plan what channels and content formats you'll use, how often you'll post, and how you'll get your followers to interact with your brand.
No match: Arii's Instagram feed and online web store went separate ways.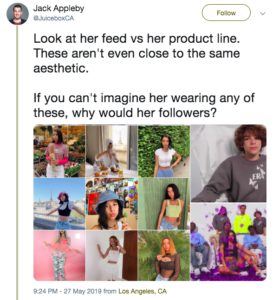 Yup, right he is!
It's painfully obvious that Arii's product line and her Instagram feed just didn't match up. For one, Arii knows how to snap cute pics, yet she did not include any snapshots of herself on her brand's website. And since she's relying on her influencer status to boost the brand, why can't we find a trace of her personal style in the merchandise? And speaking of the 'merch' itself…Loads of people slammed the design, said it was lazy, and that slogans lacked originality. So it's safe to say her products weren't received all that well.
Fact is: There is a clear disconnect here. Not making a link between who you are and what you're selling online is just not consistent, and doesn't seem genuine.
Including your audience in the process is key to building a loyal following.
Talking to your fans is arguably the most effective way to ensure people are buying your brand! Take influencer Danielle Bernstein with over 2M followers, for example (Just like Arii!). Just last month, swimsuit brand Onia and Bernstein announced their 4th collaboration, Onia x We Wore What. The swimsuit line was sold out within the first hour. How come?
Well, one of the major reasons why the swimsuit line is so successful is because Danielle takes her followers through the process step by step. Danielle said, 'I listen to them when they ask for certain things design-wise, color-wise, pattern-wise, size-wise, and we work hard to make that come to life, so they feel they've been involved in the design process from the early stages. They're more into the products because of that."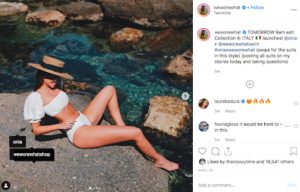 Taking questions from her followers – Danielle knows how it's done!
What do we learn from this?
Yes, Arii probably needs a quick refresher on Marketing 101 (possibly some design classes, too). Just like the Fyre Festival flop showed us, it just doesn't cut it to post a few random influencer posts and hope people will show up. And while we understand the skepticism, the so-called 'influencer bubble' isn't bursting (frankly, there is no 'bubble' to begin with). It just needs to be executed correctly!
Certainly, Arii's example underlines that (influencer) marketing isn't just posting pretty pictures. It's a whole lot more complex than that and requires doing research & proper planning. Whether it's Arii trying to sell t-shirts or your own brand, always ask yourself: Who am I dealing with here? What message can I use to connect with this audience? What's the makeup of your audience in terms of gender, age, location, etc. And, most importantly, does this product or service of mine fit this audience? Only after answering these questions, you can identify your target audience and come up with a strategy. And then you need to post regularly. Ideally, in a relatable and authentic fashion, of course.
By the way, Arii has since responded to the backlash she received. She clarified that she had to sell 36 units of each of her 7 products, meaning 252 units in total and that she'll work harder in the future.
Curious to find the perfect influencers for your brand? Book your
free demo
of Upfluence Software!