Browse, evaluate, contact.
Social media analytics built into your browser.
Upfluence's Chrome plugin is the ultimate "do it yourself" tool for influencer marketing. No purchase necessary, no hassle, just unrivaled insights.
Upfluence for Chrome allows you to analyze an influencer's profile straight from your browser and is compatible with profiles on all major networks: such as Instagram, TikTok, YouTube,  Pinterest, and Blogs.
Every marketer needs data at their fingertips in order to make the best decision about which influencers are best-suited to their brand. Increasingly, influencer marketers are focusing less on vanity metrics like how many followers a creator has and looking in-depth at their engagement rate and how they are generating real value for brands. The good news is that Upfluence's Chrome plugin offers a thorough look at the most important metrics to measure influencer performance. 
Why should you try out the Upfluence Chrome plugin?
The short answer is: immediate access to in-depth influencer data (follower numbers, fake follower %, average likes, average engagement rate and much more!), greater online transparency, and easy access to a creator's contact info. It will definitley save time on influencer identification and kick-start your outreach process!
Here's how to get started:
Simply download the Chrome plugin here (*must be logged into a Google account.)
Then, go to the social media profile of the influencer/creator you are interested in knowing more about. 
Click the Upfluence Plugin icon, as seen in the image below, from your plugin menu (top right) and gain unmatched analytics insights.

What will you get with the Upfluence for Chrome plugin?
Deep Dive Channel Insight
Instantaneous, cutting-edge analytics for any influencer, for all of their social media accounts.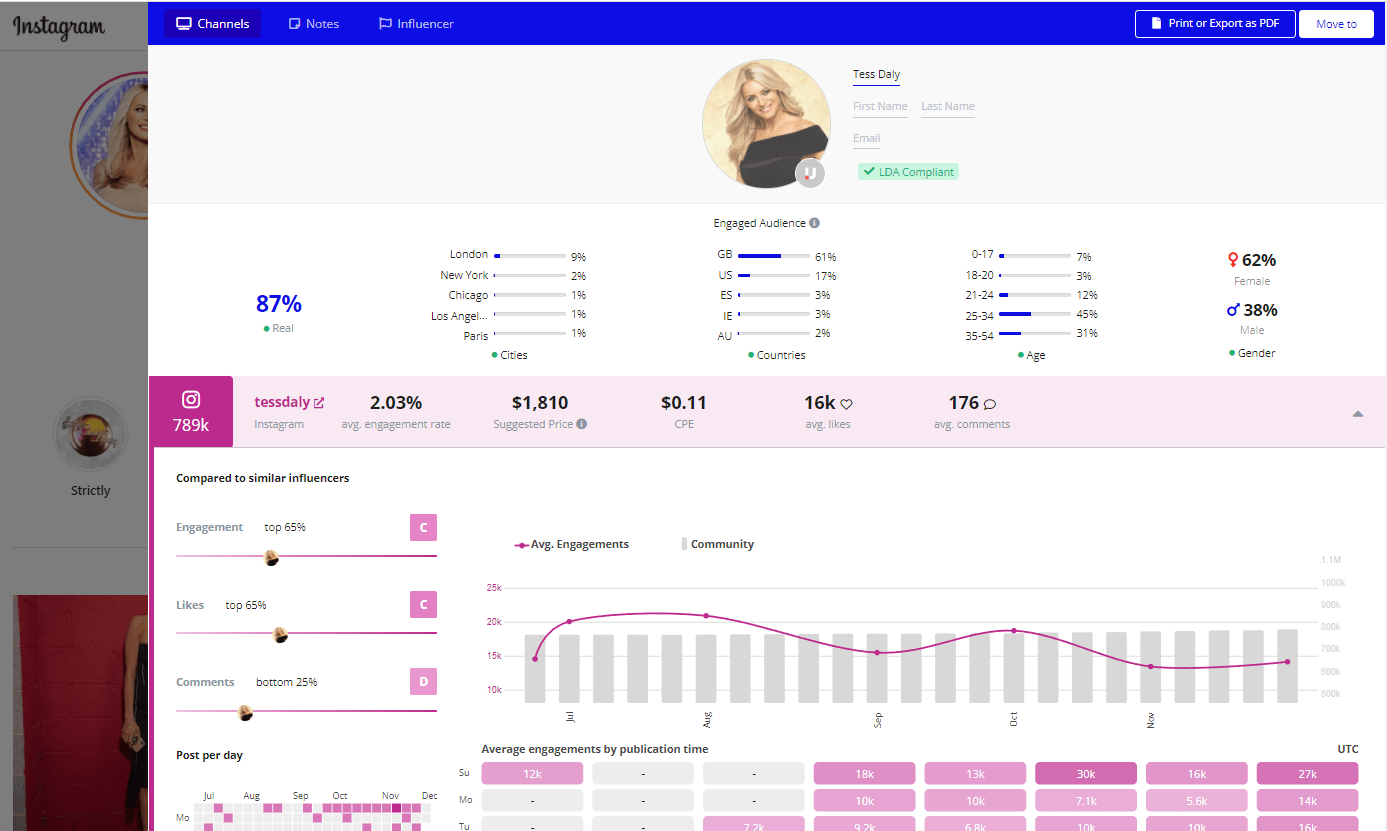 With Upfluence analytics, you'll know exactly who is influential and how well they can engage their audience.
Thanks to detailed performance history, users can see how well an influencer's posts have been performing over the past 60 days for any given platform they use. Each profile comes with a follower analysis (% of real vs. fake) and follower demographic data. The tool also shows their average number of likes and comments as well as an auto-generated "suggested price" for collaboration based on their engagement rates.
To learn more about influencer discovery, read our influencer search capabilities here.
Make Notes on Memorable Influencers
You can write notes, opinions, and suggestions to help you make your decision to work with a particular influencer. All notes you make here are saved for future recall.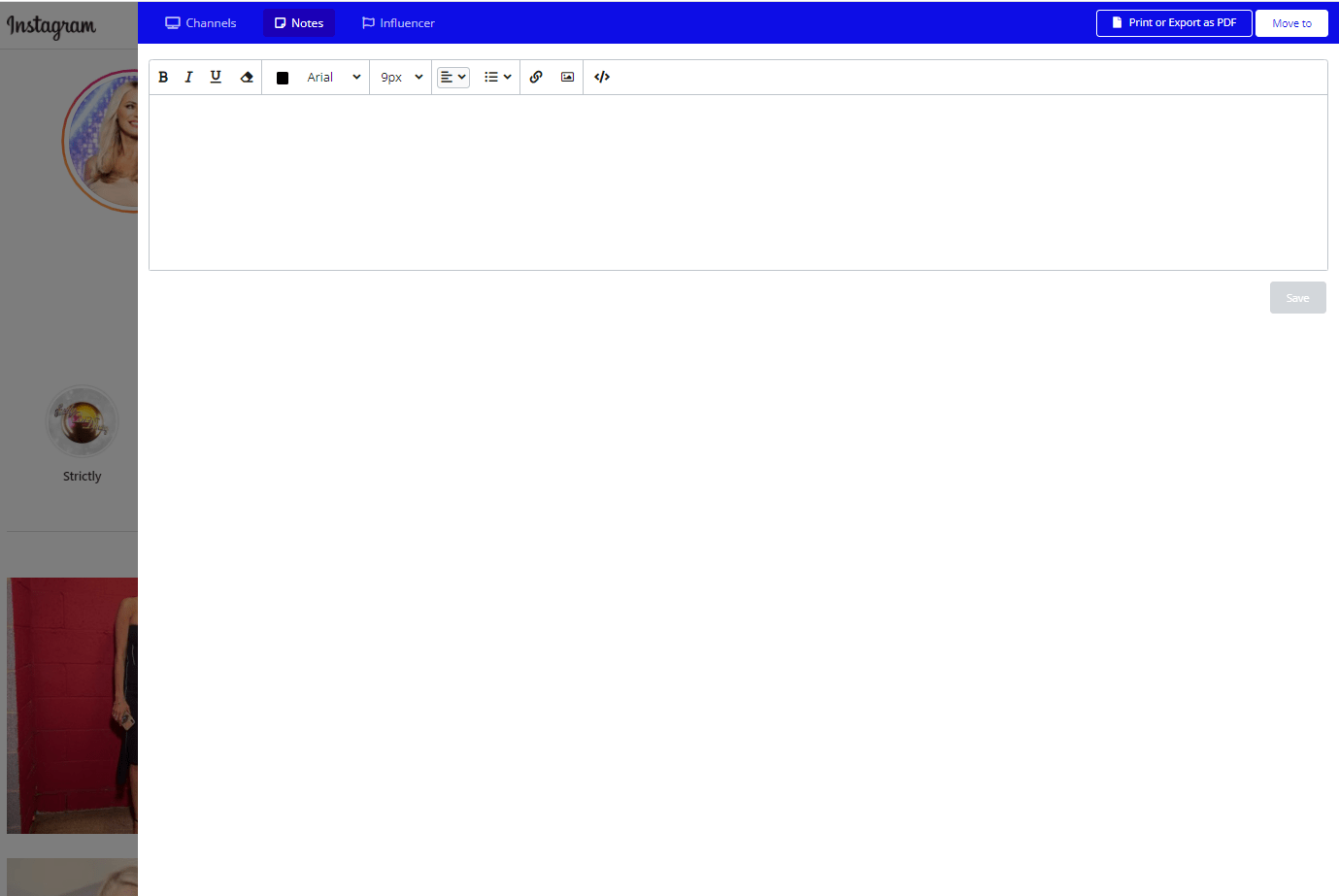 Influencer Bio Breakdown
The influencer tab displays all available personal information about the influencer including their full name, email address, and phone number.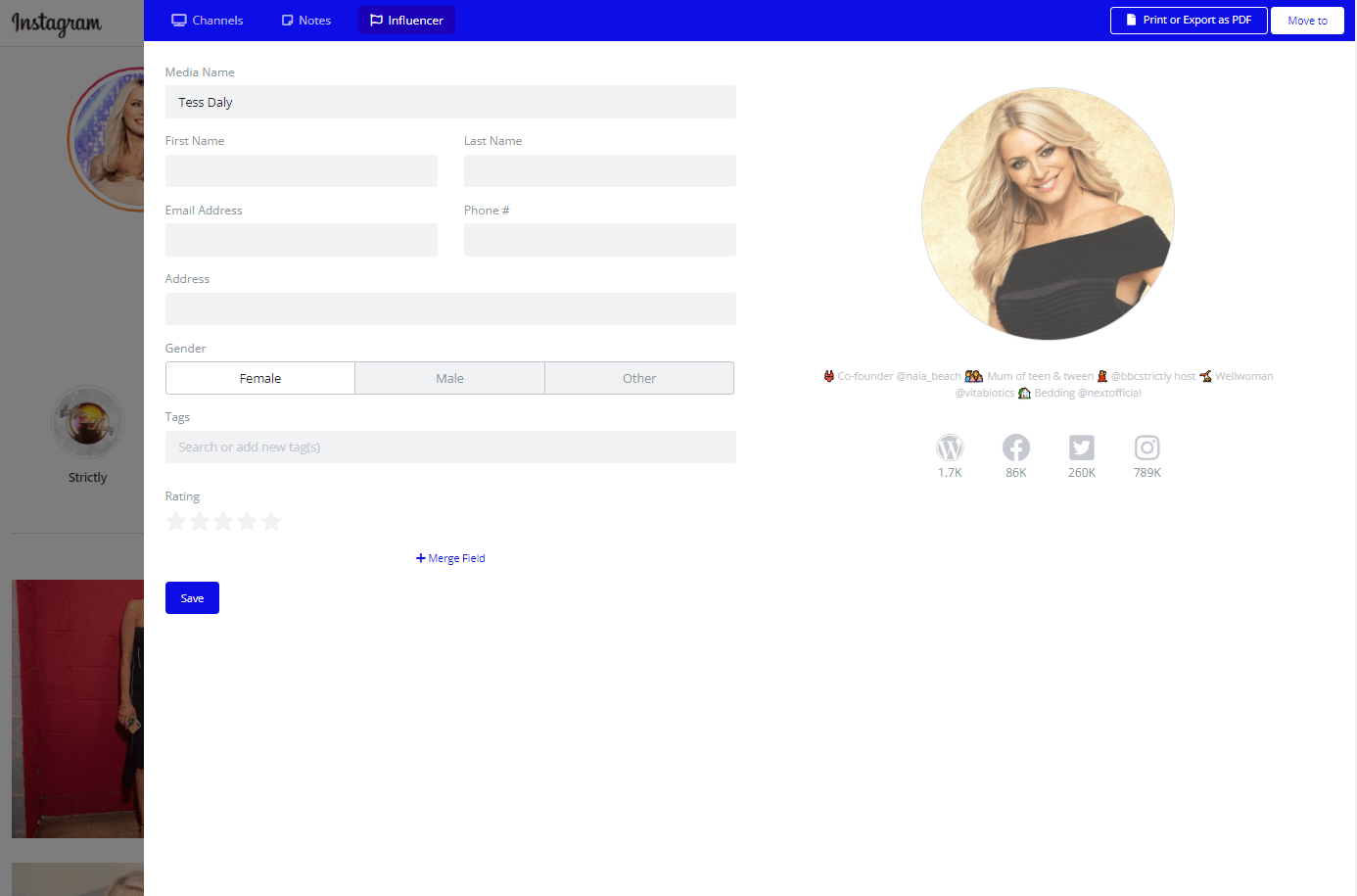 This is the perfect tool for anyone seeking to improve their influencer marketing process.
The Upfluence Chrome Plugin can be used for a variety of purposes: whether you want to check out your own analytics, those of a competitor, or if you're an influencer, you can use our reliable third-party statistics to share with brands as an impressive performance media kit.
However you decide to use it, know that it is a powerful plugin that contains the very same data we rely on for our marketing services.
We're sharing it because we believe there should be no guessing in influencer marketing.
Upfluence for Chrome is designed to offer a more complete overview of any influencer in question before you reach out to them.
Not only is it a total life hack, but we also hope that it will add a level of transparency that is needed in this ever-growing industry. We know how crucial analytics are to the success and credibility of influencer marketing.
Please enjoy our tool and stay tuned for even greater updates!
Ready for better browsing? Add The Upfluence Chrome plugin.

Influencer featured in this article: @tessdaly