When it comes to marketing trends catching the attention of CMOs everywhere, influencer marketing is at the top of the list. Many agencies have adopted this form of marketing to increase brand awareness, attract potential customers, and boost business growth. What was once siloed to PR or social media departments, influencer marketing, is now seen as a key element of marketing strategies and included in media plans.
Changing consumer behaviors towards increased use of e-commerce websites, social media, and shopping from mobile phones has cemented the place of influencer marketing as a key strategy for driving business growth. Over the past few years and months, e-commerce has accelerated, creating a unique opportunity for online brands to leverage social media creators as key partners in their marketing strategy.
We'll explore how influencer partnerships are helping brands reach business outcomes including building consumer trust, driving web traffic, and increasing conversions.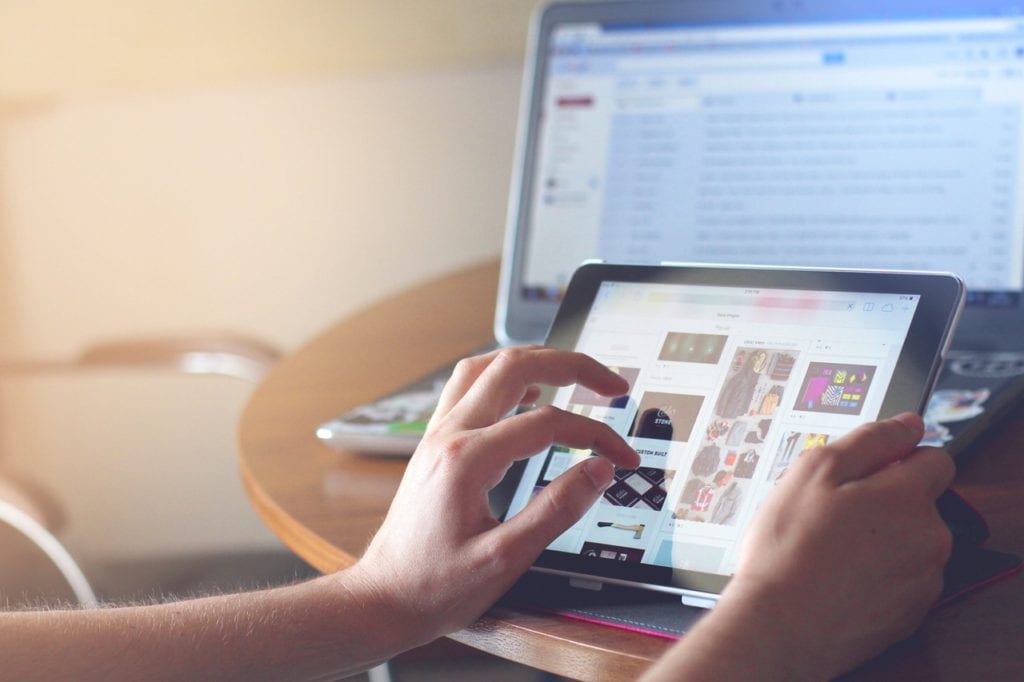 Who are influencers?  
Let's start by defining who influencers are to better understand how they can serve your brand. Influencers are an industry of professionals and experts whose opinion is trusted and valued by their audience. Though there are an increasing number of influencers out there, many of them have found success by being managed by agencies. This is due to the large number of requests that brands send to work with them.
Influencers who have managed to keep their business alive for years learned how to evolve and grow with their audience but also how to adapt to trends. They know how to build the right partnership that will benefit both them and the brands they work with. They provide value to their audiences and amplify the content by collaborating with other influencers. Social media influencers are a versatile group of creators. They are largely defined by their powerful social reach and ability to create authentic connections with target audiences in a niche industry area. You can learn more in our Cheat Sheet to Understanding Influencers, Affiliates & Brand Ambassadors. 
1. Influencers know how to mobilize people and boost traffic to their partners' sites
Influencers are influential because they know how to mobilize their audience and get key messages in front of their target customers. The most successful influencers have found a specific, niche audience, and they communicate with them in order to get them to take some kind of action. Some are considered experts in one of several topics, such as cosmetics, DIY, marketing, or finance.
It's estimated that 92% of consumers trust word-of-mouth recommendations above other sources. What's more, 61% of people specifically trust influencer recommendations above brand-owned content such as ads.  This means that choosing the right influencers to work with means that your target customer has to align with their audiences.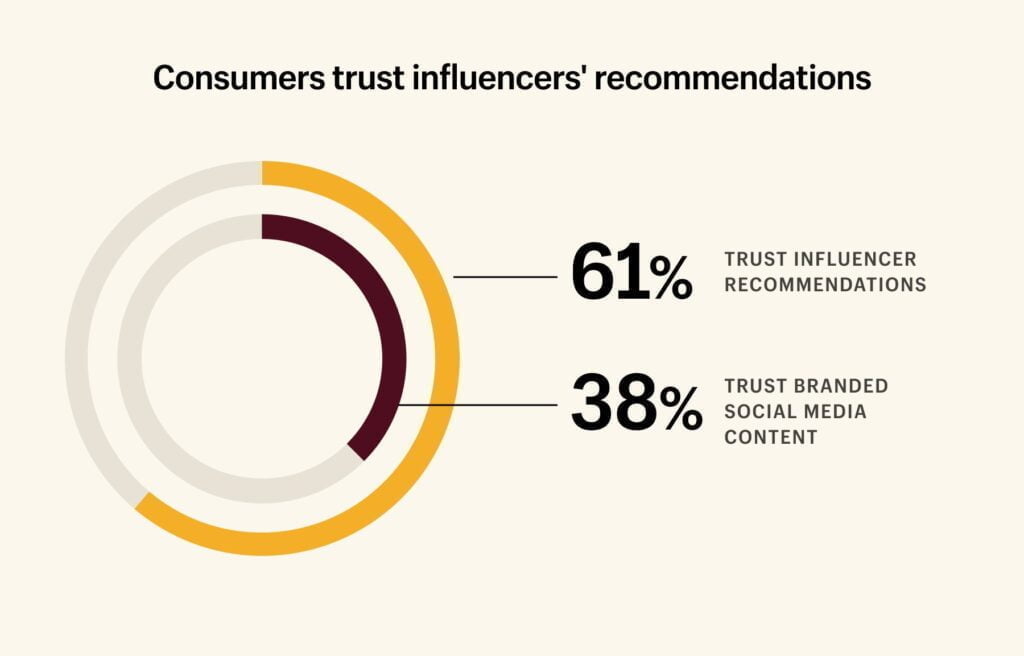 Influencers who have cultivated an active audience within a certain industry niche know exactly how to engage their audience effectively. They do this with authentic content and clear calls to action. Creators are key to helping you build trust with new audiences and generating interest in your brand. In this way, influencers can help brands in the early stages of converting new customers.
2. The influencer's opinion is valuable and interesting to their followers
Many of today's influencers started their careers by being passionate consumers of products from a specific industry. They knew a lot about your industry. As they've made it their business, they've learned even more.  They have valuable information on how consumers see and shop for specific products and services. They are the missing link in your marketing team, the panel of consumers you would love to hire and the insight on your competitors you would die to have.
Influencer marketing is the fastest growing marketing channel, and for good reason. Influencers are key partners for content creation, product launches, and content promotion. They help save your marketing team time and resources by creating authentic content about your brand that successfully engages their audiences. According to Influencer Marketing Hub, 50.7% of brands using influencers run e-commerce stores, proving the value social creators bring to brands in building a brands' online presence.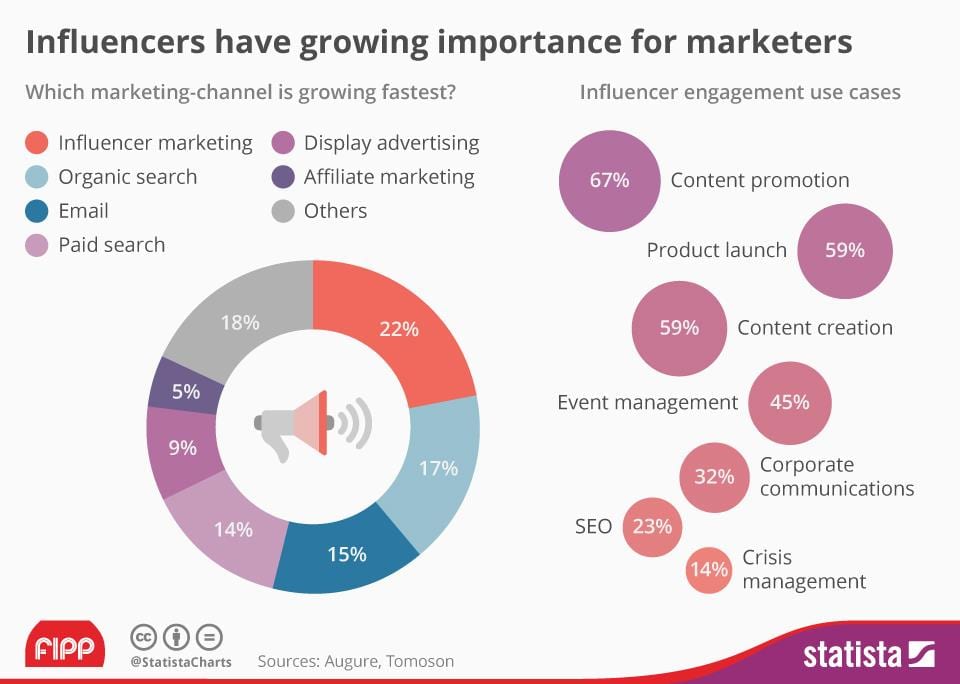 3. Influencers produce both purchase intent and can increase conversions
Influencer marketing has been shown to increase website traffic, but one of the things keeping most marketers up at night is conversion. And yes, influencers do make a difference here, as well. As people spend more time on social media and the internet the entire commerce journey is now happening online. As such, influencers are driving not only product discovery but conversions too. Inmar reported that 84% of people had made a purchase as a result of an influencer recommendation. Clearly, there's a substantial impact when an influencer makes an opinion or recommendation to purchase a product.
The relationship these influencers have with their audience is one that can spur results beyond just awareness and expose more potential customers to the sales funnel for your brand. Influencers are more likely to suggest or tell their audiences to go out and purchase or try a product. When combining that influence and credibility with an audience's purchasing power, and you've got a recipe for success.
4. Influencer marketing creates memorable social media experiences for brands of all sizes
Influencers can be an effective catalyst for consumer engagement for B2C brands. With the right incentives, they can generate engagement, boost numbers and reach, and create an even deeper loyalty to the brand. Whether it's an Instagram takeover or a Facebook contest, the types of opportunities available to tap into influencer marketing are nearly infinite.
The rise of live shopping streams is helping brands to leverage influencers as salespeople for their brand. By creating digitally native shopping experiences from using an Instagram link sticker in Stories, doing a live unboxing on Twitch, or appearing in a live shopping stream on YouTube, influencers are creating memorable online shopping experiences that are generating real growth for brands. This holiday season we've seen live shopping events on Instagram, YouTube, and Twitter featuring popular creators. This is surely a sign of things to come. E-commerce businesses have fully embraced how social media influencers can help them drive business growth and generate sales.
5. Influencer Marketing is here to stay
It's estimated that 49% spend less than $10K on influencer marketing, yet there is a significant percentage spending more. 23% spend between $10K and $50K. As more and more industries are producing these influencers, and they continue to be a trusted resource for audiences, many budgets are expected to grow in the next few years.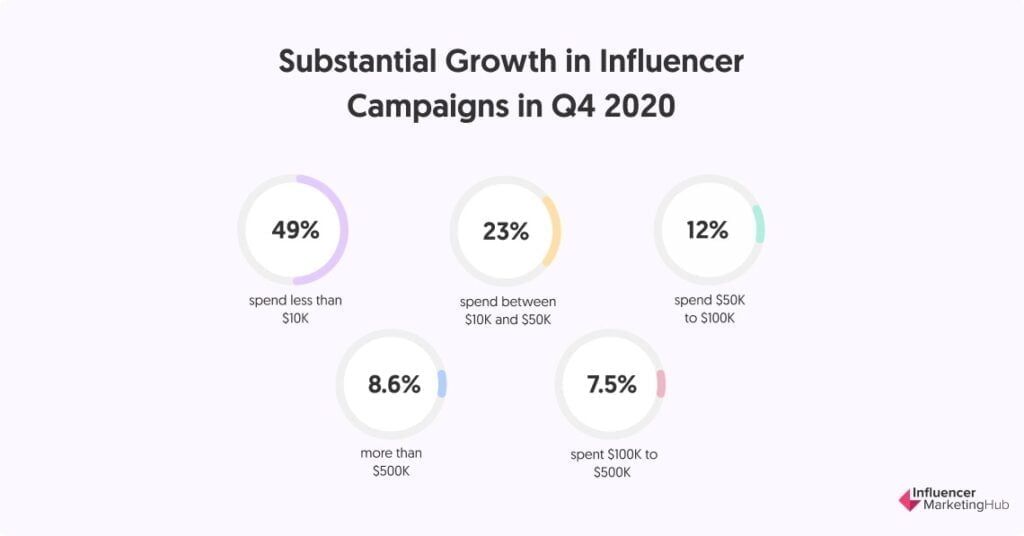 The power of Influencer Marketing
Personal endorsements and testimonials have been around for many years. But influencer marketing takes it to the next level by communicating directly with target customers. Consumers trust reviews from other consumers before purchasing a product. Reviews made by influencers are considered to be reviews from professional and passionate consumers who made it their job to try products and test a wider number of features.
For regular readers of a site or blog, sponsored content can stand out and be quite obvious, but sponsored content in the form of an influencer's review can fit seamlessly into the rest of their content, to the point of not feeling like an advertisement at all. Imagine having an audience willingly, and enthusiastically, consume your content without having to chase them. This is the power that influencers have in various industries and why they continue to be such an important resource for marketers.