With so many influencers to choose from, it's hard to know where to begin. That's why Upfluence has created a cheat sheet that goes back-to-basics on everything you need to consider when choosing the right influencers for your next campaign.
Contents
1

 Influencer Audience and brand alignment

2

 Influencer authenticity and KPIs

3

 Choosing the right influencers:

4

 Nano influencers and Micro influencers

5

 Customer Advocate (or brand ambassador)

6

 KOL (Key Opinion Leaders)

7

 Rising Influencer

8

 Mega influencers

9

 Celebrity
We explain why looking closely at influencer audiences is just as important as the influencer themselves. Investing in the wrong people can be costly —  with millions of potential creators available, it's essential to screen out those who are least likely to create an impact for your brand. The perfect combination of social media channel, influencer demographic, content niche, and target audience are easier to find than you might think! Influencer performance is a logical place to focus on next. When negotiating compensation, you can pull on the influencer's performance data to steer the conversation. Impressive rate cards and media kits shouldn't inform your decision to work with an influencer. Instead, brands can negotiate fees based on historical performance data. For example, an engagement-driven approach to compensation, such as calculating fees based on past engagement generated on content that mentions the brand. It all comes down to how authentically they communicate and engage with their audiences. You might find our guide to creating authentic influencer content particularly interesting!
Choosing the right influencers who have reach within your target audience will have the most impact. Understanding influencer performance, such as audience size and engagement rate will help you choose the top-performing influencers for your brand, helping you get the most from your campaigns.
Learn what each influencer category has to offer to help you find a good match for your brand. We've created an ebook to help you further understand the unique benefits of each influencer category from micro-influencers and your own customers, to KOLs, rising influencers, celebrities, and everything in between. With your campaign goals in mind, the visual cheat sheet below will help you decide on the influencer criteria most suited to your campaign, based on audience size, performance data, and how to best position an influencer for your brand.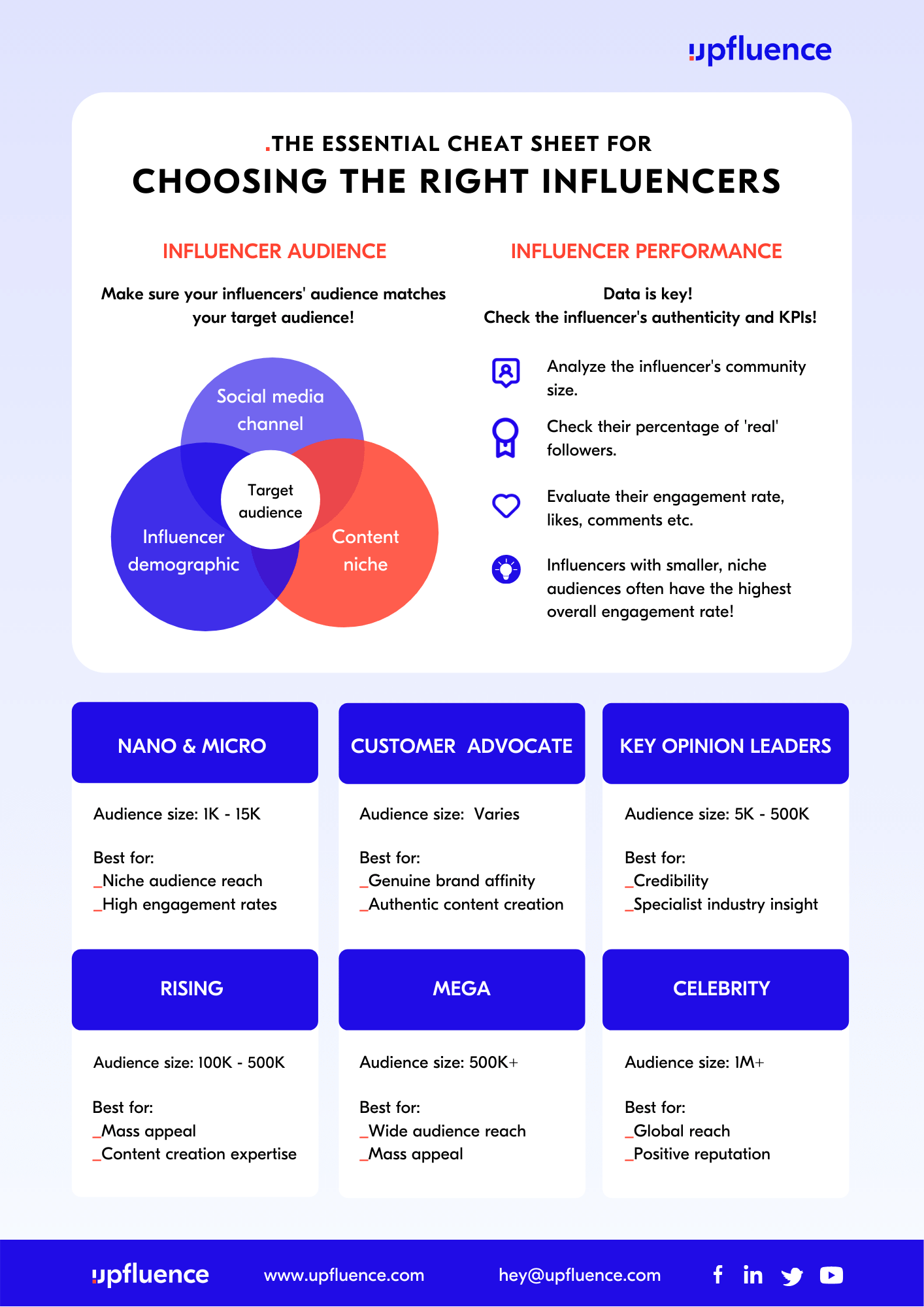 Influencer Audience and brand alignment
Make sure the influencer's audience matches your target audience, your perfect influencer partner will appeal to your niche audience; have a presence on the same social channels as your target audience, and their followers will share interests that your own customers and target customers share.
Influencer authenticity and KPIs
Data is key – analyze the influencer's audience size, their percentage of real followers, and evaluate their engagement rate and interaction with their communities. Remember, influencers with the smallest audiences often have the highest, most authentic engagement rate.
Choosing the right influencers:
Nano influencers and Micro influencers
Audience size: 1K – 15K
Best for:
Niche audience reach
High engagement rates
Customer Advocate (or brand ambassador)
Audience size:  Varies
Best for:
Genuine brand affinity
Authentic content creation
KOL (Key Opinion Leaders)
Audience size: 5K to 500K
Best for:
Credibility
Specialist industry insight
Rising Influencer
Audience size: 100K – 500K
Best for:
Mass appeal
Content creation expertise
Mega influencers
Audience size: 500K+
Best for:
Wide audience reach
Mass appeal
Celebrity
Audience size: 1M+
Best for:
Global reach
Positive reputation