While you may not find 'traditional' social media creators on the platform, Twitter is brimming with key opinion leaders in every industry niche. You can find influencers on Twitter by searching the platform itself using hashtags, lists, Tweetdeck and other free tools. To save time and pinpoint exactly the right influencers, we'll show you how to find influencers on Twitter using a dedicated influencer marketing tool.
Twitter is one of the oldest social media platforms and has built a very large user base. Twitter has around 436 million users, however there are reports of many users leaving the platform since Elon Musk's takeover.  Despite the current uncertainty surrounding the network, the size of Twitter's audience means it has a huge potential for brands to reach their target customers on the platform. In fact, one-quarter of adults in the US are using Twitter, which makes it a strategic platform choice if your brand is targeting a wide audience. 
Whether you plan to go full speed ahead with your planned Twitter marketing, or are waiting until the dust settles to decide your next move, the strategies shared in this blog will explain all your options for finding influencers on Twitter. Plus we'll highlight some tools that will help you efficiently identify and recruit the right Twitter influencers at scale. 
Before we jump in, I think this guide will be useful when you expand your search beyond Twitter. It will prepare you for influencer search more generally and offers a ton of practical tips!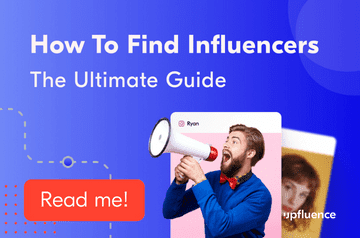 Ok, let's get started!
What is a Twitter influencer? 
A Twitter influencer is someone who can influence the thoughts and behavior of other Twitter users through their content. Brands can harness the power of Twitter influencers to encourage people on the platform to buy their products or services. Twitter influencers are usually key opinion leaders such as industry experts, CEOs, journalists, political commentators, athletes, and celebrities. 
Why partner with a Twitter influencer? 
Broad reach.

Twitter influencers are experts in engaging their audience and creating easily sharable content, helping your brand's message reach a much larger audience than through brand-owned social channels. 

Go viral.

Twitter is designed for content to be retweeted, meaning posts can go viral very quickly and amass millions of impressions, retweets, and comments.

Build reputation and credibility.

By teaming up with an industry expert or thought leader who is well-respected in your niche, your brand will gain extra credibility by association. 

Tap into trending topics.

55% of Twitter users

regularly get their news on the platform. This means the audience is primed to look for new reports and announcements. If your brand or products can be linked to a current news story, or if you have new research to publish, Twitter influencers can help to boost your brand's visibility. 

Drive sales.

53% of people on Twitter

are more likely to be the first to purchase new products. This is good news if you have a new or innovative product to promote! Twitter shouldn't be underestimated as a platform to drive revenue for your brand. 
Now you have a clear idea of why it is a good idea to partner with influencers on Twitter, let's explore how to find influencers on Twitter using a variety of methods!
How to find influencers on Twitter using manual search
Using Twitter itself can help you to discover the most prominent influencers in your industry. Using keywords and hashtags you can use the Twitter search bar to find top-performing profiles and posts. 
First – Compile a list of relevant keywords and hashtags for your industry. 
Next – Use the 'people' filter to see a list of relevant Twitter profiles. 
Then – Go through the list to find profiles that could be a good fit. Remember the blue tick means they're a verified user – a good indication of their credibility and reputation in your industry. 
This example shows how a search for #nutritionist brings up well-known experts in the nutrition niche that could be relevant for brands in the food and drink or fitness industry.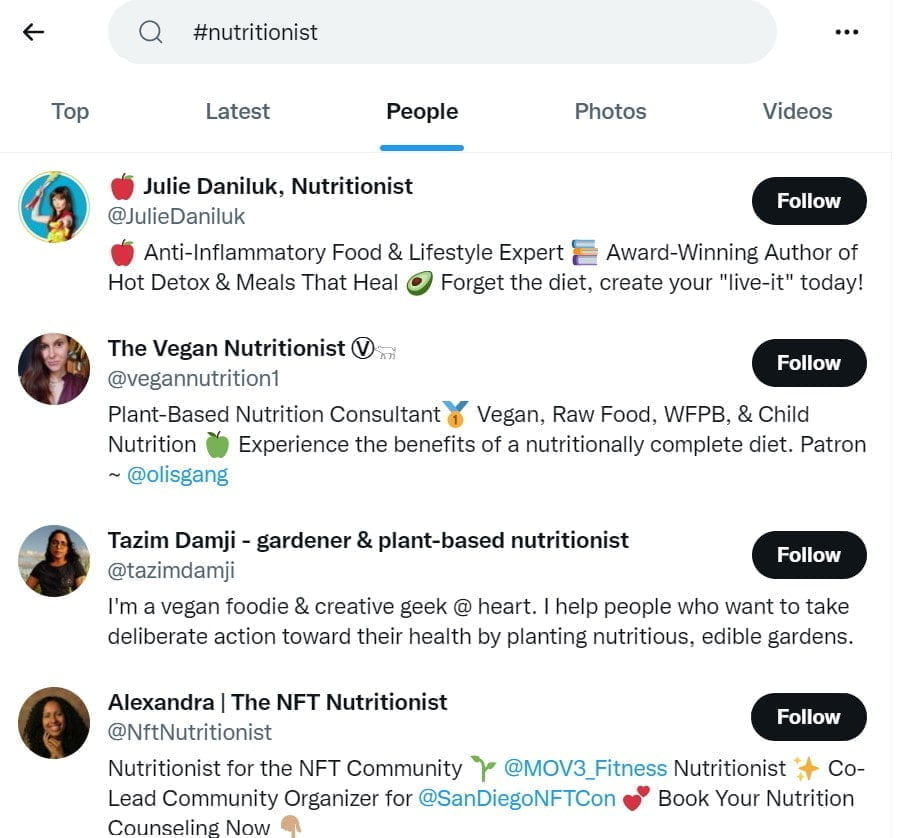 However, this method will take up a lot of time as you'll have to search for each term individually. There isn't a way to filter the results so you will have to analyze each profile individually to make sure they're a good match and meet your criteria. 
Try Tweetdeck
If you're using Twitter to search for influencers, set up Tweetdeck. It's a great way to have a dashboard to track your selected hashtags, mentions, and likes. It will make it easier for you to come across relevant Twitter influencers who are already interacting with your brand or posting about your niche. 
Twitter Lists
You can expand your search for Twitter influencers by using Twitter lists. These are curated lists of Twitter users around a certain theme. Once you have a list of thought leaders on Twitter you can look at lists they have created to identify other relevant influencers. For example, @JulieDaniluk from the search for nutritionist influencers has created several lists featuring influencers in the health and fitness space. It's a great way of finding new influencers in the same network as your previously identified creators.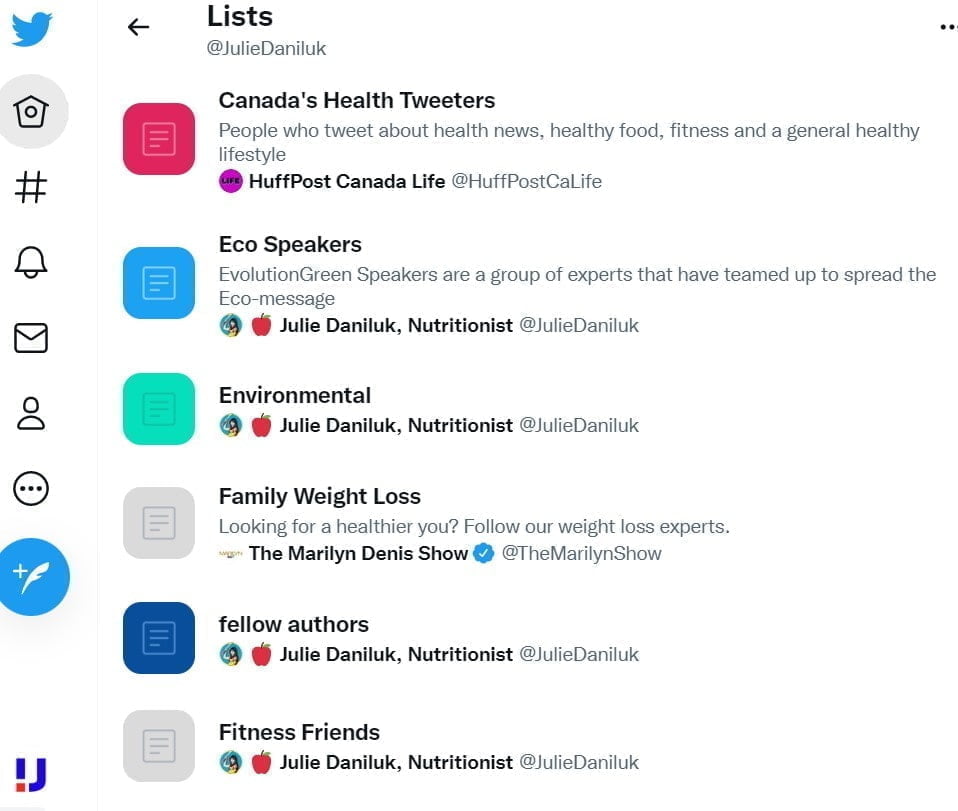 Twitter Spaces & Twitter Chats 
Brands can use the live features of 'Spaces' and Twitter Chats to interact and network with thought leaders and influencers in their industry.  Twitter Spaces is a new feature where a Twitter user can host a live audio discussion around a certain topic.  You can start by tuning into Twitter Space sessions hosted by influencers in your industry to get to know the most prominent speakers and thought leaders in your niche. Once you're ready to run your own, you can co-host a Twitter Space with other users. The live and interactive element of Twitter Spaces will help to grow your network and discover influencers to work with. 
Twitter Chats is the text version of Spaces. It's a way for users to take part in a live discussion in real time. Using a unique hashtag will make it easy for users to follow all the tweets and threads that are part of the conversation. By tracking who is using the hashtag and contributing to the live discussion, you will no doubt come across new influencers in your industry. 
How to find influencers on Twitter using an influencer marketing platform 
If you're looking to search for Twitter influencers at scale then manual processes will be too time-consuming. Using an influencer marketing platform will allow you to search a dedicated influencer database and use multiple filters to run a targeted search in minutes. Using an influencer search tool such as Upfluence will help you to pinpoint the most relevant Twitter influencers for your campaign through 20+ advanced filters. 
Using an influencer marketing platform promises both quality and quantity. You can find a wide list of influencers using keywords, then filter to create a shortlist according to engagement rate, follower count, location, etc.
The example below shows that a search for 'nutritionist' influencers on Twitter generates 3.3K results! 

We have examined several methods for how to find influencers on Twitter. In the end, your choice will be based on how much time and effort your in-house team can dedicate to influencer search. Using manual methods to search using Twitter's features will help you get an idea of the most popular influencers in your industry. But, to scale your influencer search and save valuable time and effort, an influencer marketing platform is the best way forward! Once you have your list of criteria and keywords, searching an influencer database will take only minutes, while manually searching will be a huge drain on resources, with no guarantee of finding relevant influencers.