Looking to partner with leading fitness influencers? Here are some of our favorite fitness influencers to help you get started.
From chiseled abs and downward dogs to green smoothies and squats, fitness influencers are dominating Instagram feeds in a way that we've never seen before.  We all want to look and feel good, and fitness influencers are the perfect inspiration for those looking to get in shape and lead healthier lifestyles. Thanks to Instagram Reels and TikTok videos, finding workout videos and fitness tips from your favorite influencer athletes has never been easier. 
If your fitness brand is planning to collaborate with influencers on your next campaign, take a look at our influencer marketing report on the fitness industry to analyze performance trends and be well-prepared for your next campaign! Whether you'll be running your campaign on Instagram, YouTube or TikTok, use Upfluence's data-driven fitness influencer strategy recommendations to make sure you're on track for success!
20 of the Most Popular Fitness Influencers 

Where Michelle once used to work in a clinic in Venezuela, today, she is one of the biggest fitness stars on Instagram. This model/bodybuilder has her own range of supplements and workout equipment and has also created two apps: Fitplan and Mealplan. Her motivational fitness videos and her down-to-earth nature are two of the reasons why her followers are so loyal to her.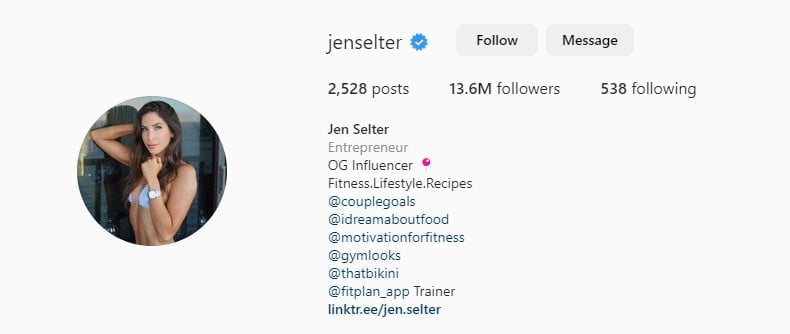 Based in New York, Jen inspires her followers with nutrition, fitness, and lifestyle posts on a daily basis. This influencer began her fitness journey in high school when she worked at a local gym. From there, she quickly gained millions of followers when her booty-based workouts started going viral. She has also collaborated with several health and beauty brands such as The Perfect Sculpt and Rebels Refinery.

This Australian fitness star has been posting up a storm on Instagram and won't be slowing down any time soon. Kayla founded The Bikini Body Training Company and is the author of Bikini Body Guide. Kayla encourages her followers to share their before and after pics as a way to create a tight-knit community that inspires and motivates each other. In 2016, Kayla made it onto TIME Magazine's list of the 30 Most Influential People on the Internet.

This fitness entrepreneur has graced the covers of several top magazines and is one of Instagram's most popular influencers in the health and fitness space. It wasn't until 2013 that this British trainer started having an impact online but today, Simeon has his own sportswear line and range of fitness accessories. His workout programs continue to be very popular with his followers and fans.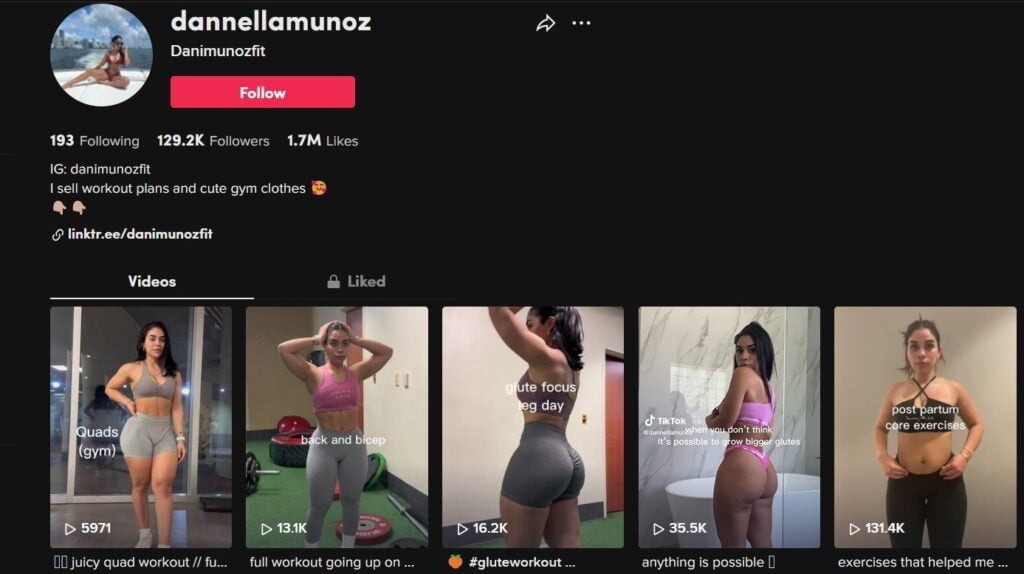 Dani is a fitness influencer and mother who shares videos showing how she keeps fit postpartum. She also has her own line of gym clothes. She has quickly built up a very engaged following with an average engagement rate of 20%.

In 2013, Lauren made the decision to take her health and fitness a little more seriously, which lead to her becoming a WBFF Bodybuilding Pro. Not only is Lauren a registered nurse but she's also a personal trainer and fitness model with a passion for adventure. Lauren uses her Instagram account to share workout and nutrition tips and advice, with a strong focus on having a positive mindset.

This health coach and fitness entrepreneur is a rising Instagram star that has been featured by several American, European, and Latin-American media outlets. Massy's unique take on working out is one of the reasons why she is so popular. Not only does she combine cardio, strength training, and yoga routines, but she is known for always finding a way to workout wherever she is. She connects with her followers by encouraging them to post their before and after photos and by sharing sweet photos of her daughter.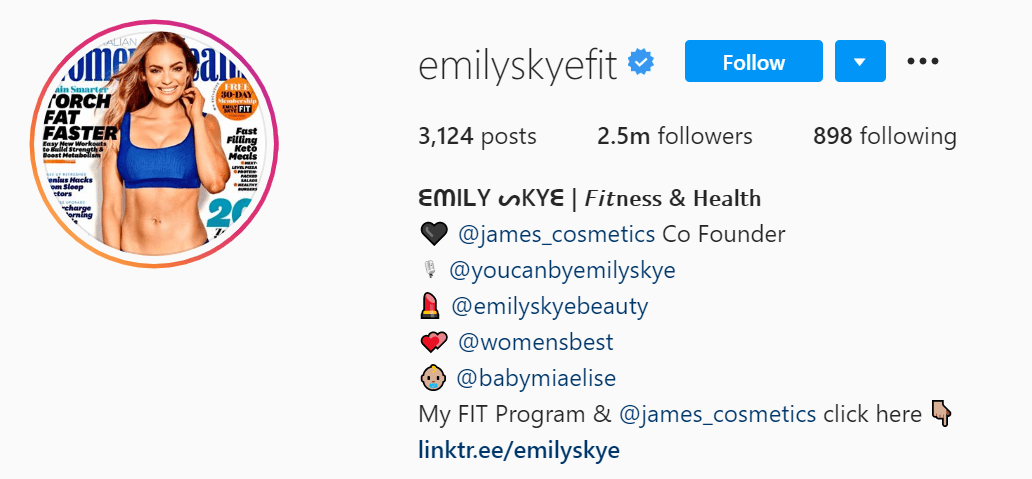 Emily is an Australian fitness influencer that is very popular amongst moms who want to stay fit and healthy during their pregnancies and get their pre-pregnancy bodies back. She's all about setting realistic goals and making family a priority. Her daily workout posts and videos encourage body positivity and healthy lifestyle choices. Emily is a global ambassador for Reebok and regularly blogs about fitness, beauty, and nutrition.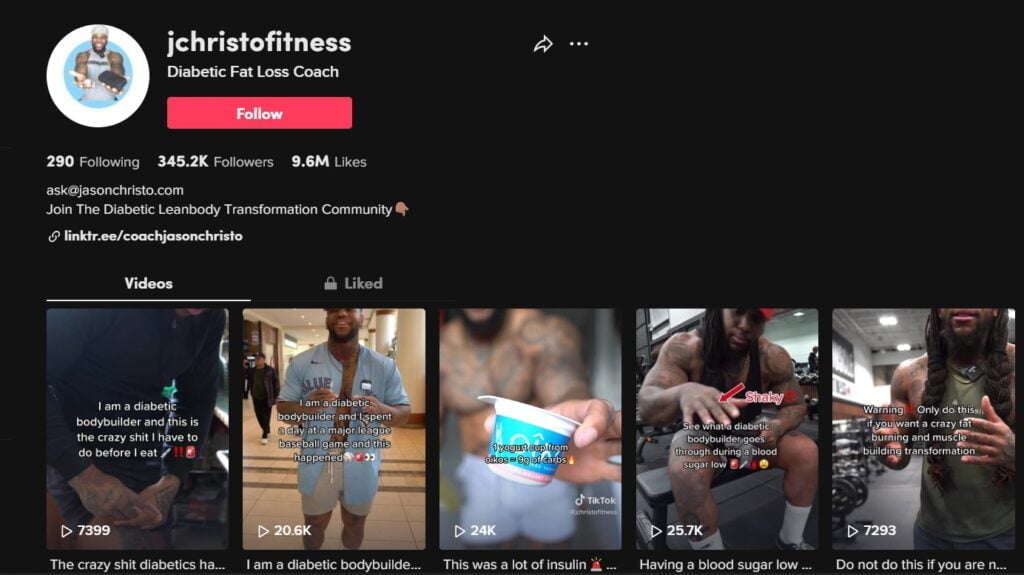 @jchristofitness is a diabetic fitness coach who has amassed a following of 344K on his TikTok account. He shares tips for how people with diabetes can workout safely as well as bodybuilding tutorials. Within Upfluence's software he scores A+ for engagement, views, likes and comments.

Also known as The Body Coach, Joe aims to transform people's bodies and lives one healthy meal at a time. Joe's Lean in 15 cookbook series is what first put him on the map as a health and fitness influencer. He has since also developed a 90-day program that incorporates meal plans and workouts that will help his followers reach their goals. Publications such as Grazia, Cosmopolitan, and The Daily Mail, regularly mention Joe, which has boosted his following even further.

This certified nutrition specialist and personal trainer love to switch things up so that she's always catering to different fitness levels. Alexia, who left her marketing job to pursue her passion for fitness, loves to use a wide variety of equipment to create her workouts so that her followers always have something new to try. She has also created the Fit For A Reason program, which you can sign up for on her website.

Lauren is another fitness star that is well known for her performances in six CrossFit Games. Along with her regular training-related posts, Lauren connects with her followers by sharing photos from her life and her travels. While Lauren has made a name for herself in the world of CrossFit, she is also an accomplished weightlifter who has participated in several professional competitions. Grown Strong is a brand that encourages women to tap into their inner strength and is one of Lauren's main initiatives at the moment.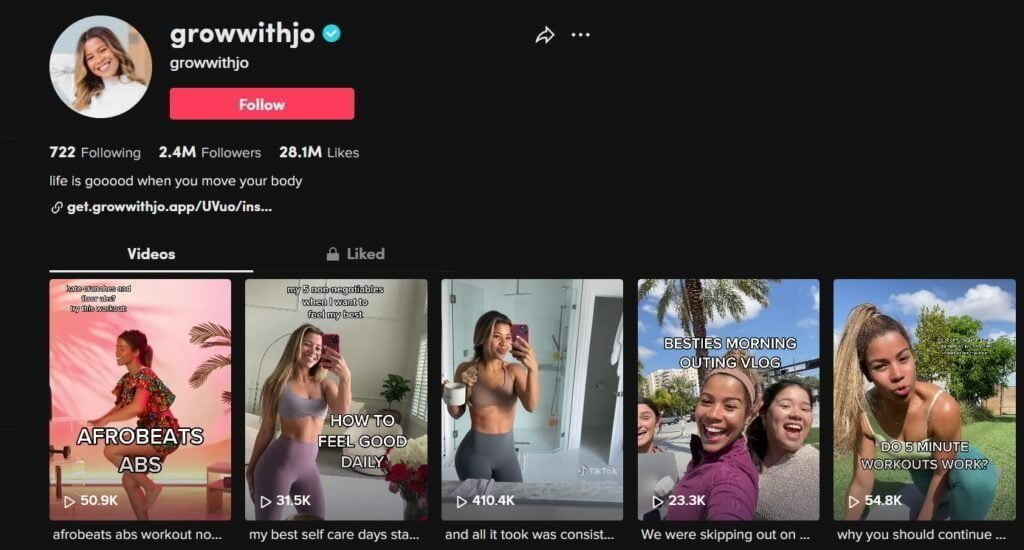 Jo shares a mix of fitness and lifestyle content on her TikTok account. She shares vlogs from her everyday life and workout videos. She uses different musical styles in her workouts including Afrobeats and Reggaeton.
Shaun T (1.2M Followers)

This fitness star and dad to twins made his mark when he created the Insanity workouts and wrote the book T is for Transformation. Shaun's Instagram account features regular workout tips as well as before and after shots of his clients that he uses to inspire his many followers. Shaun also has created his own range of tees, hoodies, tanks, and pants, and even has a podcast that's available on iTunes and Android.

This LA-based yoga teacher is making waves all across the globe. His strength, flexibility, and mobility make for amazing Instagram posts and he regularly runs workshops, retreats, and events for both yoga students and teachers. Along with having a sizeable following on Instagram, Dylan also has over 10,000 subscribers on YouTube. Dylan regularly partners with brands and sponsors, with Alo Yoga being his most long-standing brand relationship.

Sophie is a fitness enthusiast based in Amsterdam who has created a website and subscription to fitness plans as well as her social media content. She's built up a huge audience of over 2M followers on Instagram, and her audience is largely female (63%).
Even though Jeanette works with a number of professional athletes from the NFL and NBA, she still posts workouts that anyone can follow. When she's not working out in a studio, she can be found streaming from her home-based gym. Jeanette runs a website called The Hollywood Trainer that offers a wide selection of programs and tools that can be purchased online.

Melissa rose to fame as a celebrity fitness trainer, helping the likes of Kim Kardashian get into shape. She helps people to find the right work out program for them with her own fitness app and dedicated YouTube videos. She specializes in weight training and cardio exercises, as well as nutrition content.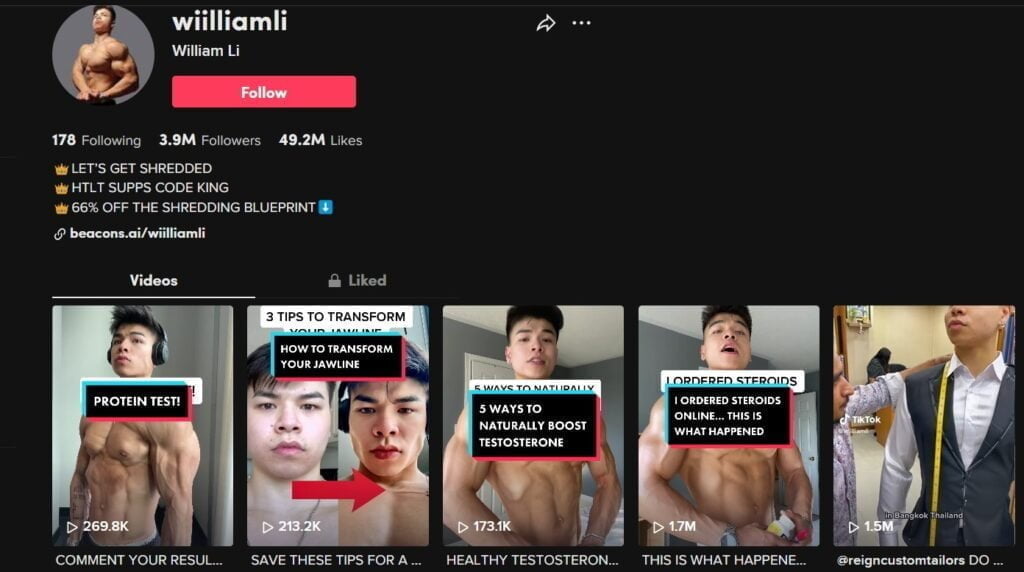 William is a bodybuilder based in Canada who regularly collaborates with brands to promote protein supplements and nutrition for weight training. He shares workout videos and entertaining videos like his 'bicep party trick' and the 'impossible egg challenge'.

Lisa's workout of choice is going for a run. She uses her social media platforms to document her runs and encourage others to take up running too. She takes on running challenges like running on snow and in cities around the world including Paris and Barcelona.
How to Find Fitness Influencers
Ready to recruit influencers for your next campaign?
If you need help with how to find influencers for your next campaign, check out How to Find Influencers – The Complete Guide about startegies for influencer recruitment and tips for choosing the best fit.
When you're ready to get started you have several options including using Upfluence's influencer search tool which allows you to use 20+ advanced filters to find the best influencers for your brand.
If you've been inspired by the influencer profiles mentioned in this blog, or have your own list, Upfluence's free chrome extension will help you dig deeper by offering performance metrics for any influencer. Simply install the chrome extension, visit your chosen influencer's profile then click on the extension to see a full performance dashboard, audience analysis and contact information for your chosen influencer!
Lastly, if you're looking to leverage organic partnerships, look no further! Who better to activate than your customers?  Your customers are your best brand advocates and ambassadors.  With Upfluence's eCommerce tools you can analyze your customers' social performance to pinpoint who your most influential customers are then reach out to them to propose a partnership! Organic influencers who love a brand are 7x more likely to accept free collaboration and create sponsored content for less!