You've heard the hype around influencer marketing as a top-performing digital marketing strategy, but naturally, you want to know about the potential pitfalls before launching your first campaign. You're not alone, 67% of brands are still concerned about influencer fraud. Avoiding working with influencers that have fake followers and fake likes is a must for brands that want to get the most out of their investment. Influencers with fake Instagram followers used to be prevalent, but luckily technology has advanced quickly to help us stamp out the problem.
Instagram is one of the more popular platforms to find influencers, but you need to be cautious before diving into a professional relationship. Influencer fraud can come at a great cost to your ROI and overall marketing budget. Influencer fraud has cost brands $1.3 billion. 
That's why we're sharing our top tips to help you conduct your own fake Instagram follower audit. We'll tell you exactly what to look out for so you can spot creator accounts that have fake followers, plus give you access to Upfluence's free tool giving you instant access to an influencer's fake follower metrics.
Before we jump in, I think you'll find this resource for finding authentic influencers helpful for avoiding influencers with fake Instagram fake followers right from the start.
How fake Instagram accounts look so realistic
Ok, let's get started! Let's examine how people are creating fake accounts so that you know exactly what to look out for. You may think that telling the difference between a fake and a real account in your Instagram influencer search is simple, for example, they might have zero followers but follow thousands themselves, or they may not have a profile picture or bio. However, there is much more to consider when it comes to fake Instagram accounts. It's very difficult to tell the difference between a real and a fake account when the imposter knows what they're doing!
There is a typical approach that these people take when creating a fake account:
The first stage is that they purchase followers. Usually around 3,000-5,000 per day for a month. This technique boosts their followers to 100k relatively quickly.

Next, they join a 'like' engagement group. With this paid service, the account owner will put up a post and get instant likes from real accounts. Each post will get 600-800 likes from accounts with 50k followers or more. The same can be achieved with comments.

They'll also use an automated growth bot alongside an Instagram management tool. This system helps draw in around 300-500 followers per day. Their account will begin to attract real followers, some of which are organic.
However, it's still only a small percentage of the thousands of fake followers used to trick businesses looking for genuine influencers. Here at Upfluence, we display the percentage of followers that are real for every influencer in our database.  Without knowing this figure, you would have to do considerable background research before placing your trust, and capital, in an Instagram influencer.
Why fake accounts exist
All you really need to start out as a fake influencer and start making money online is a few hundred dollars in cash and a bundle of good-quality photos. After that, all it takes is investing this money in buying followers and likes. It can become extremely lucrative for these people as they essentially get paid to market products to a ghost audience. The barrier to entry to earn money with a fake account on Instagram is incredibly low. So, it's easy to conceive why a small percentage of influencers use these methods.
Understanding the motives of fake influencers allows you to sidestep them when sourcing a suitable Instagrammer to optimize your reach.
How to detect fake followers on Instagram
The key to weeding out accounts created by fake influencers is to identify if they have fake Instagram followers. You can analyze many aspects of an Instagram account to spot if bots or fake followers are present. You should look at follower location, the quality of follower interactions, Story performance and more! See a full checklist below of what you need to do to avoid working with influencers who have fake Instagram followers.
Check to see where their traffic is coming from
Authentic social media influencers will usually be active on other platforms as well as Instagram. If you've spotted an Instagram account of a creator you want to work with, you can look at their presence on other social media channels such as Twitter, Snapchat, TikTok, or YouTube.
Within Upfluence's influencer search tool, you can see if your influencer is active on other social media platforms. Comparing their follower numbers and activity across several platforms can help you to gauge if they have fake Instagram followers. Of course, influencers usually prioritize one or two platforms to grow their audience, so it's normal to see differences in follower numbers across platforms. However, access to their performance data across all their active channels help you build up a bigger and more accurate picture of what they can offer your brand.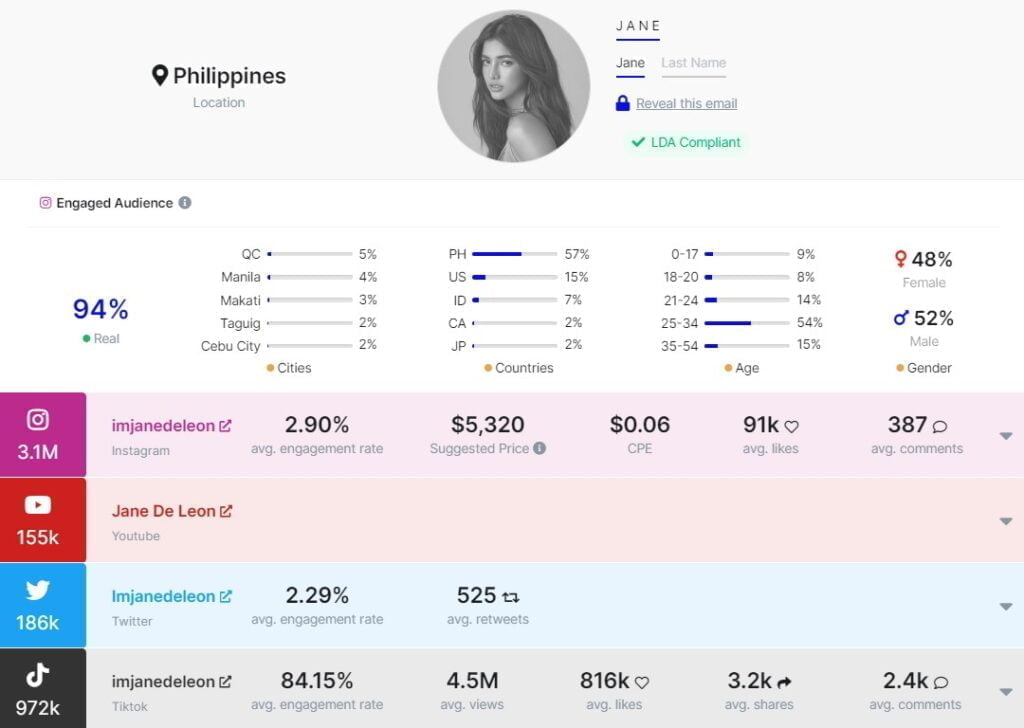 Many influencers will also have an official website or blog that links to their official social media accounts. Double-check their website is linked to the correct Instagram account as another sign of authenticity.
A general Google search is also a good idea. Google isn't a reliable source by itself. It's all too easy for a fake Instagrammer to create a fake Wikipedia page, for example. However, look for evidence of this person collaborating with other influencers or try and spot if they recycle the same photos over and over again. Not all influencers have a strong presence off Instagram, nevertheless, finding activity outside of the platform is a good indicator of authenticity.
Quality of social engagement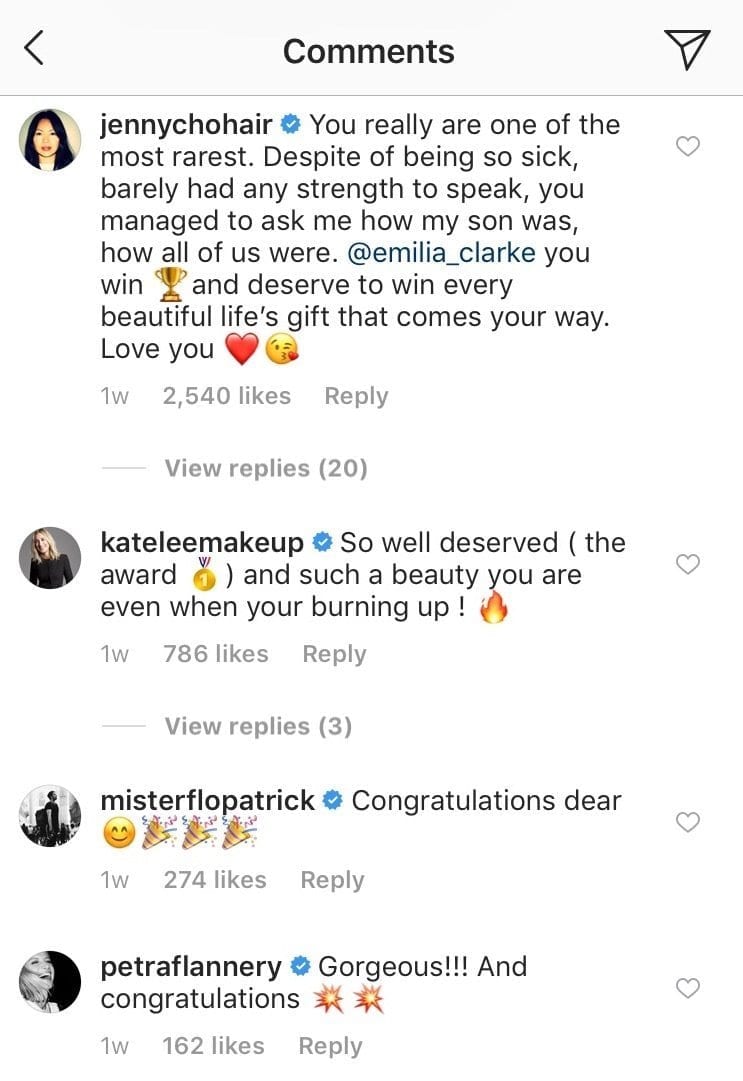 Look through the influencer's recent posts and comments. Do the comments share meaningful content, relate to earlier comments or refer to the topic of the post? Or rather is it a stream of thumbs up, love hearts, and smiley-faced emojis? It's time to raise eyebrows if it's the latter that you're consistently seeing.
When looking at large accounts it can be difficult to identify every bot or fake account among their followers, so it's not unrealistic to see a certain level of spam. However, as long the majority of responses are written by a human follower and not a bot, then you have a green light!
Another measure you can take is to scroll through the comments and see if you can spot the poster responding to questions or compliments. This activity is a great sign as it reveals to you that they have valuable insight into your target market's desires, habits, and characteristics.
Instagram Story metrics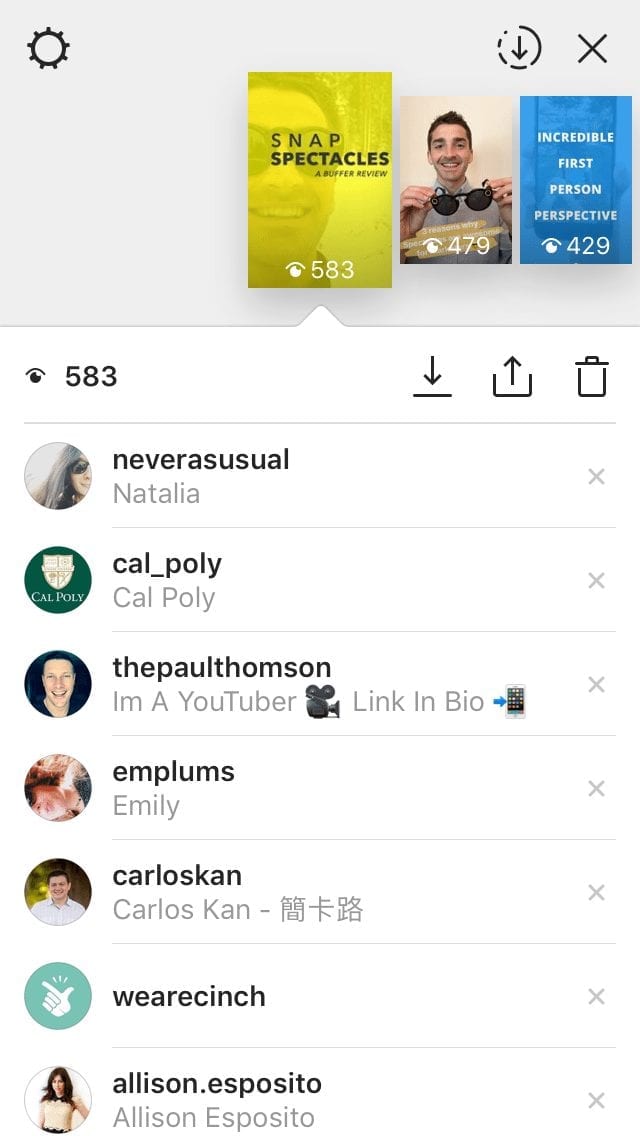 Image via Buffer
Fake Instagrammers can cover their tracks in many ways, just as we've discussed above in their measures to create a phony account. However, Story views aren't publicly visible. Therefore these fake accounts don't invest money or time into altering and improving these stats. That's why asking them for a screenshot of their last story is a clever move.
Also, it's also an accurate yardstick to check how much information they are willing to divulge or withhold. Can this influencer provide you with metrics to back up their potential value to your brand?
You'll see that despite their enormous follower base, their stories will only attract around 3,000-4,000 views. It goes without saying that if they give you some excuse on why they're unable to send you this information, then alarm bells should be ringing.
Content consistency
Real Instagram influencers know that in order to maintain high engagement rates and gain new followers organically they need to show consistency with regular posting. It's not uncommon for influencers to take short breaks from social media, but creators usually announce this to followers ahead of time. They know the importance of regular, authentic communication with their audience.
On the flip side, fake influencer accounts will often post a large volume of content in a short amount of time and show highly inconsistent posting patterns. When scrolling through an influencer's feed, look to see how often they've been posting (by checking the dates) and if there's been a big, unexplained gap in activity.
Previous brand partnerships
Another insightful measure is to look through their past paid sponsorships. You'll find these are posted with #ad, #spon, or #sponsored hashtags.
Look to see if they are consistent with their brand choices. An influencer looking to forge a long-term community won't spam followers with irrelevant content that clearly provides no value to viewers and cheapens their image.
Real followers don't stick around long when an influencer pushes every affiliation that comes their way. Successful influencers are cautious in their selection process and have to find brands that align with their community. Influencers will share content and paid promotions around their specific niche. You can be reassured about an influencer's credibility by looking to see if their sponsored content aligns with their organic content. Look to see the kinds of brands they are working with. Do they fall into the same industry niche? Are their followers engaging enthusiastically with the content? Details about recent brand collaborations will reveal if they're a genuine influencer or a fake account. 
Do they understand their audience?
If after the above steps everything is looking positive and you're sure that the account holder is, in fact, real, you might want extra reassurance by reaching out to them directly. Having a conversation with them about their community will show how invested they are in building up a genuine online audience.  Do they know what their followers want? Do they care? Or is it a matter of posting selfie after selfie without much thought to their audience's desires?
A clear sign of a genuine influencer is that they understand their audience, have high engagement levels, and perhaps do meet-ups to strengthen their community. An Instagrammer who hasn't attained their followers organically won't be as in touch as they should be with their followers, and may struggle to back up the legitimacy of the community they've created.
Follower location
The reason to check geographic location is often fairly obvious. If your potential influencer is a fashion blogger based in Melbourne but the majority of their followers live in Asia, there's a high chance that they've purchased these followers. It's not always the case though, digital nomads and jet-setters often attain followers globally without any shady purchases along the way.
We recommend that you analyze the geographic location of an influencer's followers. You can achieve this through our free chrome plugin. Simply install the plug-in, visit the Instagram profile of your chosen influencer and view the stats. 
For example, this influencer @marlafay is based in the United States, and we can see that 66% of her followers are also based in the US. This is a good indication that her Instagram followers are real. In the left column you can also pinpoint in which cities she has the most followers. We can see that 4% of her follower base is in Los Angeles.
Tools that detect fake Instagram followers 
Upfluence's free plug-in gives you control of your influencer marketing research. Think of it as a fake Instagram followers audit. Below, we give you the steps to download the free Upfluence Chrome plug-in to view stats on an Instagrammer's reach. Not only that, but you'll also be able to identify the geographic location, gender, and age bracket of any Instagram account's audience base.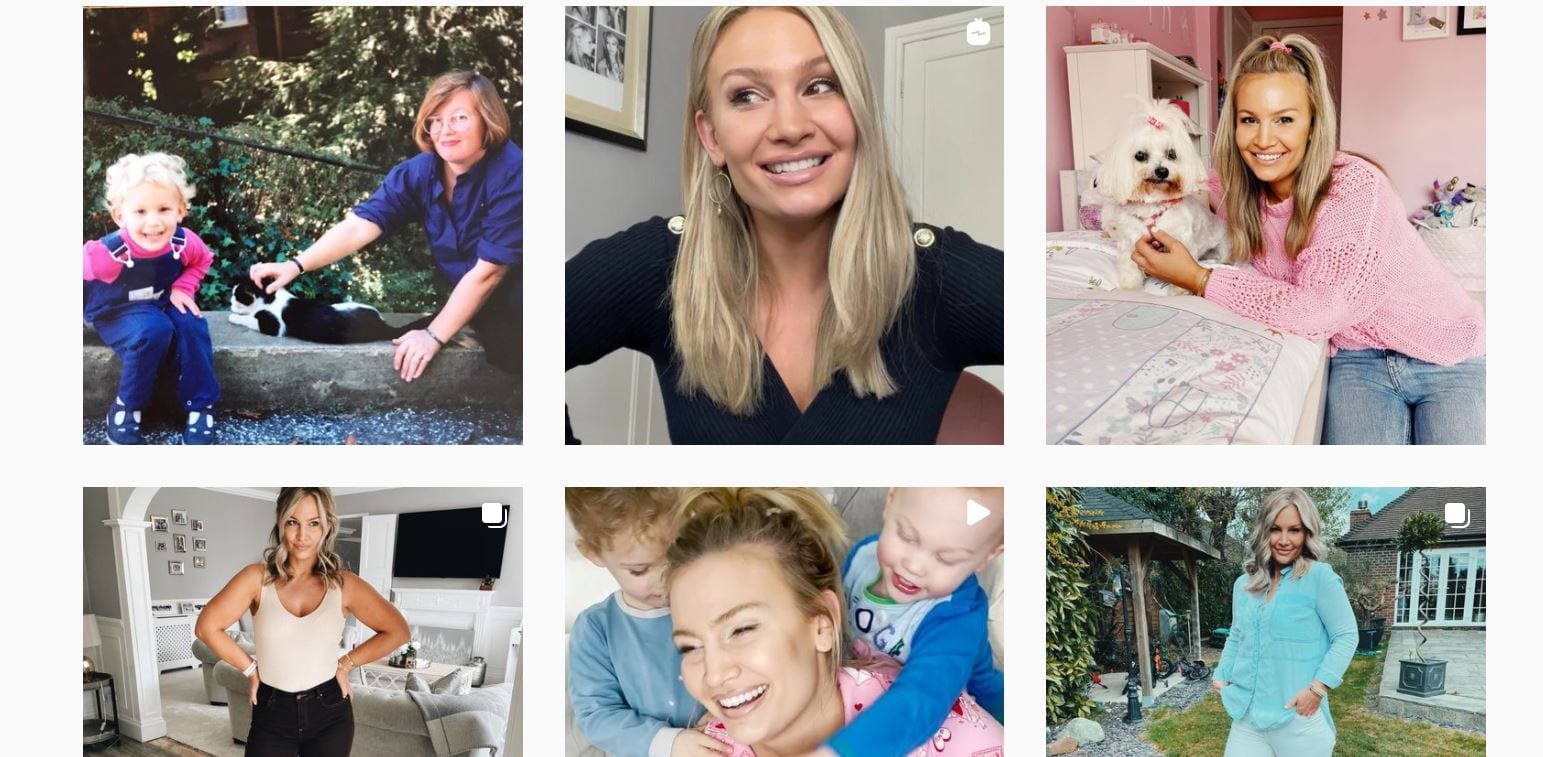 Here's how to get started:
Using Chrome go to the profile of the account that you are investigating

Click the plug-in icon in the upper left corner of Chrome once you are on the user's profile

Check out their stats including:

The percentage of their followers that are real.

Our algorithm calculates the proportion of real to fake followers.

A low percentage strongly indicates that they have a high level of fake followers. Conversely, Instagrammers who score highly here have a healthy proportion of real followers.

Their followings' demographic breakdown, from countries in which they are most popular to age range and gender split.

Gauge Instagram influencers' costs based on their engagement rates. This figure helps you find Instagram influencers within your budget. You can also start visualizing how to split your budget between micro-influencers and post-frequency.
Fakecheck.co is an alternative tool that measures social engagement rather than social reach by collecting and analyzing the influencers. The software compares the likes and comments of the resulting data against the industry.
Their pricing system is based on the number of influencers you wish to test but it's worth it to make sure that no bots or fake influencers end up costing your business in an unsuccessful marketing campaign.
These applications help the process of weeding out fake accounts. It's not easy as there are 95 million of them lurking around Instagram. That's right, 1 in 10 Instagram accounts are fake or not operated by a human. This fraud makes for approximately $500 MILLION in ad revenue losses annually!
Fake Instagram follower audit
So, let's pull all of this information together with a case study. Let's analyze this influencer who has a genuine Instagram following, using data from Upfluence's Chrome plug-in.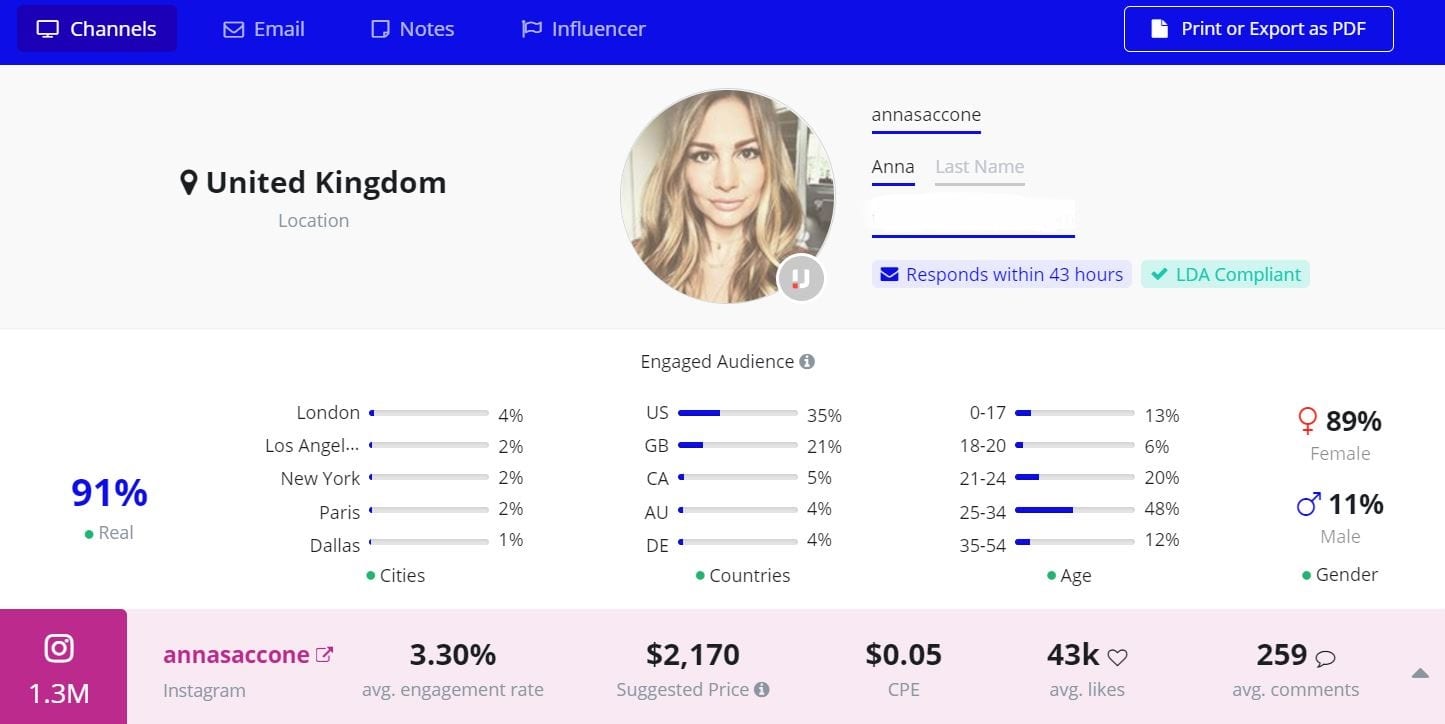 Anna Saccone is an Irish-American fashion and lifestyle YouTuber who lives in the UK. Firstly, our software's algorithms come with a guide on the authenticity of her audience, and at 91% that's a promising indication.
You can see that the majority of her followers are from English-speaking countries. Since she specializes in beauty and fashion, the fact that 89% of her following is female is another indicator of this influencer's audience demographic and reach. Anna Saccone is thirty years old, so the fact that her followers are primarily in the 25-34 age category is yet another promising sign.
These are the dream stats you're looking for when searching for a promising influencer. You can see how valuable it is to discover this data before entering into a contract with a rogue influencer. Within seconds, you can see an influencer for who they are; whether their follower demographics match up with their content, and whether they really do have the reach that they claim.
Identifying your most authentic influencers
If all this chat about fake influencers has put you on edge, here's one final thought: when you're searching for the coveted authentic, real influencer, don't forget about the power of your customer base.  Consider activating partnerships with your most influential customers, they are, after all, your best influencers! By using a tool such as Upfluence, you can leverage your eCommerce integrations to analyze data about customers and help you identify your most influential brand advocates. The best part is, you know they're real people who have a genuine appreciation for your brand. Your influential customers are far less likely to have fake followers, in fact, their audience will be made up of friends, family, and colleagues who could also be interested in your brand.
The golden rule of choosing the most authentic influencers is to analyze their real follower % and other engagement metrics to make sure they don't have fake followers. Upfluence's influencer search tool allows you to analyze any potential influencer to see their percentage of real followers, their average engagement rate, their average number of comments, and much more.
And a final reminder of the guide I shared earlier, it'll help you identify the most authentic influencers for your campaigns: