Due to its ability to boost conversions, increase notoriety, and generate sales, influencer marketing is quickly becoming the go-to solution for brands who want to supercharge their growth. As the industry has grown, new technology and methods are refining the way we identify, recruit, and report partnerships. Now with the possibility to create different types of influencer marketing campaigns in mere minutes, the only thing left to decide is which type of campaign will help you reach your goals?
Let's explore 7 types of influencer marketing!
This list of influencer marketing campaigns will help you to better understand which type of campaign is most compatible with your goals. We'll look at the essential components of each type of influencer campaign, plus examine the pros and cons of each. You'll be better equipped to decide which type of influencer marketing campaign is best for your brand in no time! 
Sponsored posts
Example: KEEN collaborates with influencers to promote their Hower II shoe on Instagram.
What it's good for: selling, launching a new product, quality content, increasing notoriety.
Definition: Brands pay influencers to create promotional social media content featuring their products. You can opt for a flat fee plus a % of sales generated by the influencer (or a pay-per-click program etc.), usually with a minimum threshold.
Strategy: Sponsored posts can include social media posts or blog articles. To drive more conversions and track influencer performance all posts should include a UTM link to your website or online store. In this example from KEEN, influencers included a swipe-up link in their Instagram Stories to maximize traffic to their website. For the best results, sponsored posts should offer useful and engaging content for the influencer's audience. KEEN invited their creators to review one of their most popular shoes (the Howser II) and offer adventure tips in their posts. This helped to create an authentic link between their product and the interest of the influencer's audience.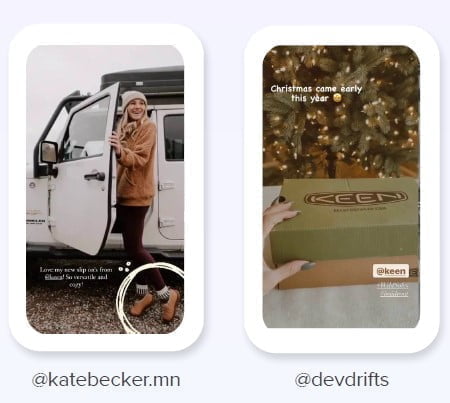 Influencer outreach: Offering a monetary amount up-front for the expected amount of content to be created will increase your reply rate. It's also a good idea to include a coupon code for them to share with their audience.
Pros: Brands have creative control, and an easy model to scale and replicate with many influencers across all social media channels. 
Cons: The bigger the influencer, the more expensive the commission.
Product seeding & Unboxing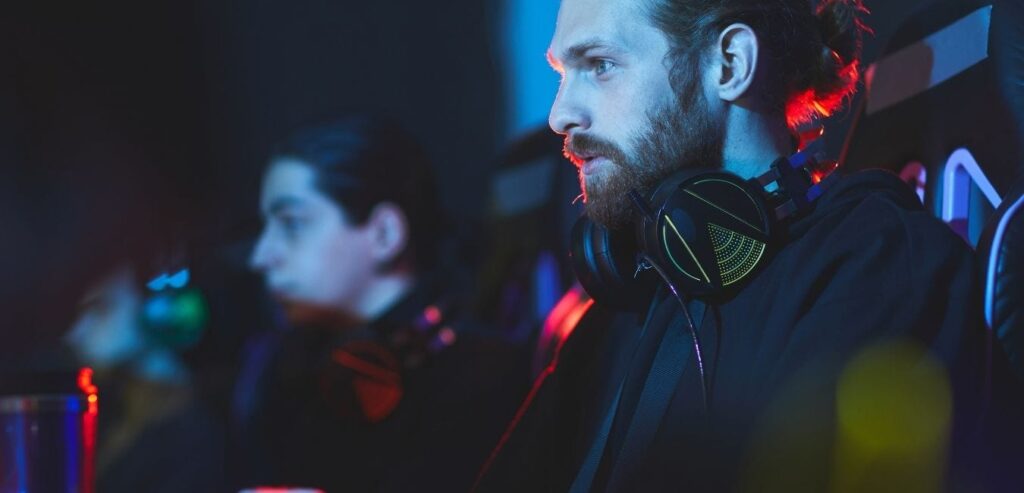 Example: Micro Center unboxing campaign 
What it's good for: Selling, launching a new product.
Definition: Brands send out product samples in return for influencer reviews and exposure.
Strategy: Samples, along with various PR materials, are distributed to Influencers. Influencers are invited to film an unboxing video or post a product review. Using their real-life experience of using and testing the product, influencers can create authentic product reviews that help drive results for brands. 
The best way to achieve a high ROI in sampling is to come up with value propositions that are cost-efficient. If you give $100 to an influencer, it costs you $100. However, if you give an Influencer a $100 product (which production cost is $20 + shipping), the perceived value is $100 but the actual value is much lower. This is a great type of influencer marketing for brands with a limited budget. 
In this example from Micro Center, they gifted a MainGear Vibe 2 computer to Twitch influencers in return for them filming a live unboxing video. Offering a valuable, big-ticket item to influencers works as a good incentive in product seeding campaigns. By tapping into live content on Twitch, Micro Center capitalized on viewer engagement. The live interactions between viewers and influencers helped to build excitement about the computer and the audience got to ask questions about the product in real-time. 
Influencer outreach: Offer them a free product, or let them choose from a selection of products and ship to them, in exchange for an unboxing video or product review. Bonus: offering an extra product, so the influencer can host a contest/giveaway for their audience. 
Pros: Authentic reviews, original content, flexible budget.
Cons: Some influencers will also charge a monetary fee in addition to receiving free products. This strategy won't work as well with macro-influencers, who are likely to charge a higher commission. 
Giveaway competition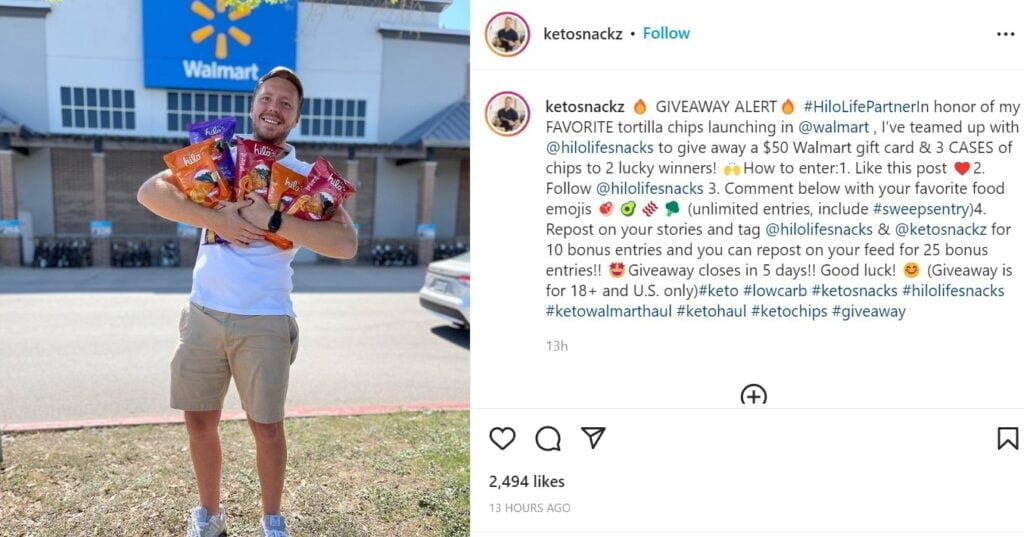 Example: @ketosnackz for HiloLife Snacks at Walmart. 
What it's good for: Brand awareness.
Definition: Influencers offer a prize in the form of a product giveaway in exchange for their audience completing an action for the brand, usually following the brand's social media account, signing up for a newsletter, or creating an account on their eCommerce site. 
Strategy: Offering giveaway bundles to creators is a great way to get them on board with your brand if they've never worked with you before. Influencers want to offer value to their audiences to keep them engaged, so giving them the opportunity to win free products is a key way to give something back. It works best if you have simple requirements for participation e.g liking the post, following an account, etc. It can certainly help to boost your brand's online presence and notoriety but works best when combined with other types of influencer marketing campaigns designed to drive sales and engagement. 
Influencer outreach: Offer your influencer free products or a discount code in exchange for running the giveaway campaign. 
Pros: Offers value to the influencer's audience.
Cons: Only a short-term boost for brand accounts, people can easily unfollow or unsubscribe once the contest is over. It works best when combined with other campaign types. 
Affiliate marketing
Example: Atfluence promoted Dolly Parton's Scent Beauty through an affiliate campaign with influencers. 
What it's good for: Driving sales directly through influencers. 
Definition: Affiliate marketing with influencers leverages their wide audience reach to promote affiliate links that in turn drive sales for your brand. 
Strategy: This is the perfect strategy for brands who want to boost sales with creators. Harnessing an influencer's large reach will amplify your campaign and convert even more customers than using a traditional affiliate network. What's more, using trackable affiliate links means that every sale is measured and can be attributed to a particular influencer's post. This type of influencer marketing helps brands to reach their goals while maintaining a positive ROI.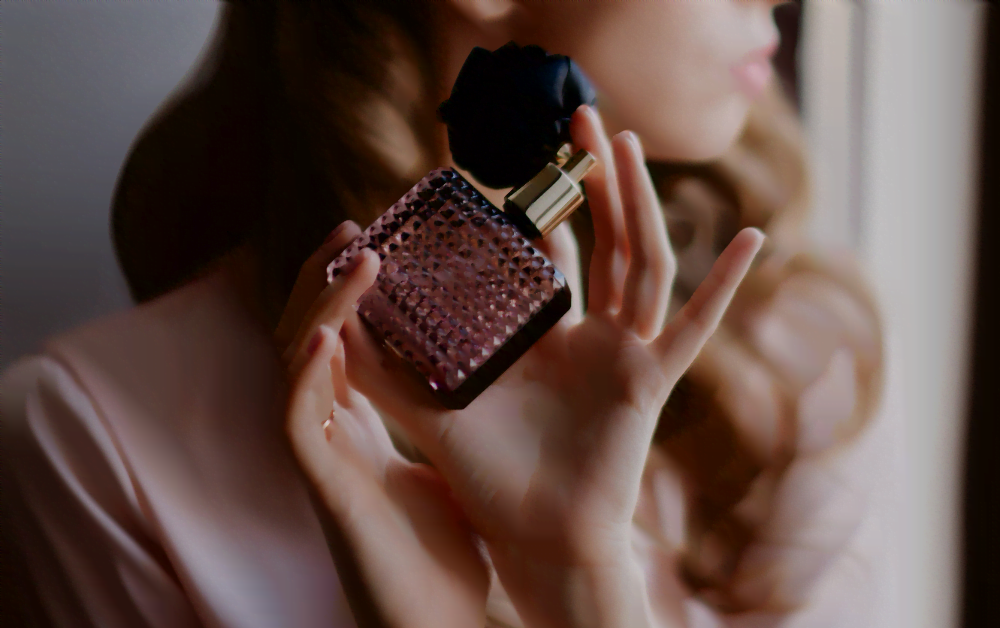 Influencer outreach: Send influencers product samples so they can create promotional content based on their real experience. Offer compensation in the form of affiliate commission. This means you'll pay your influencers a percentage of the profits they generate through their personalized affiliate link. It's up to you to decide what % to offer. Anything from 10% to 20% is quite common. 
Pros: High ROI as you only pay once a sale has been made. A proven strategy that drives conversions and makes it easy to track and attribute sales. 
Cons: It can take time to build a reliable and high-performing network of affiliates. Start small with a few of your best-performing influencers and scale from there. 
Product collaboration

Example: Nyma Tang for Dose of Color 
What it's good for: Driving sales, promoting a particular product line.
Definition: Brands invite well-known influencers who are experts in the industry to collaborate on a range of products. The influencers put their own personality and style into designing their product line which makes it very desirable to their followers who want to emulate their lifestyle. In this way, brands can harness an influencer's popularity and personal style to boost awareness and sales for their brand. 
Strategy: Brands should choose a well-known influencer, who's seen as an authority figure in the industry and who has a sizable online audience. This will help maximize reach and convert a maximum amount of new customers. Brands should collaborate with their most trusted, long-term influencer partners on this type of campaign as it requires a significant investment of time and energy before seeing a return on investment. 
In the example above, Nyma Tang, a well-known beauty macro-influencer has teamed with beauty brand, Dose of Colors to bring unique shades of lipstick and lip gloss to the market. By working with an influencer to create truly unique and sought-after products, Dose of Colors is in the perfect position to reach a new customer base and drive more conversions. 
Influencer outreach: It's wise to run one product collaboration at a time, to give the campaign maximum exposure. You should offer product collaboration campaigns to your top-performing influencers, who have already established credibility and an audience in the industry. Your compensation model will likely include paying the influencer a commission of sales generated from their collection. 
Pros: Offers a unique product to customers, and will drive sales for your brand. 
Cons: Only suitable for your top-performing influencers, requires a significant investment of time, energy, and money from the brand. 
Seasonal campaigns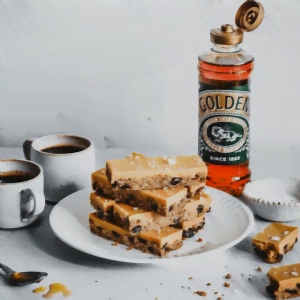 Example: Lyle's Golden Syrup influencer marketing campaign for Halloween
What it's good for: Brand awareness, driving sales of a seasonal product line. 
Definition: Seasonal influencer marketing campaigns tap into public holidays and celebrations to promote specific themed content that's relevant to people's shopping priorities at that moment in time. Some big events that marketers can tie into their influencer campaigns include back-to-school, Christmas holidays, Valentine's Day, Halloween, etc. You can see a full list of events in our month-by-month eCommerce calendar. 
Strategy: Any of the other influencer campaign types can be adapted to have a seasonal spin. Perhaps you want to focus on promoting your seasonal product line or demonstrate how your product can be used for seasonal activities. Lyle's Golden Syrup tapped into Halloween to reach a young online audience interested in baking by collaborating with baking influencers to create fun Halloween recipes that featured their golden syrup. The content shared across Instagram and YouTube was visually appealing and the Halloween theme was immediately clear. It provided useful and educational content that helped people to think about Lyle's Golden Syrup in a fun and creative way. 
Influencer outreach: If you want to work with influencers during key holiday periods, be sure to reach out well in advance as they are likely to be highly solicited by other brands. 
Pros: Boost engagement with topical, relevant content. 
Cons: Needs a lot of advanced planning, your brand won't tie in with every holiday so be strategic! 
Brand ambassador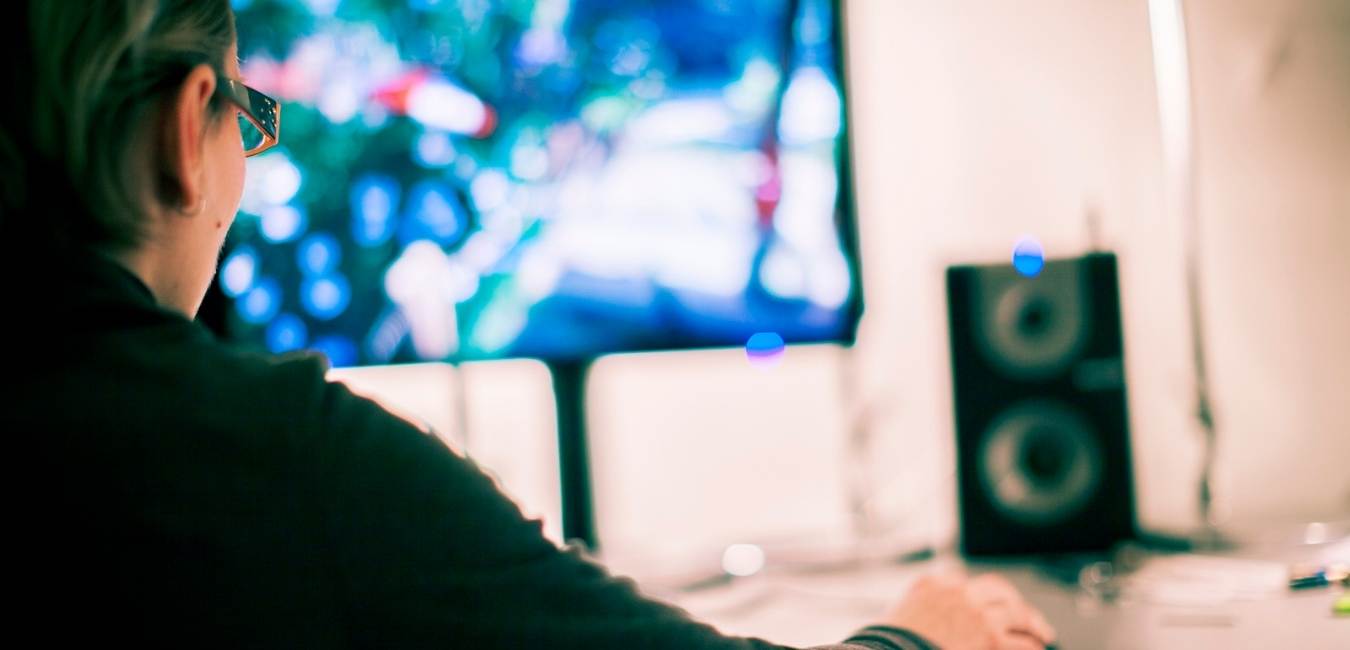 Example: How Kinguin scaled their influencer ambassador program with Upfluence
What it's good for: Building long-term brand awareness and driving sales. 
Definition: A brand ambassador campaign involves working with influencers for a long-term promotion of your brand. Instead of one or two posts, influencers become brand champions who post consistently across their channels to promote your brand. They will post different content in line with your brand's goals. 
Strategy: A brand will usually work with several brand ambassadors at once to maximize brand visibility and build momentum for the campaign.  In Kinguin's case, they had seen success in boosting brand awareness and sales by working with brand ambassadors to promote their gaming platform on YouTube and decided they needed to scale their program in order to capitalize on these positive results. Upfluence helped to grow Kinguin's brand ambassador pool by 600% in just 3 months. Other brands may decide to invest their marketing budget in having one celebrity brand ambassador. 
Influencer outreach: Be clear from the beginning that you're looking for a long-term partnership and nurture a strong relationship from the beginning. It's a good idea to identify influencers from within your brand network of customers, subscribers, and followers who could be activated as organic brand ambassadors for your business. 
Pros: Once you've found a model that works you can easily scale to amplify your campaign. Harness the authenticity of organic brand advocates by recruiting brand ambassadors from your customer base. 
Cons: Manually growing your brand ambassador network can take a lot of time. Investing in one celebrity brand ambassador will require a large portion of your marketing budget. 
With these 7 different types of influencer marketing campaigns in mind, you can decide how best to activate your influencers to promote your brand. Remember, you should choose the campaign type that is designed to help you reach your specific marketing goals. You should use these 7 campaign types as a guide, and adapt them to suit your needs. You can mix and match certain elements or build a completely personalized campaign. For example, you could run a seasonal unboxing campaign or incorporate an affiliate program as part of your brand ambassador campaign. 
Whichever type of influencer marketing campaign you choose, make sure you build an effective strategy that will help you drive results with The Ultimate Influencer Marketing Strategy Guide.