Instagram is the platform of choice for many brands doing influencer marketing. In fact, Instagram accounts for 44% of influencer marketing spend, consolidating its place as the number one social network for influencer marketing, although TikTok is starting to catch up! To start tapping into creator content on the app, you need to know how to find Instagram influencers. In this article we'll share top tips and tools for identifying and activating the best Instagram influencers for your brand.
How to find Instagram influencers? 

Finding the best influencers comes down to analyzing Instagram influencer metrics to find creators who are in your industry niche, who have strong engagement and whose followers match your target audience. You can search manually on Instagram, or use a dedicated influencer marketing database using advanced search filters to identify Instagram creators according to audience size, engagement, keywords and more!
Why choose Instagram for influencer marketing?
Instagram has exciting stats around user engagement and reach that can't be ignored. Influencers have grown their audiences on Instagram thanks to their visually appealing content and by tapping into video content and engagement features. Live video, Reels, Instagram Stories, polls and AskMeAnything has helped early adopters of Instagram maintain a large following on the app. Instagram is also a haven for micro-influencers who create content based on niche interests.
Check out these Instagram audience demographics that show the power of the medium for marketing:
Best Hacks in Finding and Employing Influencers on Instagram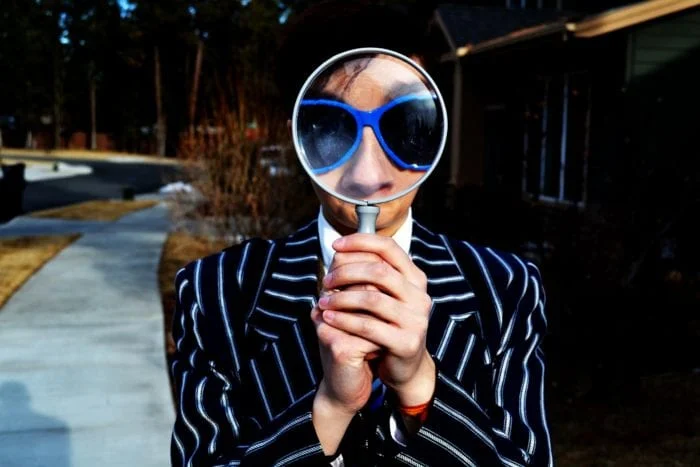 Finding the best fit: How to find Instagram influencers
Finding the best influencers means finding those who are the right fit for your brand, and it can be a tricky first step in your marketing strategy. It isn't easy to find the right person to promote your products. Engaging and enthusing them to explore you and your brand as a potential partner needs careful consideration. Building a relationship is crucial to not only getting the right influencer on board but also building true enthusiasm for your brand. The first vital step in getting influencer backing is to find the right one. You should think about creating a curated list of potential influencer profiles. This list is your basis for identifying your best influencer partner.
Here are two simple ways to begin the search for your perfect Instagram influencer:
Search for relevant hashtags on Instagram – look at the engagement of users associated with those hashtags.

Use Google to search for "top influencer in (name of niche)"
Once you've created a list of potential influencers, it's important to gauge how active and engaging they are.  This can be quite time-intensive. To make this process simple, you can use Upfluence's free Chrome plugin that accompanies the main software.  It's the easiest way to see the most important metrics from an influencer  at a glance.
When deciding on your best-fit influencer, you should also add in data about the audience you are targeting, for example, audience demographics, age, location, language, likes, dislikes, and so on. Mapping this information will help you focus on the ideal influencer candidate or brand ambassador.  Once you have your list of ideal influencer personas and examples, you can focus on finding that perfect fit.
We've made influencer search even easier! This guide holds the answers to all of your influencer search questions: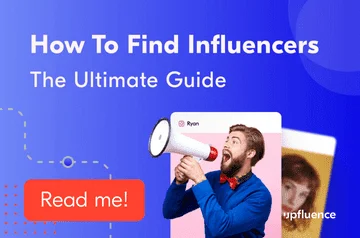 How to Approach Instagram influencers
Before approaching an individual influencer, it is worthwhile following them on Instagram as well as other social platforms

. This will offer insight into how they interact with their audience.  Once you have found the influencer of your brand-dreams, you need to engage with them directly.

Prepare your pitch, have your campaign ideas crystallized and ready

– then reach out to them directly through their Instagram page. This usually contains contact information or often a link to another website through which you can make contact.
Finding an Instagram Micro-influencer
The micro-influencer is just as powerful as many bigger celebrities and can make a huge impact on your campaign. To be labeled under the micro-influencer umbrella, an individual must have between 5K – 15K followers. Micro-influencers can be domain experts – in other words, they "know their stuff". Because of this, they have kudos in their community. Micro-influencers can be highly influential, and have strong connections with their communities, meaning they often have high engagement rates too. With micro-influencers, it is all about quality over quantity. It is well documented that micro-influencers had 10x the impact of larger influencers.
Some simple ways to find the elusive micro-influencer are:
Look out for blog posts and articles in your industry – then check to see if these articles are posted using social media and gaining interest in the community.

Go on industry forums – where is the engagement happening and who is making the noise?
Chances are, you'll discover that micro-influencers choose Instagram as their channel of choice, and depending on their industry fit, they'll often pair their presence with a YouTube channel too. 
Spotting influencers in your industry and engaging them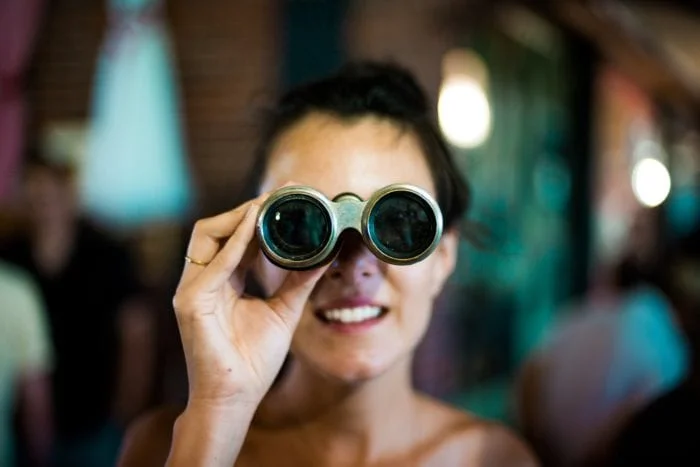 It would be a hard sell to get a well-known cybersecurity expert to talk on Instagram about lipstick. When looking for best-fit influencers on Instagram you need to hone your story and understand the demographics of your audience.
An authentic tale is the key to getting the influencer on board and to drawing in an audience. This is also where a micro-influencer may have an advantage over well-known celebrities – they add their reputations within a loyal community to your authenticity.
A great influencer will connect with your audience through your story. The Bolton Consulting Group found that authenticity is one of the main criteria for engaging with a brand.
One way to build authenticity is by engaging with industry-specific influencers. Your industry peers can talk to your audience in a language they understand. A great influencer will add value to your story and might even facilitate conversations that enhance your ideas.
Are there any tools to help me to identify the perfect influencer?
So far we've explored some manual methods for how to find Instagram influencers. However, manually searching for influencers on Instagram using hashtags and keywords can be incredibly time-consuming. That's where Upfluence comes in. Upfluence's influencer database allows you to search for Instagram influencers using 20+ advanced filters so you can find top-performing creators that perfectly match your niche! 
If you want to find your brand's most authentic creators then you should try Upfluence's influencer matching tool. By analyzing the social reach data of your most influential customers, Upfluence can identify influencers from within your customer network. This is a perfect strategy for how to find Instagram influencers because your influential customers already know and love your brand, making it easier for you to activate them as brand partners. 
I've got my Instagram influencer list; how do I use them to target my audience?
Targeting an audience is about understanding them. Audience data allows you to map the requirements for your perfect influencer. This influencer will have the criteria to fit your demographic needs, e.g., they will have your target audience within their reach. Tools, like Upfluence, can analyze data from identified Instagram influencers to determine the best fit. Historical data, such as interaction with communities and audience data, can be mapped to give you a view of how well they'll be able to appeal to and interact with your audience.
When you mix this with an influencer who has pictures that pop, that have high engagement, and effective brand tagging, you have a winner.
Choosing an influencer who makes your stories resonate
The art (or science) of the Instagram influencer is a much-discussed topic. How an influencer reaches out to your audience and makes posts that resonate, is up for debate. But influencers have several known factors that make for an effective, engaging, post. When choosing your influencer, make sure they can craft posts that grab attention and engagement:
Honest and authentic posts:

Influencers have noticed more engagement with their posts when the content is honest.

Create a storyline:

People want to feel part of an ongoing dialogue. Influencers use stories to create continued engagement.  Using Instagram Stories helps create content that is more than just a pretty picture.

Real people using real brands:

Influencers who use a brand, as opposed to only marketing it, have more success in promoting said brand.

Reaching out with Instagram tools: Changing up the post type can be a positive way to get followers to take note. Instagram's 2023 trends report is packed full of stats, trends, and tips

.
When choosing your influencer, check out how genuinely involved they are on Instagram.
How to identify fake followers on Instagram
Not everything that glitters is gold and not every macro or micro-influencer can influence. Fake followers are the curse of an effective Instagram influencer – this can reduce the authenticity of the influencer significantly.  Understandably, you don't want to waste money on investing in Instagram influencers who have a high percentage of fake followers. 
Luckily, you can follow Upfluence's guide for how to tell if an influencer has fake followers. Once you have a list of Instagram influencers that you want to work with, be sure to use Upfluence's chrome plug-in which gives you visibility of the influencer's percentage of fake followers.
How much do Instagram influencers cost?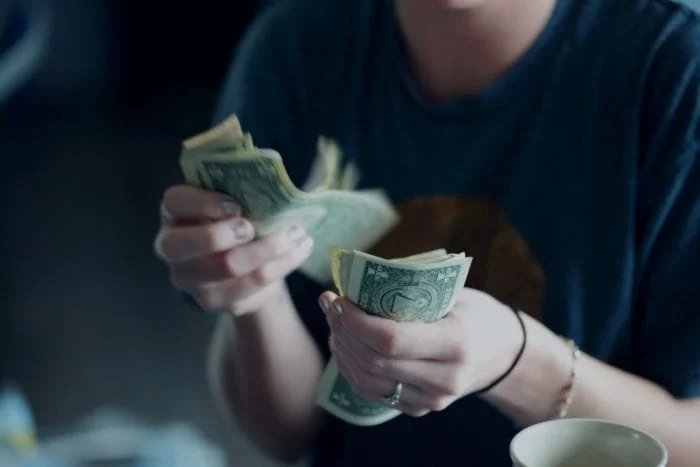 Influencer pricing is not 'one-size fits all'. There is no such thing as a standard rate card for an influencer. Each influencer will be able to set a value, based on a number of criteria, including their engagement rate, real followers, and follower growth. Engagement rate is the average number of engagements per post divided by the number of followers. Some other things are harder to quantify, including how influential you believe them to be in your marketplace – especially if you're within a niche market. The work you have done to identify your perfect influencer(s) will help to determine how valuable they will be to your brand.
How much budget you have for influencer marketing will have a major impact on your choice of influencer. Bearing in mind, that although micro-influencers have fewer followers, they see a 10x increase in engagement: you may get more value for money using a micro-influencer.
Here are a few pointers to get you started: 
Instagram influencers charge 2-3x more for an Instagram post than a blog post

A general rule of thumb is to charge $100 per 10K followers, so micro-influencers will be less expensive than working with macro-influencers.

Other factors like agency rates and content quality may need to be applied on top of this figure

Exclusivity often costs more

Brand affinity can cost more
To muddy the waters, some influencers are paid partly in gifts or samples. However, the general influencer market is showing a trend towards increased monetary payments, rather than gifting, though we're strong advocates of a combined approach.
According to Influencer Marketing Hub, here's how much you can expect to pay per Instagram influencer post:
Nano-influencers: $10 – $100
Micro-influencers: $100 – $500
Mid-tier influencers: $500 – $5,000
Macro-influencers: $5,000 – $10,000
Mega-influencers: $10,000+
Celebrities: Varies, $1 Million+
What to remember when choosing your influencer
Expectations and types of influencer are changing – here are some emerging areas you should be aware of when picking your Instagram influencer:  
Influencers want to create their content around your brand – don't try to mold their creation process,

Instagram is the platform of choice for influencers – build your campaign around the platform,

Focus on "quality, not quantity" and use micro-influencers in your campaigns,

Offer a good compensation package that reflects the work that an influencer puts into building their Instagram audience and engagement.
Key takeaways
As the influencer marketing platform of choice, Instagram offers a magical mix of beautifully composed pictures and videos mixed with influential people with massive reach. An Instagram influencer can take your brand's story directly into the heart of your target audience. The difficulty lies in finding the right influencer for the job. You need to balance a complicated equation of followers, engagement rate, demographics, reach, and ability to craft great content. You also have the job of weeding through the fakes to make sure you don't blow your budget on a bot. Hopefully, with these tips, we've given you some ideas to consider when looking for your perfect influencer. If you work smart, using the right tool for the job, you can find the perfect Instagram influencer. Once you do, you will reap the benefit of a happy audience who will love your brand, both for its authenticity and your inspiring brand ambassadors.
Learn top strategies for finding and selecting the best influencers for your brand in How to Find Influencers – The Complete Guide.