Instagram is a popular social media channel for both marketers and creators. It remains one of the top networks for influencer marketing campaigns alongside TikTok and YouTube. 93% of marketers are using Instagram as part of their influencer marketing strategy. Instagram influencers, known for their style and stunning photography, have helped brands in the beauty, fashion, lifestyle, and food industries to flourish. For many DNVBs (digitally native vertical brands) who manage their entire customer experience online, Instagram has been a crucial growth driver. If you want to get the most from running campaigns on the app, then you need to understand the 5 types of Instagram influencers. 
In this article, we'll explore the characteristics of certain types of Instagram influencers to help you choose which creators to work with. Instagram is a platform that showcases images and video clips that bring a product to life, making it a strategic platform for brand collaborations. 
Let's explore the 5 types of Instagram influencers. 
The Specialist
The specialist is an influencer who has created a presence on Instagram by sharing content around a particular niche topic. The specialist will create content for their audience around a shared interest. They don't try to appeal to everyone, the specialist uses their genuine interest and specialist knowledge to spark their creativity. 
While the specialist influencer will not amass a large number of followers, they will have a very engaged audience of people interested in their niche area of expertise. Their small number of followers (between 1,000 and 20,000) means that the specialist belongs to the nano-influencer or micro-influencer category. By creating content that appeals to a specific audience demographic, specialist influencers build up a loyal and engaged following, making them a valuable partner for brands.
The specialist influencer leverages unique hashtags to make their content more discoverable and establish a community around their niche topic. Instagram Live and Stories offer additional ways to interact with their followers. 
How the specialist influencer uses Instagram:
Instagram Live – unboxing videos

Instagram Stories – polls, product stickers, short product videos

Instagram feed – product photos, sponsored posts 
The example below shows @misshapennails. She's a specialist influencer who has built a small but loyal following around cruelty-free nail art. She uses her Instagram account to share her favorite nail art creations as well as tips and tutorials.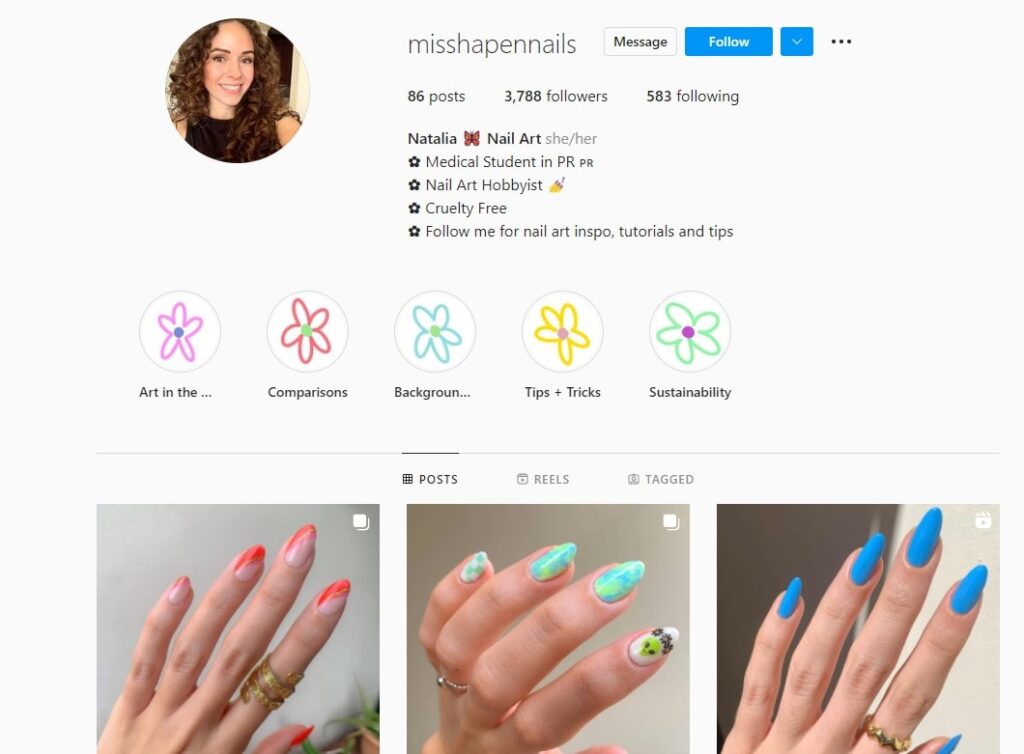 The Style Icon
Instagram's emphasis on visually pleasing content has led to the rise of beauty, fashion and lifestyle influencers on the platform. We've named these types of Instagram influencers 'the style icons'. They create aspirational content that taps into their unique style, whether that be their New Year's Eve party look, how they've refurbished their kitchen or their latest haul from the vintage market. 
Style icons will usually have a sizable following as they appeal to a wide audience interested in beauty and fashion. The most popular style icons are likely to have over 100K followers, placing them in the 'Rising star' category of influencers. 
Their followers look up to them and try to emulate the lifestyle that these creators share online. Their audience sees them as trendsetters and tastemakers and therefore looks to them for recommendations of brands to try. By trying out products and featuring them in their feed, style icons can help to boost brand visibility and drive sales. Style icons span many industries and they are likely to partner with luxury brands. This type of influencer includes Instagram models and beauty influencers among others. 
Style icons create striking visuals which perform well on Instagram, helping them to stand out from the crowd and reach new audiences. Style icons are a good choice for product gifting campaigns that lead to unboxing videos and product reviews that can be leveraged to convert new customers.
How the style icon uses Instagram: 
Instagram feed photos – before and after photos and showing off their favorite looks 

Instagram video – unboxing, product reviews, and how-to videos 

Instagram Stories – outfit of the day posts, sharing new looks and scenes from their daily life. 
James Charles uses Instagram to share striking makeup looks and snaps from daily life and highlights such as Coachella. James is certainly a style icon who isn't afraid to be creative and push boundaries around make-up and fashion.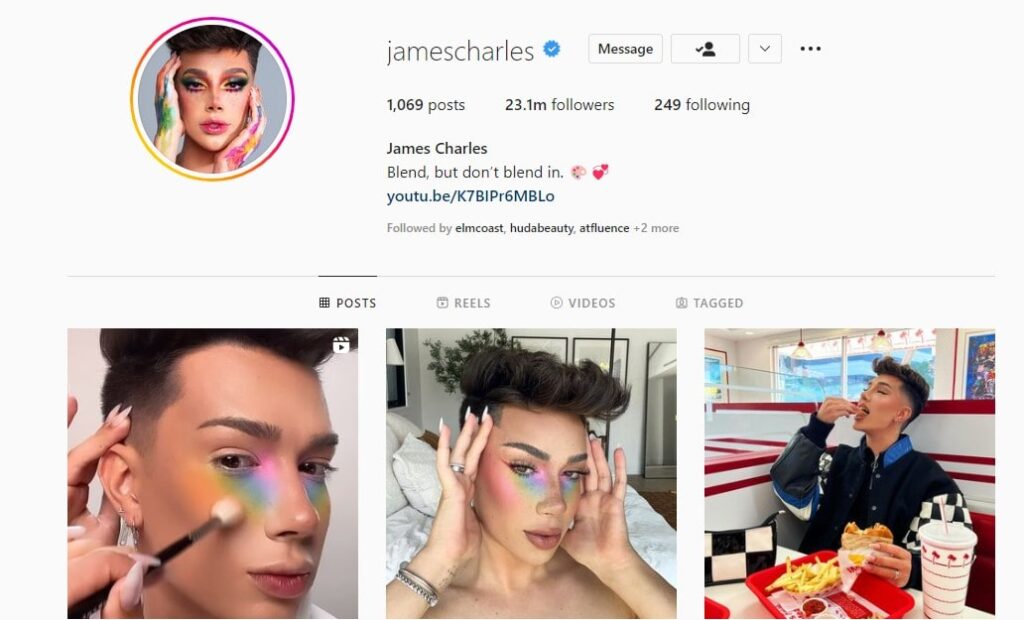 The Entertainer 
The entertainer is a social media creator who uses Instagram to post engaging and entertaining video content. To combat the rise of TikTok, Instagram has stepped up its offering for short-form video content by introducing Reels, Stories, and Live videos. Instagram influencers are tapping into these highly engaging content formats to build up a following on the platform. Influencers in the entertainer category will post skits, funny videos, pranks, scenes from their everyday life, challenges, and more. These influencers are likely to have the highest reach and have the potential to go viral. 
How the entertainer uses Instagram:
Instagram Reels – Share funny videos. 

Instagram Live – Answer questions from their audience

Instagram Stories – Use interactive stickers, and share videos and photos from their daily life.
@tatty_macleod is a great example of an 'entertainer' influencer. She uses her Instagram presence to share videos and Reels of her improvisation and skits.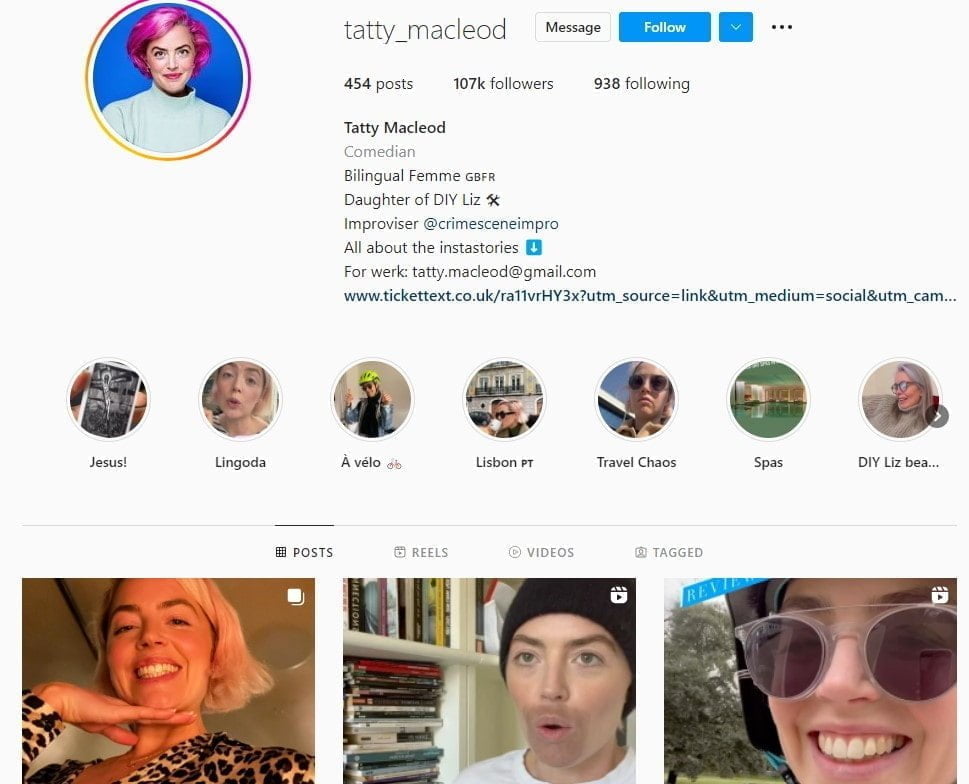 The Professional 
The professional is a type of Instagram influencer who creates content based on their profession. They are not full-time social media influencers but use their online presence to share their expertise and experience from their day job. The professional influencer is also known as a key opinion leader. These influencers will include chefs or nutritionists that become food influencers, personal trainers or athletes who become fitness influencers, and make-up artists who are beauty influencers – you get the idea! While they might not set out to become an influencer, people who are talented in their field attract an audience and have a platform to voice their opinions. They are naturally influential. 
The professional uses Instagram to share educational content like how-to videos and behind-the-scenes content from their working life. They will use Instagram to consolidate their influence within their industry niche. 
How the professionals use Instagram:
Instagram video – how-to video, myth-busting, and top tip videos

Instagram live – Ask me anything, discussions around an industry-specific topic
Agatha Achindu is a certified nutritionist, well-being coach, and yoga instructor. She also runs her own frozen organic food business. She uses her expertise and experience in her professional life to build an online community around healthy eating.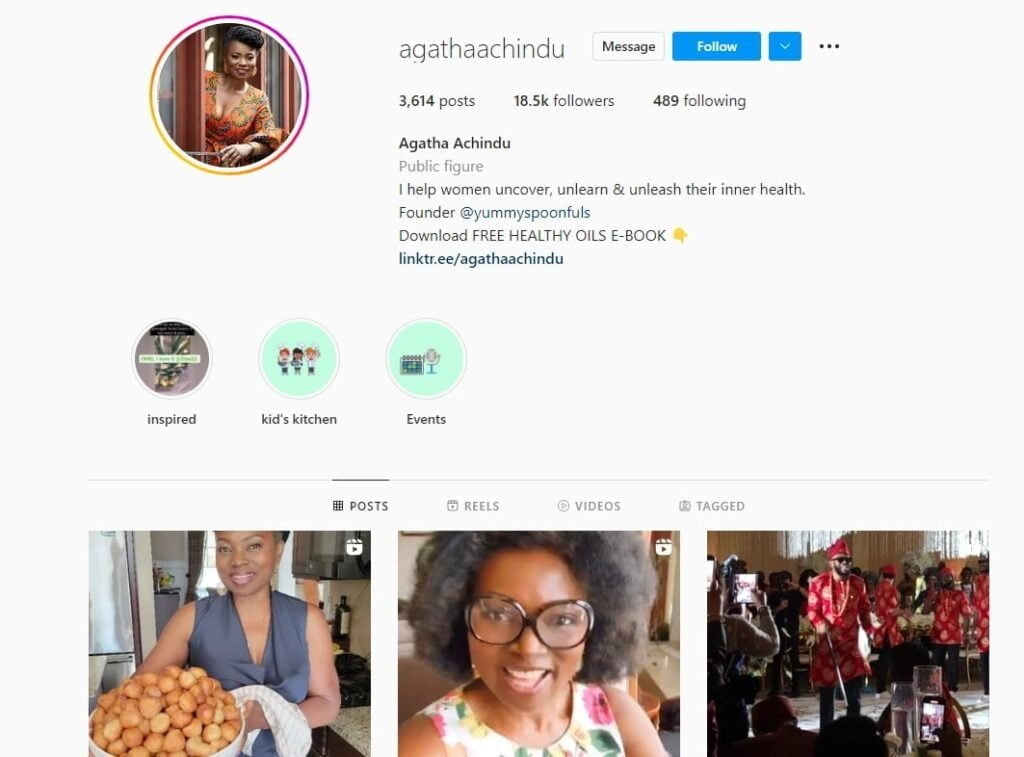 The Celebrity 
Celebrities are very popular on Instagram. They are adored by their fans who look up to them. Their fame, success, wealth, and global visibility make them incredibly influential on social media. Celebrity influencers have fueled many brand ambassador campaigns such as George Cluney and Nespresso. Some social media creators can become celebrities in their own right such as Kim Kardashian, Zoella, or Addison Rae. 
Celebrities have a global reach and mass appeal which makes them strategic partners for brands who can afford to pay the hefty price tag. If you decide to work with a celebrity influencer, ensure they are completely aligned with your values. They will only promote brands that they genuinely support and won't harm their reputation. You should work towards a long-term partnership and ad strategy if you want to collaborate with celebrity influencers on Instagram. 
How Celebrities use Instagram:
Instagram Live – to interact with and answer questions from fans

Instagram Stories – behind-the-scenes insight into their daily life

Instagram feed – to share photos from events, travels, and work projects. 
Selena Gomez is a world-famous singer and actress who rose to fame after featuring in TV shows on the Disney Channel. She has seen 37 chart entries on the US Billboard Hot 100, including a number-one single. Her global success has allowed her to build a huge online platform to share her latest music and films, as well as brand collaborations with the likes of Pantene and Adidas.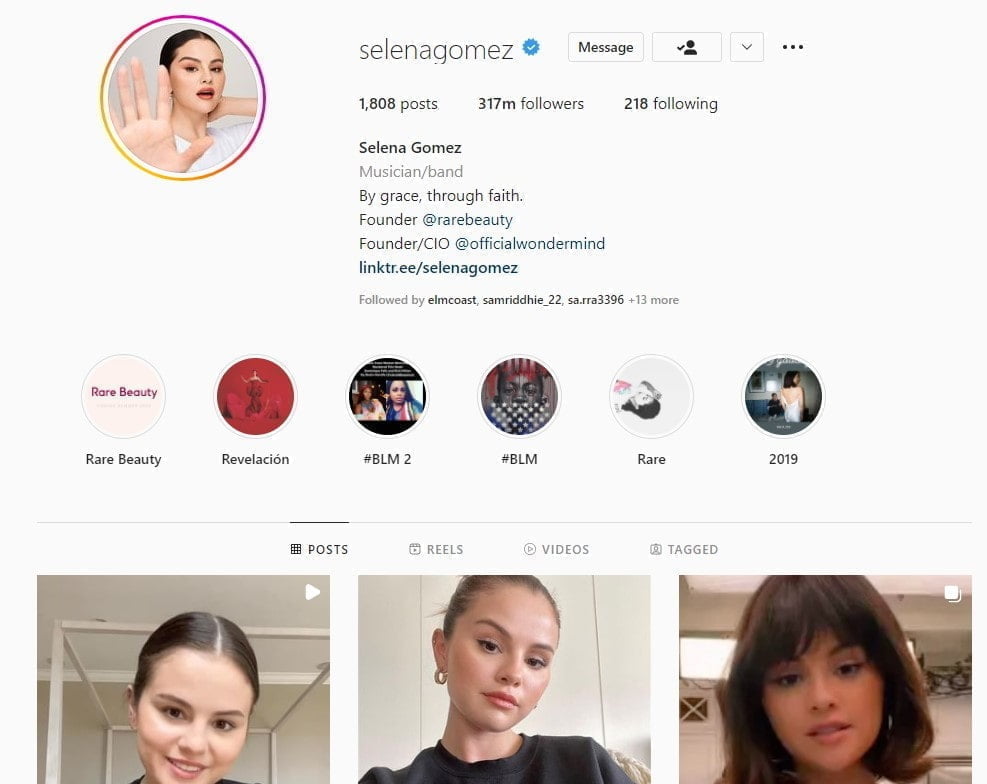 This list of types of Instagram influencers spans several influencer categories, proving that Instagram has creators to suit every need. Depending on your goals, budget, and industry niche, this list is designed to help you choose the best type of Instagram creator to work with.
Kick-start your influencer search with top tips and practical advice on choosing the best influencers in How to Find Influencers – The Complete Guide.